Everything You Need To Know About Seattle BBQ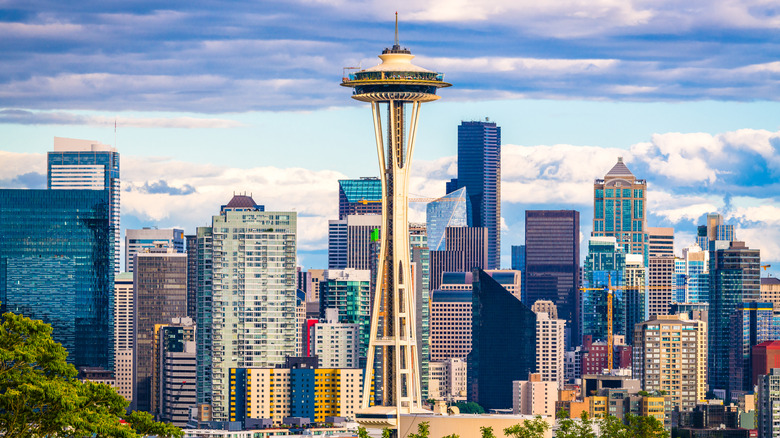 Shutterstock
Seattle may not be the place you'd consider as one of the country's best barbecue cities. In fact, for most people, it probably doesn't even make the top 10. Case in point — in response to a May 2021 post by the Chef's Pencil analyzing the top BBQ cities, which surprisingly names Seattle #7, there was quite a bit of outrage, reports The Stranger. In fact, the debate was at one point trending on Twitter with one user saying, "The actual top ten should be nine random Texas towns pulled out of a hat with Kansas City in tenth place to show we're not biased." Yet, while it's generally agreed upon that barbecue reigns supreme in the South, there's still good reason to check out what Seattle has smoking.
The city's barbecue scene is often credited to Dixie and Gene Porter who opened Dixie's Barbecue in nearby Bellevue in 1994 (via Bellevue Reporter). Carrying a loyal following for 25 years until it closed in 2019, the popular joint started with Southern roots as Gene hailed from Mississippi and Dixie was from Louisiana. The restaurant was known for its barbecue, hot sauce, and homemade sides like cornbread, baked beans, potato salad, and lemon cake — all hand-me-down recipes from Dixie's own mother.
After the restaurant closed and the barbecue void developed, Seattle restaurateurs quickly filled it with a melting pot of unique smoky flavors. Like Lady Jaye in West Seattle that offers smoked bologna (via the official website). That pit stop and many of the other top barbecue joints in the Emerald City hail from different origins. As such, it would be a struggle to classify Seattle BBQ as any one specific style; instead the rise of this type of cuisine is likely more about a city that simply loves good food of all origins — with ingredients that are locally made.
Seattle likes to keep its barbecue interesting
The smoked bologna at Lady Jaye is from the creative minds of co-chefs Tyler Palagi and Charlie Garrison (via Forbes), and this popular sandwich joins other fusion-style entrees on the menu like a pork cheek banh mi, prime bulgogi short rib melt, and cornmeal crusted fried prawns. These inventive goods begin with a custom made big barrel smoker named Cletus located on the restaurant's back deck, and then to make items the smoked bologna, the chefs score the meat and massage a special seasoned salt on the outside before smoking it whole. Cletus takes over, and when ready, then the "roast" is sliced, grilled, and placed atop a Macrina bun (Macrina being a Seattle staple bakery). As Palagi and Garrison told Forbes, "We wanted to do super simple awesomeness and also very intricate, detailed stuff."
For those craving even more Southern authenticity in their barbecue, SeattleMet's Guide to Seattle's Black-Owned Restaurants list is a great resource that highlights the thriving BBQ scene in this West Coast city. Included is JuneBaby that often has lines waiting for their incredible fried chicken and flavorful hot sauce — purchase an extra bottle to take home with you if you're in town. Jones Barbecue is another great spot that slings hot links that heat up without creating an inferno, and you'll need to order the rib tips early as they regularly sell out. Seattle's Lil Red's Takeout & Catering was also famously named one of the Top 20 Black-owned Barbecue Spots in the nation in the 2021 book "Black Smoke: African Americans and the United States of Barbecue" (via Seattle Times). Author Adrian Miller is a James Beard Book Award winner and certified Kansas City Barbeque Society judge — so this distinguished honor for Lil Red's is the real deal and hints at why Seattle BBQ should be taken seriously.
Seattle's award-winning barbecue brings on the competitive heat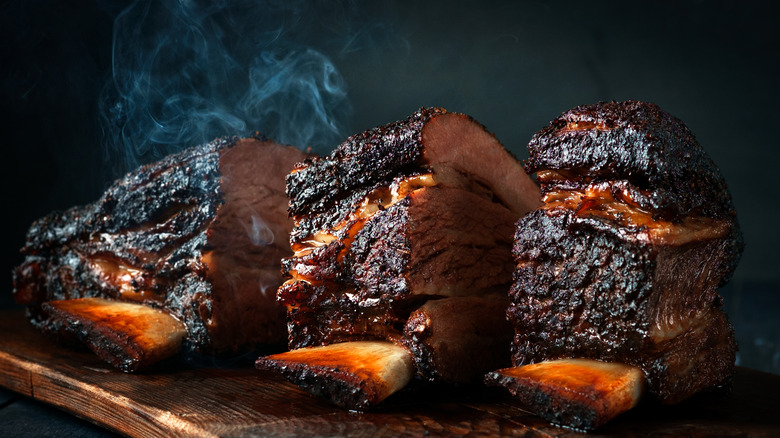 Shutterstock
Even more impressive, one Seattle barbecue-soul restaurant has been named one of the Top 12 restaurants on Earth! Conde Nast Traveler's "The Best New Restaurants in the World: 2021 Hot List" added the Central District spot Communion to its ranks, hailing the restaurant's "mixing pot ethos." Using long-cultivated foodie skills, co-owners Kristi Brown and son Damon Bomar dared to do the amazing — open a new restaurant during a pandemic, and make it a big hit. 
Crave-worthy menu items that pay homage to Seattle's Asian and East African communities include a black-eyed pea hummus, fried catfish po'mi (merging a po' boy with a banh mi sandwich), beef brisket and caramelized pork belly pho, and BBQ shrimp and grits, among others listed on the official website. Desserts are also tempting, including peach cobbler and macarons.
As Communion's honor shows, Seattle barbecue not only has its earned spot in America, but the world, too.