Easy Bulgogi Recipe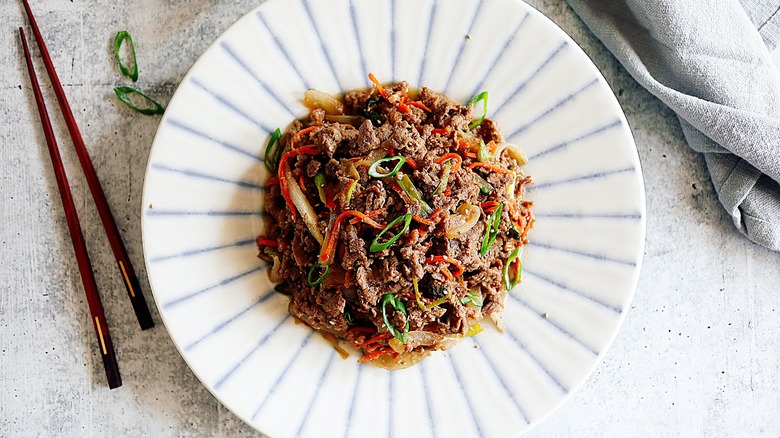 Cecilia Ryu/Mashed
Bulgogi is one of the most popular Korean dishes of all time. The dish is a favorite among food lovers around the world — and with good reason. It has a rich, flavorful taste and is already a meal on its own. It's also easy to prepare, and it has a fast cook time. When thinking of Korean BBQ, one would instantly think of cooking meat over a grill, but there are actually other variations of Korean BBQ. Bulgogi, for one, is marinated and can be cooked differently.
Some would think that bulgogi is a kind of dish that is only good when ordered at a restaurant, but that is far from the truth. Korean-American recipe developer and food photographer, Cecilia Ryu, has made cooking bulgogi easy for everyone. According to her, the Korean word "bul" means fire, while "gogi" means meat. While other Korean dishes are spicy, bulgogi is not. Hence, it's great for all ages. "Not only adults, but kids love it as well. It's a dish that the whole family will love," says Ryu.
Koreans usually eat bulgogi with rice, but according to Ryu, you can also enjoy the dish with a Korean wrap or "ssam" — which basically is a leafy vegetable like lettuce to wrap the meat with.
Gather your ingredients to make bulgogi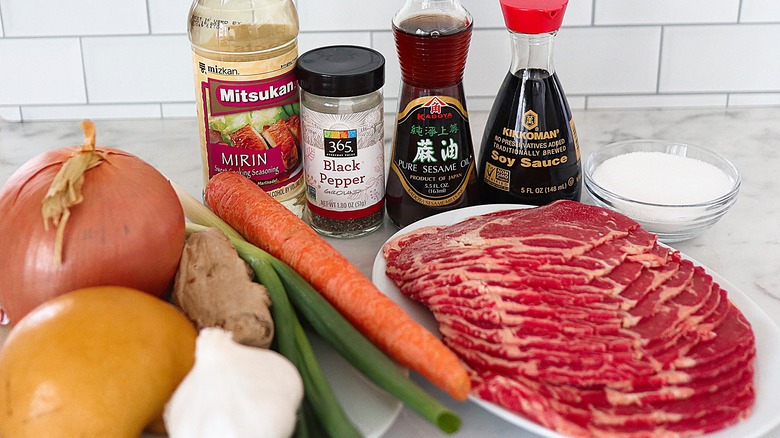 Cecilia Ryu/Mashed
Some of the ingredients used in making the Korean dish are already in your kitchen, but other items needed may not be. So you may still need to head out for a little grocery run before making bulgogi. But unlike other more complicated Korean dishes, this only needs a few items from the Asian store. As mentioned, most of the ingredients are already available at home, including soy sauce, sugar, pepper, garlic, ginger, onion (chopped and sliced), carrots, and scallions (chopped and sliced).
Buy this type of meat from the butcher or Asian supermarkets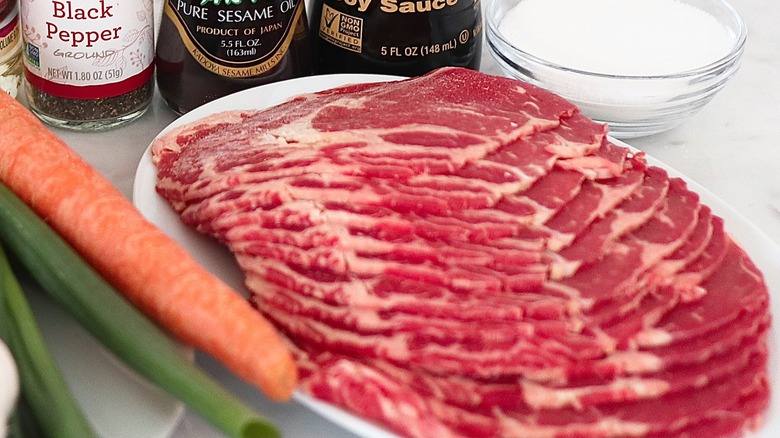 Cecilia Ryu/Mashed
The main ingredient in bulgogi is, of course, meat. In Ryu's recipe, she used ribeye. For the best kind, you may need to go to your local butcher and specifically ask them to have the meat thinly sliced. According to Ryu, ribeye is also available in most Asian shops and Costco — and they are pre-sliced. The other key ingredients, such as sesame oil, mirin (Japanese rice wine), Asian pear, and sesame seeds, can be scouted at your local grocery stores or Asian shops. If you can't find Asian pear, Ryu suggests using Bosc pear instead.
Combine ingredients to make the marinade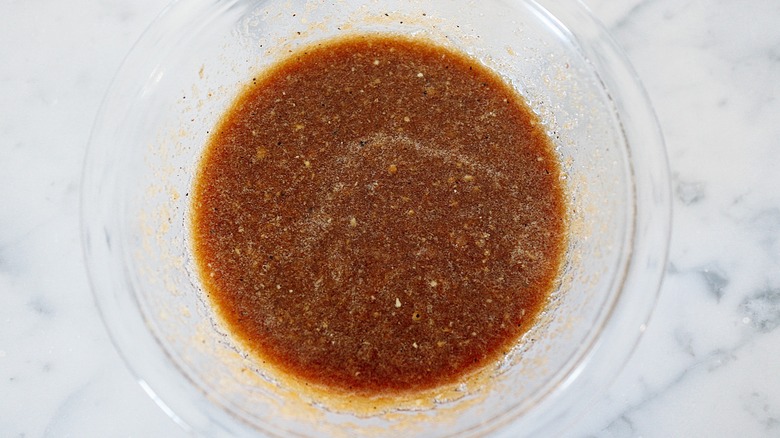 Cecilia Ryu/Mashed
Once all the ingredients are on hand, you can now start the preparation. Having the ingredients ready in their needed quantity can save you a lot of time instead of measuring as you go. When all the ingredients are measured, it is now time to make the marinade. In a bowl, combine soy sauce, sugar, sesame oil, garlic, ginger, and black pepper, and set aside. In a food processor, combine the chopped onion, Asian pear, and mirin — then add the mixture to the marinade. Mix well and set aside. According to Ryu, the mixture has a "sweet and savory taste."
Combine meat with marinade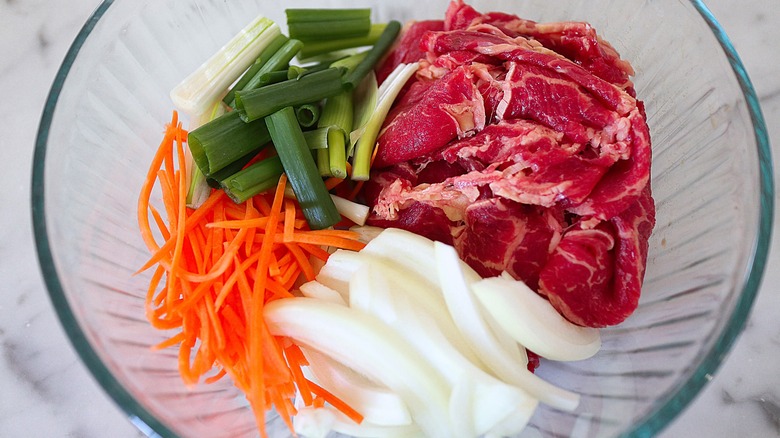 Cecilia Ryu/Mashed
Make sure that the ribeye is thawed before you begin the preparation. When soft, place the beef in a large bowl, adding the sliced onion, carrot, and chopped scallions. Now you are ready to add the marinade mixture to the meat. Once added, mix well and make sure that the marinade will coat all the ingredients. Now the meat is all set, but it's still not ready for cooking. Refrigerate the marinated meat for 30 minutes to an hour. Alternatively, you can also do this step overnight.
You are now ready to cook your bulgogi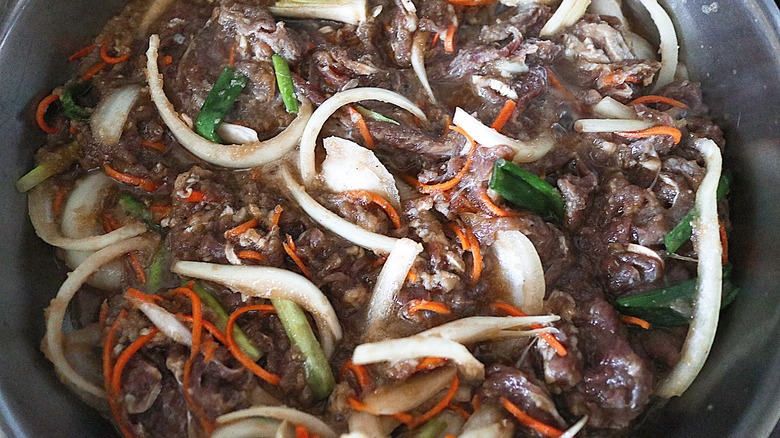 Cecilia Ryu/Mashed
When you are ready to cook, set the heat to high. Then in a large skillet, place the marinated meat and add the vegetables. Stir occasionally until the meat turns brown. Unlike the preparation — which takes about 30 minutes to overnight — cooking bulgogi will only take 10 minutes. So if you prepared the meat a day before, you could cook the dish quickly even after a busy day.
An alternative way to cook bulgogi is to grill the meat. "When grilled, it adds a delicious smoky flavor," says Ryu. When you're done cooking, place the meat in a serving platter, then garnish it with sesame seeds and more scallions. The best time to eat bulgogi is when it's still hot, so best to serve immediately.
Easy Bulgogi Recipe
This delicious Korean bulgogi has a rich, flavorful taste, and cooks up in just 10 minutes after marinating.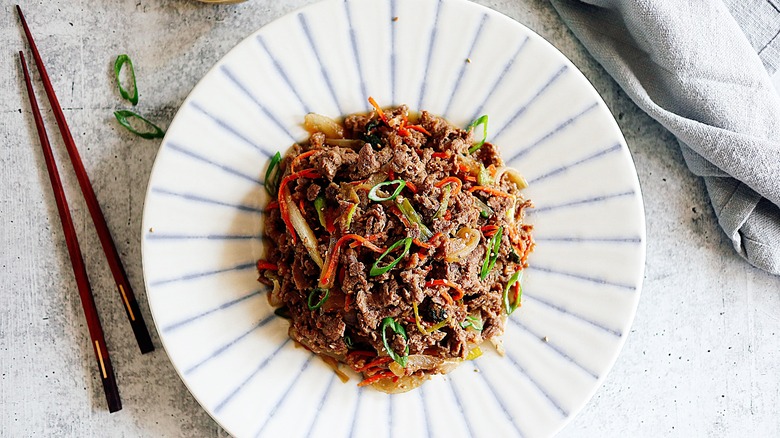 Ingredients
3 tablespoons soy sauce
2 tablespoons sugar
2 tablespoons sesame oil
1 tablespoon minced garlic
½ teaspoon grated ginger
½ teaspoon black pepper
1 large onion, ½ chopped, ½ sliced, divided
1 cup chopped Asian pear, approximately ½ large pear
¼ cup mirin
1 pound thinly sliced ribeye
1 carrot, julienned
2 scallions, cut into 1-inch pieces, plus thinly sliced for garnish, divided
Roasted sesame seeds for garnish
Directions
To make the marinade, combine the soy sauce, sugar, sesame oil, garlic, ginger, and black pepper in a bowl.
In a food processor, add the ½ chopped onion, pear, and mirin. Blend until smooth. Add to the marinade and mix well.
Combine the thinly sliced ribeye, ½ sliced onion, carrot, and 1-inch scallions in a large bowl. Add the marinade and mix well until all ingredients are evenly coated in the marinade. Cover and refrigerate for at least 30 minutes to an hour or overnight.
When ready to cook, heat a large skillet over high heat and add the marinated meat and vegetables. Cook and stir occasionally until the meat has browned.
Place on a serving platter and garnish with the sesame seeds and thinly sliced scallions. Serve immediately.
Nutrition
| | |
| --- | --- |
| Calories per Serving | 450 |
| Total Fat | 29.7 g |
| Saturated Fat | 10.9 g |
| Trans Fat | 1.4 g |
| Cholesterol | 77.1 mg |
| | |
| --- | --- |
| Total Carbohydrates | 20.7 g |
| Dietary Fiber | 2.9 g |
| Total Sugars | 13.1 g |
| Sodium | 730.3 mg |
| Protein | 22.9 g |