Copycat Panera Bread Green Goddess Cobb Salad Recipe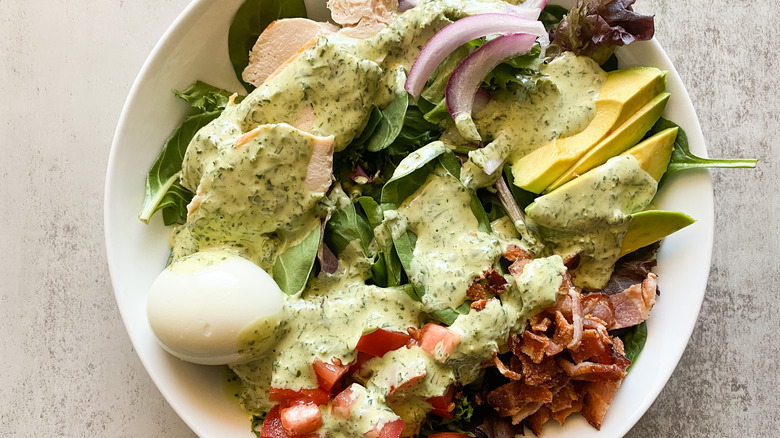 Kristen Carli/Mashed
There's no doubt that the Green Goddess Cobb Salad at Panera Bread is one of the most popular items on the menu. It's packed full of avocado, bacon, feta cheese, hard-boiled eggs, and grilled chicken breast, making it a hearty meal in itself. Really, what's not to love? It's also worth noting that the salad dressing to accompany the hearty salad is out-of-this-world good. If you've tried it, then you know. And if you haven't tried it, then let us tell you ... it's simply a must-try!
Recipe developer Kristen Carli did a fantastic job coming up with this copycat recipe, which tastes exactly like the real thing, only made right in your very own kitchen. "This dressing is amazing! It is my favorite part. I ended up making the dressing, again and again, to serve on salads or with roasted veggies," Carli shares. 
And if chicken isn't your thing, Carli notes that you can sub shrimp, chickpeas, or tofu for the protein in this recipe. The salad is great for just about any occasion, too, including picnics, lunch, dinner, or any other occasion. So, let's dive in together and make this incredible salad that is sure to be a new staple in your rotation!
Gather the ingredients for green goddess Cobb salad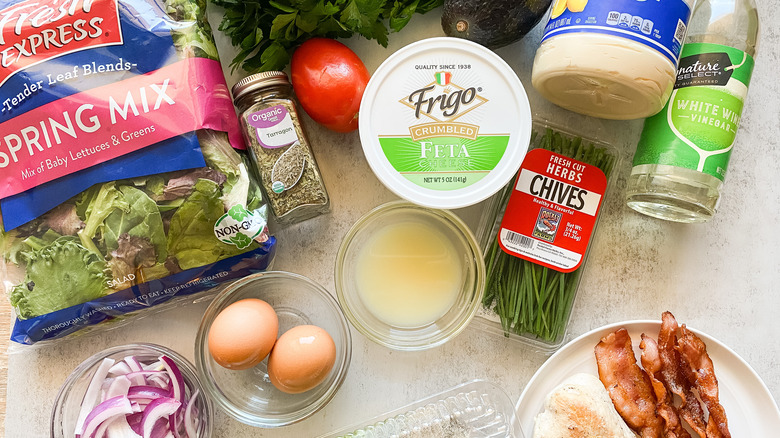 Kristen Carli/Mashed
It's true that this salad has quite a few items that go in it, but trust us when we tell you that it's worth the relatively small effort to make the final salad. To make this copycat Panera Bread Green Goddess Cobb Salad, you'll need a grilled chicken breast, cooked bacon, avocado, a Roma tomato, and hard-boiled eggs. 
In addition, grab some pickled onions, mayo, and dried tarragon. In terms of spices and garnishes, you need chives, parsley, and watercress. To complete the list, add lemon juice, white wine vinegar, salt, and pepper. Once you have everything, let's dig in.
Prep the salad dressing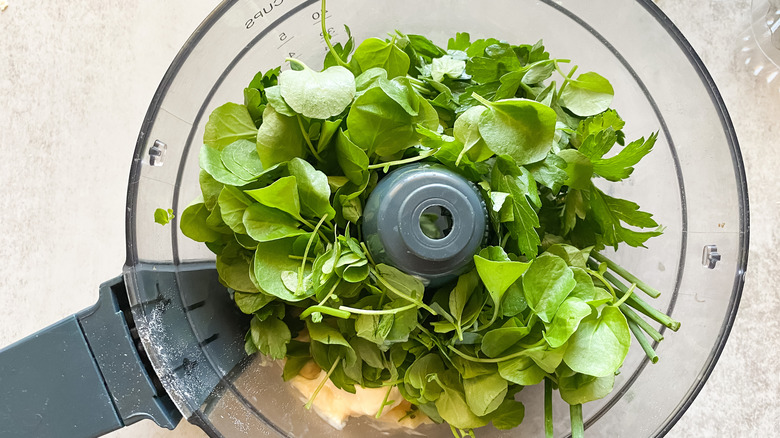 Kristen Carli/Mashed
The salad dressing is one of the most essential parts of this recipe, being the central "green goddess" of the title. Luckily, it's pretty easy to make with some standard kitchen equipment. 
To assemble the dressing, first, get out a food processor and add the mayonnaise, tarragon, chives, watercress, lemon juice, white wine vinegar, salt, and pepper to the mixing bowl. Once everything is safely in the food processor, close the lid and simply blend it all until the mixture is creamy and smooth. It will turn that signature gorgeous green color thanks to all the greens you've added. Now that the dressing is done, set it aside and move to the next step.
Assemble the salad ingredients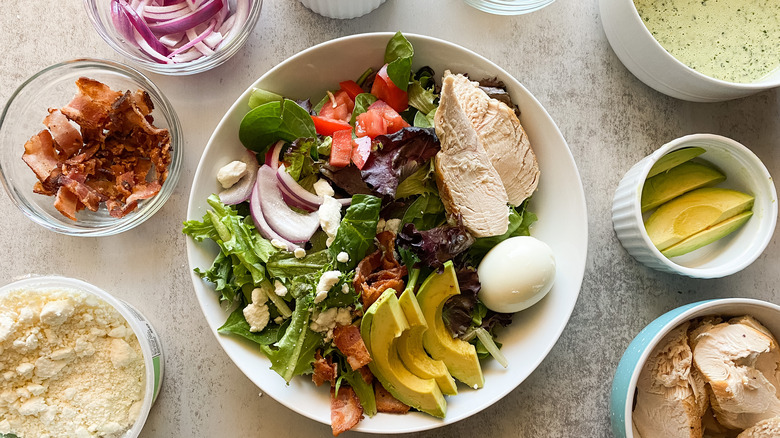 Kristen Carli/Mashed
Now that your dressing is complete, it's time to throw together the salad. This is, in many ways, a classic Cobb salad that's full of colorful and flavor-packed ingredients.
Grab a salad bowl and add one cup of spring mix. Since this recipe calls for two salads, you will add only half of the sliced chicken, diced bacon, avocado, diced tomatoes, and egg to this bowl, reserving the rest for your second serving. One tablespoon of feta cheese and one tablespoon of pickled onions make up the rest of the ingredients. Now that the salad is assembled, it's time to get it all dressed up and ready to serve.
Dress the salad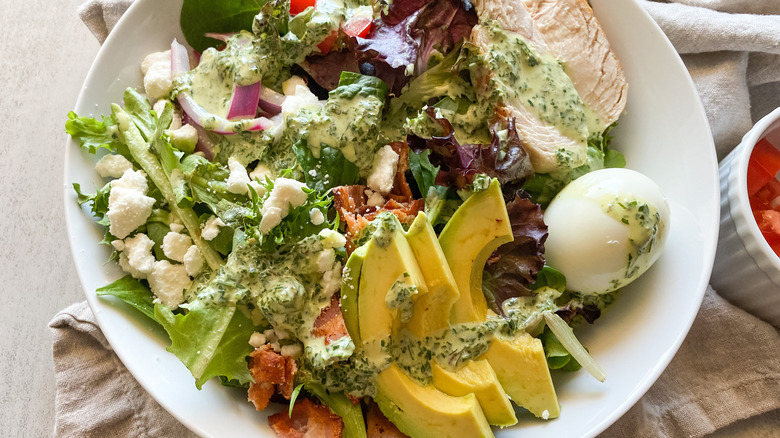 Kristen Carli/Mashed
Now that your salad is in the bowl that you would like to serve it in, it's time to give all of the ingredients inside a little dressing bath. All you need to do is to pour half of the dressing on the salad. 
Once you are done with the first salad, use the remaining ingredients to throw together the second one. When you've added all your items to salad number two, finish it by dressing the salad with the remainder of the green goddess dressing. Now you have one for yourself and one for a lvery ucky guest. 
Serving ideas and leftovers for green goddess Cobb salad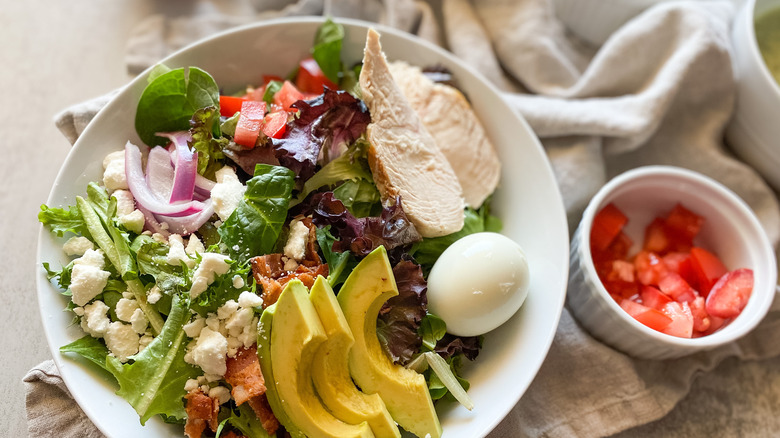 Kristen Carli/Mashed
When it comes to accompaniments for this copycat Panera Bread green goddess Cobb salad, pretty much anything bread-wise pairs well with this salad. Think a simple but delicious slice of baguette, perhaps, or a flavorful flatbread like naan.
Alternatively, if you're a french fry kind of person, we always love to go healthy with a salad and then get some fries on the side. You can even dip them in the green goddess dressing — seriously, don't knock it until you try it! And, come to think of it, that dressing doesn't need to be reserved only for salads. Carli notes that the dressing is also good drizzled over grilled veggies. If you happen to have any leftover dressing after all this, it will last in an airtight container in the fridge for up to 3 days.
Copycat Panera Bread Green Goddess Cobb Salad Recipe
There's no doubt that Panera Bread's Green Goddess Cobb Salad is one of its most popular meals. Here's how to make a copycat version of this favorite at home.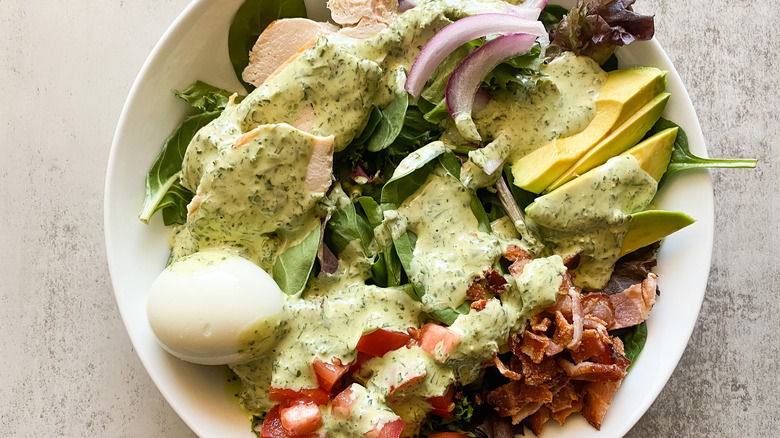 Ingredients
2 cups spring mix
1 chicken breast, grilled and sliced
4 cooked slices of bacon, diced
½ avocado, sliced
1 Roma tomato, diced
2 hard boiled eggs
2 tablespoons crumbled feta cheese
2 tablespoons pickled onions
1 cup mayonnaise
2 tablespoons dried tarragon
¼ cup chives
1 cup parsley
1 cup watercress
2 tablespoons lemon juice
1 tablespoon white wine vinegar
½ teaspoon salt
¼ teaspoon pepper
Directions
In a food processor, add mayonnaise, tarragon, chives, parsley, watercress, lemon juice, white wine vinegar, salt and pepper. Blend until smooth. Set aside.
In a bowl, add 1 cup spring mix, ½ of the sliced chicken, ½ of the diced bacon, ½ of the sliced avocado, ½ of the diced tomatoes, 1 egg, 1 tablespoon feta, and 1 tablespoon pickled onions.
Dress with dressing.
Repeat to assemble the second salad.
Nutrition
| | |
| --- | --- |
| Calories per Serving | 1,403 |
| Total Fat | 135.3 g |
| Saturated Fat | 28.1 g |
| Trans Fat | 0.2 g |
| Cholesterol | 301.9 mg |
| | |
| --- | --- |
| Total Carbohydrates | 11.9 g |
| Dietary Fiber | 5.3 g |
| Total Sugars | 4.0 g |
| Sodium | 1,325.3 mg |
| Protein | 35.6 g |