One-Pan Cheesy Orzo Bake Recipe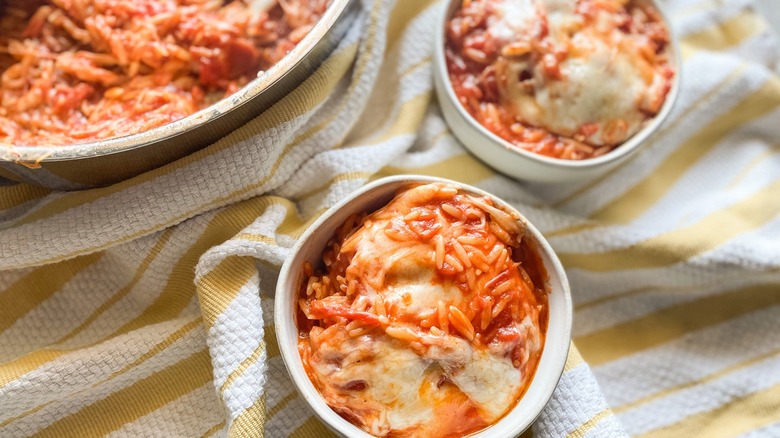 Kristen Carli/Mashed
There are some combinations that will always be classics, no matter what. Think peanut butter and jelly, hamburgers and french fries, eggs and bacon, and of course, the all-purpose, taste-filled match made in heaven that is tomato sauce, mozzarella cheese, and pasta. If you're well acquainted with dishes like baked ziti and spaghetti and meatballs and want to mix things up a bit, look no further than this one-pan cheesy orzo bake by recipe developer and registered dietician Kristen Carli. 
If you're not familiar with orzo, you might confuse it with rice, but this tiny grain is actually a small form of pasta. Carli came up with this recipe in a moment that will surely sound relatable: "This is a recipe that I whipped up for dinner one night when I realized I was out of other pasta shapes," she says. "It's delicious!"
The best part about this comforting, cheesy recipe? It only requires one pan to make, a huge plus on a busy night. Plus, if you use pre-minced garlic and pre-shredded cheese, it doesn't even require any chopping or grating, which means no cutting board to wash! This cheesy orzo bake is a truly convenient and filling meal, perfect for busy weeknights or days you want to eat something substantial but don't feel like putting in too much effort.  
Gather your cheesy orzo bake ingredients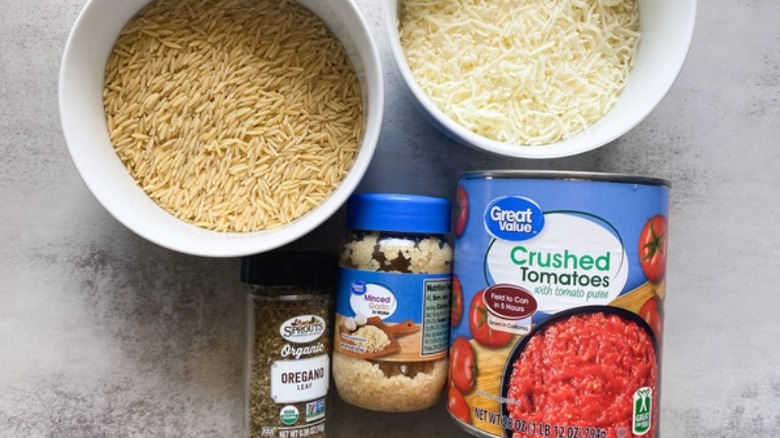 Kristen Carli/Mashed
Before you cook anything, get your ingredients and your mise en place together. This cheesy orzo bake is super simple, and only requires a few ingredients, most of which are pantry staples you might already have at home. Specifically, you'll need 1 cup of dried orzo, a 28 ounce can of crushed tomatoes, 1 tablespoon of minced garlic, 2 cups of shredded mozzarella cheese ("I love using pre-shredded for ease," Carli says), 1 tablespoon of olive oil, and 1 cup of water. Yes, you read that ingredient list correctly: the only seasoning you'll need is 1 teaspoon of dried oregano! 
If you're mincing fresh garlic, Carli says that you should use about 3 cloves to make up a full tablespoon.
Let your garlic get fragrant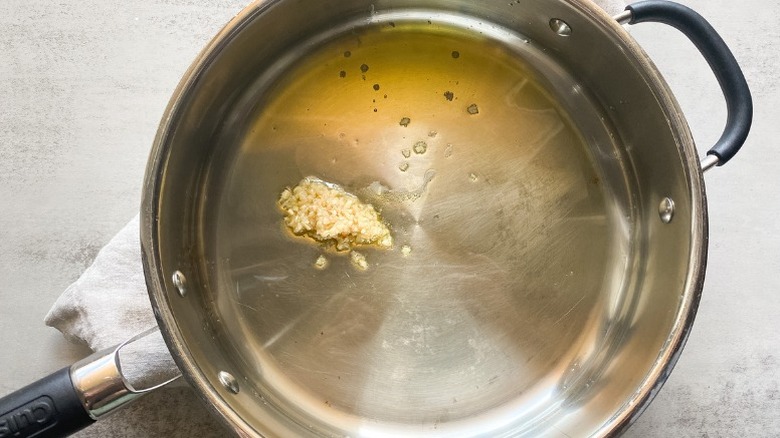 Kristen Carli/Mashed
We've all had that moment where someone says how good the meal you're cooking smells, even though you've just started cooking and the only thing you've done so far is briefly saute some garlic in oil. That is, of course, the magic of garlic.
This orzo has a similar beginning to all those other mouthwatering meals. First, heat some olive oil in a large skillet, then add your minced garlic. Let it cook until it gets fragrant — about one minute — and let that lovely garlicky scent wash over you. Are you hungry yet?
Add the other ingredients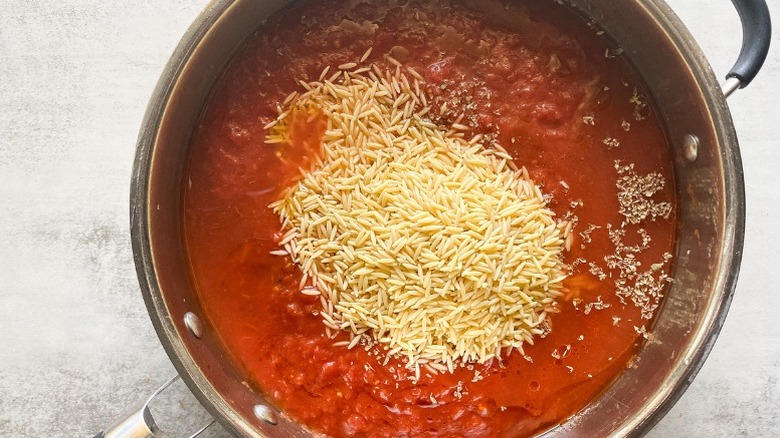 Kristen Carli/Mashed
After your garlic is smelling good, add your other ingredients to the skillet. These are: 1 cup of water, 1 cup of dry orzo, a teaspoon of dried oregano, and 28 ounces of crushed tomatoes. When it comes to ease of use, try your best to buy the crushed stuff. "I'd recommend canned crushed tomatoes, but you could use canned whole tomatoes and crush them by hand," Carli says.
Give everything a good stir, then bring it to a simmer. That means that the mix will be actively bubbling, but in a gentler way compared to if you were boiling something. 
Simmer your way to cheesy glory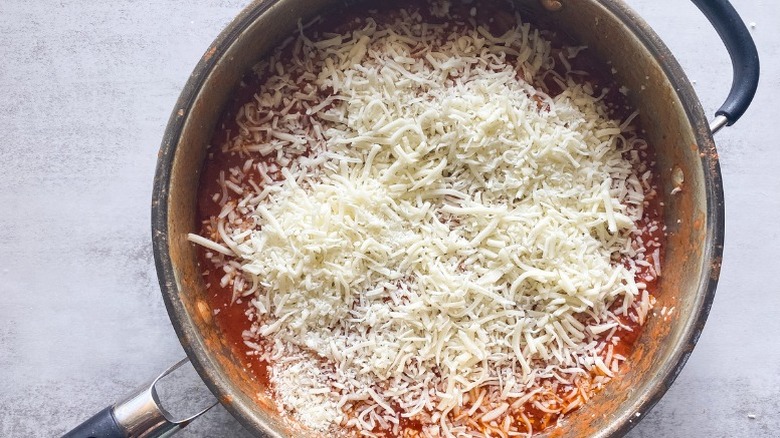 Kristen Carli/Mashed
You're so close to digging into this one-pot orzo! There's just one last step, and it's one of the most important ones, at least if you're as dedicated to the love of cheese as many of us are. 
After your tomatoes and orzo have been simmering for 20 minutes, uncover the pot and sprinkle on all that shredded mozzarella cheese. Then, put the lid back on and keep cooking for about five more minutes. This way, the cheese gets ooey, gooey, and perfectly melty in a single layer on top of the pasta. Who doesn't love melted cheese?
It's time to eat!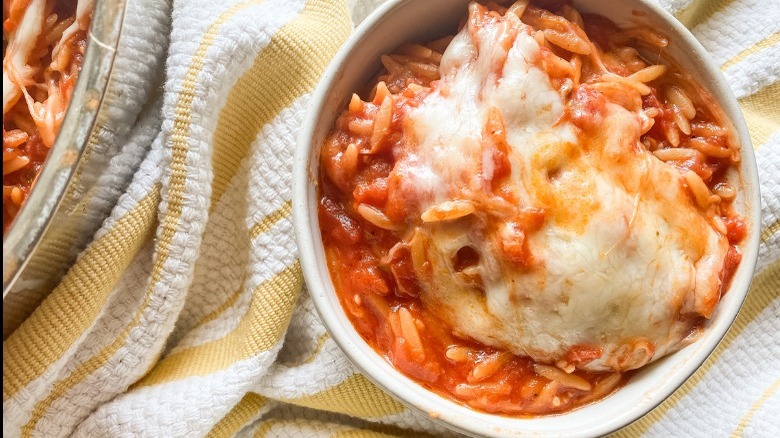 Kristen Carli/Mashed
When your mozzarella is good and melty, it's time to serve. Yes, it's that easy! You're now ready to devour this tasty, piping hot orzo dish, full of comforting tomatoes and cheese, straight out of the pot if you so choose. 
If you're looking for suggestions for how to serve this orzo, recipe developer Kristen Carli says "I love serving this with crusty bread and a fresh salad." Check out our roundup of simple, healthy side dishes for more ideas, including salads and an array of roasted veggies.
If you end up with leftovers, Carli says they're "best stored in an airtight container in the fridge for up to 5 days," but notes this dish "does not freeze well."
So, the next time you're looking for a quick meal that's satisfying without creating too many dishes to do, this one pan cheesy orzo bake has you covered.
One-Pan Cheesy Orzo Bake Recipe
The best part about this delicious, comforting, cheesy orzo bake recipe? It only requires simple ingredients and one pan to make, a huge plus on a busy night.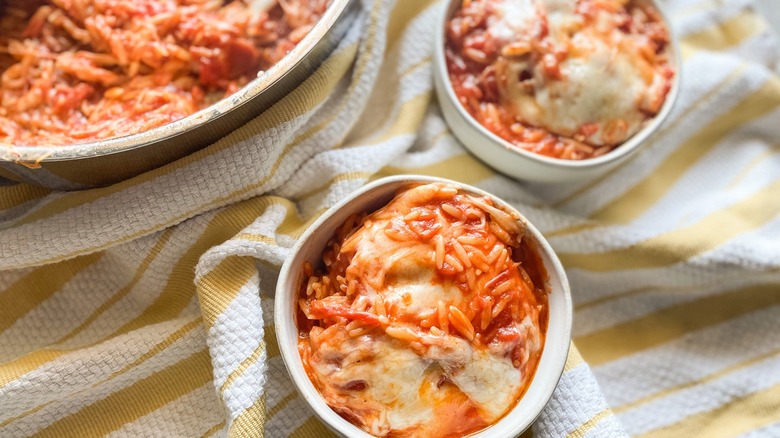 Ingredients
1 tablespoon olive oil
1 tablespoon minced garlic
28 oz crushed tomatoes
1 cup water
1 teaspoon dried oregano
1 cup dried orzo
2 cups shredded mozzarella cheese
Directions
In a large skillet, add olive oil and garlic. Cook until fragrant, about 1 minute.
Add tomatoes, water, orzo and dried oregano. Stir well.
Place lid on skillet and bring to a simmer. Simmer for 20 minutes.
Remove lid and top with cheese. Cover lid and allow cheese to melt, about 5 minutes.
Nutrition
| | |
| --- | --- |
| Calories per Serving | 608 |
| Total Fat | 36.4 g |
| Saturated Fat | 20.8 g |
| Trans Fat | 0.0 g |
| Cholesterol | 115.6 mg |
| | |
| --- | --- |
| Total Carbohydrates | 38.2 g |
| Dietary Fiber | 4.8 g |
| Total Sugars | 10.8 g |
| Sodium | 1,296.1 mg |
| Protein | 34.9 g |