3-Ingredient Chocolate Sponge Cake Recipe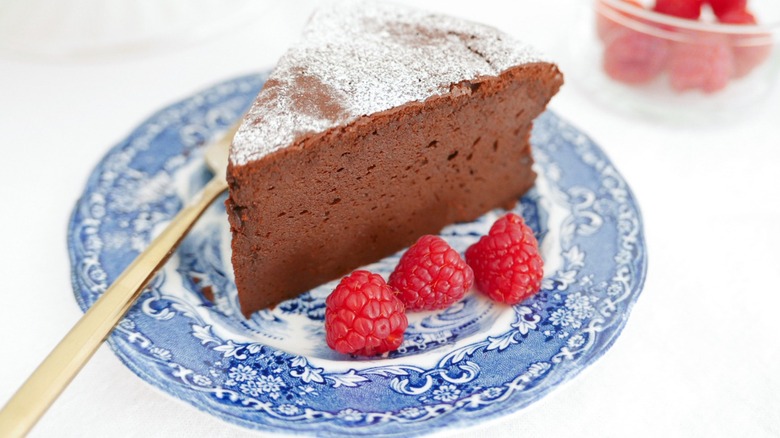 Ting Dalton/Mashed
Who doesn't love a super-quick, easy cake recipe — particularly one where you don't even have to spend too much time rounding up the ingredients? While some low-ingredient cake recipes can be kind of, well, disappointing, that definitely isn't the case with this yummy chocolate sponge cake.
This flourless chocolate torte from Ting Dalton of Cook Simply has a deep, rich flavor that can be dressed up and served at the fanciest of dinner parties despite the fact that it's ridiculously easy to cook. What's more, as an added benefit, this cake is entirely gluten-free! Although this single-layer cake might look small, recipe developer Ting Dalton cautions: "This is a really rich and decadent cake — you won't need huge slices!" She advises that this cake should serve nine people, although your mileage may vary. Filling it may be, but you could still find yourself craving a second helping of this delicious cake.
Gather the ingredients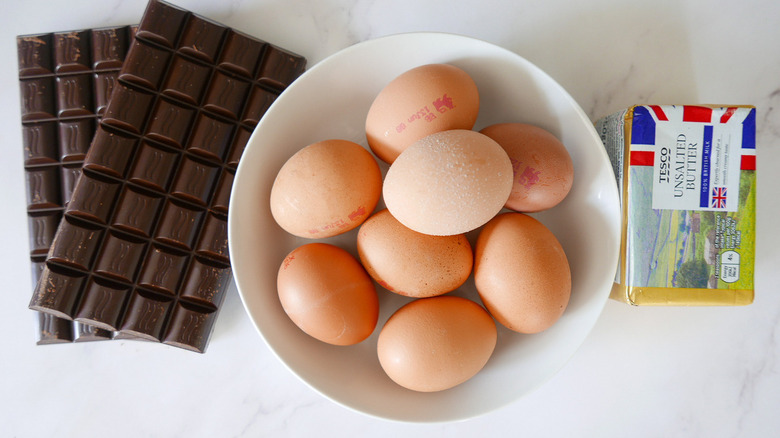 Ting Dalton/Mashed
In order to make this cake, you literally need just three items: dark chocolate, eggs, and unsalted butter. Dalton used dark chocolate to make this cake, and you could use semisweet chocolate chips or chocolate bars, whichever you like. If you use chips, 16 ounces should equal about 2 2/3 cups.
Dalton says she thinks the cake could be made with milk chocolate if that's your preference, although she notes: "The taste would be much sweeter and not so rich and intense." You could also add a teaspoon of vanilla or half a teaspoon of almond extract when you stir the melted chocolate into the eggs, or perhaps, as Dalton suggests, "a tablespoon or more [of rum or brandy] if you like it boozy!"
Melt the chocolate and the butter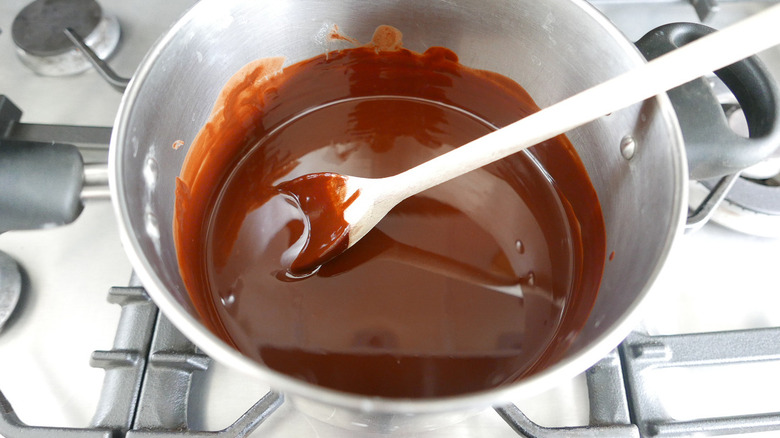 Ting Dalton/Mashed
Melt the chocolate together with the butter in a saucepan over very low heat or, if you want to be really cautious, a double boiler. You could also melt these two ingredients in the microwave. However you melt them, though, do so slowly and carefully, stirring often and making very sure the chocolate doesn't scorch.
Once the chocolate and the butter have melted, stir them until they are thoroughly combined, then set them aside to cool while you set the oven to 275 degrees to preheat, and grease an 8-inch round cake pan. You'll also need to line the pan with parchment paper, leaving a couple inches of the paper sticking up past the rim of the pan. This paper cuff will help to support the cake as it rises. If you have no parchment paper, you could try extending the pan rim with double layer of aluminum foil, but do not use wax paper here, as it may burn when directly exposed to the oven's heat.
Add in the eggs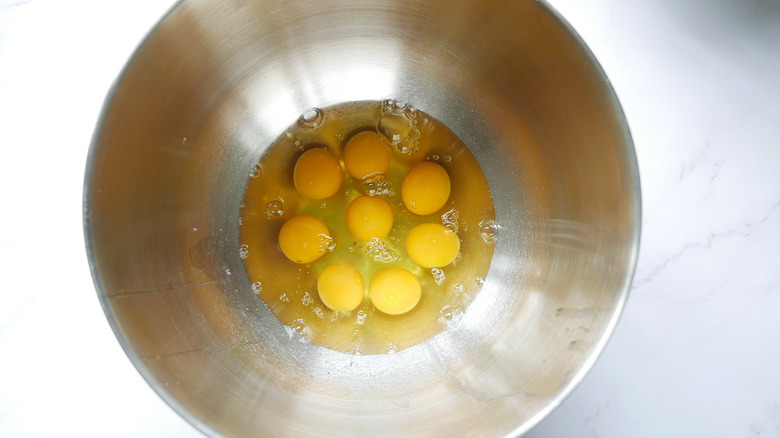 Ting Dalton/Mashed
Crack the eggs into a large bowl and then beat them for about 10 minutes or until their volume has doubled in size. (Better make that a very large bowl!) Once the eggs are sufficiently beaten, pour the chocolate mixture over the top of the eggs and use a spoon to stir it in. Gently does it, since you  don't want to deflate the eggs. Pour the cake batter into the prepared pan and then cover that pan tightly with aluminum foil.
Bake the cake in a bain marie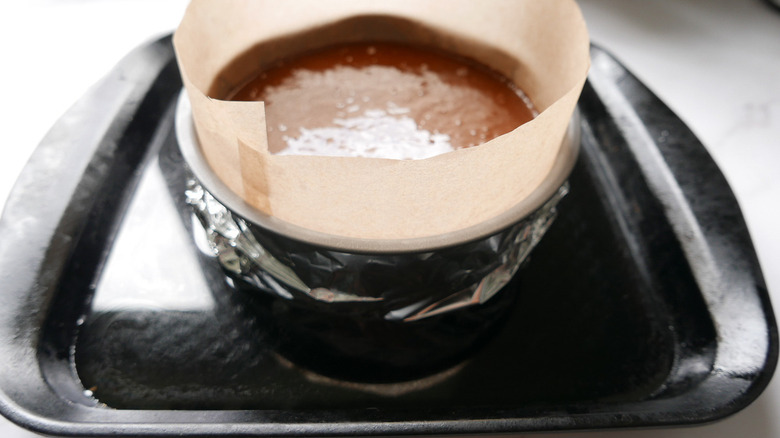 Ting Dalton/Mashed
Why the foil wrapped cake pan? The reason for using the foil is because this flourless chocolate torte is going to be cooked in a bain-marie, which is culinary French for a water bath. The cake pan will actually sit inside of a roasting pan, filled with boiling water.
As Dalton tells us, "The tinfoil helps evenly transfer the heat to the cake while it's baking, and also helps protect the cake from the water." If you're worried about splashing boiling water on yourself when you carry the pan to the oven, Dalton has a hack for that, too: "Take the pan to the oven first, and then pour the water in."
Bake the cake for about an hour. It will be done when you can push a skewer or a toothpick down into the center and have it come out clean when you pull it back out again.
Serve the cake plain, or with your choice of toppings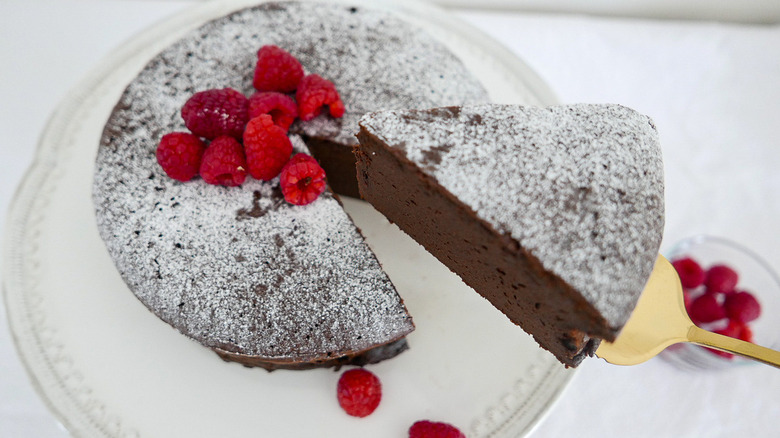 Ting Dalton/Mashed
Before you even think about removing the cake from the pan, make sure it's completely cooled. As Dalton tells us, "This cake is moist and needs to be handled carefully." She says once it's cooled, you can serve it just as it is, but her preference is to sprinkle it with a dusting of confectioner's sugar and top it with fresh raspberries. Strawberries and whipped cream would also be lovely, or, for an extra-indulgent treat, you could serve the cake topped with ice cream.
This chocolate sponge cake should keep for up to four days in the fridge, but it's also possible to freeze the cake after it has cooled. A frozen cake, though, should be defrosted for 24 hours before serving in order to restore its proper texture.
3-Ingredient Chocolate Sponge Cake Recipe
This 3-ingredient chocolate sponge cake has a rich flavor that can be dressed up and served at the fanciest of dinners, even though it's so easy to cook.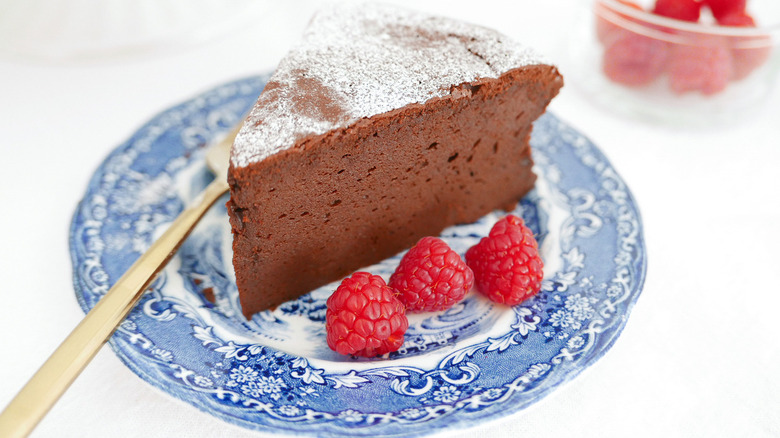 Ingredients
16 ounces dark chocolate
8 large eggs
1 cup (2 sticks) unsalted butter
Optional Ingredients
Fresh raspberries
1 tablespoon confectioner's sugar
Directions
Preheat the oven to 275 F.
Grease an 8-inch round cake pan and line it with parchment paper.
Melt the butter with the chocolate in a saucepan over low heat. Once melted, leave the chocolate mixture to cool for a short while.
While the chocolate is cooling, in a large mixing bowl, beat the eggs until the volume has doubled in size. This will take around 10 minutes.
Pour the chocolate into the beaten eggs and gently mix the ingredients together with a spoon.
Pour the cake mixture into the prepared cake pan.
Wrap the cake pan with foil and then place it in a large roasting pan. Carefully pour boiling water into the roasting pan until it reaches a level about two-thirds of the way up the sides of the pan.
Place the roasting pan with the cake pan into the oven and bake the cake for an hour, or until a skewer or a toothpick pushed into the middle comes out clean.
Let the cake cool completely before removing it from the pan.
Nutrition
| | |
| --- | --- |
| Calories per Serving | 546 |
| Total Fat | 46.2 g |
| Saturated Fat | 26.7 g |
| Trans Fat | 0.9 g |
| Cholesterol | 221.1 mg |
| | |
| --- | --- |
| Total Carbohydrates | 23.5 g |
| Dietary Fiber | 5.5 g |
| Total Sugars | 12.3 g |
| Sodium | 76.0 mg |
| Protein | 9.7 g |