Copycat Friendly's Peanut Butter Ice Cream Sauce Recipe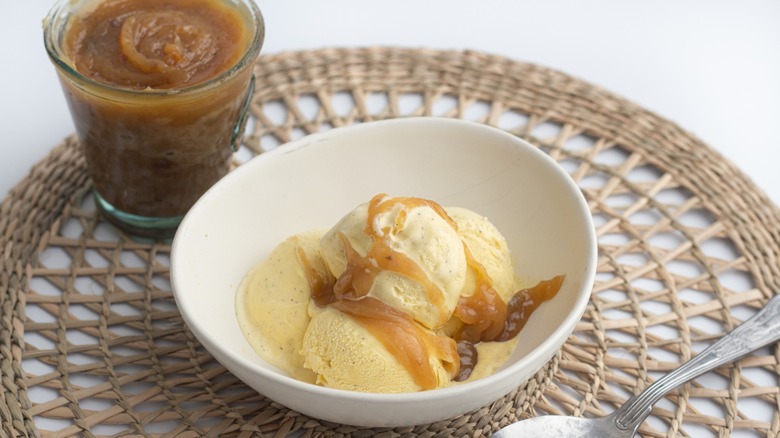 Susan Olayinka/Mashed
There's always that favorite restaurant meal or amazing dessert that always keeps us wanting to go back for more. While it is certainly a treat to go to these spots and order up our tried and true dishes, there are times it would be really fun and convenient to enjoy them right at home. For this very purpose, Susan Olayinka, recipe developer at The Flexible Fridge, created this delicious peanut butter ice cream sauce for anyone who's craving the original topping from Friendly's. As a true peanut butter lover, Olayinka says, "I literally eat it by the spoon," and many of us would. So get excited, because Olayinka was tested out a copycat recipe, and it is not only yummy — it's spot-on. 
About the process, Olayinka remarks, "[There was] so much trial and error and adaption but I finally got it!" She achieved the perfect balance of texture and flavor. It only takes 15 minutes to whip up, which we bet is a shorter amount of time than driving to the closest Friendly's and ordering the dessert. Aside from being quick and easy, you'll have a peanut butter sauce to smother and enjoy on your ice cream any day of the week. Nothing makes vanilla ice cream taste better than the satisfying combination of salty and sweet. You'll also be able to experiment by using this sauce as a topping for the rest the contents in your pantry and fridge — did anyone say waffles with peanut butter sauce?
Gather the ingredients to prepare this copycat peanut butter ice cream sauce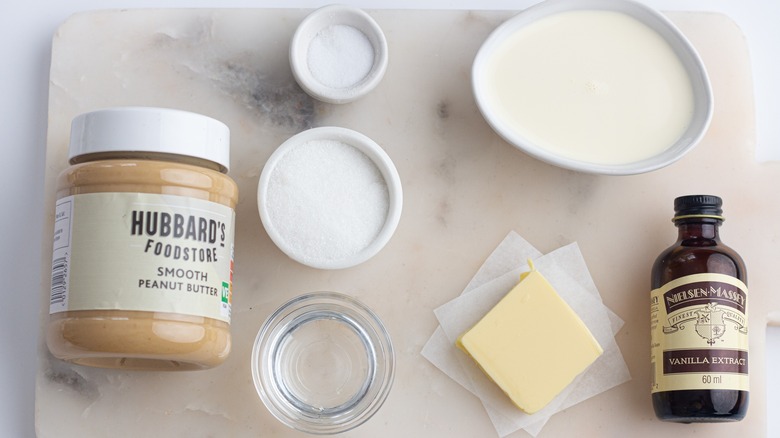 Susan Olayinka/Mashed
To start with this recipe, you'll need to gather all of the ingredients required for making your copycat peanut butter sauce. The heavy cream that's needed will give your sauce a smooth texture for easy drizzling over your dessert. If you're looking for a vegan alternative, Olayinka recommends using either coconut cream or vegan cream. Sugar is key for adding a nice syrupy sweetness to the peanut butter. For another take, Olayinka says brown rice syrup, agave, honey, and maple syrup should also do the trick. Next, butter will create a pleasant richness and help to keep all of the components combined nicely. Once again, if you're following a vegan diet, Olalyinka indicates ghee, coconut oil, or vegan butter are suitable alternatives.
This wouldn't be a peanut butter sauce without the peanut butter! Choose smooth for a nice creamy texture, however if you like some crunch, you can substitute with crunchy peanut butter. The peanut butter can be regular if you like it sweet, but sugar-free works too since you'll be mixing it with sugar. Vanilla extract brings just the right amount of warmth and aromas to any sweet dish, and it's no exception here. A little bit of corn syrup will give your sauce the right kind of stickiness to properly coat ice cream or whatever you will pour it onto. Finally, a pinch of salt will help to enhance all of the flavors, balancing out the sweetness.
Heat the heavy cream, sugar, and butter in a pan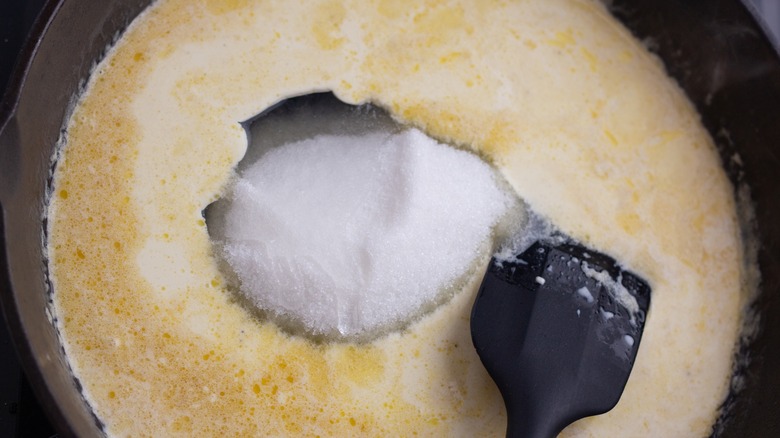 Susan Olayinka/Mashed
Now that you have all of your ingredients pulled together, it's time to get started with preparing your delicious topping. After all, the sooner you make your copycat Friendly's peanut butter ice cream sauce, the sooner you can enjoy it for a soon to be favorite at-home dessert.
To begin the process, you will place a wide saucepan on the stove top, and set the burner to heat at low to medium. Then, pour the heavy cream into the pot, along with the granulated sugar and the butter. Using a wooden spoon or spatula, gently mix all of the ingredients together until they have combined nicely. To know if you blended everything well enough, the sugar should dissolve completely, and the butter should be well incorporated into the cream. If your burner runs hot, be sure to keep it at low to avoid burning the mixture.
Add the peanut butter, vanilla, sugar, corn syrup, and salt, and raise the heat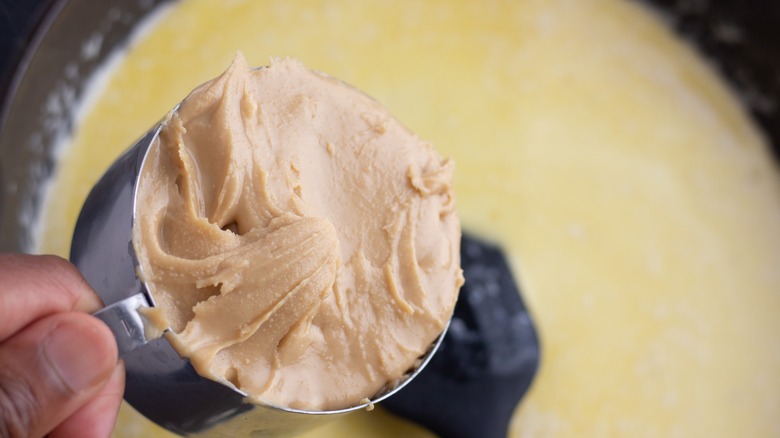 Susan Olayinka/Mashed
Once the mixture has combined uniformly, it's time to add the characteristic ingredients to give the sauce it's sweet and salty flavor. Be excited, because it's time to add in the peanut butter, vanilla extract, corn syrup, and salt. In order for the thicker ingredients to properly melt and blend into the sauce, you'll need to raise the burner heat to medium. This isn't the time to walk away from the stove if you want to avoid burning the delicious peanut butter sauce. Be cautious, and the end result will be well worth your time and patience during this step.
Mix until the sauce is smooth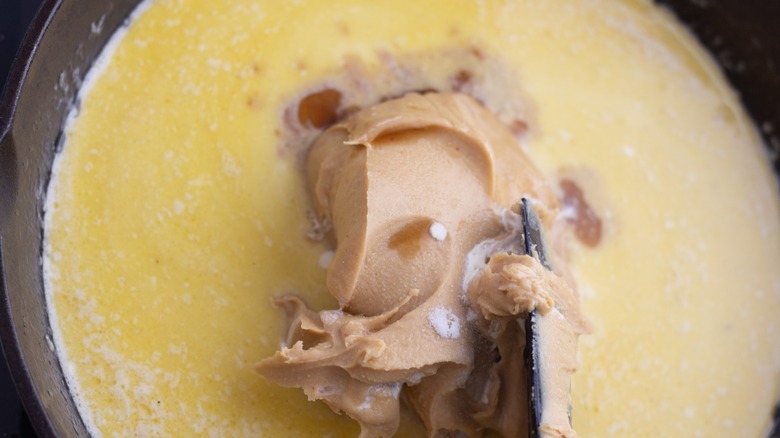 Susan Olayinka/Mashed
At medium heat, stir the mixture continuously for two to three minutes. It will start to soften, and the peanut butter should begin to melt and incorporate into the remaining ingredients. Once the mixture has softened, take out a wire whisk, and whisk your mix for about one minute to create a smooth and silky consistency. When you're done, make sure there are no lumps in the sauce and that it has that smooth and silky syrupy texture that will make for easy drizzling. If it's not that consistency, mix a bit more. Your sauce is going to smell as yummy as it looks right about now, and you can definitely start to get excited.
Store the sauce in an airtight container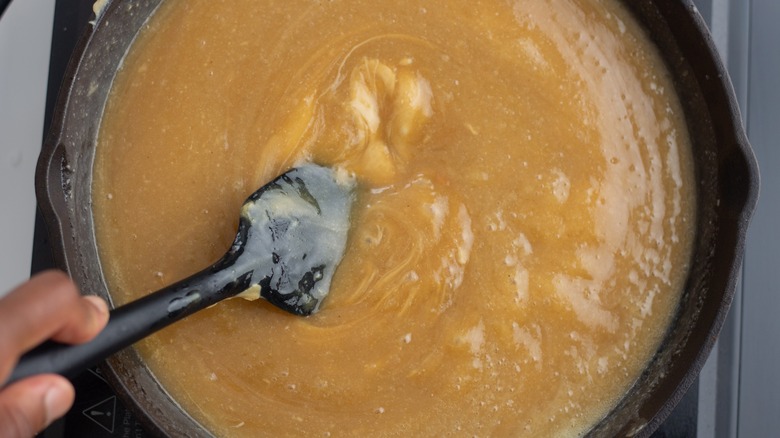 Susan Olayinka/Mashed
When the sauce has reached an ideal smooth consistency, pour what you will not be consuming immediately into an airtight container so you can have it readily available when you want to use it again. Olayinka advises to store the sealed container in the refrigerator for three to four days. She remarks, "It goes hard in the fridge," but this can be easily fixed — "just put it on the stove again." A quick zap in the microwave should do the trick as well. The sauce can also be frozen, but seal it properly to avoid crystallization on the surface which will compromise the texture. Quite honestly, we are pretty sure your topping won't be in the fridge that long once everyone knows it's in there, but as least you're prepared!
Once the portion you won't use right now is put away, you can focus on the prize. It's time to enjoy the sweet topping you just created, and have some fun. So grab a few ice cream bowls, and let's get creative with a pretty divine dessert.
Serve the peanut butter sauce on ice cream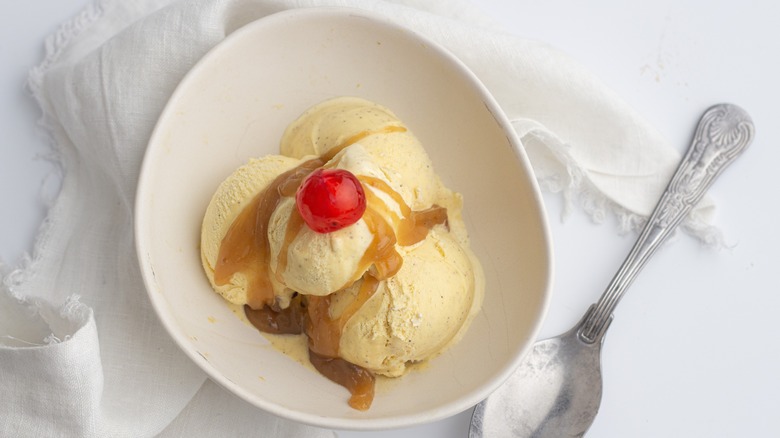 Susan Olayinka/Mashed
For the ultimate Friendly's experience, you'll want to serve this peanut butter ice cream sauce drizzled on top of vanilla ice cream, of course, with a maraschino cherry right on top. How's that for being precise? Olayinka also suggests, "This sauce would work well on top of cupcakes! It's a bit like a salted caramel sauce." If you're eager to experiment, try adding some to waffles, on your French toast, vanilla pound cake, French vanilla yogurt, or even on top of a bowl of plain oatmeal to sweeten up your morning in the very best of ways. You can use the peanut butter sauce as a sweet dip for apple slices, or drizzled over sliced bananas and pancakes. You might even just have a spoonful of the syrup all by itself, and call it a day. You'll love the sweet and salty combination no matter where it ends up!
This is a special sauce and a great topping to serve over something when you're having company, a date night, or for a family treat. We promise anyone who you serve it to will be pretty impressed, and you will be asked to make it many times in the future! So keep the recipe and ingredients close on hand so you can whip it up when a fun dessert is called for.
Copycat Friendly's Peanut Butter Ice Cream Sauce Recipe
This copycat Friendly's peanut butter ice cream sauce recipe was made for true peanut butter lovers.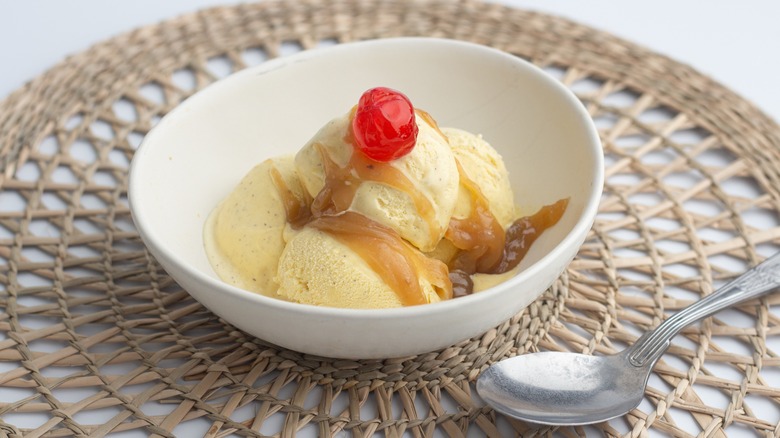 Ingredients
1 cup heavy cream
½ cup sugar
1 tablespoon butter
1 ½ cups smooth peanut butter
1 teaspoon vanilla extract
¼ cup corn syrup
⅛ teaspoon salt
Directions
Place a nonstick pan on the stove at low to medium heat.
Add the heavy cream, sugar, and butter, and mix until it is well incorporated.
Once the mixture is combined, add the peanut butter, vanilla extract, corn syrup, and salt into the pan.
Raise the heat to medium, and stir with a wooden spoon for 2 to 3 minutes until the mixture starts to soften.
Using a whisk, mix the sauce for 1 minute until the consistency is smooth.
Pour the sauce into an airtight container and refrigerate to store.
Nutrition
| | |
| --- | --- |
| Calories per Serving | 388 |
| Total Fat | 29.9 g |
| Saturated Fat | 10.2 g |
| Trans Fat | 0.1 g |
| Cholesterol | 35.7 mg |
| | |
| --- | --- |
| Total Carbohydrates | 25.9 g |
| Dietary Fiber | 1.9 g |
| Total Sugars | 21.3 g |
| Sodium | 50.3 mg |
| Protein | 9.1 g |