The Surprise Ingredient Bobby Flay Adds To Strawberry Milkshakes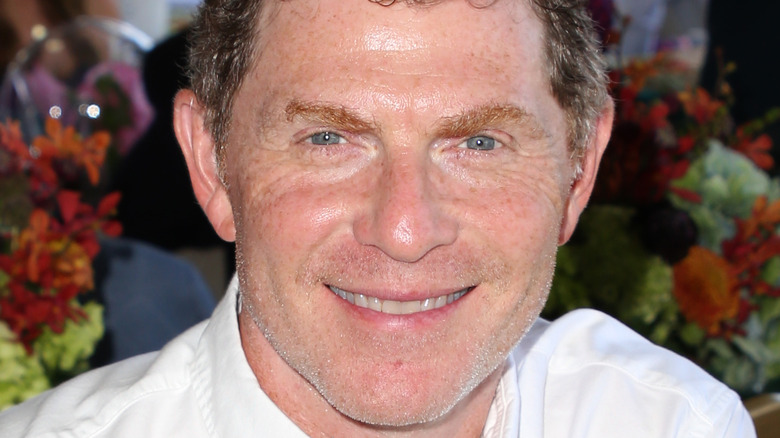 Sonia Moskowitz/Getty Images
Bobby Flay goes all in when he cooks. It's one of the culinary characteristics we appreciate most about him. Most people know that Flay's foray into cooking occurred at a young age. He dropped out of high school and found himself working in a restaurant kitchen, climbing the ladder until he quickly reached the top.
Flay loved his work then and told CBS Sunday Morning, "I was creating things. And I could actually do it. I didn't have to open a book. I remember waking up in the morning, laying in my bed, staring at the ceiling and saying to myself, 'I can't wait to go to work today.'" These words really get to the heart of this celebrity chef's cooking. 
Flay loves to cook and create. Whether he is dreaming up the perfect chicken marinade or sharing his secret ingredient he adds to dishes, you can tell how much he loves the process. Perhaps that's why we are so excited over the Cooking Channel's tweet for Flay's strawberry milkshake recipe and how he takes it to not just the next level, but to a whole different dimension by adding a simple, but decadent ingredient. Not to mention, he makes them from scratch, which makes us realize just how good Flay really is.
Bobby Flay is all about those sweet, buttery biscuit crumbles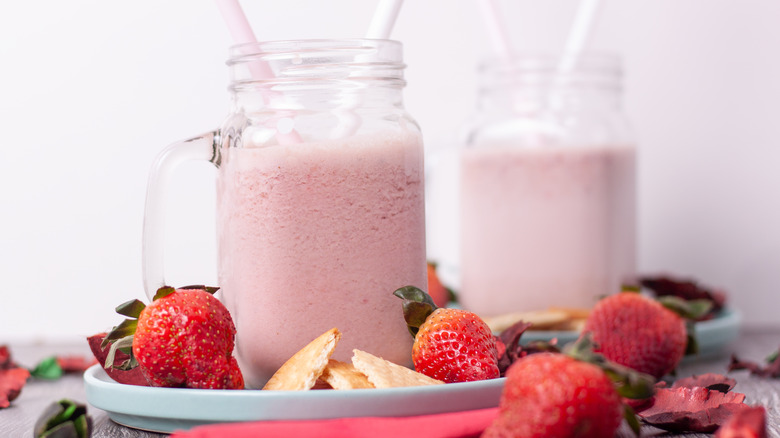 Shutterstock
In the video the Cooking Channel tweeted out, Bobby Flay shares that he crumbles sweet, flakey, buttery biscuits made from scratch on his strawberry milkshakes. It's pretty amazing to watch Flay quickly whip-up these buttermilk biscuits, and he shares that this is a really good biscuit recipe to know because you can make savory biscuits, like his favorite black pepper biscuits or sweet biscuits like the ones he makes for his creamy dreamy milkshake.
To achieve the sweetness, he brushes the top of the dough with heavy cream and then liberally sprinkles pure cane sugar on top. Flay bakes them for 12 minutes and then when they are done, he removes the sweet top of the biscuit to use for his crumble.
Then he gets to the milkshake, and Flay reveals you need a lot of ice cream for a good shake. He shared that he uses 11 ounces of ice cream for each 12-ounce shake he makes to ensure that it is oh-so thick. He then blends the ice cream, along with macerated strawberries, and a little milk to perfection. He takes the crusty, crunchy pieces of the biscuits, cuts them up, and drops them on top. Flay shares as he digs into the creamy shake that it tastes "amazing" like "strawberry shortcake," but cold.
And the Twitterverse agrees. "Strawberrylicious! My grandson Cruz loves Bobby Flay biscuits. Using the sweet kind for crumbles is lovely," wrote one follower on Twitter. Sounds delish!