Here's What Dunkin's New Popping Bubbles Taste Like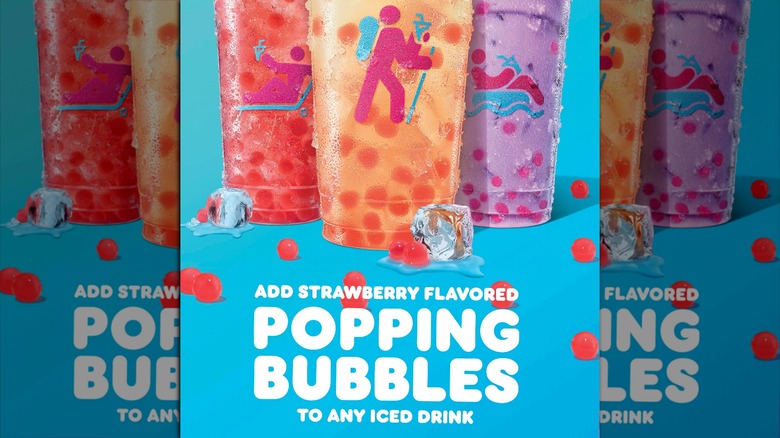 Dunkin'
If you are a fan of Pop Rocks, bubble tea, or all things fun and flavorful, then you won't want to miss Dunkin's newest release. The chain has just announced that it will be launching an exciting beverage experience: Popping Bubbles. The new bubbles will add a delightful sensory experience to any drink by releasing bursts of sweet strawberry flavor when they pop in your mouth.
Customers can choose to add the Popping Bubbles to any iced or frozen drink on the menu for an additional charge, although the sweet, fruity flavor pairs particularly well with Dunkin's summery Lemonades or Coconut Refreshers. To add to the bubbly experience, all beverages are served with a new Dunkin'-themed pink and orange wide paper straw that was specifically designed with the bubbles in mind. While the experience might seem reminiscent of bubble tea, Dunkin's bubbles are not chewy like tapioca. Rather, they are made with a colored simple syrup that is designed to burst with sweet, refreshing strawberry flavor with every sip.
Popping Bubbles will be available at Dunkin' nationwide starting on June 23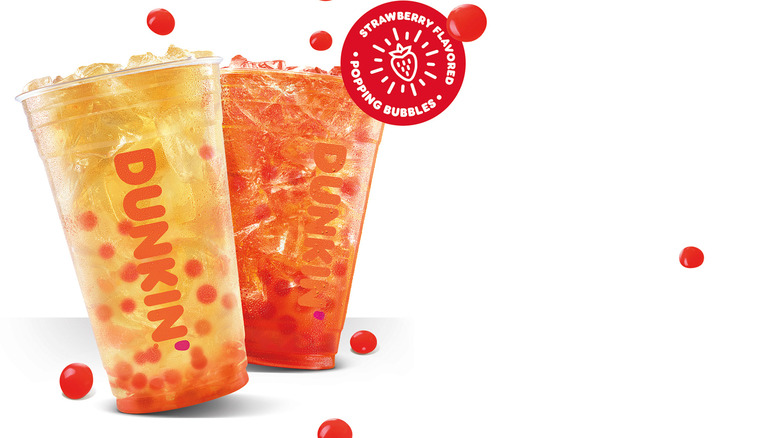 Dunkin'
In celebration of the popping new release, Dunkin' has created a brand-new online game to give customers the chance to win gift cards, fun prizes like giant bubbles kits and inflatable pool rafts, and even the biggest grand prize: $5,000 in cash. Fans can take part in the fun every day from July 2 through July 31. To play, customers can head to www.dunkinpoppingbubbles.com and use their fingers to start popping the virtual Strawberry Popping Bubbles that appear on the screen. As the bubbles pop, they will reveal if you are an instant winner of one of these great prizes.
"As the destination for flavorful beverages to keep folks running all season long, we're kicking off summer with something extra fun by offering our guests Strawberry Popping Bubbles. With an exciting explosion of strawberry flavor, Popping Bubbles are a new way to make favorite Dunkin' iced or frozen drinks even cooler," Jill Nelson, Vice President of Marketing & Culinary at Dunkin', said of the new release in a statement sent to Mashed. Popping Bubbles will officially be released at all participating Dunkin' locations nationwide on June 23.