Why Marcus Samuelsson Deep Fries Chicken Twice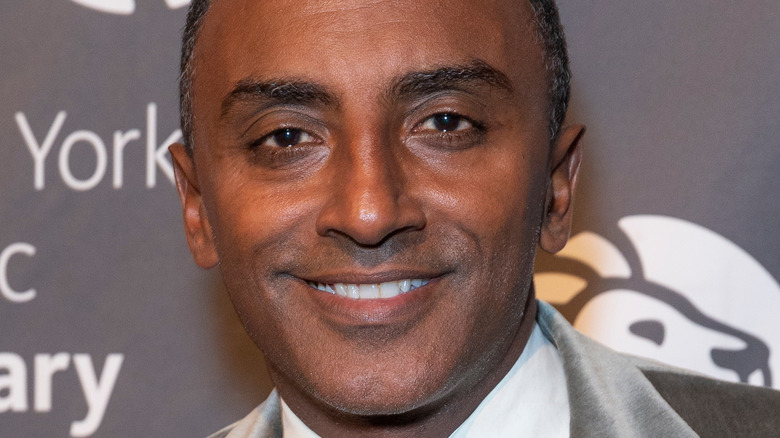 Shutterstock
When chef and restaurateur Marcus Samuelsson opened Red Rooster in Harlem, along with his Ginny's Supper Club speakeasy in the basement, in 2010, he did so to celebrate the diversity of the famed neighborhood, both in its people and in its food. According to the New York Times, Samuelsson promised "elevated Amerian comfort food," with influences from Africa and the American South. More than a decade later, it still resonates with his customers. Comfort, after all, never goes out of style. One of the anchors of the Red Rooster menu (via Red Rooster) is Samuelsson's famous  Yardbird (a term for everyone's favorite poultry). The menu offers fried chicken you can buy by the piece (drum sticks, $5.00 each, thighs, $6.00, and breasts, $8.00) or in a show-stopping 20-piece "tower" with cornbread and three side dishes for $98.
Everyone loves fried chicken, and great fried chicken is defined by its combination of juiciness and crispiness. It needs deliciously seasoned, succulent meat and a perfectly crackling, golden crust. The secret to the meat lies in the marinade or brine — or both, as Samuelsson uses. The crispy crust? The James Beard Award winner, cookbook author, and winner of "Top Chef Masters" Samuelsson has a hack you should try: Fry your fried chicken twice. Per Food Network, his recipe is similar to the Red Rooster Yardbird recipe, with a few alterations, including the twice-frying technique for extra-crispy results. (If you're interested in trying your hand at Red Rooster's classic Yardbird, you can find it on Bordeaux magazine's website.)
Fry it twice for extra crispiness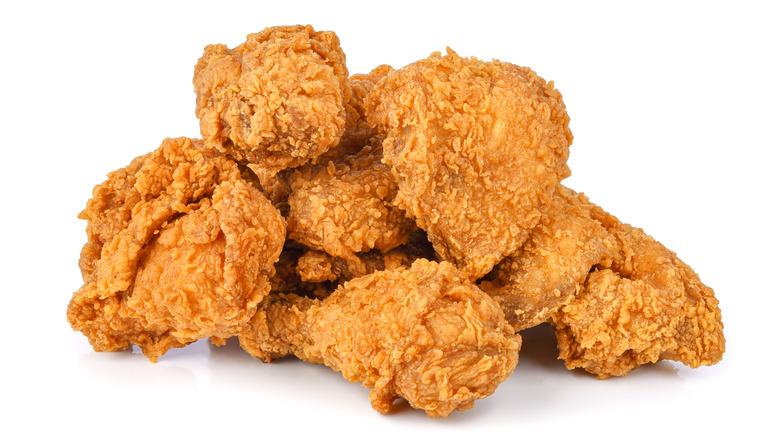 Shutterstock
According to Marcus Samuelsson's recipe (via The Food Network), perfect fried chicken starts with a saltwater-brined chicken thighs and drumsticks, patted dry, and marinated overnight in a delicious mixture of buttermilk, coconut milk, garlic, and an Ethiopian berbere spice blend. After letting the chicken come to room temperature, he rolls the pieces in a blend of all-purpose flour and semolina flour, cornstarch, and white pepper, then sprinkles a little more of the flour mixture in each piece before frying them in a cast iron skillet half-filled with peanut oil heated to 360 F. (For even more amazing flavor, Samuelsson adds rosemary and garlic cloves to the oil.)
After frying the pieces in batches for about 7 minutes, the "Chopped" star transfers the thighs and drumsticks to a rack and lets each batch rest for 10 minutes. He then removes the garlic and rosemary from the oil, reheats it to 375 F, and fries the chicken again but only for a minute. Be sure to pull the chicken out as soon as the breading is crispy and a deep golden brown color.
Juiciness is just half of the perfect fried chicken equation. Fried chicken just isn't fried chicken without a crispy coating. Twice-fried fried chicken, a la Marcus Samuelsson? We're definitely trying this.