Andrew Zimmern Says This Could Be The Most Underappreciated Chef In The World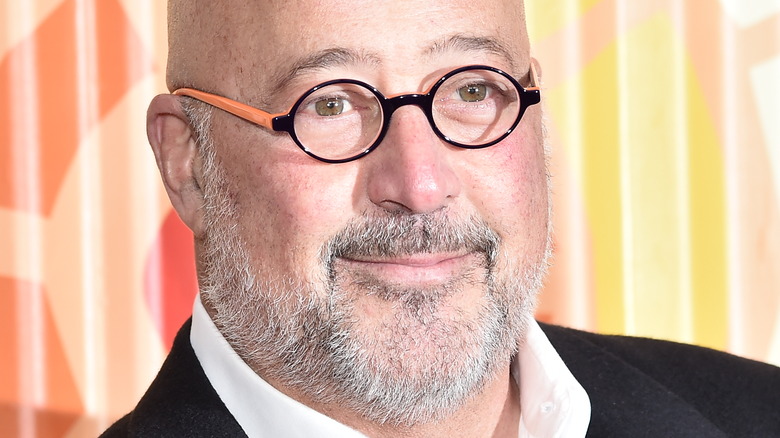 Steven Ferdman/Getty Images
Andrew Zimmern transcends perceptions of culinary expertise. Zimmern has eaten and tasted, well, just about everything. Zimmern has eaten some bizarre dishes, and depending on the adventurous nature of your taste buds, some foods that are downright never going to enter your mouth. From cow placenta to fermented sheep's head to Icelandic harkal, this James Beard award-winning chef has shared these culinary moments with us on the Travel Channel's "Bizarre Foods with Andrew Zimmern." But Zimmern also cooks and eats things that make our mouths water. His one-pot sticky chicken wings are all kinds of sweet and spicy, and his key lime pie will keep you coming back for seconds and thirds (via Andrew Zimmern).
Zimmern has worked and cooked with everyone. Rachael Ray? Check. Sunny Anderson? Check. And the list goes on. So, when he appeared on a YouTube video that he titled "Honest Q&A," he was asked who is the most talented, but perhaps underrated, chef he's has ever worked with, and our ears perked up. Zimmern shared that José Andrés is truly one of the most amazing chefs out there, but Zimmern also noted that one of Andrés' team members is really one of the most underrated talents.
Zimmern really admires chef Aitor Zabala
Who's this underrated chef that has Andrew Zimmern singing his praises? After lauding Andrés during his "Honest Q&A", the celebrity chef shared that Aitor Zabala, who was the head of Andres' culinary at one point, is probably the most "under talked about chef on planet earth." Zimmern goes on with further kudos revealing that Zabala's culinary skills are unreal. Zimmern said, "His skill set is just absolutely immense, and when he and José were cooking together it was beyond, beyond." Those words coming from Zimmern are enough to make any chef blush in humility, but Zimmern isn't the only one who thinks Zabala is a rare talent.
Per the Institute of Culinary Education, Zabala is a Barcelona native with Spanish food being his forte. And as LA Eater points out, he cooked with Andrés at famed El Bulli, which many considered to be the absolute best restaurant in the world. That's a pretty hefty title. But Zabala doesn't necessarily cook for the accolades. He revealed, it is about passion, telling Eater, "In the fine dining world, America tends to be a little different. Here it's more about business whereas in Spain and Europe, young cooks get into that world because of the passion. If I wanted to make money in a restaurant, I wouldn't open a place that serves 20 people a night. I'd open a place with 200 seats, work five days a week, and spend more time playing golf. My bank account would be a lot bigger."