How Bobby & Giada In Italy Changed The Way Giada Thinks About Food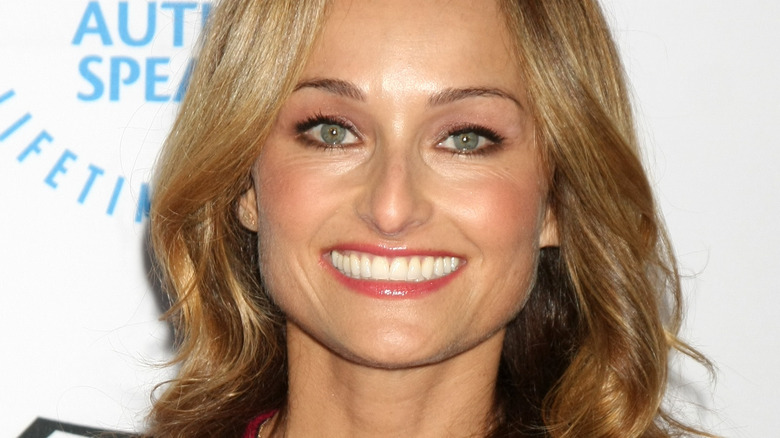 Shutterstock
"I started drinking already, sorry," a not-very-sorry-looking Giada De Laurentiis said cheerfully to the Variety moderator in a recent live cooking demonstration with pal and fellow chef, Bobby Flay. Kicking off the show with a couple of sbagliatos — an Italian cocktail made with prosecco, Campari, and vermouth — the buddies chatted, answered questions, and playfully ribbed each other as they cooked their way through a couple of Italian dishes, recounting stories from their trip to Italy together. De Laurentiis and Flay have an undeniable chemistry that has no doubt fueled their twenty-year friendship, but their recent travels to Rome and Tuscany, fodder for the Discovery+ streaming series, "Bobby & Giada in Italy," seem to have taken the relationship to the next level.
"You did two things on that show that I wouldn't do," Flay tells De Laurentiis, a note of admiration in his voice. "One was you milked a sheep. I was like I just can't do it. And then, you also got on that donkey."
"That was really risky," De Laurentiis admits, before turning the tables back on Flay. "I think you egged me on, if I remember correctly." Their repartee is as effortless as their movements in the kitchen, as Flay and De Laurentiis cook bucatini amatriciana and pistachio tiramisu, respectively, and explain the ways in which a fateful, pre-pandemic trip changed how they think about food... even three years and a popular television series later.
Giada's got guts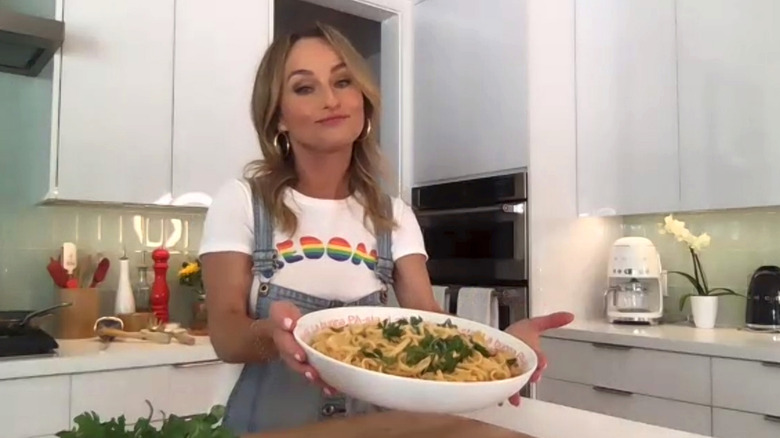 Getty Images/Getty Images
De Laurentiis values an open mind when it comes to food. A recent collaboration with Japan House in Los Angeles served as a reminder of how simple — and how powerful — food can be as a tool to connect people across cultures (via Delish). The master class videos focus on the art of fermentation, and its importance in both Japanese and Italian cultures. De Laurentiis told Delish that while the final product might be different, both cultures' approach to fermentation, and the importance each places on gut health, couldn't be more similar.
Guts were on De Laurentiis' mind when sharing a few travel memories with Variety, too: specifically, a dish made with sheep intestines that she was less than eager to try, at first. But Flay, a first-timer to Tuscany, had an enthusiasm that wound up convincing De Laurentiis to give it a go, and she was so happy that she did. "It was probably one of the best pasta dishes we had," said De Laurentiis. She credited traveling with Bobby for not only bringing out her adventurous side but also reminding her that even the classics — dishes she's known for years and that are always done a certain way, regionally — can be exciting and new with the right approach. "I think that it helped me to rethink the tradition...being with Bobby, it probably elevated me to think differently and to taste things that in the past I'd be like nah, pass, not interested."
Giada and Bobby learned a lot but wouldn't mind going back for more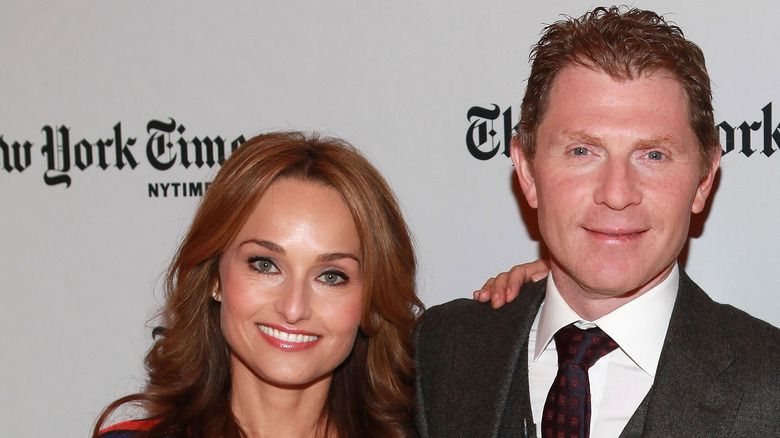 Robin Marchant/Getty Images
Another culinary souvenir De Laurentiis packed in her suitcase: the quintessentially Italian approach to food, which emphasizes the time spent together at the table. As De Laurentiis explained to Variety, "I wish that I could harness that and actually put it into place for me now. I think that was one of the things that Bobby loved so much too, the love of food and the lifestyle. The more relaxed sort of view of life." The chef explained that while that type of lifestyle was reminiscent of her own childhood (having been born in Rome to a very Italian ancestry), seeing it through Flay's eyes reminded her how important it was. Even three years after their trip, De Laurentiis admitted she was still working to incorporate that relaxed, Italian way of doing things into her own busy life.
Would Flay and De Laurentiis go back to Italy, perhaps to a different region, to learn more life lessons about food, travel, and sheep guts? "We want to go to every corner of Italy," Flay assured the moderator, "but we have to convince the network it's a good idea. All we need is a primetime Emmy and we're home."