Kombucha Could Be Coming To A Dunkin' Near You. Here's What You Need To Know
Shutterstock
When summertime heats up and the days grow longer, everyone can use a cold, refreshing drink to cool off. While hard seltzer might have been the drink to have on hand over the past couple of summers, this year there's a new contender making its way onto the scene. The go-to drink for summer 2021 is shaping up to be a familiar one: kombucha. 
According to Market Watch, kombucha has exploded over the past several years. The niche drink quickly expanded from $1 million to $1.8 billion in sales between 2014 and 2019. Hard kombucha similarly scaled up; sales were $1.7 million in 2017, and spiked to $12 million in 2019. That's likely why beer company Sierra Nevada chose to jump in with new flavors of hard kombucha this year. Now, Dunkin' is joining in on the craze with their own kombucha options, according to a press release sent to Mashed.
These are the drinks being tested at Dunkin'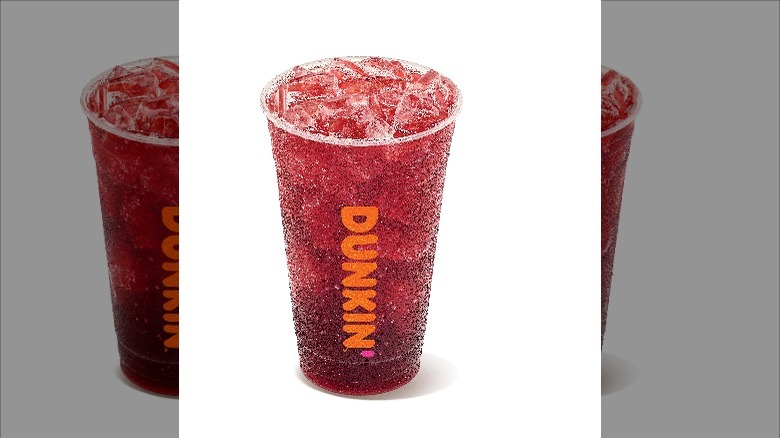 Dunkin'
According to the Dunkin' press release Mashed received, the chain is testing two flavors of kombucha at select locations in Albany, New York and Charlotte, North Carolina. The kombucha contains prebiotics to encourage gut health, and is available in two flavors: Fuji Apple Berry and Blueberry Lemon.
The chain is also testing a new drink called ElectroBrew, which is cold brew coffee made with coconut water for added electrolytes. ElectroBrew will only be available in Springfield, Massachusetts as well as Miami, Fort Lauderdale, and West Palm Beach in Florida.
While these exciting new drinks are only available at certain locations, Dunkin' has added several other options to participating restaurants across the country. These new cold coffees include Sunrise Batched Iced Coffee, Smoked Vanilla Cold Brew with Sweet Cold Foam, and Smoked Vanilla Latte.
So until you can get to a location that is serving the new kombucha options or Dunkin' decides to add it to the menu, you'll have to enjoy one of these new refreshing drinks instead. Keep your fingers crossed and look for reviews online to see how the kombucha fares over the coming weeks.