Dunkin' Released 3 New Cold Coffee Drinks Just In Time For Summer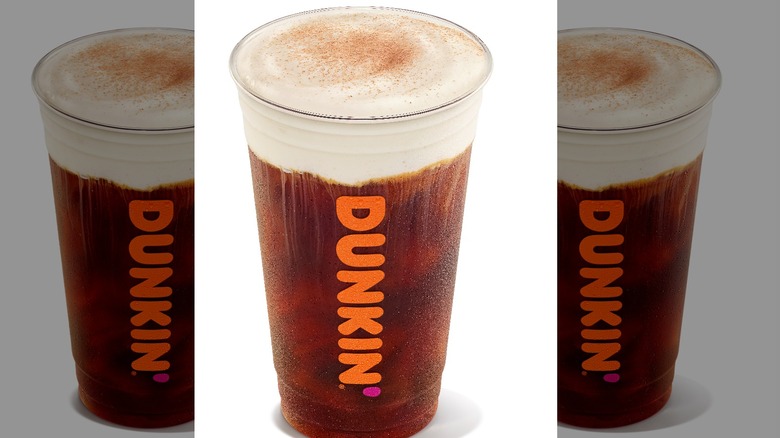 Dunkin'
The right cup of coffee will give a jumpstart to your day, and summer's the right time to try out new cold coffees and blended beverages to mix up your routine. While Dunkin's Coolattas and cold brew have already been summer staples, you'll want to stop by the chain this summer to try out its new coffee drinks.
While we've even got a copycat recipe for their regular iced coffee when you can't make it to the store, Dunkin's new offerings are worth the venture out. Now, you can sip on Sunrise Batch Iced Coffee, Smoked Vanilla Cold Brew with Sweet Cold Foam, and the Smoked Vanilla Iced Latte. 
First up is the Sunrise Batch Iced Coffee, which is made with coffee beans from Kenya and Latin America. In a press release sent to Mashed, Dunkin' described this brew as "a medium roast featuring notes of cocoa and toasted nuts." To start summer the right way, you can buy a medium-sized Sunrise Batch Coffee for just $2 from June 23 to July 20. This deal is valid for both hot and cold coffee, so if you prefer hot coffee year-round, there's still good news.
Dunkin' has great news for fans of vanilla iced coffee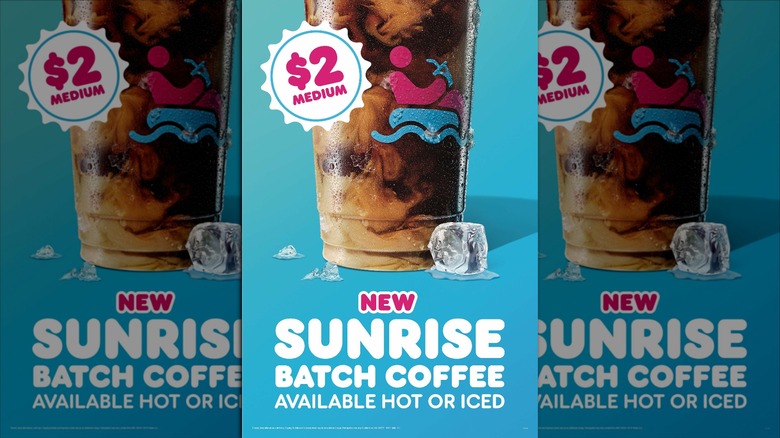 Dunkin'
If you're looking for an adventurous summer sip, the Smoked Vanilla Cold Brew with Sweet Cold Foam isn't your ordinary cold brew. This drink includes Dunkin's Smoked Vanilla syrup and hot chocolate powder, topped with cold foam. A statement from Dunkin' said that the cold foam adds a marshmallow flavor that will remind you of s'mores, and we can't think of a better sweet summer treat than some perfectly roasted marshmallows. 
Finally, if you want a more basic espresso drink without cold foam topping, try the Smoked Vanilla Iced Latte, which includes the same Smoked Vanilla syrup mixed with Dunkin's signature espresso.
Starting this summer, each of these three delicious brews will be available at participating Dunkin' locations nationwide. If you need to grab some breakfast with your coffee, then Dunkin' has more to offer. They recently started selling avocado toast topped with bacon, and along with these new drinks, we couldn't think of a better way to start a summer morning (via Dunkin').