Quick Chicken Quesadilla Casserole Recipe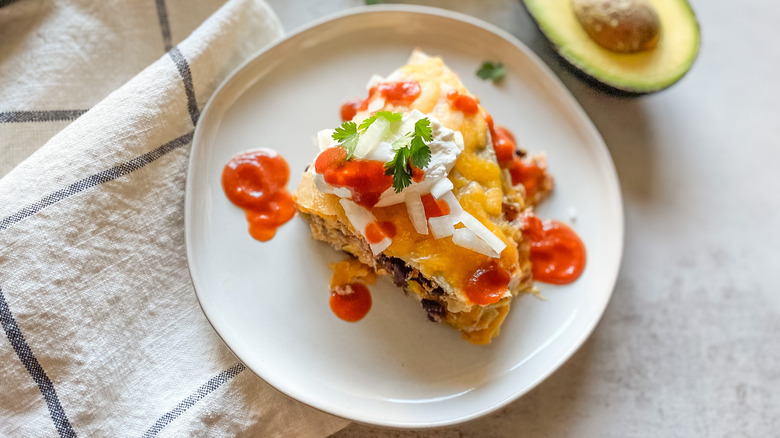 Kristen Carli/Mashed
What do you get when you mix a casserole with quesadillas? A whole lot of yummy, that's what! This recipe for the chicken quesadilla casserole is a good one if you want to think a little outside the traditional box of Mexican-American food. While tacos and burritos are great, they're sorta "been there, done that." If you really want to impress your family or dinner guests then we have the perfect recipe for you. The dish is filled with layers of chicken, black beans, and cheese. What's not to love about that? As for toppings, it has plenty more for you to pick and choose as the mood and occasion strikes, including avocado, cilantro, and hot sauce for those spice lovers out there.
Kristen Carli is the recipe developer behind this scrumptious casserole that is both filling, affordable, and delicious. She says that her favorite part of the recipe is that it's especially well suited for a large, hungry group. "A prepared casserole like this is a great go-to for family meals," she says. "They always please a crowd!" So, if you've got a party planned or need to bring something to the next family reunion, this recipe should be a pretty great bet.
Keep scrolling to find out how to make this amazing chicken quesadilla casserole. It takes just 15 minutes of prep time and another 15 minutes to cook.
Gather the ingredients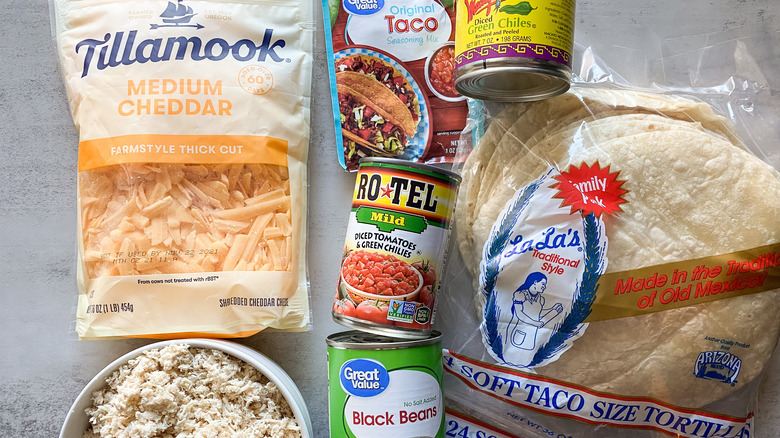 Kristen Carli/Mashed
This recipe calls for quite a few ingredients, but we promise that it's well worth it — you come to agree when you take a bite of the finished casserole, too. You will need taco-size flour tortillas and shredded chicken to begin. You can either shred the chicken yourself or buy a rotisserie chicken from the store and shred it with forks if you've got a bit of extra time. You'll also need to get a few canned and pantry goods, which include black beans, green chilies, taco seasoning, and Ro-Tel. If you're feeling especially creative, you can also make your own taco seasoning at home.
We're coming to the end of the grocery list, promise. All that is left is some shredded sharp cheddar cheese. For toppings, Carli recommends sour cream, cilantro, and avocado, though you are free to mix and eliminate toppings as you see fit. Last but not least is a good hot sauce, also to be used as a topping for the final casserole. If you don't love spicy, then you can, of course, leave that out.
Preheat the oven and prep the casserole fillings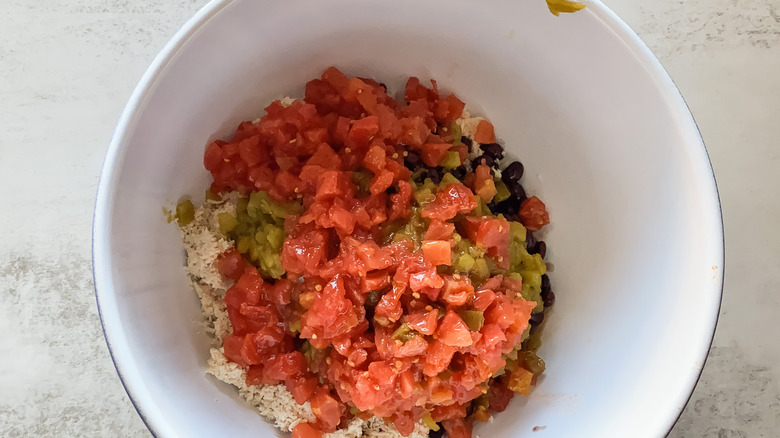 Kristen Carli/Mashed
Now we're ready to get started! First, set the oven to 350 F and let it preheat. Remember that doing this step first will ensure that your oven is sitting at just the right temperature when you're ready to pop the assembled casserole in for the final baking step.
Next, grab a large bowl with plenty of room for mixing, as we'll be adding a good portion of the ingredients together here. Add in the chicken and black beans — please note that the black beans don't need to be drained, as the additional liquid will keep the casserole from drying out later. 
Also add the green chilies, taco seasoning, and Ro-Tel sauce. Stir it all with a spoon to combine and make sure there aren't any pockets of one ingredient sitting alone in the bowl. This mixture will be your base layer. Set it aside for the time being, though you will need it in just a minute, so don't put it too far away.
Assemble the casserole before baking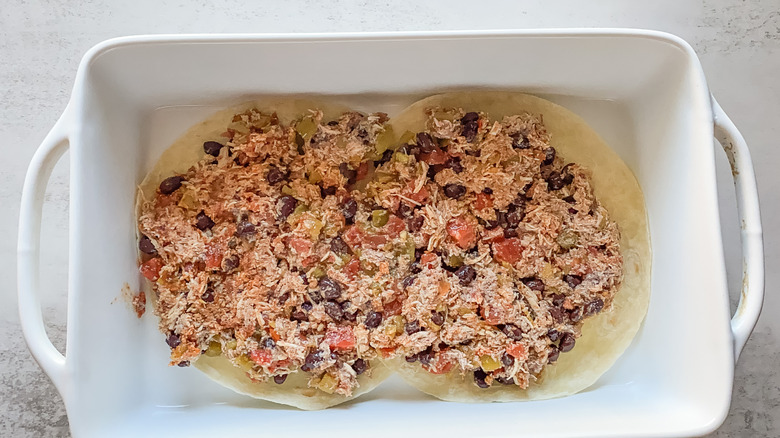 Kristen Carli/Mashed
Get out a casserole dish and spray it with a nonstick spray like PAM to ensure nothing sticks to the bottom of the dish. Nothing would be sadder than to realize that half your casserole is stuck to the bottom when you go to serve it, after all.
Next, add two of the flour tortillas to the bottom of the dish. Now, you'll start to add all of the delicious layers on top of it. For the first layer, take about half of the chicken mixture that you made in the previous step. Use a spoon or spatula to spread the mixture so it covers the tortillas and is evenly distributed in a single layer. This will help it to cook evenly and ensure you get chicken and other seasonings in each bite. 
After your tortillas and chicken mix, you will want to add a layer of cheese. This isn't just for flavor, but also sort of serves as a kind of glue (but way more delicious and nutritious) to hold the casserole together when it melts. Add about ⅓ of the cheese mix, which equates to 1 ⅓ cups, in a single layer on top of the chicken mixture. Again, make sure you spread it evenly so it will cook and melt evenly (and so everyone will get cheese in each forkful.) Repeat the process with another layer of tortillas, chicken, and cheese. Now, we're starting to get somewhere!
Finish the casserole and cook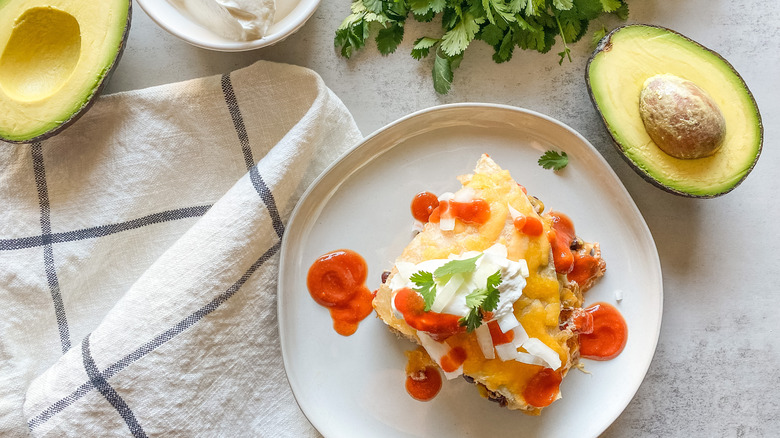 Kristen Carli/Mashed
For the last step in the process, add the final layer of tortillas on top of the casserole, followed by the last bit of cheese that you have left. Pop the casserole dish in the oven and set your timer for 15 minutes. The cheese should melt and become bubbly by the end of the cooking time. Once you're achieved that, your casserole is done!
Use a pair of oven mitts to take it out and serve. You can top this chicken quesadilla casserole with avocado, cilantro, and hot sauce. Sour cream and guacamole would two other great additions to this dish, as well. If you've got slightly picky eaters or people just can't agree on toppings, it's easy enough to let everyone top their individual portions themselves. 
And if you have any leftovers after mealtime, Carli says that they "will keep in an airtight container in the fridge for up to 4 days."
Quick Chicken Quesadilla Casserole Recipe
This quick and easy recipe for a chicken quesadilla casserole is a great one if you want to think a little outside the traditional box of Mexican-American food.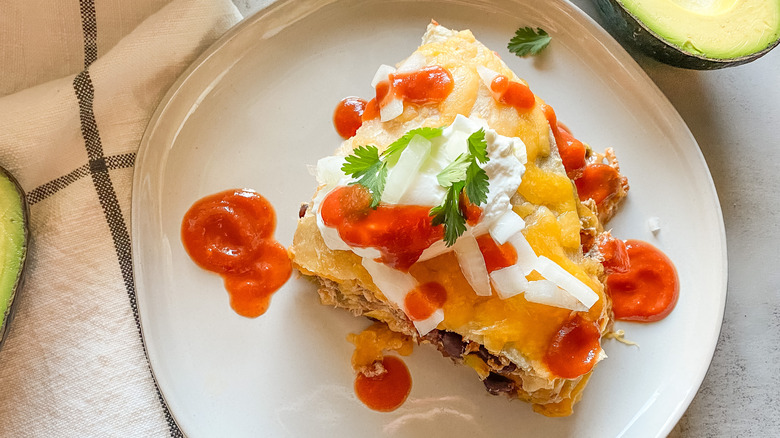 Ingredients
6 taco size flour tortillas
2 cups shredded chicken
15 ounce can black beans
7 ounce can green chiles
1 ounce taco seasoning packet
15 ounce can Ro-Tel
4 cups shredded sharp cheddar cheese
Optional Ingredients
Sour cream, for serving
Cilantro, for serving
Avocado, for serving
Hot sauce, for serving
Directions
Preheat oven to 350 F.
In a large bowl, add chicken, undrained black beans, green chiles, taco seasoning, and Ro-Tel. Stir to combine.
Coat a casserole dish with nonstick spray. Add two tortillas to the bottom of the casserole dish.
Top with about ½ of the chicken mixture, then top with ⅓ of the cheese (about 1 ⅓ cups).
Repeat with another layer of tortillas, chicken mixture, and cheese.
Top with a final layer of tortillas and remaining cheese.
Bake for 15 minutes until the cheese is melted.
Nutrition
| | |
| --- | --- |
| Calories per Serving | 435 |
| Total Fat | 26.9 g |
| Saturated Fat | 12.2 g |
| Trans Fat | 0.7 g |
| Cholesterol | 74.9 mg |
| | |
| --- | --- |
| Total Carbohydrates | 24.8 g |
| Dietary Fiber | 4.4 g |
| Total Sugars | 1.3 g |
| Sodium | 919.4 mg |
| Protein | 23.1 g |