Unique Guacamole Recipe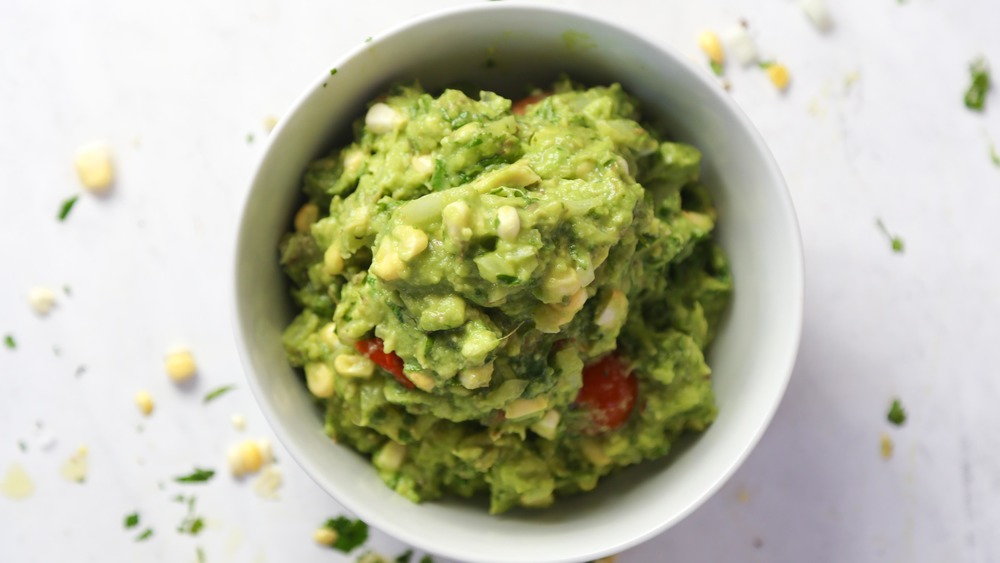 Maren Epstein/Mashed
Guacamole is a must-have recipe in any home cook's arsenal. It's a perfect go-to for any occasion, be it a small gathering, or to enjoy at home. We won't judge if it's just for you! But this is no ordinary guac recipe — it features original elements such as oregano, and the juice of blistered limes and oven-roasted tomatoes. And that's only the beginning! Professional chef Maren Epstein, who blogs about healthy food at Eating Works, tells Mashed about her version of guacamole, "I love making this dish for a crowd as a starter." She also recommends adding "a generous dollop" of the guacamole atop a salad. Yum!  
We had to know what Epstein's inspiration is for her unique take on this classic staple. "My stepdad has been making guacamole with oregano for years," she told us, adding, "I love the flavor it adds to the dish. But I also wanted to build on that flavor by adding some smokey notes."
In the mood for a flavor-packed, smokey, full-of-texture guacamole, like, right now? Yeah, so are we.
First, gather your ingredients for your guacamole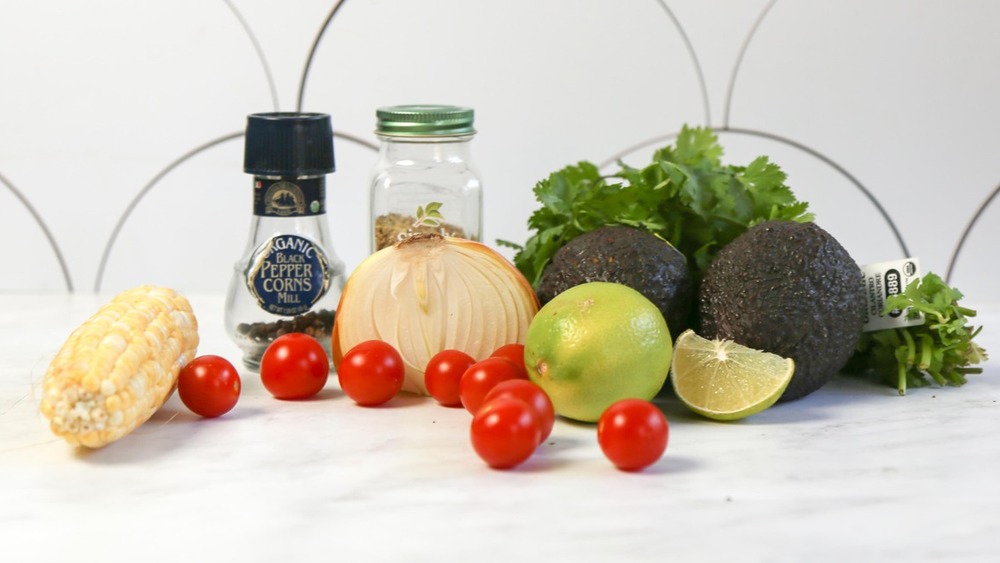 Maren Epstein/Mashed
Choosing the right avocados is key to creating this delicious guacamole with vine ripe tomatoes and blistered lime recipe. Of course, avocado selection can be challenging (just us?). Luckily, Epstein shares a foolproof trick for picking avocados that are just right for creating the most delicious version of her guacamole. "When an avocado is picked, the stem is trimmed, leaving a small nub that looks like a tiny brown button," she explains. "The best way to know when an avocado is perfect for making guacamole is when the nub on the top of the avocado pops off easily." She adds, "When the avocados are under-ripe, the nub will not come off. But as soon as it's ripe and ready to go, the nub will fall off with the flick of a finger."
Once you have picked out your just-right avocados, you'll shop for your corn, vine ripe tomatoes, Spanish onion, cilantro, and, don't forget the limes! The other ingredients are likely to be already hanging out in your pantry: oregano, sea salt, pepper, and olive oil.
Prepare your oven for blistering limes and broiling those tomatoes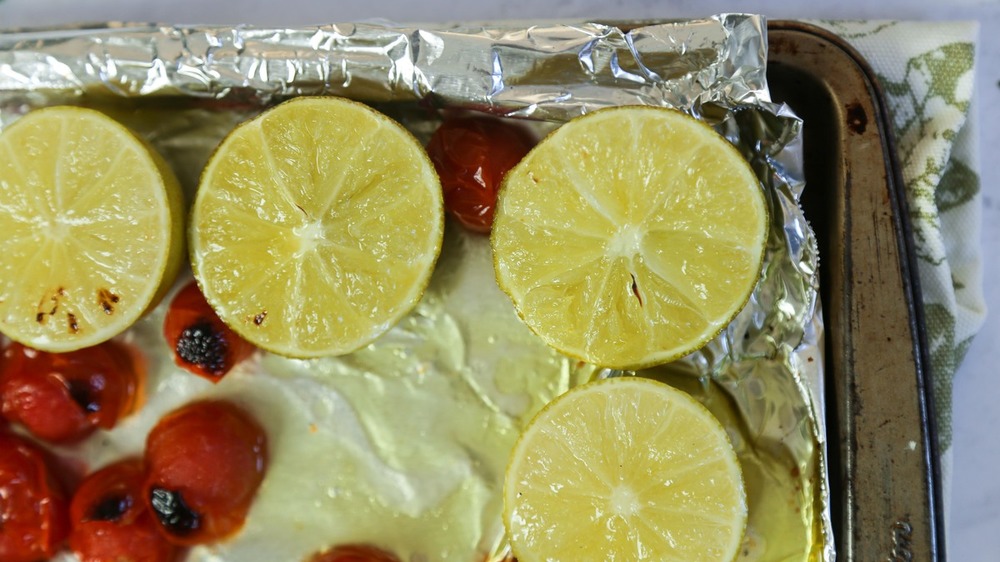 Maren Epstein/Mashed
You'll set your oven to broil, slice your limes, and then, Epstein notes, "To properly broil tomatoes and limes you should position the oven rack at the top wrung of the oven." She adds, "Any sheet pan will collect the juices from the limes and tomatoes. Just make sure that the sheet pan you're using has a lip. The lip will prevent the juices from spilling out when you transfer the sheet pan from the oven to the countertop." 
You'll season your limes and tomatoes with sea salt, pepper, and olive oil. As for why sea salt is Epstein's preference, she shares, "While from a nutritional standpoint salt is salt, and they both contain the same amount of sodium per serving, sea salt has additional minerals that iodized table salt doesn't." Still, she adds, "If you don't have sea salt you can use table salt."
Epstein's recipe calls for roasting the lime until they're puckered — but how do you know when your limes are "puckered?" Epstein explains, "The tops of the limes will start to brown a little bit and their cut faces will swell."
Chop your onion for the guacamole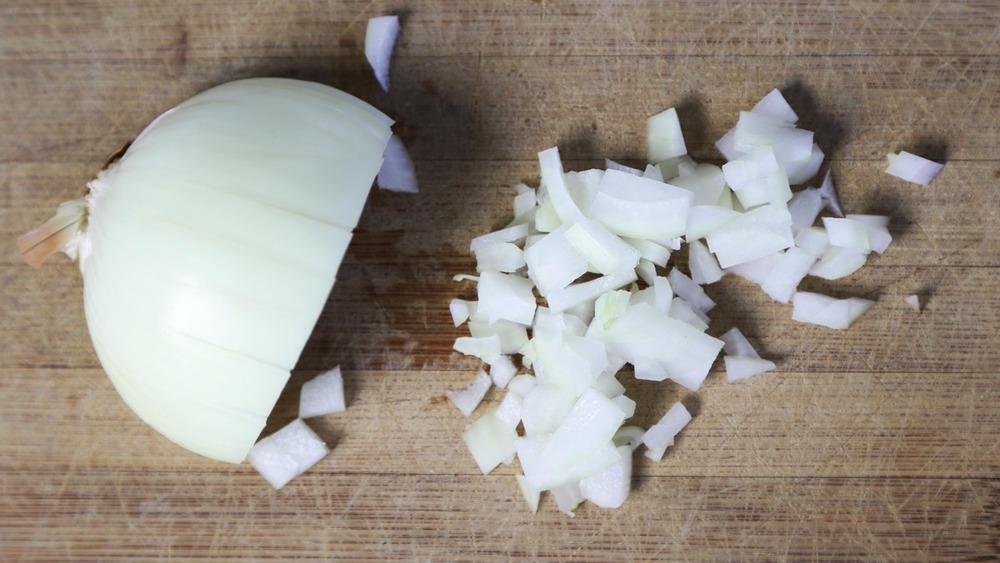 Maren Epstein/Mashed
While the delicious flavors from the limes and tomatoes are developing in your oven for about 10 minutes, you can get started on chopping your onion and cilantro, and shucking your corn. Epstein chose Spanish onion specifically for this recipe, and for good reason. As she explained to Mashed, "Spanish onion is mild enough not to overpower the oregano but lacks the bite of red or purple onions which are more classically found in guacamole." And don't skip the oregano, we urge of you — even if you're wondering about adding this herb to your dip. 
As Epstein told us, "Mexican oregano is a classic ingredient used in guacamole. I simply borrowed this idea from classical recipes." She explains why it's is essential in her guacamole, saying, "I think the oregano ads an extra layer of smokiness to the dish."
Add a little spice to your guacamole...or don't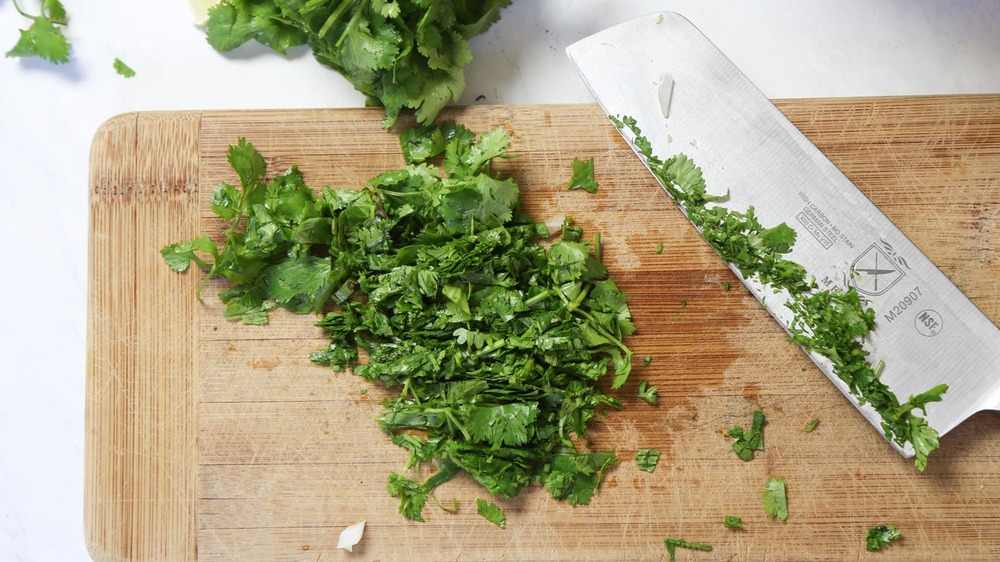 Maren Epstein/Mashed
For those who aren't big fans of spicy food, Epstein promises, "This guacamole recipe isn't spicy at all." And don't worry, cilantro won't add heat, just flavor. Not a fan of cilantro? There are plenty of substitutes to consider, or simply skip this ingredient.
Meanwhile, this recipe is still for you if you enjoy a kick in your guac. "You can make it spicier by adding a quarter of a jalapeño," Epstein suggests. "If you want to make it really spicy you can even add the jalapeño seeds, which hold most of the pepper's heat."
Combine your guacamole ingredients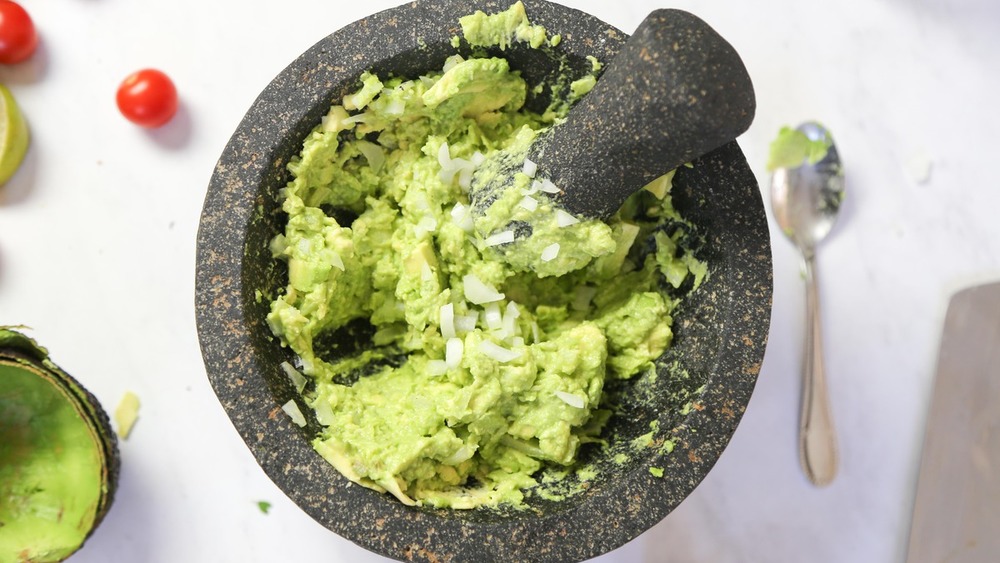 Maren Epstein/Mashed
Next, to prepare the corn for the mortar and pestle, Epstein instructs, "Simply shuck the corn by using a serrated knife to slice the kernels off of the ear." And yes, just go ahead and use the raw kernels. 
Once all of your guac ingredients are prepped, it's time to break out the mortar and pestle. If you don't have a mortar and pestle, Epstein says, "You can achieve similar results by using a fork and a bowl to mash the ingredients. You can also use a potato masher."
Fold in the flavor for this guacamole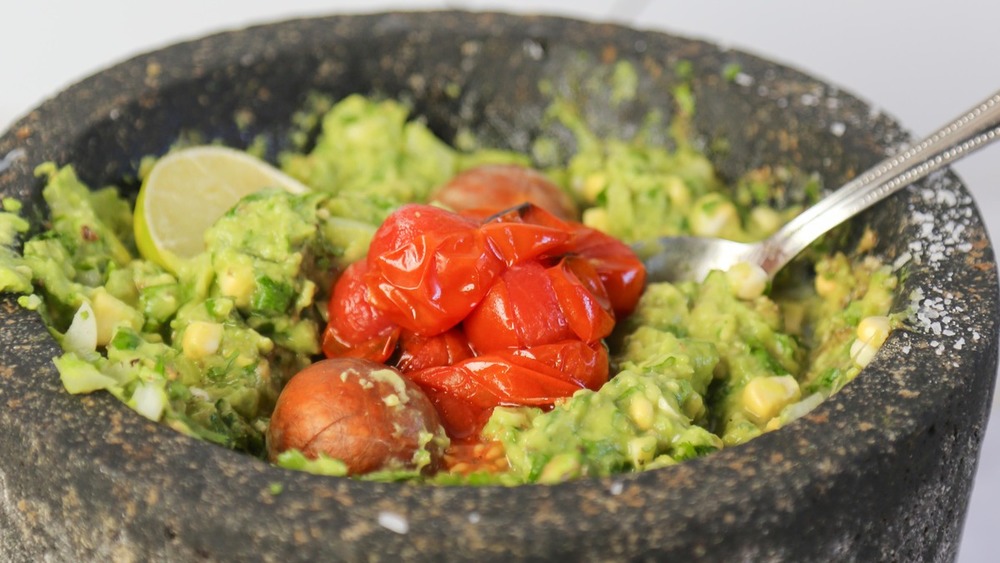 Maren Epstein/Mashed
The last step is to squeeze lime juice into the guacamole and fold in the roasted tomatoes. Then, get ready for flavor! "Roasting the limes make the juice taste smokey and roasting the tomatoes takes away some of their sweetness," Epstein told us. 
Oh, actually there is one more step and that is to enjoy your creation! It's a recipe you'll definitely go back to again and again.
Unique Guacamole Recipe
Guacamole is a must-have recipe in any home cook's arsenal, and it's a perfect go-to for any occasion. We won't judge if it's just for you!
Servings
4
1/2 cup servings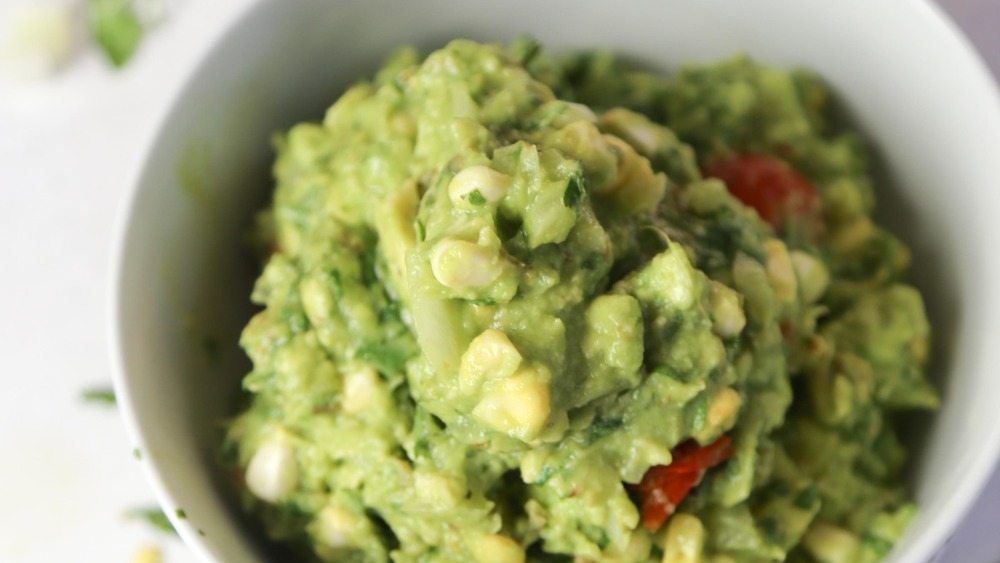 Ingredients
2 limes, halved
1 cup small vine ripe tomatoes
1 Tablespoon olive oil
2 avocados
1 ear corn (or about ¾ cup)
⅓ cup Spanish onion, small dice
½ cup cilantro, chopped
1 Tablespoon oregano, dried
¼ teaspoon sea salt
Directions
Turn on broiler. Preheat oven to 500 degrees and position rack on the highest setting. Place limes on the tray cut side up along with the tomatoes. Drizzle olive oil and season with salt, pepper. Place in the oven for 10 minutes, until the limes are puckered and the tomatoes crack and split. Discard the juices at the bottom of the tray.
Combine onions, avocados, corn, cilantro, and oregano into a mortar and pestle. Mash until it's smooth. Try to crush the corn and onions to release their flavor.
Squeeze limes into the guacamole and mix. Add more or less lime juice based on your preference. Cooked limes release much more juice than raw so you may not need much.
Gently fold the roasted tomatoes into the guacamole. Enjoy!
Nutrition
| | |
| --- | --- |
| Calories per Serving | 234 |
| Total Fat | 18.6 g |
| Saturated Fat | 2.7 g |
| Trans Fat | 0.0 g |
| Cholesterol | 0.0 mg |
| | |
| --- | --- |
| Total Carbohydrates | 19.5 g |
| Dietary Fiber | 9.1 g |
| Total Sugars | 4.0 g |
| Sodium | 132.1 mg |
| Protein | 3.5 g |