What Makes George Lopez Tacos Better Than Other Tacos? - Exclusive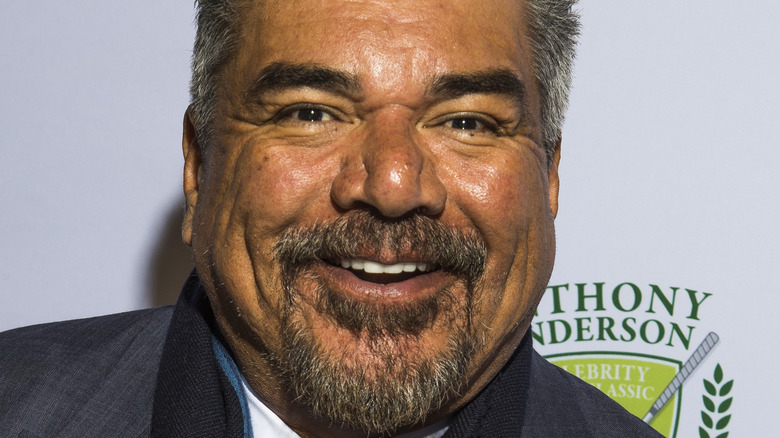 Mike Mcginnis/Getty Images
Earlier this month, actor, comedian, and talk show host George Lopez launched his delivery-only taqueria, George Lopez Tacos. Partnering with Nextbite, the leader in virtual restaurants, George Lopez Tacos has over 80 locations making and delivering his "badass" tacos. In an exclusive interview with Mashed, Lopez told us why his tacos are a cut above the rest. 
"Taco Tuesday ... I think it's limiting," he told us. "Tacos are 24/7 every day of the week." Whenever you have a craving for fresh tacos, you can get Lopez's tacos delivered to your door through a delivery app service like Postmates, Grubhub, or Uber Eats.
Nextbite partners with small restaurants with extra kitchen space who then make the offerings from delivery-only brands like George Lopez Tacos. This concept known as "ghost kitchens" kept some brick-and-mortar restaurants afloat in the last year, and according to Eater, they're here to stay. Lopez told us: "The places where they make the tortillas, all the sauces, and all of the carnitas ... the steak and chicken ... that big wheel of food is going to start turning all over again." Lopez frequently mentions his beloved grandmother who raised him as an inspiration for cooking authentic Mexican food. He said, "There wasn't a smaller kitchen than the one my grandmother cooked in. If she was here ... I think she might be happy with the way it turned out."
George Lopez Tacos are fresh, hot, and deconstructed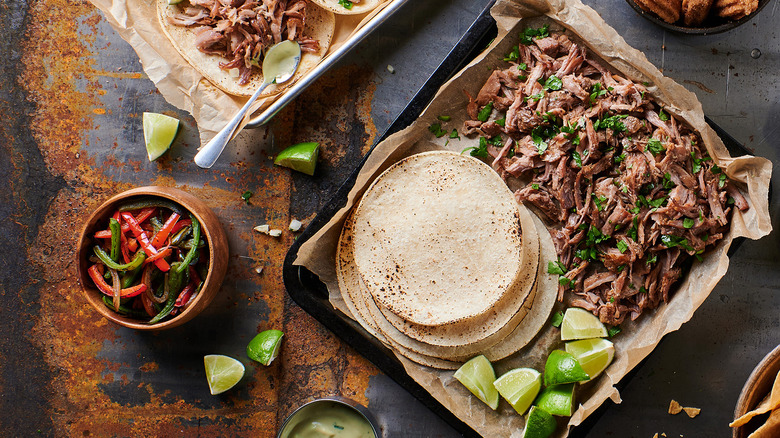 Rachel Adams for George Lopez Tacos
One major difference between George Lopez Tacos and your typical takeout is that Lopez's tacos aren't delivered already assembled. Pre-made delivery tacos can often result in soggy tortillas and lukewarm meats by the time they get to you. "Some assembly is required," Lopez told us. "But you can decide how hot, what kind of meat, what kind of seasoning, what kind of sauces." Providing deconstructed tacos through delivery is an interesting and unique idea. Basically, it's a taco-making kit. All of the taco fixings are cooked fresh in one of the ghost kitchens, packaged individually, and then picked up by a delivery service, such as Grubhub or DoorDash, and delivered to your door after you've put the order in online. 
You can order individual tacos or family-style, and the "kit" can come with avocado crema, salsa verde, authentic masa corn tortillas, the slow-cooked protein of your choice, seasonings, roasted peppers — and pretty much everything you'll want for a grand taco fiesta at home (via George Lopez Tacos). "We all now kind of as a culture, as a society, put more emphasis on the ingredients of the food, and the food being good and being good right away," Lopez said.
And then there's the churro bites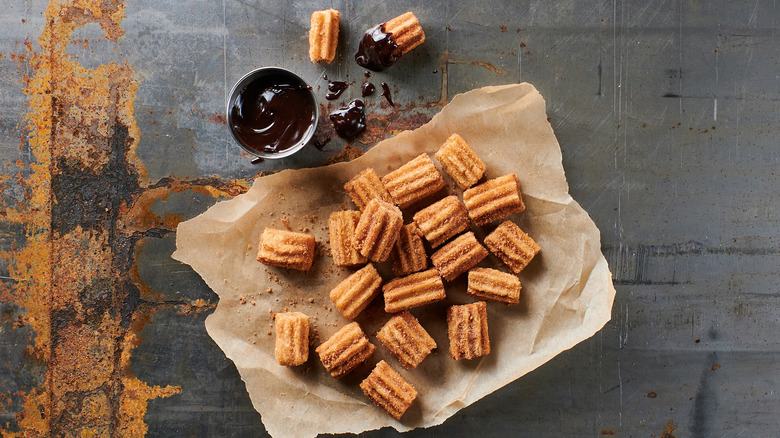 Rachel Adams for George Lopez Tacos
There's one more treat George Lopez Tacos has in store that not every taqueria can provide. When you order La Gran Reunion family-style meal from the George Lopez Tacos menu, you get a fresh batch of churro bites and dark chocolate dipping sauce. (The churro bites are also available as a side item.) 
Churros are a popular snack that are frequently served at amusement parks, sports stadiums, and movie theaters. Lopez is a huge sports fan, and when he saw churros at stadiums, he realized they weren't just a fad; churros were here to stay. When he was developing the menu for George Lopez Tacos, he knew he wanted churros but not the long, traditional version. He specifically asked for bite-size. They're extra crunchy on the outside with a pillowy doughnut interior, fried, then drenched in cinnamon sugar. When dipped into the included dark chocolate sauce, it's pretty impossible to eat just one of Lopez's churro bites. This little bit of dessert genius is another reason why George Lopez Tacos is different from — and better than — other taco places.
To get a taste of those freshly fried churro bites or get a family-style taco spread, visit George Lopez Tacos for a complete menu and ordering information.