Easy Caramel Pecan Sticky Buns Recipe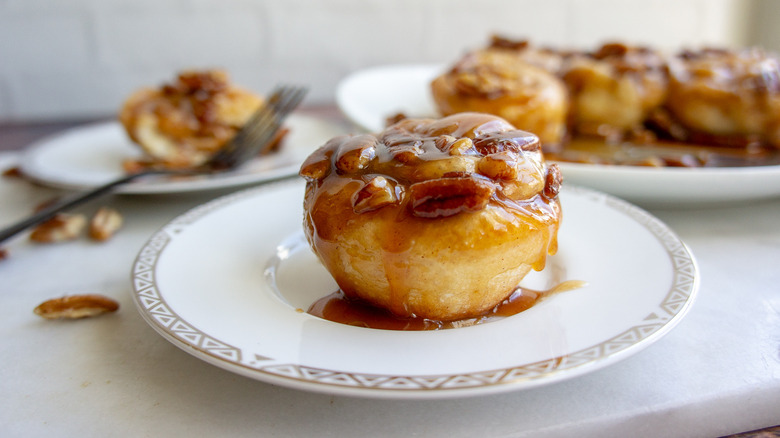 Mikayla Marin/Mashed
There's nothing like waking up on a weekend morning and indulging in a sweet, sugary treat for breakfast. While cinnamon rolls and their delicious variations, like these caramel pecan sticky buns, are always welcome, they're often something you have to think about in advance.
Well, not anymore. This easy caramel pecan sticky bun recipe is quick, simple, and can definitely be made on a whim. In just 40 minutes, you can take simple pre-made pizza dough and some common baking staples to make a pan of gooey, caramel buns that are soft, sweet, and completely addictive.
Whether you're just in the mood for a sweet treat or you're cooking for a group, these pecan sticky buns are a real crowd-pleaser, and you'll be pleased with just how easy they are to make.
Get more recipes from Mikayla on her blog The Flour Handprint.
The ingredients that make caramel pecan buns easy to make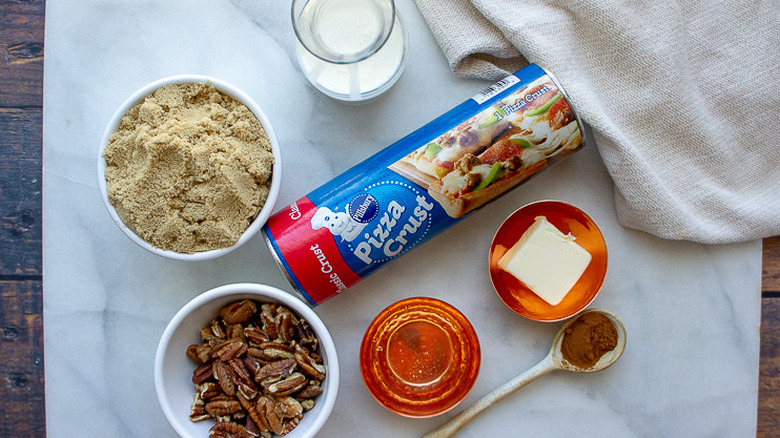 Mikayla Marin/Mashed
Most traditional breakfast buns are made with a yeast dough that requires you to proof and knead, followed by a whole lot of waiting. Nobody is denying how delicious those recipes are, but sometimes, we just don't have time!
To hack a traditionally long recipe like caramel pecan sticky buns and make them possible to bake and serve in less than an hour, you'll start with a pre-made dough and just a few easy ingredients.
Gather up these easy-to-find ingredients, and you'll have a gorgeous pan of nine beautiful caramel rolls baking up in a jiffy.
The dough that keeps this recipe quick and simple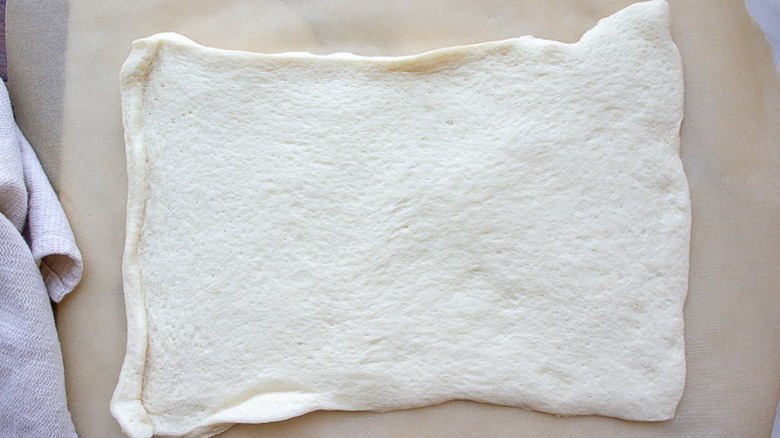 Mikayla Marin/Mashed
For our recipe today, we used one tube of Pillsbury brand pizza dough. The size is just perfect for creating nine beautiful pecan buns, and it's pretty easy to find at most grocery stores. That being said, you can use different pre-made doughs if the Pillsbury brand isn't available. Any pre-made pizza dough is perfect so long as you're not purchasing one with garlic or herbs added.
The key thing to remember is that you may have to roll out other premade doughs, and they may be sold in a larger size. The dough we used was 13 ounces, so make sure you're using the same weight of dough to keep the ingredient proportions correct. If you wish, you can certainly double the filling and caramel sauce to fit a larger dough, and likewise, you can double the recipe and use two tubes of Pillsbury pizza dough too.
If you're looking for the quickest substitution possible, just buy a large tube of cinnamon rolls and skip the rolling and filling steps. They'll bake just fine in the caramel topping and create a similar profile to the recipe we're sharing today.
The filling for our pecan buns is made with just three ingredients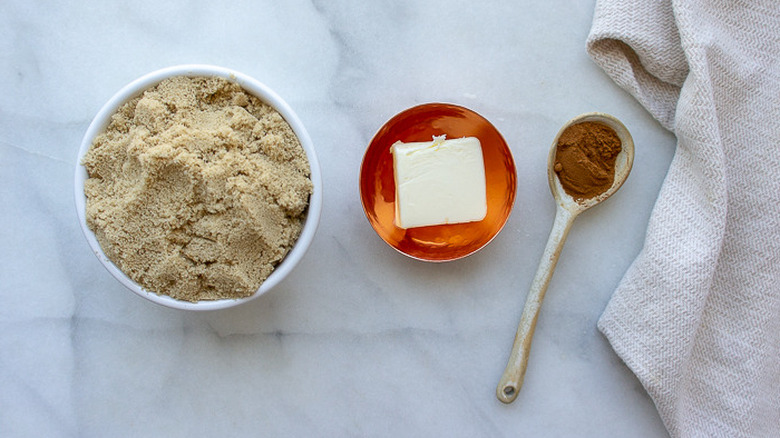 Mikayla Marin/Mashed
Taking our inspiration from the traditional breakfast rolled bun, we filled the middle of each pecan bun with a mixture of brown sugar, cinnamon, and butter. It creates a sweet flavor in the middle of each bite and provides moisture so the dough doesn't get dry in the middle.
You are welcome to skip the cinnamon if you wish, but the flavor is subtle and goes well with the sweet caramel. You can also add spices like clove, nutmeg, or ginger, or even finely chopped nuts to add a fun flair to the filling.
The caramel topping bakes right in the oven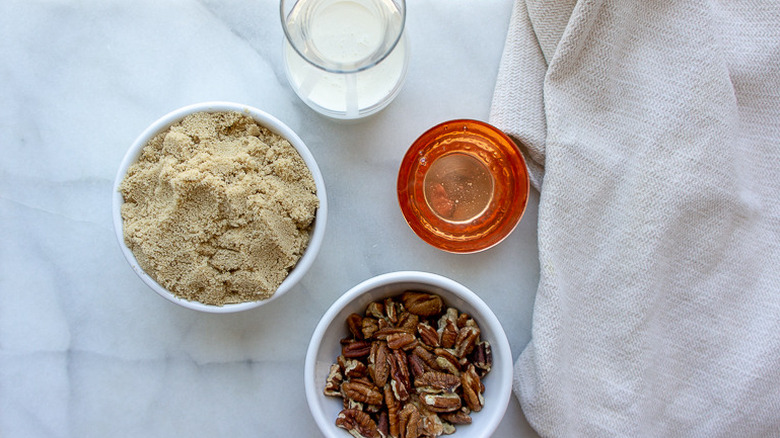 Mikayla Marin/Mashed
Another key reason this recipe is quick and easy is the fact that we're not cooking a caramel sauce on the stovetop with a thermometer. You just mix the three ingredients together, pour it over pecans, and as the dough bakes, the sugar gets hot and sticky. We're using brown sugar, which already has that rich caramel note from the molasses content, along with heavy cream and light corn syrup.
Corn syrup is a balancing sugar: It prevents crystallization and keeps your caramel syrupy and sticky long after it cools. The heavy cream is also key for ensuring the caramel is soft and gooey rather than hard.
Mix together the caramel ingredients first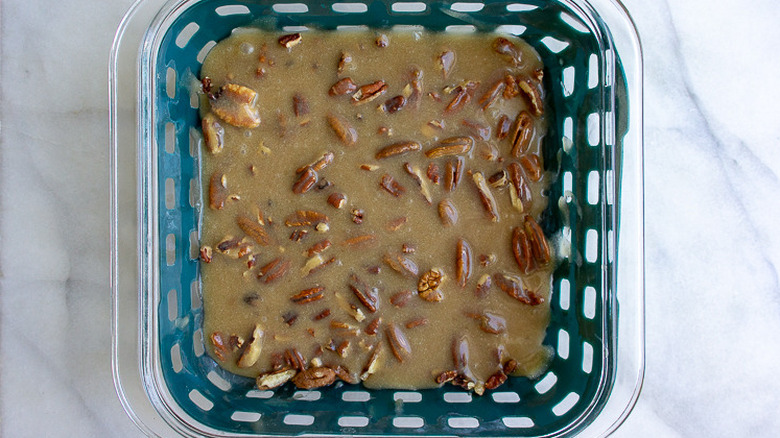 Mikayla Marin/Mashed
As your oven preheats to 350 degrees Fahrenheit, go ahead and grab your favorite baking dish. There's no need to grease it, the caramel will be plenty gooey to help the rolls come out. Add the pecans right into the bottom of the pan, and in a large bowl, combine half a cup of brown sugar, the heavy cream, and the corn syrup. Mix those together until they're well combined and smooth.
Pour the caramel sauce over the pecans, which should be evenly distributed across the bottom of the pan. Then set it aside while you roll your buns.
Fill, roll, and cut the dough easily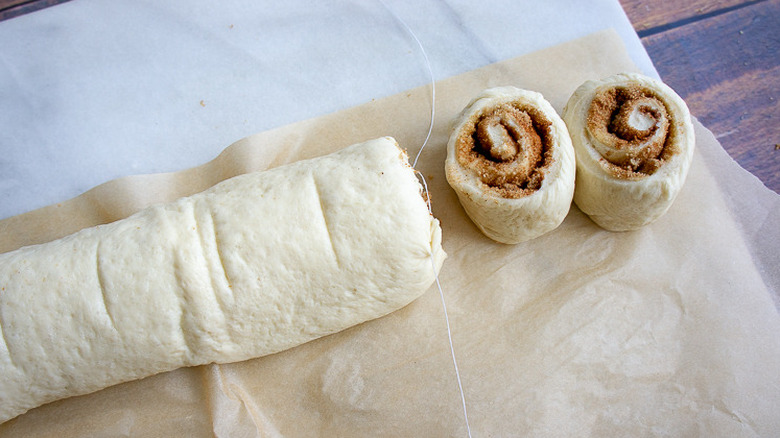 Mikayla Marin/Mashed
Lay your dough out into a rectangle on a sheet of parchment paper. Carefully spread the softened butter over the top. You can use your fingers, the back of a spoon, or a sturdy pastry brush, but be careful not to rip or stretch the dough too much as you spread it. Then sprinkle the remaining brown sugar and the cinnamon over the top. Press the filling gently into the dough with your palm — that'll help it stay as you roll it up.
To roll, start with your fingers and tightly roll the long side up onto the filling once or twice. Once you've got it started, use the parchment paper to finish. Pull the parchment over the top of the roll from the edge you began on, and gravity will encourage it to roll right up. Just go slow and walk your fingers down the roll as you go to keep it tight. 
Next, we'll cut the buns. We like to use a knife to mark off nine even circles, then use a string or piece of unflavored dental floss to do the cutting. String or dental floss makes it easy to slice the rolls without squishing them like a knife would. If you must, use a serrated knife and gentle sawing motions to cut them.
Bake until golden and cool for a few minutes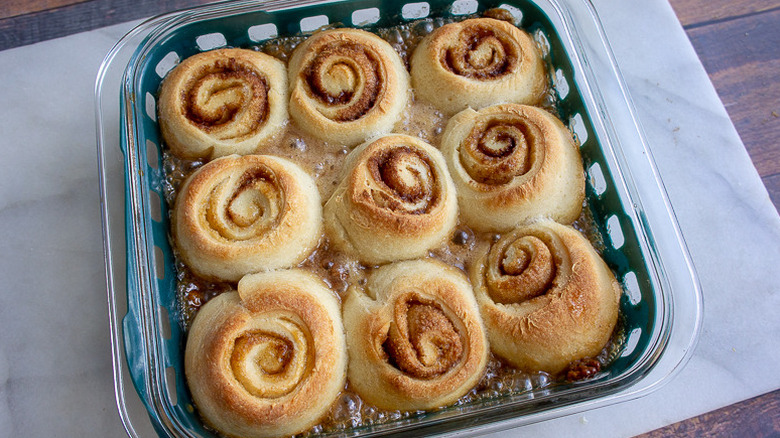 Mikayla Marin/Mashed
When you've cut nine gorgeous rolls out, place them in rows of three in the pan. There's no need to get picky about how they look — the top of the pan is going to be the bottom when you flip them out, and the caramel sauce is beautiful.
Next, put them into the oven for a quick bake of about 30 to 35 minutes. The rolls should be baked until they're a golden brown color on top. This is not only important for the rolls being cooked through, but for the caramel sauce to become a gooey caramel. If you've decided to double the recipe, you might find that an extra five to 10 minutes in the oven is necessary to bake them through.
When they're the right color and the caramel sauce is very bubbly and foaming up a bit in the baking dish, they're ready to cool. We're dealing with hot caramel here, so be sure to let them cool for at least five minutes before flipping them out.
Flip the pan and serve the gooey, caramel perfection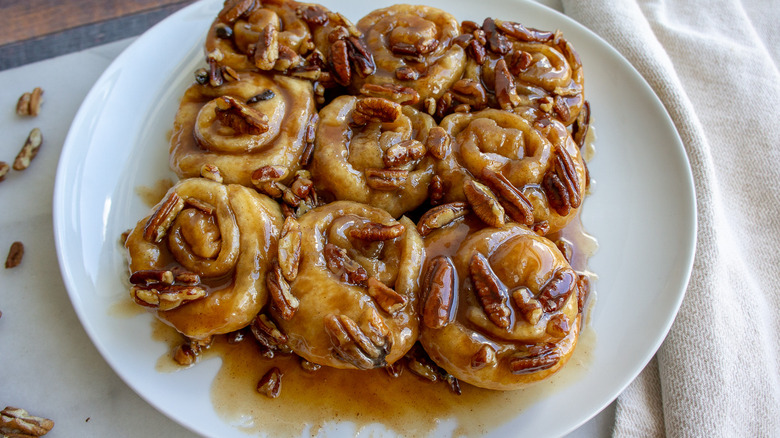 Mikayla Marin/Mashed
The best part of this recipe is flipping those perfectly easy caramel pecan sticky buns out onto a serving platter. To do so, start by using hot pads or a towel to place a wide serving platter over the top of the baking dish. Flip it so the baking pan is upside down on top of the serving platter. Give it a second or a light tap if necessary, but the rolls should come right out, dripping in perfect golden caramel.
We suggest scraping the extra caramel from the pan right over the top of your rolls and serving them warm. If there are any left at all, they store well on the counter for a few days.
Easy Caramel Pecan Sticky Buns Recipe
There's nothing like waking up on a weekend morning and indulging in a sweet, sugary treat for breakfast. Try this easy caramel pecan sticky bun recipe.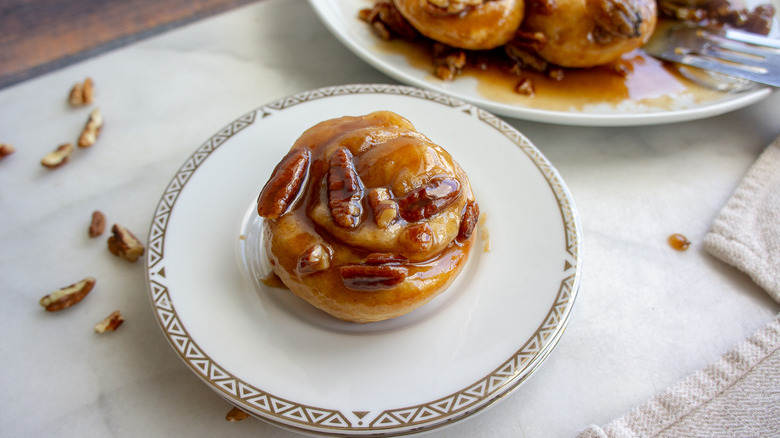 Ingredients
½ cup pecans, chopped
1 cup brown sugar, divided
¼ cup heavy cream
¼ cup light corn syrup
1 (13.8-ounce) tube Pillsbury pizza dough
2 tablespoons butter
1 teaspoon cinnamon
Directions
Preheat oven to 350 degrees Fahrenheit and sprinkle chopped pecans on the bottom of an 8x8-inch baking dish.
Mix ½ cup of brown sugar with the heavy cream and corn syrup until well blended.
Pour the brown sugar syrup over the pecans and spread so syrup and pecans are evenly dispersed.
Gently stretch dough into an equal rectangle and brush with softened butter.
Sprinkle the remaining brown sugar and the cinnamon on top, and gently press down.
Roll up the dough along the long side, keeping it as tight as possible. Pinch the bottom seam together to seal.
Use string or unflavored dental floss to cut the rolls and place them on top of the brown sugar and pecan mixture.
Bake for 30 minutes or until golden brown on top and syrup is rapidly bubbling.
Let cool in pan at least 5 minutes, but no longer than 20, then flip onto a serving tray. Serve immediately.
Nutrition
| | |
| --- | --- |
| Calories per Serving | 294 |
| Total Fat | 10.9 g |
| Saturated Fat | 3.9 g |
| Trans Fat | 0.1 g |
| Cholesterol | 15.8 mg |
| | |
| --- | --- |
| Total Carbohydrates | 46.1 g |
| Dietary Fiber | 1.9 g |
| Total Sugars | 23.7 g |
| Sodium | 279.7 mg |
| Protein | 4.6 g |