Copycat Wingstop Lemon Pepper Wings Recipe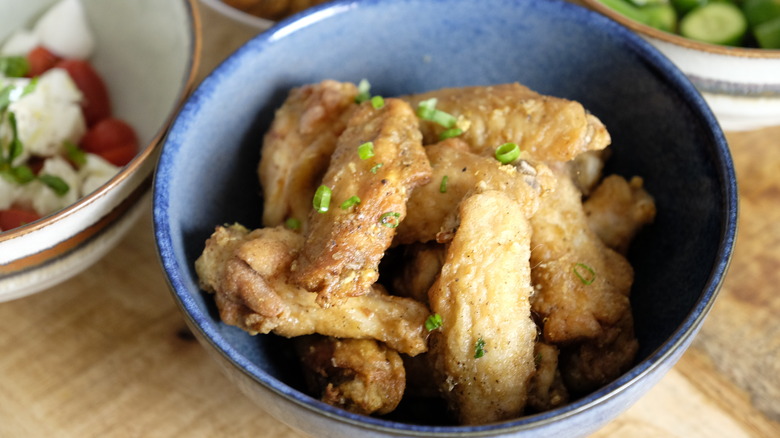 Eric Ngo/Mashed
If you're a fan of the popular chain Wingstop or just a fan of chicken wings in general, then we have just what you need to curb any craving that you may have. While there are plenty of flavorful items on the menu at Wingstop, one of the best and most popular is their lemon pepper wings. These have the perfect amount of citrus and spice, and the flavor is out-of-this-world good! Trust us, these are simply mouth-watering. 
This recipe is suitable for a beginner to make, so if it's your first time, don't worry — you will be a-okay. Recipe developer Eric Ngo is the man behind these fantastic copycat wings that taste just like the real deal. He shares that his favorite thing about the dish is the flavor. "I think this is a great summer chicken wing recipe because of that fresh lemon zest flavor!" he raves. 
Keep scrolling to find out how to make these yummy wings. 
Gather the ingredients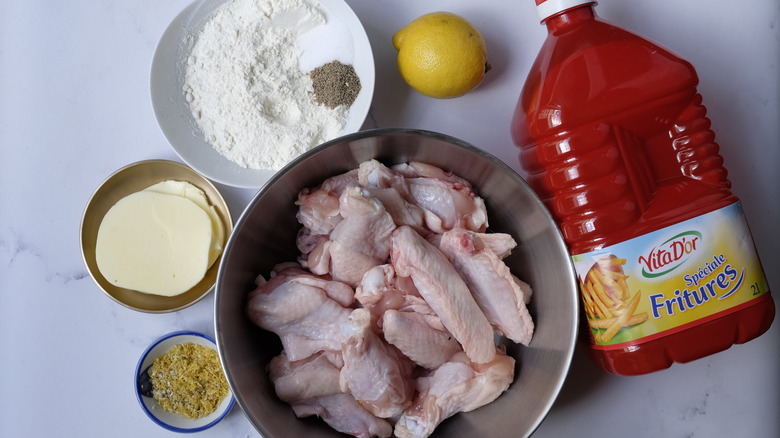 Eric Ngo/Mashed
For the first step in the process, it's time to get out all your ingredients. You'll need 2 pounds of chicken wings for starters, which is enough for about four servings.
In addition, the recipe calls for a cup of flour and some salt. The stars of the sauce are — not surprisingly — lemon, pepper and lemon pepper seasoning. To finish gathering your ingredients, go ahead and add butter, lemon, and frying oil. In terms of oil, you'll need 2 to 3 cups, depending on the size of your pot or frying pan, so just be sure to keep that in mind. Now, let's get to work!
Add ingredients to a bowl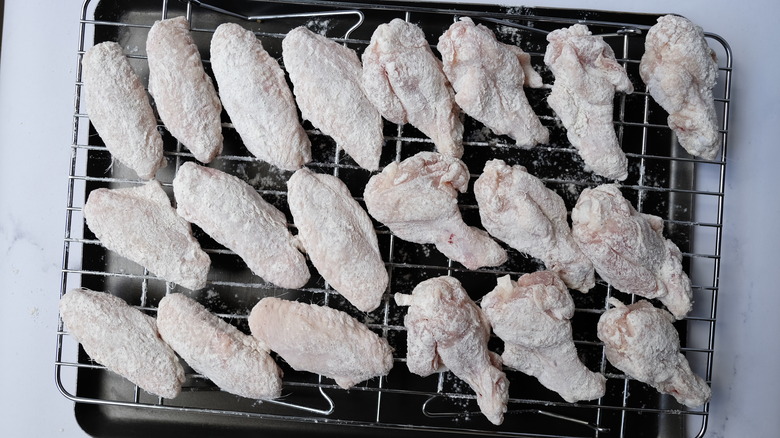 Eric Ngo/Mashed
Take out a large bowl to mix the ingredients. For starters, add the flour and salt. The flour helps the wings to get crispy when you stick them in the oil. Stir the two together until they're well combined. Once you have those two items mixed together, you can toss in the chicken wings. Make sure each one is coated with a generous amount of flour mix. 
When you're finished, set the wings aside on a wire rack and let them hang out for just a few minutes until they're needed again. 
Heat the oil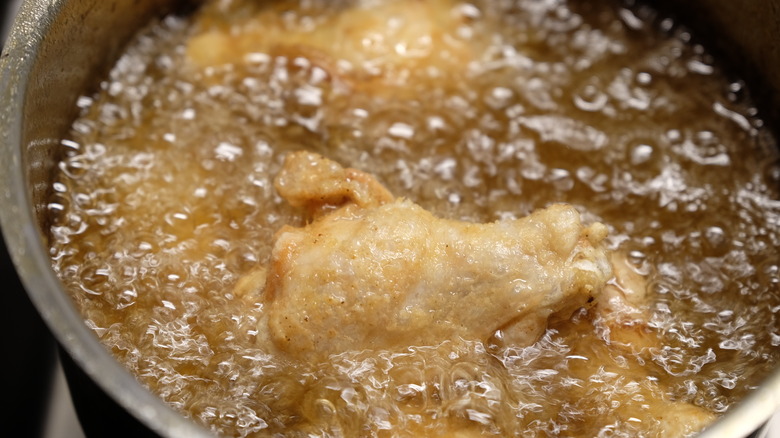 Eric Ngo/Mashed
Grab a deep frying pan and add in your oil until it reaches at least 350 degrees Fahrenheit. You can check the temperature with a thermometer, but if you don't have one, Ngo has another trick for you. "If you dip a wooden spoon and bubbles start coming up, it should be hot enough," he says. He adds, "You should also be on a medium-high heat when frying, [and] you should be filling your pot or frying pan at least halfway so that the wings are submerged in the oil while frying." You learn something new every day, right? 
Alternatively, these can go in the oven. "Bake at 360 degrees Fahrenheit for 30 minutes or until golden brown, and flavor with butter/lemon seasoning," Ngo shares.
Toss in the wings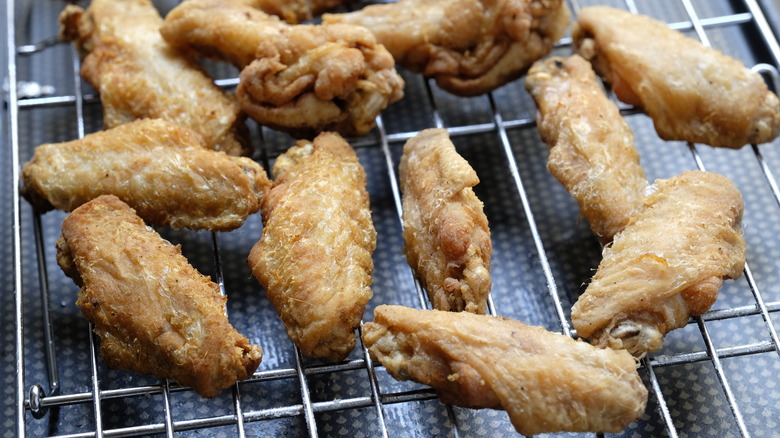 Eric Ngo/Mashed
Once the oil is hot, it's time for the wings to go in for a little oil bath. Toss them in and let them fry for about 10 to 12 minutes. You can either set your timer or just keep an eye on it. They should turn a beautiful golden brown color when they're done. Once they're finished, take them off of the heat. You can move them from the pan using tongs or a fork, transferring them to a clean wire rack to cool off a bit (don't use the one you put the raw chicken on unless you've cleaned it).
"This method of cooking the chicken wings can also be applied to drums[ticks] and thighs by simply adjusting the frying time," Ngo shares.
Melt the butter and squeeze the lemon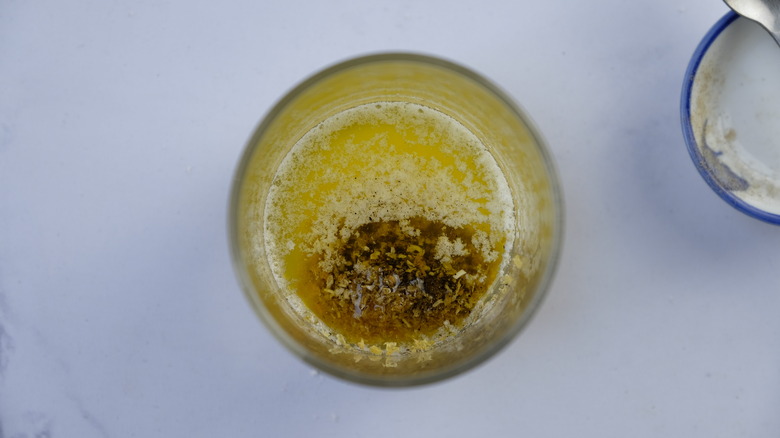 Eric Ngo/Mashed
In a microwave-safe bowl, heat the butter until it's melted. Then, set the bowl aside for a moment. Next, zest the lemon and set the zest to the side as you'll need it shortly. Finally, squeeze all of the juice from your lemon into the bowl with the butter and give it a good mix.
To the butter mixture, add in the pepper, lemon pepper seasoning, and zest, and stir to combine. This will give you a solid copycat Wingstop lemon pepper flavor, but you can always improvise or put your own twist on it! "If you want a more intense lemon pepper flavor, add more freshly ground pepper and fresh lemon zest in addition to the seasoned butter," Ngo shares. You can also add a few other items to enhance flavor. "Feel free to add herbs such as parsley, coriander, and even green onions to make the dish stand out more," Ngo notes.
Coat the wings and enjoy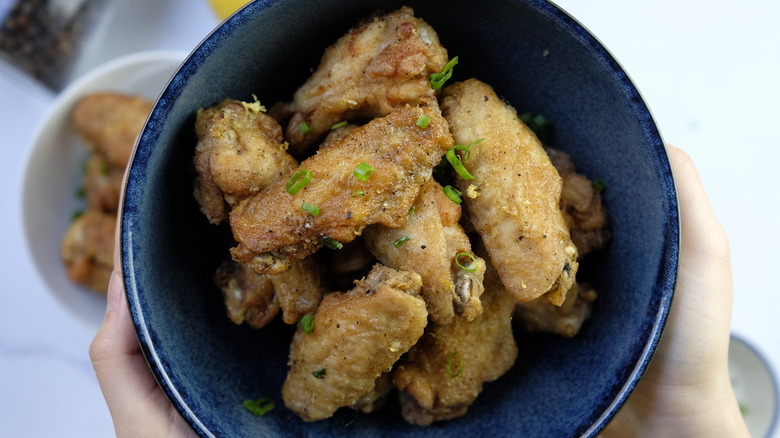 Eric Ngo/Mashed
In another large bowl, dump in all the chicken wings. Then, pour the melted butter seasoning over the top. Give it a few gentle stirs or toss the chicken wings, so the sauce gets evenly distributed. Feel free to top with chopped scallions for an extra zip of flavor. These wings are best when served hot, so be sure to get them from the plate to you and your guests as quickly as possible.
These wings go great with ranch for dipping. Another suggestion? "These wings pair well with an ice cold beer and pickled vegetables," Ngo suggests. If you have any leftovers, Ngo says that they "should be reheated via an oven as they will lose their crispiness after 8 hours." 
However or whenever you want to eat them, you can cherish the thought that you made these copycat wings in the comfort of your own home!
Copycat Wingstop Lemon Pepper Wings Recipe
Craving lemon pepper wings from Wingstop, but on a tight budget? We've got a perfect copycat recipe for your favorite fresh flavor that you can make at home!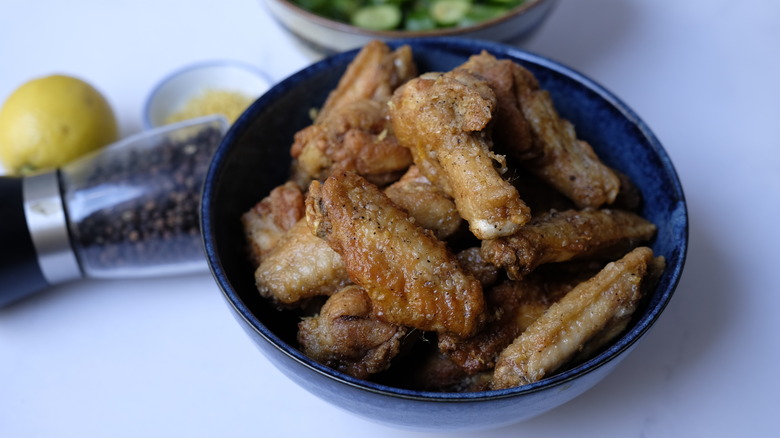 Ingredients
1 cup of flour
1 teaspoon of salt
2 pounds of chicken wings
2 cups of oil for frying (up to 3 cups, depending on the size of the pot or frying pan)
⅔ cups butter
1 lemon
2 teaspoons of ground pepper
2 teaspoons of lemon pepper seasoning
Optional Ingredients
Directions
In a large bowl, add the flour and salt and stir to combine.
Coat the chicken wings in the flour mixture evenly and set each wing aside on a wire rack.
Heat the frying oil to 350 degrees Fahrenheit over medium-high heat.
Fry the chicken wings in the oil for 10 to 12 minutes, or until golden brown. Set aside on a clean wire rack.
Melt the butter in the microwave.
Zest the lemon and set aside zest.
Squeeze all of the lemon juice into the melted butter.
Add the pepper, lemon pepper seasoning, and zest to melted butter and stir.
Put all of the fried chicken wings in a large bowl, and add the melted butter seasoning.
Gently stir or toss to flavor chicken wings.
Top with scallions if desired. Serve hot and enjoy!
Nutrition
| | |
| --- | --- |
| Calories per Serving | 906 |
| Total Fat | 69.7 g |
| Saturated Fat | 17.1 g |
| Trans Fat | 0.6 g |
| Cholesterol | 274.7 mg |
| | |
| --- | --- |
| Total Carbohydrates | 26.6 g |
| Dietary Fiber | 1.7 g |
| Total Sugars | 0.5 g |
| Sodium | 735.3 mg |
| Protein | 43.4 g |