Chocolate Buttercream Icing Recipe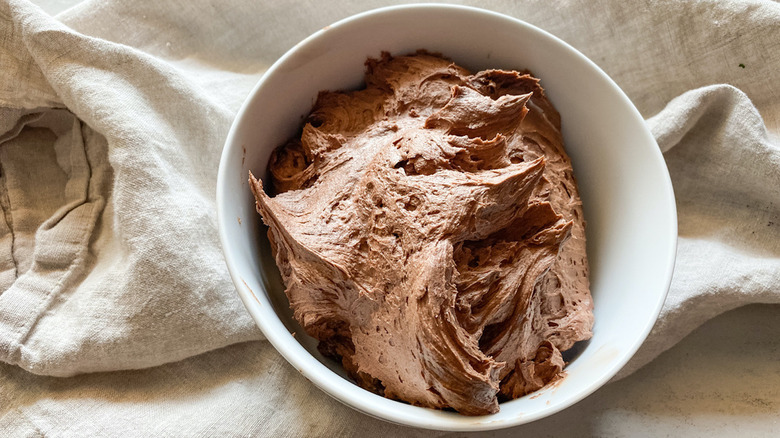 Kristen Carli/Mashed
When it comes to desserts, many are only as good as the icing that covers them. Young kids (and some adults) will often even cut straight to the chase and skip the official dessert entirely, choosing instead to lick off all the sweet frosting and call it a day. So no matter what you're baking, it's important to have a great icing recipe under your belt that can take just about anything up a notch. And if that frosting is quick and easy to make, so much the better.
Recipe developer Kristen Carli checks all of those boxes with her recipe for this rich and creamy chocolate buttercream icing, which goes well on pretty much any dessert you can imagine. "I love this on cake," Carli says, "but [it] would be excellent on brownies, cupcakes, or even cookies." And since Carli says this chocolate buttercream icing will keep well in an airtight container in the fridge for up to a week, you have plenty of time to bake up a storm and then frost it all with this rich topping.
Gather your ingredients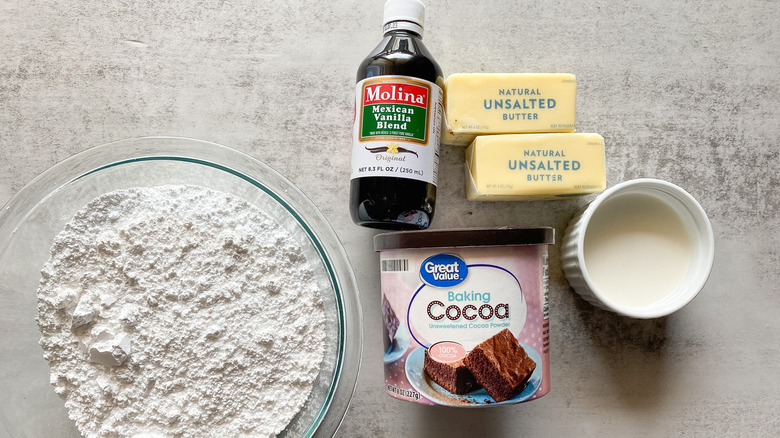 Kristen Carli/Mashed
You really don't require many ingredients at all to make a perfectly sweet and creamy buttercream icing, including this one with rich chocolate flavor. For this recipe, you'll need softened unsalted butter, powdered sugar, unsweetened cocoa powder, heavy cream, vanilla extract, and salt. 
The easiest way to soften butter is to simply take it out of the fridge a few hours earlier in the day and allow it to gradually come to room temperature. Of course, be careful not to let it sit out for too long, lest you court too much microbial growth. 
This recipe lends itself to quite a few variations, too. If chocolate isn't your thing, for instance, Carli says that you can omit the cocoa powder and double the quantity of vanilla extract for vanilla buttercream. And, once you've gotten the basic recipe down, consider experimenting with other flavorings to create new variants, like fresh lemon for a bright, citrus-forward lemon buttercream.
Whisk the butter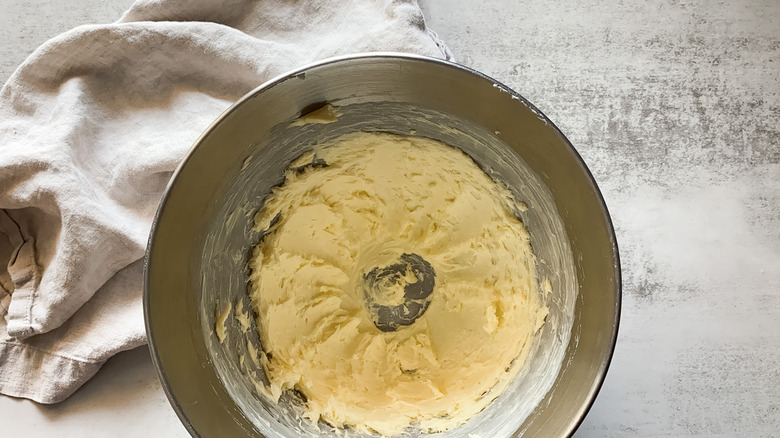 Kristen Carli/Mashed
The trick to a perfectly fluffy buttercream is to use butter that is soft, but not melted. So if you forgot to allow your butter to soften and it's still hard, resist the temptation to stick it in the microwave! That way lies melted butter, which won't be the right consistency to make the buttercream. Instead, slice the butter into thin portions and allow it to sit for a few minutes at room temperature. It shouldn't take long for it to soften up then. If you're really in a tough spot, you could also use the microwave, though not in the way you might think. That method of softening butter involves carefully microwaving some water first, then letting the butter sit in the steamy, turned off microwave for a few minutes.
Once it's ready, add the softened butter to the bowl of a stand mixer. Using the whisk attachment, whip the butter until it's light and fluffy. If you don't have a stand mixer, a hand mixer will work, but Carli cautions against trying to whisk it by hand, saying that it will require "major arm strength." But, if you're looking for an upper body workout, who are we to stop you?
Be careful with the powdered sugar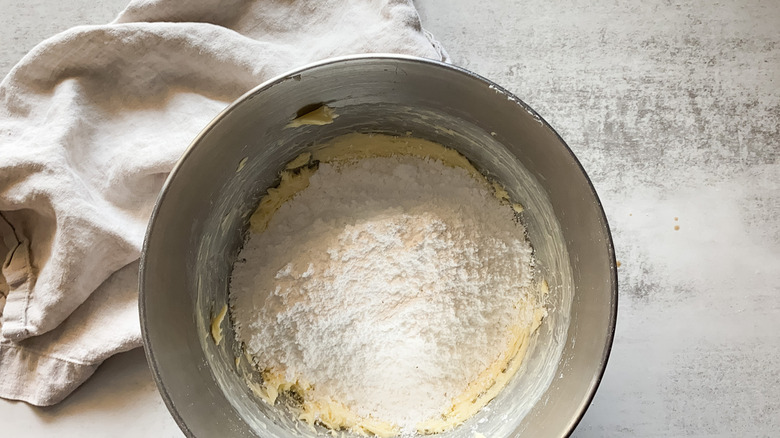 Kristen Carli/Mashed
Next, it's time to add the rest of the ingredients, but be mindful of how you do it. Namely, never add powdered sugar while the mixer is on and avoid adding it all at once. That is, unless you want to wind up wearing most of it as the powdered sugar escapes from the bowl in a giant cloud of sweetened dust. 
Instead, add powdered sugar gradually, putting in only small portions at a time and waiting for it to incorporate before adding the next round. And be patient with the speed of your mixer, at least at first. "I always start on low when I add in powdered sugar," Carli says. "Then once it is a bit more incorporated, I bump the speed up higher."
Add the remaining ingredients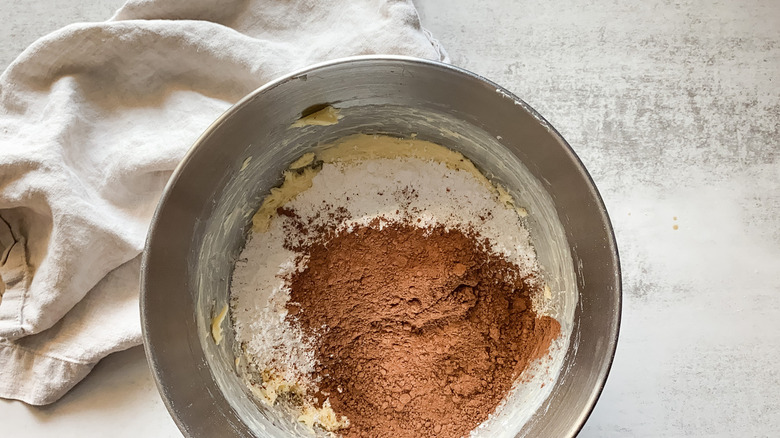 Kristen Carli/Mashed
As you gradually add the powdered sugar to the butter, you should also add the cocoa powder, heavy cream, vanilla extract, and salt. It may be helpful to add the cream before the powdered sugar, in order to make it easier to combine the powdered sugar with the butter without creating that sweet sugary cloud of loose powdered sugar in your kitchen. Use the lowest setting on the mixer to incorporate the ingredients, pausing between additions, until all of the powdered sugar and cocoa is fully mixed and is of a uniform color.
Whisk the buttercream until fluffy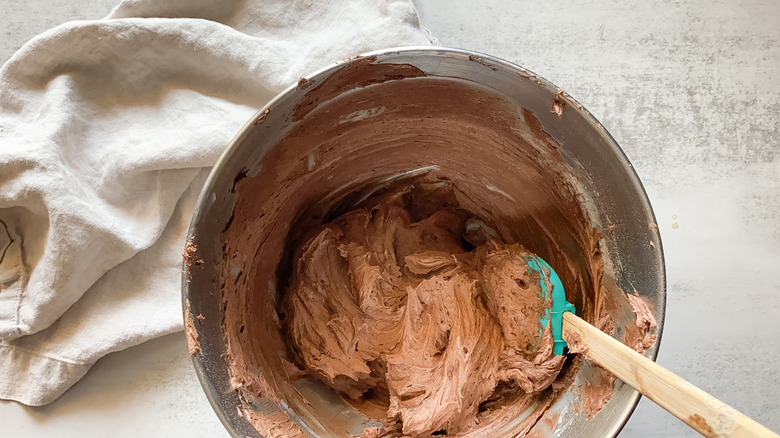 Kristen Carli/Mashed
The secret ingredient to creating light and fluffy frosting isn't even on the ingredients list but is vitally important not to leave it out. And that mysterious addition? It's none other than air. Thankfully, that's free and readily available.
Once all your ingredients have been added to the mixer and are blended together, it's time to incorporate air in order to create the perfect texture for your buttercream. Gradually increase the speed of your mixer to medium-high, then beat the icing until it's thick and creamy, which should take about 3 minutes.
How to serve chocolate buttercream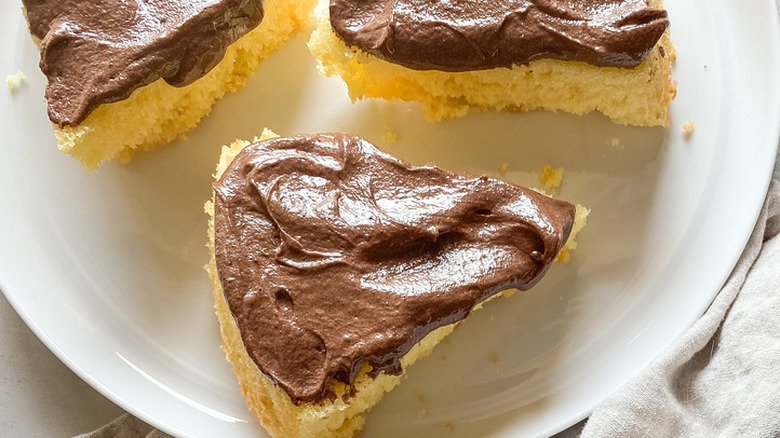 Kristen Carli/Mashed
Once your icing is ready, it's ready to top all manner of goodies. Really, your imagination is the only limit here. Use this chocolate buttercream to top classic pastries like cakes, cupcakes, cookies, brownies, or anything else that you think could use a touch (or a generous helping) of chocolatey sweetness. You'll just want to make sure that, if you're not using it all right away, you're keeping it refrigerated in an airtight container between uses. That way, the buttercream won't dry out or lose its fluffy texture.
Chocolate Buttercream Icing Recipe
This rich and creamy chocolate buttercream icing, which goes well on pretty much any dessert you can imagine. Plus, it's easy to whip up in only 10 minutes!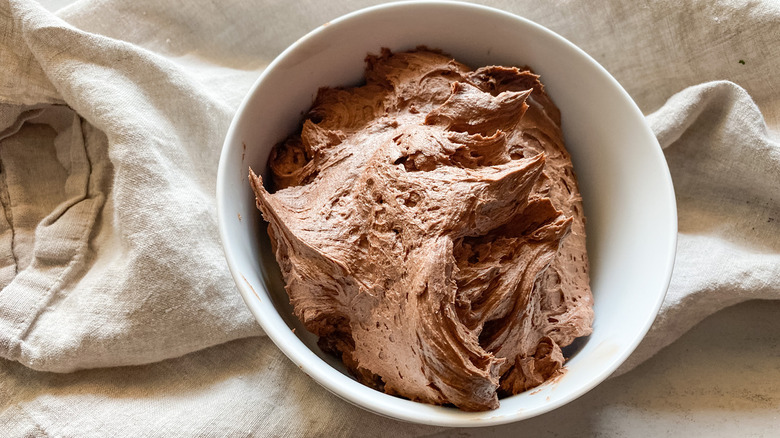 Ingredients
2 sticks unsalted butter, softened
3 cups powdered sugar
½ cup unsweetened cocoa powder
¼ cup heavy cream
2 teaspoons vanilla extract
¼ teaspoon salt
Directions
In the bowl of a stand mixer, add butter. Using the whisk attachment, whisk until light and fluffy.
Add powdered sugar, cocoa powder, heavy cream, vanilla, and salt into the mixing bowl.
Continue to whisk until combined, about 3 minutes.
Nutrition
| | |
| --- | --- |
| Calories per Serving | 279 |
| Total Fat | 17.6 g |
| Saturated Fat | 11.1 g |
| Trans Fat | 0.6 g |
| Cholesterol | 47.3 mg |
| | |
| --- | --- |
| Total Carbohydrates | 32.2 g |
| Dietary Fiber | 1.3 g |
| Total Sugars | 29.6 g |
| Sodium | 53.8 mg |
| Protein | 1.0 g |