YouTube Special Featuring Top Chef's Melissa King Celebrates API Culture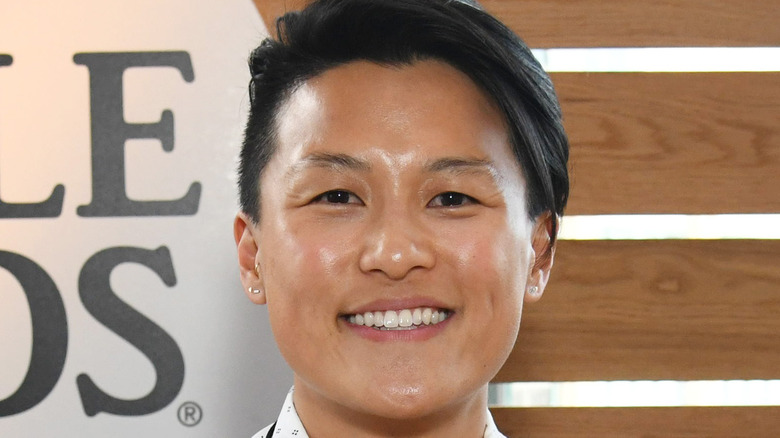 Bryan Bedder/Getty Images
Melissa King is the most successful culinary star in "Top Chef" history. The biography on King's website mentions that she has won more challenges than any other chef on the long-running cooking competition show, all the way to becoming the final victor in "All-Stars: Los Angeles Season 17" as well as the winner of "All-Star's Fan Favorite."
King, who is Asian-American, won $10,000 for being "Top Chef's" fan favorite and she donated 100% of her winnings to various causes important to her including Asian Americans For Equality, the Asian Youth Center, The Trevor Project, and the National Black Justice Coalition. When she's not creating perfect meals, the San Francisco-based chef is also an activist, putting her energy into causes such as Stop AAPI Hate and The Human Rights Campaign.
Recently, King's two passions aligned as she was one of the chefs tapped to make a dinner for a large party of Asian and Pacific Islander celebrity guests that gathered to celebrate API culture. It's all part of a new YouTube Originals special called "Recipe for Change" that debuted June 30 with a strong message to stop hate.
Melissa King joins other API celebrity chefs and guests on important YouTube special
Melissa King teamed up with chefs Jet Tila and Alvin Cailan on the new YouTube Originals special "Recipe for Change" featured on Jason Y. Lee's Jubilee Channel, with support from LeBron James' The SpringHill Company and produced by Michelle Kwan, according to a press release published at TV Meg.
In the special, King prepares a dinner for guests Olivia Munn, Jay Shetty, Margaret Cho, BD Wong, Katelyn Ohashi, Lisa Ling, and more celebrities of Asian and Pacific Islander descent as they celebrate API culture while also discussing the hateful and racist acts of violence against members of the API community. A report from the Center for the Study of Hate and Extremism concluded that hate crimes against the Asian community increased 169% in 15 major cities in the US since 2020, attributed to unwarranted backlash over the COVID-19 pandemic, which started in China.
"The most interesting and provocative conversations emerge around the dinner table as those from the Asian community, and their allies, prove that when oppressed groups band together, the minority becomes a powerful majority and tiny ripples of action can create tidal waves of change," says the press release.
The long list of API celebrities appearing on "Recipe for Change" is also supported by a crew with 80% identifying as AAPI (Asian American and Pacific Islander). "I made dinner for the fam," King posted on Instagram. "Join me and some influential voices as we gather around the dinner table to celebrate API culture and ignite change."