The Sweet Way Robert Irvine Responded To Critics Of His Baseball Skills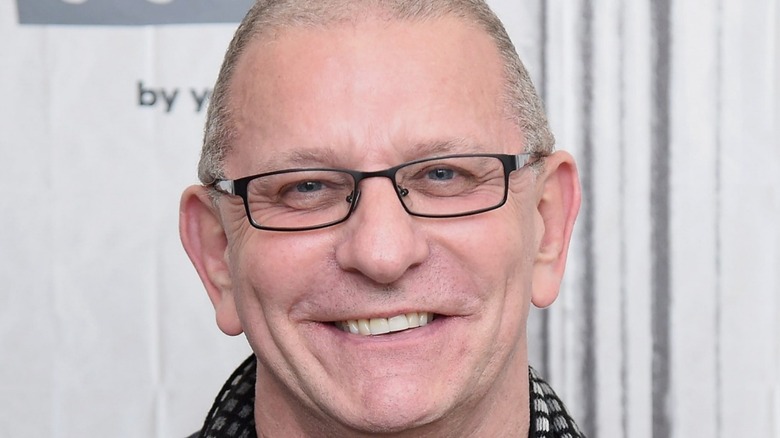 Gary Gershoff/Getty Images
When it comes to bringing the wacky, nobody beats minor league baseball. It all starts with the names — after all, who couldn't love a team called the Akron Rubber Ducks, the Lansing Lugnuts, the Rocket City Trash Pandas, or the Toledo Mud Hens? They're also known for unique concessions such as the Fresno Grizzlies' notorious Chickle — which is, like it sounds, a chicken-stuffed pickle — as well as getting the crowd involved in dance contests, three-legged races, wrestling in inflatable sumo suits, and other pastimes not dignified enough for the major leagues (where they leave the goofy stuff to professional mascots).
One celebrity chef recently got involved with all of the fun going down at the ballpark in Albuquerque, New Mexico — Restaurant: Impossible's Robert Irvine not only threw out the first pitch (or rather, pitches) at an Isotopes game, but he lead the singing in the traditional seventh-inning stretch rendition of "Take Me Out to the Ball Game." Neither of Irvine's efforts received what you could call rave reviews, however, at least not from the Albuquerque Journal. Writer Geoff Grammer not only panned Irvine's performances in an article he wrote about the game, but he went on to tweet about it, too. Luckily, Irvine was unfazed by such comments from the peanut gallery.
Robert Irvine was fine with a little kidding
As Grammer tweeted, "Food Network star @RobertIrvine needed 2 ceremonial first pitches earlier tonight and could've used a second try at Take Me Out to the Ball Game in the 7th inning stretch," although he did acknowledge "I hear the dinner he helped serve up for 250 healthcare workers at @ABQTopes Park was pretty good." Irvine took the jabs in good spirit, acknowledging, "Yes Geoff I sucked at the pitch," although he chose not to comment on his musical skills, or lack thereof. Grammer's Albuquerque Journal article had called the British chef out for needing printed lyrics as well as for musical styling that "only became palatable to those listening once the announced Tuesday evening crowd of 6,115 joined in."
What Irvine pointed out in his own tweet, though, was the real purpose of his visit to Isotopes Park. He informed Grammer that he wasn't there to show off his pitching or singing prowess. Instead, he reminded everyone "I was honoring our health care worker who were amazing through the pandemic and sacrificed everything for others" and said "the meal was Amazing ... thanks to all our Heros of healthcare." While the Isotopes didn't bring home a win (the Tacoma Rainiers took the game, 5-4), a good time was had by all, and the 250 healthcare workers that enjoyed Irvine's delicious dinner are glad he won't be giving up his day job for a pitching or musical career.