Simple Chicken Cacciatore Recipe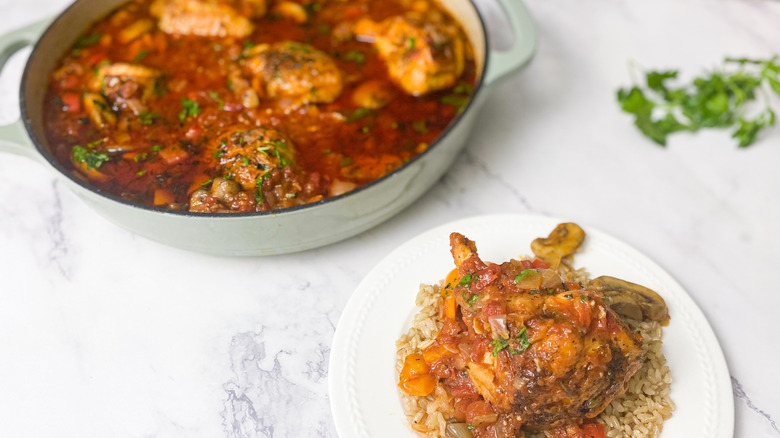 Erin Johnson/Mashed
We're bringing it back to the classics with this flavorful and hearty chicken cacciatore recipe. Cacciatore, which means "hunter" in Italian, refers to the "hunter-style" preparation of the meal, complete with onions, bell pepper, herbs, and often wine. And the beauty of this dish, according to chef Erin Johnson of Probably in the Kitch, is in its simplicity.
"This is really delicious and simple," Johnson says. "It's a common go-to in my house." As an added bonus, chicken cacciatore is flexible, meaning you can use whatever vegetables you have available in your crisper drawer. "Cacciatore is a great way to add extra veggies into a meal, or to use up veggies you may have on hand," Johnson explains. "I sometimes add zucchini, yellow squash, or carrots and it turns out fantastic."
Don't let the total prep and cook time scare you. Once you've finished combining all the ingredients in an iron skillet or Dutch oven, simply pop the dish in the oven and let it bake for the remaining 50 minutes. The oven will cook the chicken to perfection, and the medley of chicken stock, red wine vinegar, and tomatoes will help keep the meat moist.
Gather your ingredients for the chicken cacciatore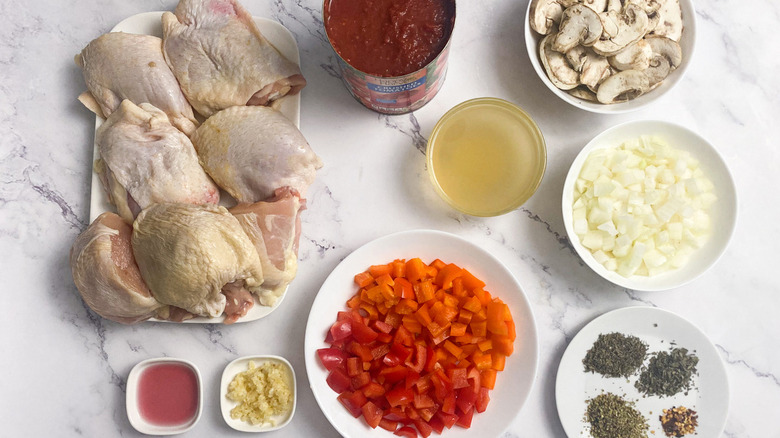 Erin Johnson/Mashed
Erin Johnson's cacciatore recipe calls for a simple set of vegetables, all of which can be swapped in or out based on availability and preference. To begin, you'll need one medium onion, three cloves of garlic, two bell peppers (any color works), and about four ounces of mushrooms. Note that four ounces of mushrooms is about one container's worth.
As for the chicken, Johnson recommends using six pieces of bone-in, skin-on chicken thighs or breasts, depending on your taste. "I use both chicken thighs and breasts in this dish to suit my family's preferences for chicken," she says.
In addition, this chicken cacciatore calls for half a cup of chicken stock, a tablespoon of red wine vinegar, and a 28-ounce can of crushed tomatoes. As for spices, Johnson uses oregano, basil, thyme, and crushed red pepper flakes (you can add extra if you like), plus fresh parsley or basil for garnish.
Prep and sear your chicken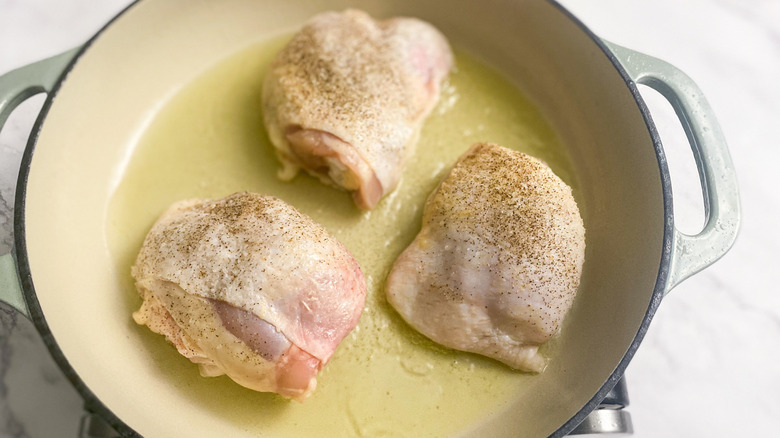 Erin Johnson/Mashed
A little prep goes a long way when it comes to chicken cacciatore. After prepping the vegetables, Johnson suggests cutting the chicken breasts into halves or thirds, depending on the size, so that each piece of meat is similar in size to the thighs. This trick evens out the cooking time for every piece of meat, and stops the arguments at the dinner table over who gets what piece.
From there, heat about two tablespoons of oil in an oven-proof skillet or Dutch oven. Johnson uses olive oil to add flavor — and because it's an Italian dish, as she notes. Feel free, however, to use the oil you have on hand.
While your oil is heating, season each side of the chicken with salt and pepper. Just remember not to wash your chicken beforehand. According to the CDC, washing chicken in the sink does more harm than good, as it spreads raw chicken juices around the sink, countertops, and anything nearby, allowing deadly bacteria to set up shop in your kitchen. If you want to remove any unsightly chicken remnants off the surface of the meat, wipe it with a damp paper towel instead.
Once the oil in your skillet or pan is hot enough, add in each piece of chicken.
Cook the chicken until the skin is golden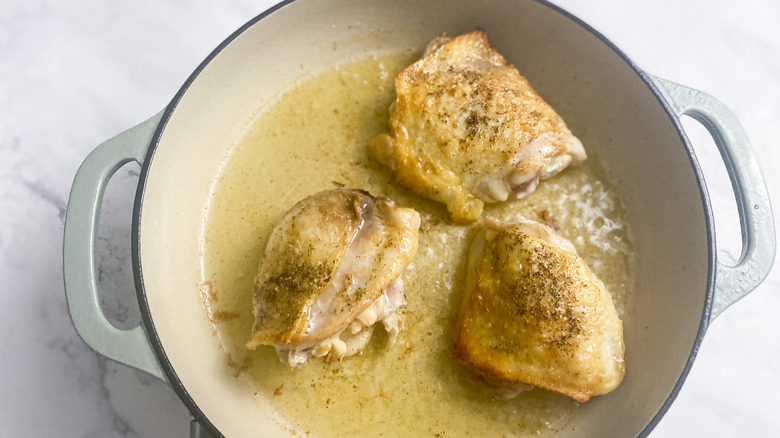 Erin Johnson/Mashed
Once you place the chicken in the pan, let it cook for about 5 minutes before flipping it over and repeating on the other side. Quell the impulse to flip it too soon. Allowing the chicken to cook without any movement in the pan will help it form a brown, crispy skin.
Your stovetop should be at a medium heat level, or between levels four and six on the dial. As an extra tip, your oil should be hot enough to see ripples, but not hot enough that it's smoking. Adding chicken to a pan that's under-heated will make the meat more likely to stick to the surface and cook improperly.
After 10 minutes have passed, remove the meat from the pan. It will have plenty of time to cook later in the oven. 
Cook the vegetables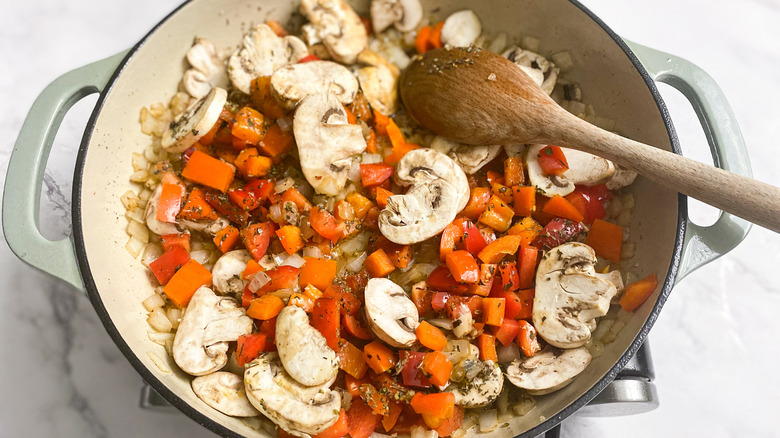 Erin Johnson/Mashed
Cooking vegetables in olive oil and chicken juices is the perfect way to impart extra flavor into your dish. Johnson recommends sautéing the onions first as they take the longest to cook. When they turn translucent, you can toss in the garlic, peppers, and mushrooms. Stir it all together before sprinkling in your oregano, basil, and thyme. Note that if you replace any of your vegetables with carrots, you might want to cook them first along with the onions, as they also take a long time to soften.
Don't be afraid to give the vegetables time to cook down a little longer in the pan. Adding the chicken stock will slow down the cooking process, so don' add it until your vegetables are well softened. It's important not to end your sauté too early or your veggies will be less caramelized and delicious than they should be.
Bake the chicken cacciatore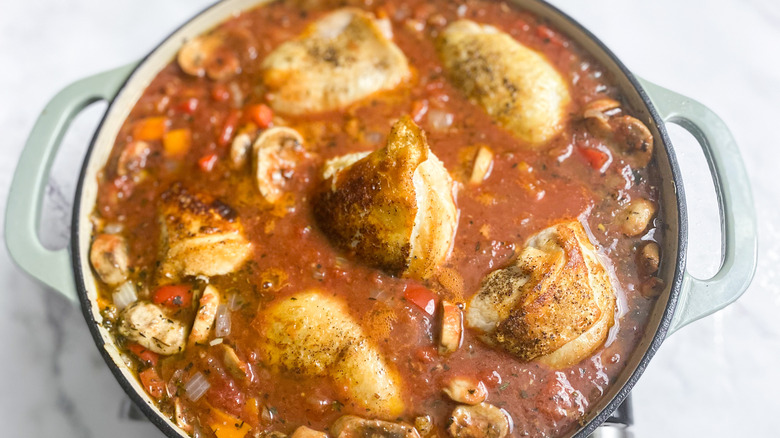 Erin Johnson/Mashed
With your vegetables now cooked to perfection, you can pour in the chicken stock and red wine vinegar. Johnson notes that this is the perfect time to use your spatula or favorite cooking utensil to scrape the bottom of the skillet, as the extra liquid from the chicken stock will help remove the browned veggie bits and oil that might be sticking to the bottom. Plus, this will add more flavor to your dish.
After stirring the mixture, pour in the can of tomatoes and stir once more. At this point, you're finally ready to place the skillet or Dutch oven in the oven. Johnson's recipe states that the meal should be cooked at 375 F for 50 minutes. If you have a meat thermometer, make sure the chicken has reached 165 F in the middle. It should be falling off the bone and quite tender.
Side dishes that pair well with chicken cacciatore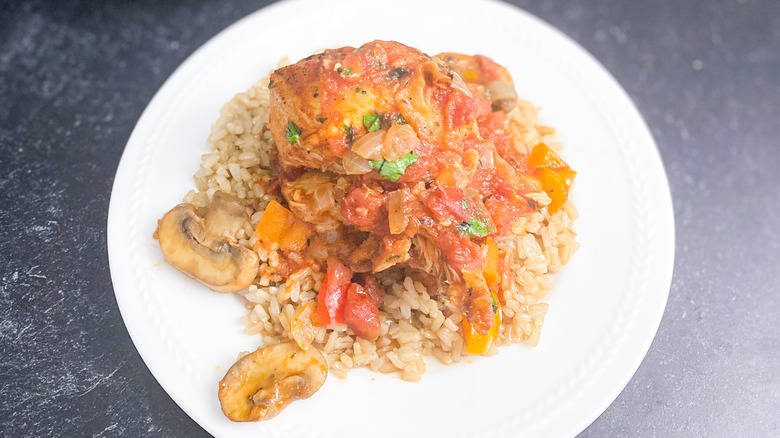 Erin Johnson/Mashed
Nothing completes chicken cacciatore like steaming, fluffy white rice — Johnson's favorite. If you'd prefer, however, Johnson says chicken cacciatore pairs beautifully with your favorite pasta or a warm, crusty bread to soak up the sauce. If you're opting for bread, Johnson suggests serving the cacciatore in a bowl for ease of dipping.
Other than that, there isn't much need to boost this meal by adding side dishes. With meat, vegetables, and a hearty sauce, it should be very filling on its own. After all, peasant dishes have a reputation for being incredibly filling, and your chicken cacciatore is sure to hold up to the standard.
Simple Chicken Cacciatore Recipe
This simple chicken cacciatore recipe is a complete meal with onion, bell pepper, herbs, and red wine vinegar. The "hunter-style" Italian dish uses any veggies.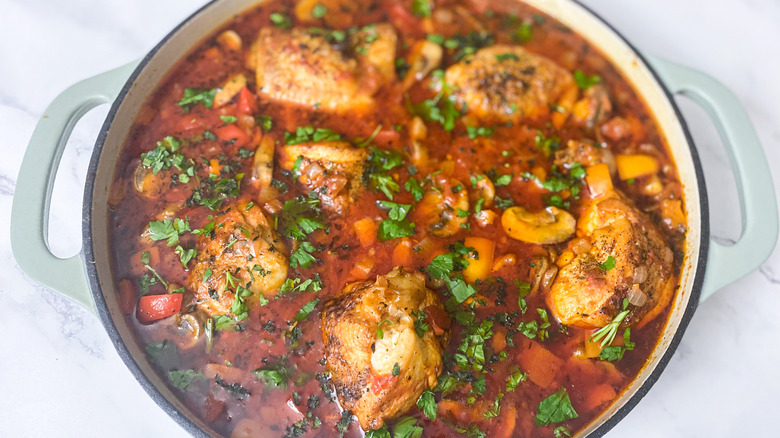 Ingredients
6 pieces bone-in, skin-on chicken thighs or breasts
1 medium onion, chopped
3 cloves garlic, minced
2 bell peppers, chopped
4 ounces sliced white mushrooms
1 teaspoon oregano
1 teaspoon basil
1 teaspoon thyme
¼ teaspoon crushed red pepper flakes
½ cup chicken stock
1 tablespoon red wine vinegar
1 (28-ounce) can crushed tomatoes
Optional Ingredients
Fresh parsley and basil, for garnish
Directions
Preheat the oven to 375 F.
Heat 2 tablespoons of oil in a large, ovenproof skillet or Dutch oven.
Season the chicken with salt and pepper and then sear it in the skillet for approximately 5 minutes per side, or until the skin is browned and crisp.
Remove the chicken from the skillet and set it aside.
In the same skillet, add the onions and cook them until they're translucent.
Add the garlic, peppers, and mushrooms. Stir, then add the seasonings.
Add the chicken stock and red wine vinegar, scraping the bottom of the skillet to remove the fond.
Add the tomatoes and stir well.
Place the browned chicken pieces back into the skillet. Cover the skillet and place it in the preheated oven.
Bake the dish for 50 minutes. The chicken should reach 165 F on a meat thermometer and be fall-off-the-bone tender.
Garnish with chopped fresh parsley, basil, or both, if desired.
Nutrition
| | |
| --- | --- |
| Calories per Serving | 265 |
| Total Fat | 14.9 g |
| Saturated Fat | 4.0 g |
| Trans Fat | 0.1 g |
| Cholesterol | 83.9 mg |
| | |
| --- | --- |
| Total Carbohydrates | 16.0 g |
| Dietary Fiber | 4.0 g |
| Total Sugars | 9.0 g |
| Sodium | 347.3 mg |
| Protein | 18.0 g |