Frozen Chicken That Is Definitely Worth Your Money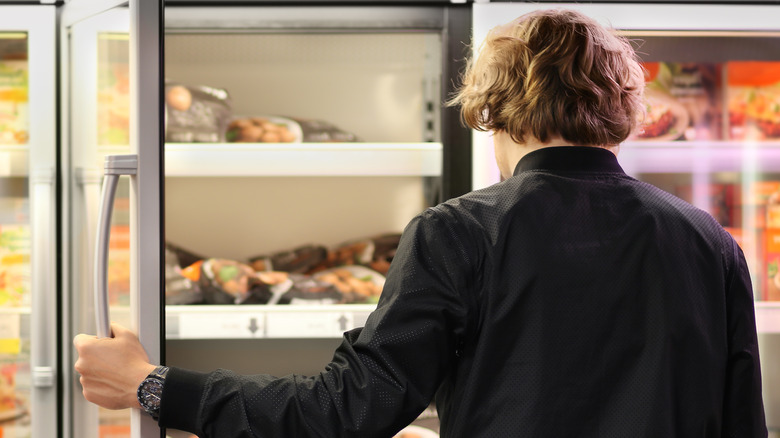 Shutterstock
We may receive a commission on purchases made from links.
Some foods win based on pure versatility. Frozen chicken is, without question, at the top of that all-star list. In a single sub-hour period, the absolute modern-day delicacy can be transformed from an inedible but also long-lasting freezer staple to any variety of meals. Throw it on a salad, chop it up and toss it with pasta, or even serve it solo as a well-seasoned main. You can't go wrong with the white meat specialty, especially considering just how practical it is in terms of both price and convenience.  
That being said, all frozen chicken brands are not made equal. As with any great, there are the breakout brands that dominate the space, and then there are the imitators, who haven't quite mastered the craft to the same degree. In the world of frozen chicken, these opposites often exist alongside each other in the very same freezer aisle. To the uneducated consumer, it can be hard to decipher which options are worth stocking the freezer with, and which are better to pass up.
We're here to help. As amateur frozen chicken connoisseurs ourselves, we created a roundup of the best brands on the market. Read on, and then start thawing. 
Banquet's Original Crispy Fried Chicken
A quick Google will unveil that there are mixed feelings about this box of frozen fried chicken, but we're here to tell you to tune out the haters: Banquet's Original Crispy Fried Chicken is one of the very best in the biz. Their recipe, which has been around for over 65 years — since 1953, to be exact — brings the undeniably American flavor of fried chicken right to your freezer. It is wonderfully non-greasy, and against all frozen-food odds, always cooks to a perfect crisp. Banquet created this delicacy to be accessible to even the least culinarily-inclined people. Anyone can pop these babies in the oven!
The drama here — and by drama, we mean the aforementioned "mixed feelings" — comes from the fact that, according to multiple reviews, Banquet allegedly recently updated their Original Crispy Fried Chicken recipe. While the old recipe was a consistent hit with reviewers, things recently took a turn. 
"Something about this new recipe that is totally off," one consumer commented, summing up the general consensus of many recent hot takes. But fear not! Banquet's PR team is on the case, and if their responses lead us to believe anything, it's that whatever change did occur in the recipe will not last long. "We take the quality of our products very seriously and will definitely share your feedback with our team," they wrote, in response to several negative pieces of recent feedback.  
Trader Joe's Mandarin Orange Chicken
Is there anything quite like wandering down the freezer aisles of Trader Joe's, haphazardly throwing whatever imaginative frozen meal strikes your fancy into the cart? We would contest that there absolutely is not, and also that you have failed your freezer if the Mandarin Orange Chicken is not somewhere in that heap of delicious finds. 
Like most Trader Joe's creations, the Mandarin Orange Chicken tastes like it was made by a person who really cared. The flavor is perfectly balanced: sweet, salty, and ultimately maybe the most savory item you can pluck out of the low-lying freezers at the famous grocer. But don't just take our word for it! According to Trader Joe's, the Mandarin Orange Chicken is consistently voted by consumers as the number one, overall favorite product. 
"And why wouldn't it be?" The brand wrote, in a blog post promoting the fan fave. "Tender chunks of juicy chicken in a crispy breading, coated with a house-made sauce of fresh California orange peels, fresh ginger, fresh garlic, fresh green onions, and soy sauce... Heck, even we're drooling at the thought." 
Same. 
Tyson's Fully Cooked Crispy Chicken Strips
Dare we say that Tyson's Fully Cooked Crispy Chicken Strips are among the most highly-reviewed frozen chicken ... ever? That's a claim that is hard to substantiate, but these bad boys have over one thousand reviews on Mercato.com and 4 stars on Walgreens' website. Didn't know so many people were passionate enough about frozen crispy chicken strips to actually go review them? Us either, but apparently Tyson's is the brand to beat in that realm. 
The bag of chicken typically retails around $15 for 25-ounces, and on the packaging, Tyson assures consumers that these strips are fully ready to eat. Simply microwave or toss them in the oven, and, per Tyson's suggestion, "serve with ranch for a protein-packed dinner." For the record, we can get behind any brand that encourages ranch consumption so blatantly. 
The final bonus, here? Not only are these strips crispy and ready-to-eat, but they are made from chicken that was raised without antibiotics and are guaranteed as preservative-free. Grab a bag without fear!
Perdue Simply Smart Organics Lightly Breaded Chicken Strips
Perdue
Perdue's Simply Smart Organics Lightly Breaded Chicken Strips: it's a mouthful of a name. Which is ironic, because one of the first thoughts that comes to mind when snagging a bag is about how simple they look. 
It must be said that, when it comes to frozen chicken, simplicity is not a bad thing — far from it. This creation by Perdue screams "chicken nugget," which brings back fond memories of when life was simpler, too. The key difference, of course, is the fact that with Perdue's Simply Smart Organics Lightly Breaded Chicken Strips (whew) there is a definitive lack of unhealthiness that's traditionally associated with the fast food chicken nuggets we know and love. They are made with organic, non-GMO ingredients — ones "you can recognize," according to their website. We checked and, turns out, it's true: from garlic powder to extractives of paprika, we recognized not just the classic chicken nugget taste and shape, but every ingredient on the list. 
Foster Farms Crispy Strips
Foster Farms has truly done the inconceivable, here: taken fried chicken like you might find at a stadium or carnival, frozen it, and packaged it up in one perfectly sized bag. Just look at these winners. They are less "there's nothing left to eat so I heated up the frozen chicken" and more "I went out to our local diner and brought these back." Seriously, these crispy strips could pass as a takeout delicacy. 
The strips, which are quite large compared to the rest of the contenders on this list, are just as ideal for dipping as any chicken fingers are. They also work well cut up on a salad, or thrown together with french fries for a truly authentic fried food indulgence. Foster Farms refers to them as "crowd pleasers," and we'd agree that crowds are probably where this specific frozen chicken brand really shines. They're made to go front and center at a Super Bowl party, in all their crispy, fried glory. 
Great Value Breaded Chicken Breast Strips
As any amateur connoisseur might be, we saw the name here and were immediately skeptical. Just how great of a value could these chicken breast strips actually be? And was there really a world in which Walmart's Great Value store brand could compete with Trader Joe's chicken of the same ilk?
Apparently, that world does exist, and we're living in it. The Great Value Breaded Chicken Breast Strips are, first and foremost, indeed a great value. At just $6 for 40-ounces, they are perhaps the absolute best value in frozen chicken. But pricing aside, these strips stack up based on flavor alone. Reviewers say they come out of the oven tasting "tender, buttery flavored and delicious," and "better than some name brands." Many fans of the Great Value Breaded Chicken Breast Strips cite their full-family appeal as a reason to buy, and we can see why. They're plain enough to please any kid, while also packing an amount of flavor into the homestyle breading to keep adults entertained, too. 
Applegate Naturals Grilled Chicken Breast Strips
Applegate Naturals' Grilled Chicken Breast Strips are almost in a league of their own when it comes to frozen chicken. Why you ask? Unlike the others thus far in this roundup, there is no heating necessary for these absolute champions. 
While a quick microwave hit may definitely make the flavor pop, you can unquestionably just store these in your fridge and grab a few to top a salad or round out a sandwich whenever the urge strikes. They come grilled and seasoned with garlic powder, onion powder, sea salt, and black pepper, making for a snack that's not only super convenient, but also really quite health-conscious. And, while we've learned that the frozen chicken field is a divisive space in terms of reviews, Applegate Naturals Grilled Chicken Breast Strips tend to do quite positively on feedback forums. 
"These are the best grilled chicken strips I've ever tasted. No exaggeration!! Hahaha I want a lifetime supply!!," wrote SarahA. Applegate, we sure hope you've hooked her up! 
Just Bare Lightly Breaded Chicken Breast Chunks
We've talked Trader Joe's and Walmart store brand frozen chicken, so it's only natural that Costco would be coming up on the list at some point here. And leave it to the nationally-adored superstore to come out with the most seemingly simple, yet highly praised, rendition of a product. In this instance, "high praise" extends beyond just online reviews: the Just Bare Lightly Breaded Chicken Breast Chunks are a Tik Tok sensation. 
According to the social media masses, the Lightly Breaded Chicken Breast Chunks that you can find at Costco taste like an at-home replica of Chick-fil-A's incredible tasting chicken nuggets. Of course, there is room for debate here — like anyone that's famous on Tik Tok knows, not everyone's a fan — but after one mother-daughter duo posted a video comparing the two, #justbarechicken started trending and hoards of viewers agreed. Apparently, it's all in the shape, the size, and the bread-to-meat ratio. That, and eating the Just Bare chunks with the Chick-fil-A sauce doesn't hurt. 
Kevin's Lemongrass Chicken
Some of the key factors in our frozen chicken roundup are pricing and value; on this list, there are several options that offer a true bang for your buck. Kevin's lemongrass chicken is not one of them. This package of pre-made chicken typically retails for around $15 for sixteen ounces, so you're shelling out about a dollar per ounce. But, as you might imagine, you very much get what you pay for. 
The chunks of chicken are nothing short of immaculately seasoned, and they are designed to sit in a creamy broth that is at once both rich and health-conscious. Made from coconut milk, basil, and hints of garlic, the sauce is paleo and keto-friendly, making it the ideal quick dinner option for those who are adhering to even the strictest of diet regimens. And when we say quick, we mean it; Kevin's guarantees that this dish will be ready in under five minutes. 
Good & Gather's Organic Boneless & Skinless Chicken Breasts
Here we have a Target specialty — their in house brand, Good & Gather, often nails it on the food front, and this organic, skinless, boneless chicken is no exception to that rule. 
This chicken requires slightly more effort to get from freezer to plate than others on this list (say, for example, the five minute option above), but in the longer process lies possibility. These chicken breasts can become whatever you want them to be, and since they come ice glazed and thin sliced, odds are they will transform into something great. At $12.99 for two pounds of chicken, this resealable bag truly does pack the value, and Target-shoppers seem to recognize that. 
"They weren't dry at all, and a great price for convenient organic chicken! Definitely recommend," wrote one reviewer, who gave the chicken five stars on taste, value and quality. 
Tyson's Blackened Flavored Chicken Breast Strips
It's hard to even look at the name of these delectable strips without getting hungry. Frozen, blackened chicken strips? Sign us up. The trick here is that we aren't the first, nor will we be the last, to pick up on the beauty of this Tyson creation. For that reason, although these are some of the all-time greatest, they can often be hard to get your hands on; more often than not, they're sold out. But if you luck out and are able to grab a bag of these bad boys, buckle up. You are in for the treat of your frozen-food life. 
The blackened flavor, which Tyson describes as "simple" and "zesty" with "a pinch of not-too-spicy heat" is incredible — perhaps the best flavor profile on this list. As one customer summed it up, "The heat is there, but it isn't the kind that lingers and makes you want to cry or avoid it." What more could you ask for, from a frozen meal?
Kirkwood Breaded Chicken Breast Fillets
A great that goes by two names, this bag of chicken was originally deemed the fairly simple, "Kirkwood Breaded Chicken Breast Fillets." However, in a sure sign of the size and dedication of its following, this frozen chicken option is now also known as the more-elusive and fun "Aldi Red Bag Chicken."
The following of a frozen chicken bag isn't always easy to measure — exact numbers can end up being somewhat hard to track. However, when it comes to the Red Bag Chicken, there's a simple way to measure just how many fanatics there are out there: they have a Facebook group with over 20,000 members. In the group, dedicated consumers post recipe tips, profess their love, and perhaps most crucially, share where they found the "coveted Red Bag Chicken." Amidst complaints that this specialty, like Tyson's blackened chicken strips above, can be difficult to nail down, the power of social media has united fans across the country. 
Simulate NUGGS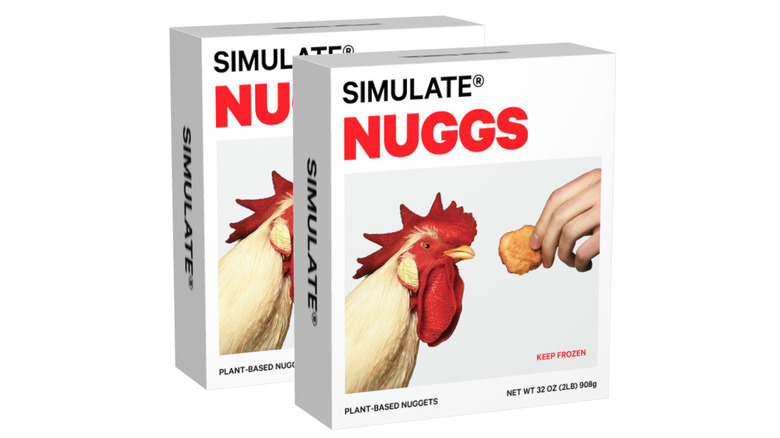 Simulate
And finally, for those who love frozen chicken but are weaning off meat, an incredible option from relatively-new-to-the-market brand, SIMULATE: plant-based chicken nuggets. These meat imposters taste arguably better than the real thing, having been specially created to be just as juicy, tender, and battered as any option on this list. They use soy protein to recreate that signature chicken flavor, but in an ironic twist, these nuggets actually contain about 25% more protein than animal-based options, according to a press release by the company. They are easy-to-eat, but perhaps even easier to cook: just zap them in the oven for 15 minutes and you'll be good to go. 
You can find this delicious chicken alternative at Walmart, Target, Sam's Club, and Whole Foods, where you'll get around 20 nuggets for just $5.99, making this one of the cheaper options in this roundup in addition to one of the most environmentally and health-conscious.