Aldi's Chocolate Banana Pie Bites Are Turning Heads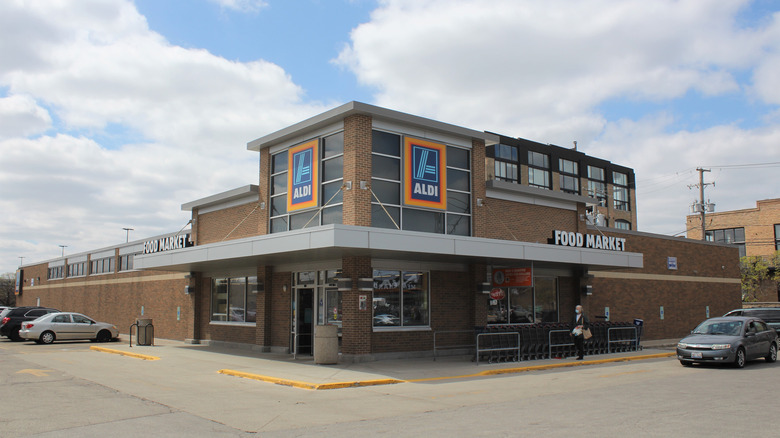 Shutterstock
Aldi may get a lot of press for their low prices, but they also have a great aisle of shame of seasonal items and a solid selection of frozen foods. And that section has a new treat in stock. According to Aldi's website, these chocolate covered pie bites from Belmont retail at $4.49 for a box of 10 pieces. They come in three flavors: banana cream, key lime, and coconut cream. And already, fans can't get enough.
One Reddit thread starts off with a photo of the banana cream pie bites with the heading, "Y'all, don't sleep on these." Another thread kicks off with a rating of "10/10," which the poster later followed up with, "They were so cute AND delicious!" 
Some commenters noted that the treats were rather pricey. Yet, the original poster had a counterargument. "It was so worth it for a special treat!" the user wrote. Another commenter concurred by adding, "Expensive-ish? Yes. Worth it? Absolutely," and also commenting that their brain "could not comprehend what kind of overwhelming deliciousness was going on" when they tried a bite.
Aldi's pie bites are popular and almost guilt-free
These pie bites are also getting rave reviews on the Aldi Aisle of Shame Facebook Group. "Oh my WORD!!!! THESE ARE AMAZING!!!!" wrote one shopper. Another posted in the comments, "I bought one package yesterday and OMG they were so good. Went back today and picked up six more boxes," via Facebook.
Aldi has had other frozen chocolate and banana treats in the past, including some chocolate covered banana bites that shoppers couldn't get enough of, but these new pie bites take it to the next level with a butter and graham crust. At only 70 calories per serving (one piece), they're a fairly guilt-free treat — assuming you can limit yourself to just one, which may not be humanly possible. Although, one Redditor had a good recommendation: "Take one out and set it down and then put the box away before you eat it." Whether you have just one piece or the whole box (or six), it seems you can have your pie and eat it too, this summer.