23% Of Cracker Barrel Fans Think This Is The Best Menu Item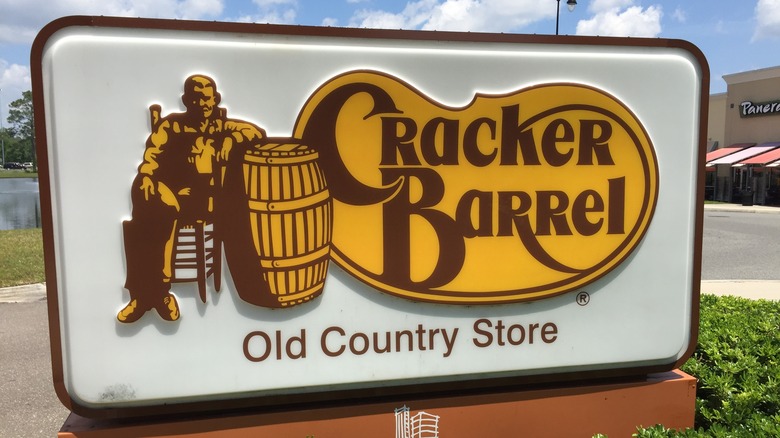 Shutterstock
Ask a Southerner where they go for a delicious, stick-to-your-ribs southern meal and there's a good chance they'll tell you their grandmother's kitchen. If you're lucky you might get an offer to tag along to the next family dinner, but if the invitation evades you, you can always turn to Cracker Barrel to get your fix of food from the region's mouthwatering cuisine. The restaurant-general-store hybrid opened its premiere Lebanon, Tennessee, location in 1969 with the intention to provide a delicious, high-quality meal to both locals and travelers alike (via the Cracker Barrel website). Since then, the chain has become a road trip staple with an impressive 664 restaurants across 45 states, all of which feature a massive menu that includes all-day breakfast and classic southern meals.
Yes, Cracker Barrel is home to several exceptional dishes that are sure to make both your tummy and tastebuds happy, but it can be a bit overwhelming to decide what to order when everything looks so good. To help guide you in the right direction during your next visit to the restaurant, we here at Mashed conducted a survey in which we asked 645 individuals in the United States what they perceived to be the best menu item from the Southern eatery, and while the competition was stiff, there was one particular dish that reigned supreme over the rest.
If you're in the mood for breakfast, Cracker Barrel's Pecan Pancakes are the way to go
Fried foods may be a staple in southern cuisine, but they didn't earn the most love from Cracker Barrel fans. The chain's Fried Chicken Tenders ranked the lowest in our poll, earning votes from only 11.32% of respondents, while their Country Fried Shrimp fared only slightly better with 11.94% of participants considering it the restaurant's best meal. And while not necessarily a classic southern entree, the brand's Barrel Cheeseburger topped them both, coming in fourth place with 107 votes, or 16.59%.
If it's breakfast that you're hankering for when you step foot into a Cracker Barrel, it appears that the restaurant's Pecan Pancakes are the way to go. The trio of pecan-stuffed buttermilk flapjacks that can be ordered on their own or as part of the Momma's Pancake Breakfast didn't earn the highest rating from our survey respondents, though they did rake in a respectable 18.29% of votes from 118 people, making them the third-best offering from the restaurant chain.
The best menu item at Cracker Barrel is ordered more than 11 million times every year
Receiving 18.76% of the votes was Cracker Barrel's Sunday Homestyle Chicken. Consisting of two crispy boneless chicken breasts, two sides, and a choice of either buttermilk biscuits or cornbread (via the Cracker Barrel website), this massive meal edged out the delectable Pecan Pancakes for second place in our survey by a mere three votes, but don't go questioning its popularity. The meal used to be strictly reserved for diners frequenting their local Cracker Barrel on Sundays but was so widely favored by patrons that in 2019, the chain announced that they would start offering it every day of the week (via PR Newswire).
You clearly can't go wrong by ordering any of the aforementioned meals from Cracker Barrel, though there is one dish that was regarded even better than the rest. Chosen by nearly one in four respondents to our survey, the Chicken N Dumplins received a total of 23.1% of the votes in our survey to earn the title of "best menu item" from the chain. For those that don't feel like doing the math, that equivalates to about 149 votes, and while that may seem a bit underwhelming, Taste of Home reported in 2019 that there are more than 11 million orders placed for this dish every year – impressive, right? Make sure to give this highly-rated meal a try the next time you dine out at Cracker Barrel and don't forget to treat yourself to the Double Chocolate Fudge Coca-Cola Cake for dessert!