Grilled Wedding Chicken Recipe
Kristen Carli/Mashed
Not counting your own wedding day, of course, what's the one thing you remember the most about just about every wedding you've ever attended? Maybe the bride's dress, maybe a best man's speech, maybe the touching vows, but probably it's the food, right? 
A great wedding is pretty much defined by great food, and unfortunately, a wedding where the food is not so good can leave an impression of being not so great a celebration.
Chicken is one of the most common foods at weddings, owing to its low cost, but it's also a food that's so easy to prepare badly, especially when making a large batch. Why? Because it's painfully easy to dry out chicken. 
But don't worry, it's also easy not to. "This wedding chicken uses a very flavorful but simple marinade to elevate the typically dry chicken you receive at a wedding," says chef, recipe developer, and registered dietician Kristen Carli of Camelback Nutrition & Wellness. Provided you leave plenty of time for the chicken to soak in the marinade, you're pretty much guaranteed tender, flavorful meat thanks to this recipe, which Carli calls "very easy." And hey, you can cook it up even without any nuptials at hand.
Gather your ingredients for grilled wedding chicken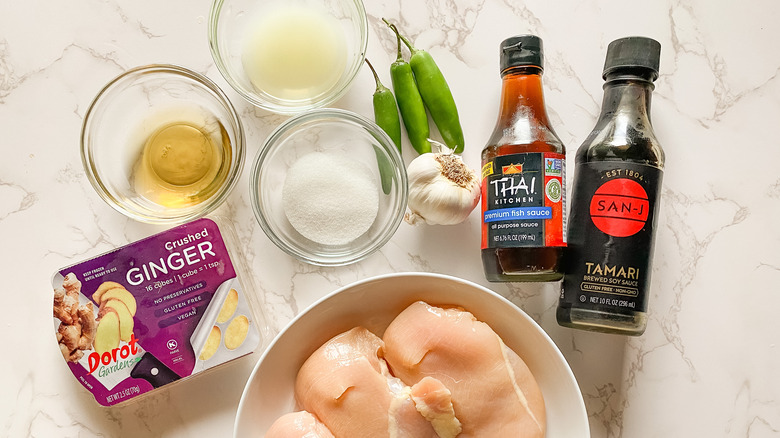 Kristen Carli/Mashed
This dish is all about the marinade. In fact, aside from the meat itself, every other ingredient involved is used to create that marinade. All you'll need is crushed ginger, sliced serrano peppers, crushed cloves of garlic, apple cider vinegar, fish sauce, tamari (or standard soy sauce), olive oil, salt, pepper, and some boneless, skinless chicken breasts.
You should trim any fat and gristle off the chicken now, so it can later go from the marinating step right onto the grill, and from there right onto a plate to be enjoyed.
Create the marinade and marinate the chicken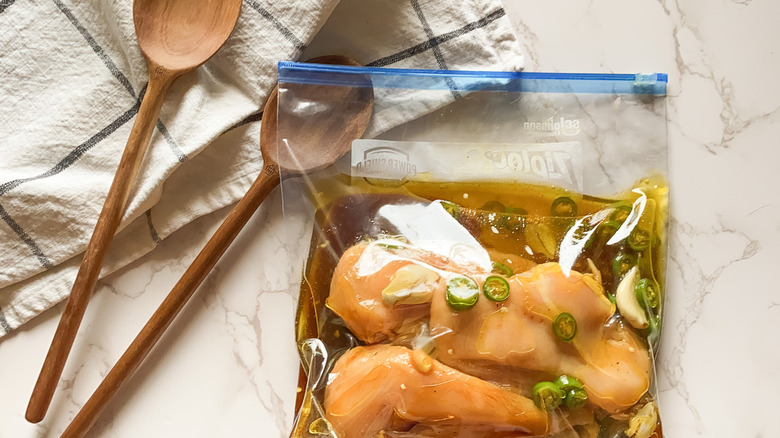 Kristen Carli/Mashed
All you need to do to make the marinade is take a small bowl and add the crushed ginger, sliced pepper, crushed garlic, vinegar, fish sauce, tamarind, olive oil, and the salt and pepper. Stir to combine all of these ingredients well, and then place the trimmed chicken breasts in a large, resealable plastic bag.
Now carefully pour the marinade over the chicken, then zip the plastic bag shut and refrigerate it for at least 12 hours. You can use a glass or plastic container with a lid as well, of course, provided the shape allows the chicken to be completely submerged in the liquid. 
Grill the chicken to tasty perfection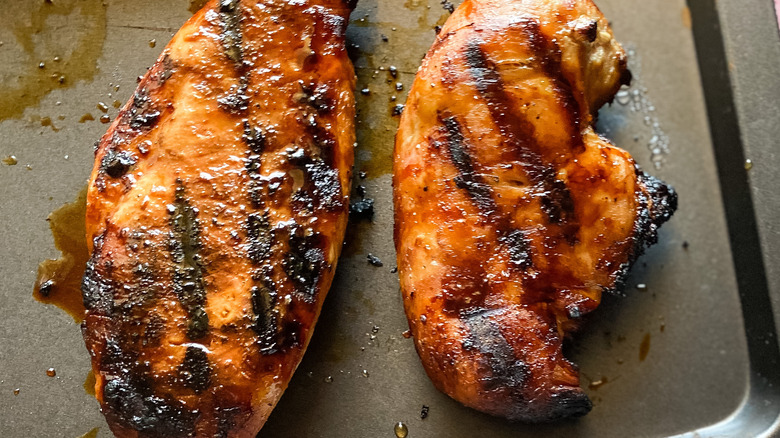 Kristen Carli/Mashed
When the marinating time is nearly up, fire up your grill. You want the heat to be 475 F, but if your grill doesn't have a thermometer, just go with a hot grill without licking flames, as that will scorch the meat.
Now remove the marinated chicken from the fridge and bring it to the grill. Place the breasts on the well-heated grates, and close the lid. Let the chicken cook, flipping the breasts every five minutes for a total 20 minutes, or until then chicken registers 165 F internally at the thickest part.
"I love this served with mashed potatoes and a green salad," says Carli, adding, "It keeps best in an airtight container in the fridge for up to three days."
Grilled Wedding Chicken Recipe
This grilled wedding chicken recipe uses a very flavorful, simple marinade to turn the typically dry chicken you eat at weddings into tender, juicy meat.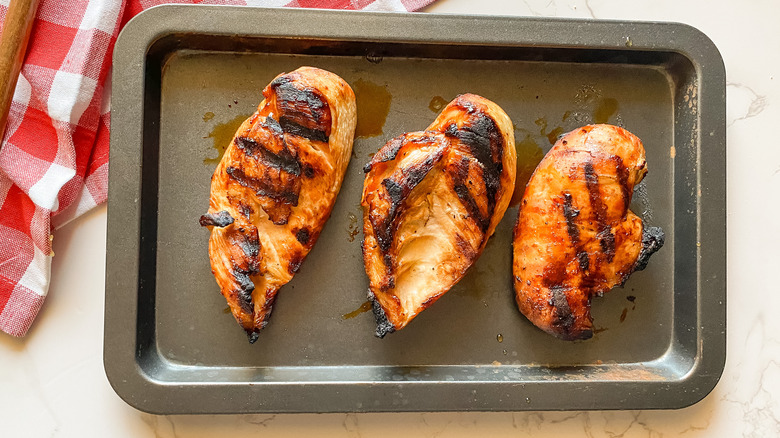 Ingredients
1 teaspoon crushed ginger
3 serrano peppers, sliced
8 cloves garlic, crushed
2 tablespoons apple cider vinegar
3 tablespoons fish sauce
½ cup tamari or soy sauce
1 cup olive oil
1 teaspoon salt
½ teaspoon pepper
3 boneless, skinless chicken breasts
Directions
In a small bowl, combine the ginger, pepper, garlic, vinegar, fish sauce, tamari, olive oil, salt, and pepper, and stir to combine.
In a large plastic bag, add the chicken, then carefully pour the marinade over top.
Zip the plastic bag closed and refrigerate for 12 hours.
Preheat a grill to 475 F.
Remove the chicken from the fridge and put on the preheat grill, then close the lid.
Flip the chicken breasts every 5 minutes for 20 minutes, or until chicken reaches 165 F on a meat thermometer.
Nutrition
| | |
| --- | --- |
| Calories per Serving | 1,009 |
| Total Fat | 79.5 g |
| Saturated Fat | 11.5 g |
| Trans Fat | 0.0 g |
| Cholesterol | 198.6 mg |
| | |
| --- | --- |
| Total Carbohydrates | 6.3 g |
| Dietary Fiber | 0.9 g |
| Total Sugars | 1.2 g |
| Sodium | 3,874.2 mg |
| Protein | 66.2 g |