The Truth About Anthony Bourdain's Daughter Ariane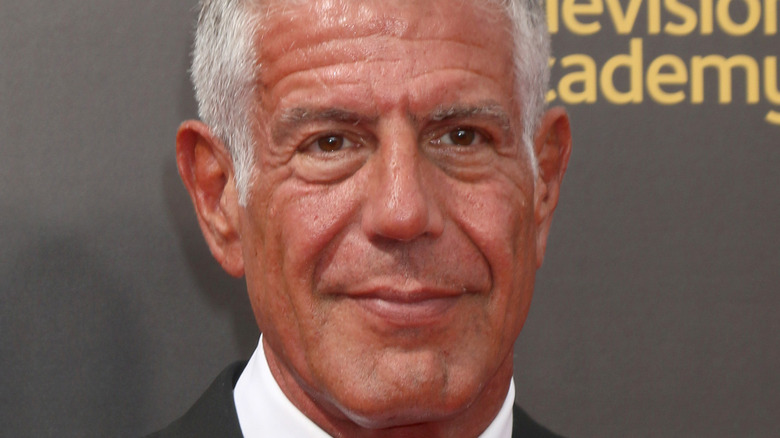 Shutterstock
Anthony Bourdain may have been best known for his adventuresome travels in search of noteworthy foods from far-flung cultures, as documented in both "Anthony Bourdain: Parts Unknown" and "No Reservations." But Bourdain was so much more than just a beloved and highly charismatic travel and culinary TV host. For example, Bourdain was also an accomplished writer, with several graphic novels to his name (via DC Comics), at least one of which —"Hungry Ghosts" — is under development by Sony Pictures Animation, according to Eater. And when Bourdain died by suicide in 2018, he left behind not only his millions of grieving fans but also a daughter, Ariane Bourdain, who was just 11 at the time, according to Bravo. 
When Ariane Bourdain makes an appearance in the soon-to-be-released Morgan Neville documentary "Roadrunner," it may well be the first time you'll come to acquaint yourself with the young teen. That's because Bourdain always sought to protect his only child from the prying eyes of the public, according to the NY Daily News. And out of respect for Bourdain, as well as the wishes of Ariane's mother Ottavia Busia-Bourdain, Neville made the decision to minimize Ariane's presence in the documentary. The truth is, you won't even see her — except in old photos — until the tail end of the film. 
Bourdain wanted his daughter shielded from the public eye
Ariane Bourdain was born in 2007 and was just 11 when her father died in France by suicide, per Bravo. Her mother is Ottavia Busia-Bourdain, a mixed martial arts fighter and Anthony Bourdain's second wife, according to People. The two had married soon after Ariane's birth after a brief and intense courtship. They met after being introduced by their mutual friend, celebrity chef and restaurateur, Éric Ripert. The couple split in 2016, but their divorce had not yet been finalized at the time of Bourdain's death, according to another story that appeared in People. 
As Busia-Bourdain said at the time of the split, according to People, "We love each other....And we'll always consider ourselves a family." Not long after Bourdain's death, Ottavia shared an Instagram post honoring not only Bourdain, but his loving relationship with Ariane. "Our little girl had her concert today," Ottavia Busia-Bourdain wrote, per CBS News, "She was amazing. So strong and brave. She wore the boots you bought her. Hope you are having a good trip, wherever you are." According to Bravo, Bourdain left most of his estate to Ariane.
If you or anyone you know is having suicidal thoughts, please call the National Suicide Prevention Lifeline​ at​ 1-800-273-TALK (8255)​.