Chewy Peanut Butter Chocolate Chip Granola Bars Recipe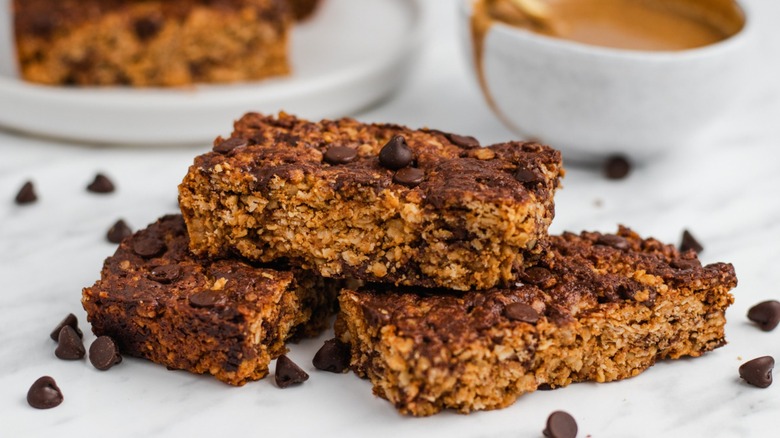 Catherine Brookes/Mashed
Granola bars are one of those paradoxical snack foods. We probably pick up a package for the first time thinking, "Granola, that should be healthy, right?" Somewhere along the line, though, we find out they're really not all that great, nutrition-wise. By this time, though, we've gotten used to this grab-and-go breakfast. Not only do we appreciate the convenience, but we've grown pretty fond of the taste. Still, if granola bars really aren't that good for us, shouldn't we really work on kicking the habit?
No need to go to such extremes! Instead, you can opt to make a different healthy choice. By baking your own granola bars, you'll know exactly what goes into them and avoid any "mystery ingredients" such as artificial flavors, colors, and preservatives. What's more, these chewy peanut butter chocolate chip bars from developer Catherine Brookes are much tastier than the store-bought version, but they're also surprisingly easy to bake.
You'll need these ingredients to make chewy peanut butter chocolate chip granola bars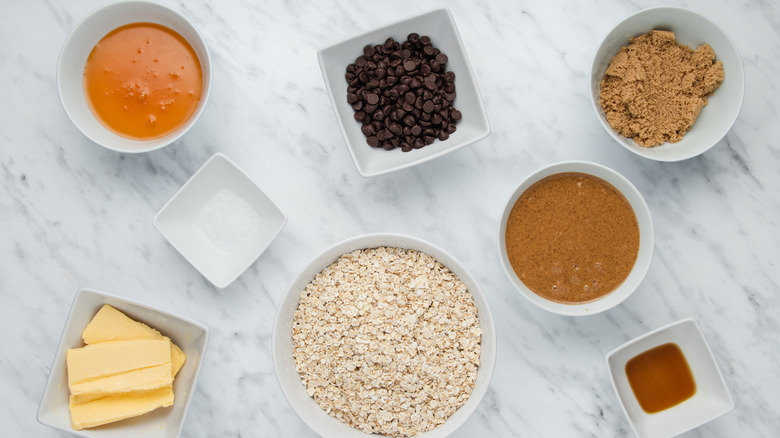 Catherine Brookes/Mashed
Unlike with prepackaged granola bars, you'll recognize the name of every ingredient in these bars without having to look anything up in your old chemistry textbook. To make this recipe, you will need smooth peanut butter (chunky should work, too, if that's what you have on hand), brown sugar, corn syrup, butter, vanilla extract, salt, oats (either the old-fashioned or the quick-cooking kind), and chocolate chips.
One note on a particular ingredient used by Brookes: our recipe developer is British, so she actually made her granola bars with something called golden syrup instead of corn syrup. While this is a common baking ingredient in the UK, it's an expensive import item in the U.S., and its flavoring isn't an integral part of the recipe. We swapped it out for corn syrup, although if you do happen to have any golden syrup on hand, you may, of course, use that too. One additional substitute that would work just as well would be honey, which can also replace the corn (or golden) syrup on a one to one basis. As Brookes tells us, "Honey would be a great substitute, as it's equally sticky as golden syrup."
Make the dough for the granola bars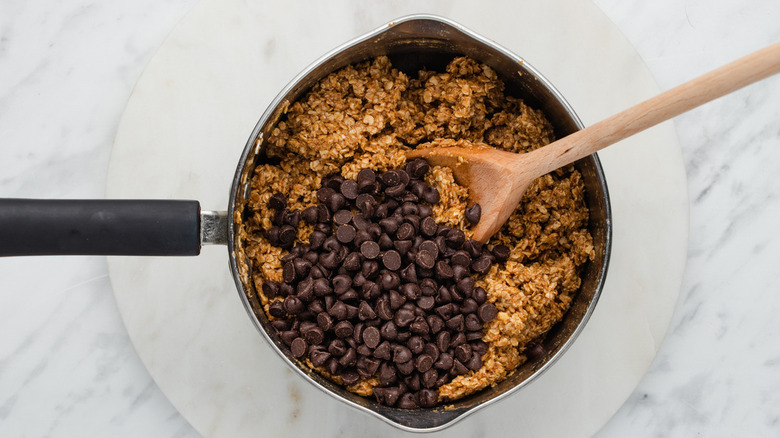 Catherine Brookes/Mashed
Before you begin to make the dough for the granola bars, turn the oven to 350 degrees so it can heat up while you work. Next, prepare an eight-by-eight-inch baking pan by lining it with parchment paper or aluminum foil and then greasing it. Be sure to leave a few inches of whatever you use to line it hanging out over the sides of the pan, as this will make the "handles" you need when it comes time to lift the finished product out of the pan. Set the pan aside while you melt the peanut butter with the brown sugar and the corn syrup (or honey, or golden syrup) in a large saucepan over medium heat. Stir the mixture as it melts. Once everything is all melted together, remove the pan from the heat.
Stir the vanilla extract and the salt into the peanut butter mixture, then mix in the oats until they're well combined. After the oats are added, everything should be sufficiently cool so that you can stir in the chocolate chips without having them melt.
Bake the granola bars to your desired degree of doneness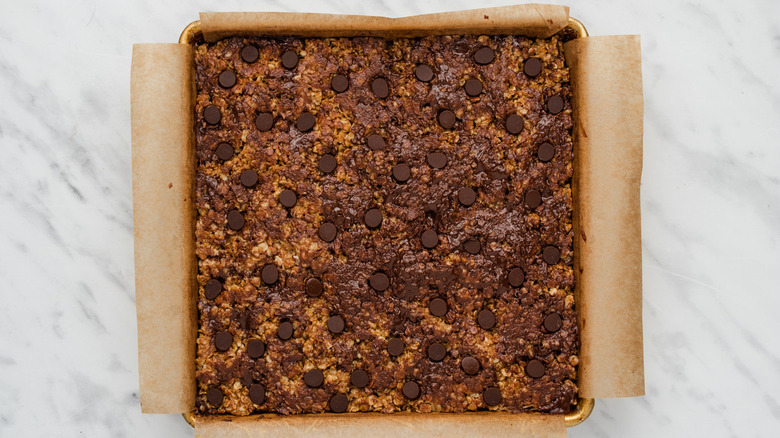 Catherine Brookes/Mashed
Using a spoon or rubber spatula, scoop the mixture into the prepared pan and spread it out evenly. Press it firmly down into the pan — you can use the bottom of a metal or heavy glass cup to help with the pressing. If you like, as a decorative touch, you can push a few more chocolate chips down into the top of the dough.
Bake the granola bars-to-be for 20 to 25 minutes. As Brookes notes, "Baking for a shorter amount of time will result in a chewier bar, whilst baking for longer will make them crisper on the top." After baking, let the slab of granola mix stay in the pan for about 10 minutes before you transfer the contents to a wire rack to finish cooling. When the slab is completely cool, cut it into eight bars. Brookes tells us the bars don't need to be refrigerated, adding that they should keep well in an airtight container for about five days.
These granola bars can make for a healthy snack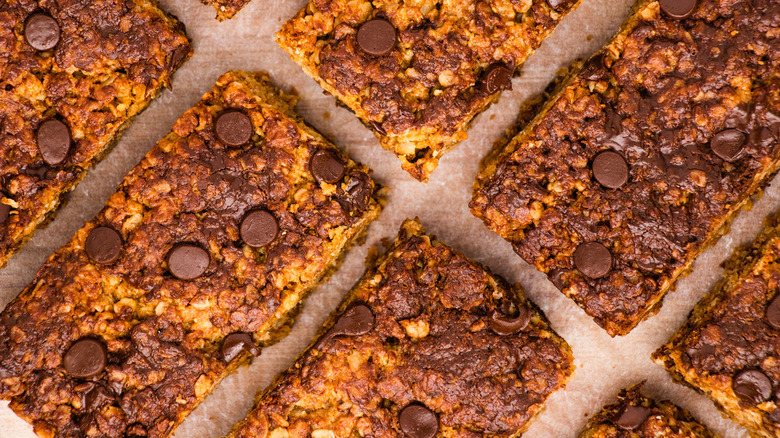 Catherine Brookes/Mashed
As Brookes admits, these granola bars are "more of a sweet treat than something with a nutrition focus, due to the fairly high sugar content," so they're something that should be enjoyed in moderation. That's not to say, though, that they don't provide a lot of healthy perks. Brookes points out that "the peanut butter and oats are both a good protein source," while the oats also add some fiber content. These bars are gluten-free, and you can, of course, swap the peanut butter for a different nut butter (Brookes suggests almond as a tasty alternative) or make a nut-free version with sunflower butter. Another ingredient swap you can use is plant-based butter and chocolate to make these bars vegan. 
Speaking of chocolate, Brookes favors semisweet chocolate chips for her granola bars but says you can swap them for milk chocolate or even white chocolate if that's your preference. Yes, dark chocolate is slightly healthier than its paler cousins, but with just one tablespoon of chips per bar, there's not really a significant amount of flavonoids at stake here. If you want an even more nutritious bar, though, you could always omit the chocolate chips entirely and add half a cup of chopped nuts, raisins, or other dried fruits instead.
Chewy Peanut Butter Chocolate Chip Granola Bars Recipe
By baking your own granola bars, you'll know exactly what goes into them and avoid any "mystery ingredients" such as artificial flavors and preservatives.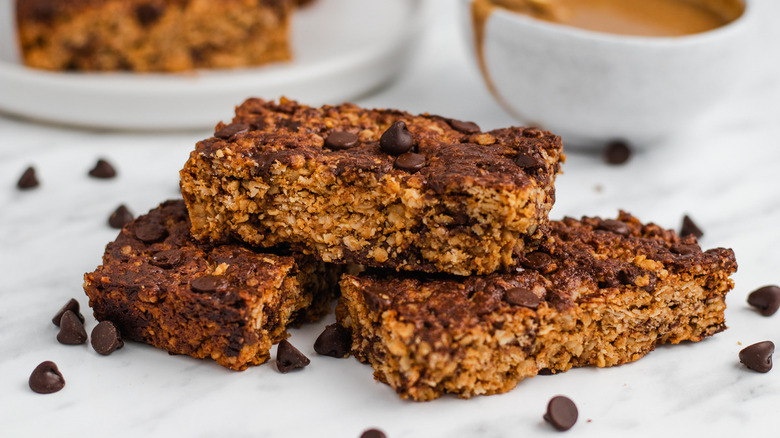 Ingredients
⅔ cup smooth peanut butter
¼ cup butter
¼ cup brown sugar
¼ cup corn syrup
1 teaspoon vanilla extract
¼ teaspoon salt
2 ½ cups oats
½ cup semisweet chocolate chips
Optional Ingredients
Extra chocolate chips for topping
Directions
Preheat the oven to 350 degrees Fahrenheit.
Grease an 8x8-inch square baking pan.
Melt the peanut butter, butter, brown sugar, and corn syrup in a large saucepan over medium heat, stirring frequently until smooth.
Remove the saucepan from the heat and stir in the vanilla extract and salt.
Add the oats and stir until well combined.
Mix in the chocolate chips.
Transfer the mixture to the baking pan and spread it out evenly, pressing down with the back of a metal spoon.
Push a few extra chocolate chips on top before baking if desired (optional).
Bake for 20 to 25 minutes.
Leave the baked granola slab in the pan for about 10 minutes before transferring to a wire rack to cool completely.
Once the slab has completely cooled, slice it into 8 bars.
Serve and enjoy.
Nutrition
| | |
| --- | --- |
| Calories per Serving | 470 |
| Total Fat | 23.4 g |
| Saturated Fat | 8.4 g |
| Trans Fat | 0.2 g |
| Cholesterol | 15.3 mg |
| | |
| --- | --- |
| Total Carbohydrates | 56.7 g |
| Dietary Fiber | 6.9 g |
| Total Sugars | 20.8 g |
| Sodium | 87.2 mg |
| Protein | 13.5 g |