Trader Joe's Fans Can't Believe This Santa Monica Store Feature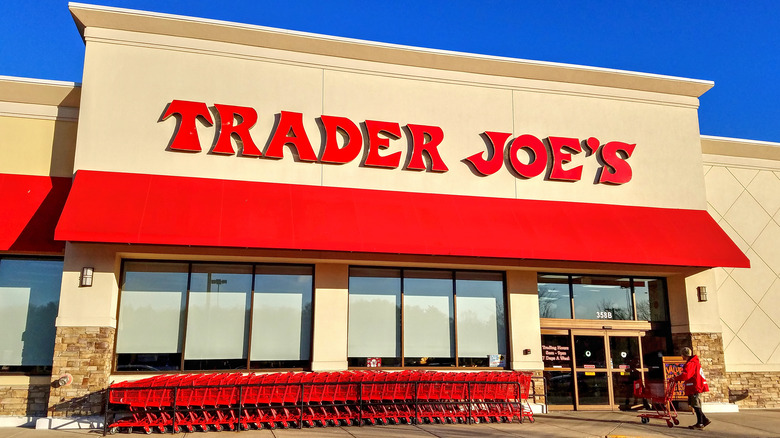 Shutterstock
Oh, Trader Joe's. How we love your cult classics such as Everything but the Bagel Seasoning, cauliflower gnocchi, Mandarin orange chicken, and dark chocolate peanut butter cups. And because we love so many of your offerings, we put up with some of your more disappointing products, such as your squishy, bland black bean and cheese taquitos, your weirdly funky white truffle potato chips, and your not-spicy-enough Sriracha.
Love it or hate it, Trader Joe's has a lot to offer, from snacks to frozen or refrigerated main dishes to fresh produce to a deliciously expansive variety of sweets and desserts. And typically, these items — whether they're good or bad, affordable or overpriced, available at one's local store or not, etc. — are the topic of discussion when the grocery chain comes up in conversation. But yesterday, an Instagram post whose purpose was to alert shoppers to a new dessert item in the freezer aisle attracted a whole bunch of attention for reasons that had nothing to do with the food item at all.
Freezer doors, blown minds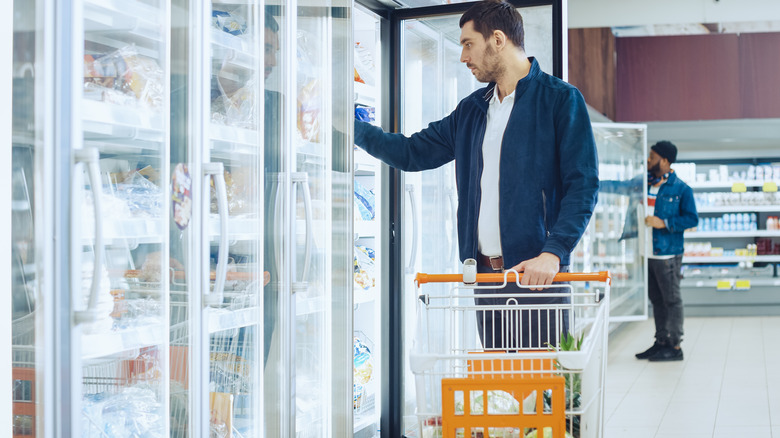 Shutterstock
Yesterday, the Instagram account @traderjoeslist, which shares new or otherwise notable products available in Trader Joe's stores, put up a post about a new dairy-free dessert available at a Santa Monica, California location. The Hold the Dairy! mini coconut-based "ice cream" cones looked absolutely delicious, but what really caught Instagram users' attention was the layout of the store's freezer section.
You see, most Trader Joe's locations feature chest freezers — the kind that are low to the ground, into which you reach down to grab, say, a box of ready-to-bake almond croissants. But the freezer type in the Trader Joe's List post is an upright freezer with doors, the kind you might see at your local supermarket. When the post's commenters noticed this, they hardly seemed interested in the ice cream cones at all.
"Woah your Trader Joe's has a freezer door section 😮," wrote katelynxoxo, a comment garnering more than 320 likes. User julesjay1 had similar thoughts, commenting, "I have never seen a TJ's frozen section like this. More mind blowing than the ice cream 😂." "Ummm we don't have freezer DOORS," wrote emily_elizabitch.
Who knew that people could get so excited about freezer doors? According to Trader Joe's List, both Santa Monica Trader Joe's locations have them, and the stores are a "test model" for future TJ's. It seems a lot of shoppers are about to get their minds blown in the freezer section.