Slow Cooker Pork Steak Recipe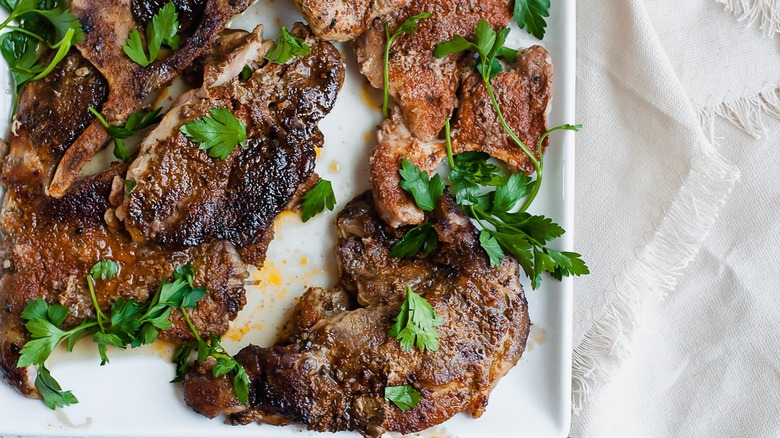 Christina Musgrave/Mashed
Slow cookers are definitely a game-changer when it comes to preparing a flavorful meal with little effort. Not only can you toss in some ingredients and leave the slow cooker to do the rest, but the long cooking process helps tenderize many cuts of meat. There's no reason to only choose the highest quality cuts of meat once you've tasted the results from a slow cooker. 
Christina Musgrave from Tasting with Tina is a chef, recipe developer, and food blogger who is always enthusiastic about creating tasty gourmet recipes that can be made with ease. This delicious slow cooker pork steak recipe certainly fits her standards, and Musgrave remarks, "This one is super straightforward!" The steaks are rubbed with a medley of spices and cooked for hours in a slow cooker, creating flavorful juices and tender meat. You'll barely have to prepare anything aside from mixing the spices, so you can focus on making a side dish or simply relaxing while it's cooking. Musgrave loves this recipe and notes, "It's a great one for meal prep that you can turn into many dishes during the week." Now that's definitely an efficient way to cook if you ask us!
Gather the ingredients to prepare slow cooker pork steak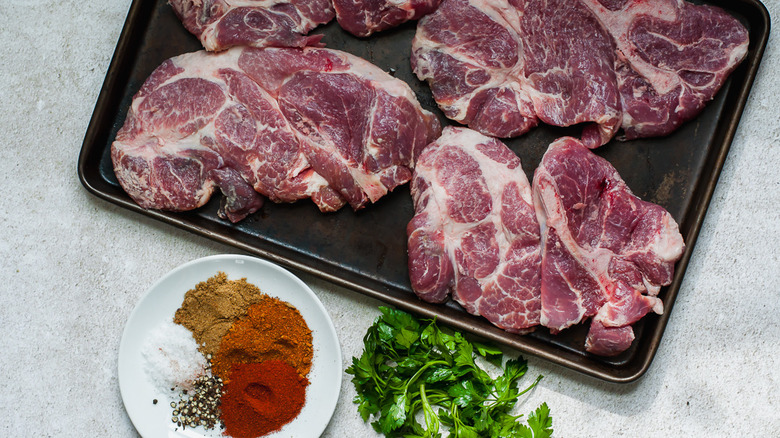 Christina Musgrave/Mashed
This recipe is great, partly because it is simple and doesn't require a ton of ingredients, yet it packs in plenty of flavor. To start, you'll need pork steaks — Musgrave notes that the recipe is "specifically developed for pork steaks," though she confirms that pork chops can be used as well. Next, you'll need a blend of spices to season the steaks. Musgrave uses salt, pepper, cumin, chili powder, and paprika. These spices have earthy characteristics that are a perfect match with pork. If you want to switch it up, Musgrave says, "You can really use any spice blends that you like for this recipe." Finally, she garnishes the cooked pork steaks with fresh Italian parsley for an extra green crunch.
Pat the pork steaks dry, and rub them with the spice blend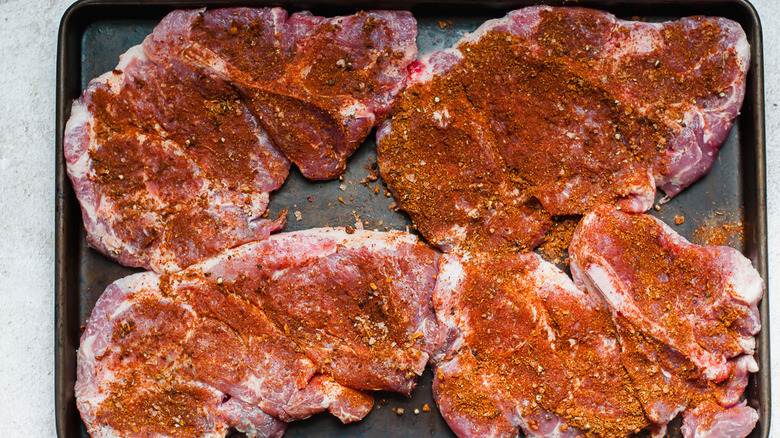 Christina Musgrave/Mashed
Start off by patting the pork steaks dry with a paper towel or clean kitchen cloth and placing them on a baking tray. This will help the meat brown on the outside and seal in its rich juices instead of steaming in excess water. Next, combine the salt, pepper, cumin, chili powder, and paprika in a small bowl, and mix them thoroughly. Then, rub the pork steaks with the spice mixture on both sides so that the meat absorbs the spices as it cooks. Rub it well so the spices get all over.
Place the pork in the slow cooker, and cook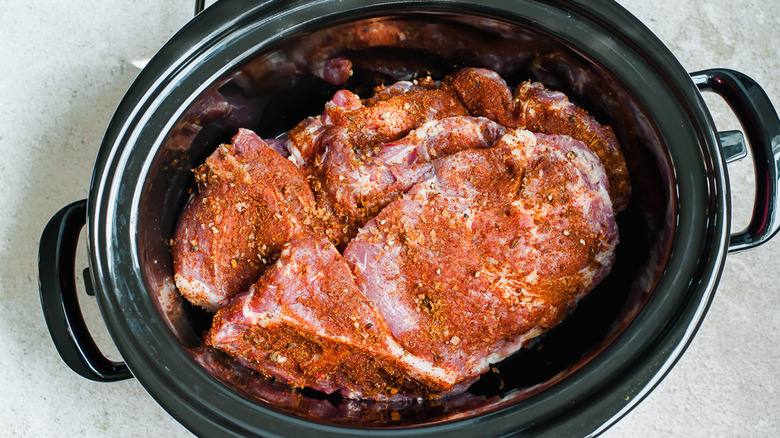 Christina Musgrave/Mashed
Place the spice covered pork steaks into your slow cooker. Don't worry if they are stacked on top of each other, because they will be cooking for a long time. Turn your slow cooker to the high heat setting, and then cook the pork steaks for four hours. During this time, the meat will release plenty of juices, which will create a delicious saucy liquid combined with the spices. 
Get ready for a truly heavenly aroma to fill up your kitchen while the pork cooks. We know it will be difficult to be patient during this time, but the end result will be worth the wait.
Remove the cooked pork, and place it on a platter to garnish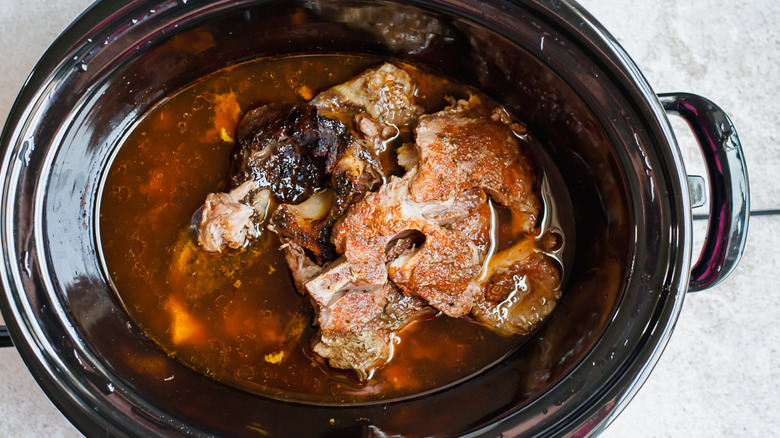 Christina Musgrave/Mashed
Get excited, because after the pork steaks have been cooking for four hours, they should be ready to dish up and enjoy. Turn the slow cooker off, and transfer the steaks to a nice serving platter. Top the pork with the juices from the cooking process — it will be rich and flavorful, thanks to the blend of spices. Next, chop the Italian parsley, and sprinkle it on top of the meat for a fresh contrast. The presentation of this will be amazing and impress everyone you're serving it to.
Serve these juicy pork steaks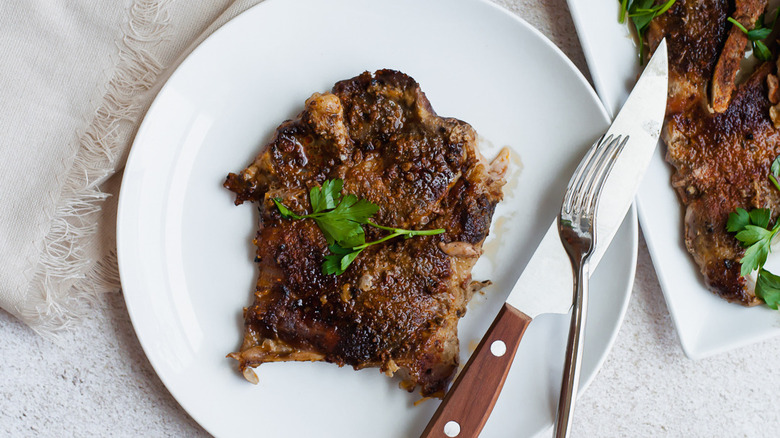 Christina Musgrave/Mashed
Plate up the pork steaks with your choice of a side dish. Musgrave recommends serving the steaks over mashed potatoes, which sounds like the perfect match for the juicy sauce and tender meat. Roasted potatoes would surely make a nice match as well, and if you're craving something green, add some steamed broccoli to the meal.
As Musgrave mentions, these pork steaks are a great idea for meal prep, and she remarks, "This is great on sandwiches [or] in tacos." It sounds like you're set for three meals this week! Be sure to refrigerate the meat in airtight containers once it has cooled down, and use it within three to four days. This meal is a definite delight, and your dinner will be one for the books.
Slow Cooker Pork Steak Recipe
In this pork steak recipe, the steaks are rubbed with a medley of spices and cooked for four hours in a slow cooker, creating flavorful juices and tender meat.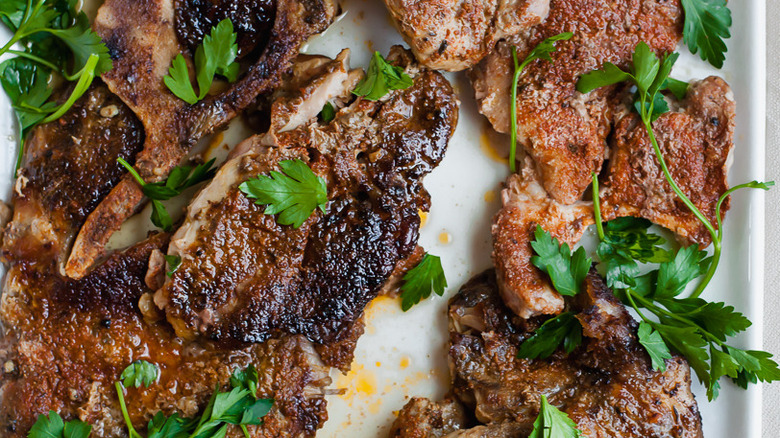 Ingredients
4 pork steaks
1 teaspoon salt
1 teaspoon pepper
1 teaspoon cumin
1 teaspoon chili powder
1 teaspoon paprika
2 tablespoons Italian parsley, for serving
Directions
Pat the pork steaks dry.
Combine the salt, pepper, cumin, chili powder, and paprika in a bowl.
Rub the spice blend on both sides of the pork steaks.
Place the pork in the slow cooker, and cook on high for 4 hours.
Serve on a platter topped with the juice from the slow cooker.
Sprinkle with a garnish of Italian parsley, and enjoy.
Nutrition
| | |
| --- | --- |
| Calories per Serving | 530 |
| Total Fat | 36.7 g |
| Saturated Fat | 15.4 g |
| Trans Fat | 2.1 g |
| Cholesterol | 142.9 mg |
| | |
| --- | --- |
| Total Carbohydrates | 0.7 g |
| Dietary Fiber | 0.4 g |
| Total Sugars | 0.1 g |
| Sodium | 382.3 mg |
| Protein | 46.3 g |