Nestlé's Pumpkin Spice Cookie Dough Is Coming For Summer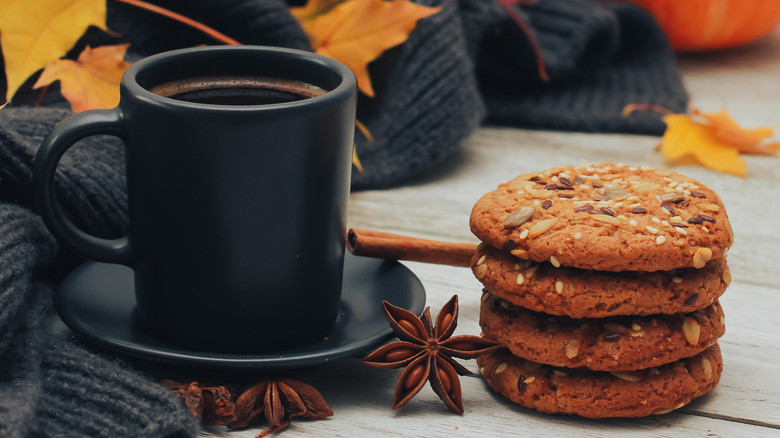 Shutterstock
Summer might be all about refreshing flavors and treats that can help you beat the heat, like lemonade or ice cream. But fall's just right around the corner, and we will soon be switching back to desserts that warm you right up. If you're already preparing for trips to the pumpkin patch and dreaming of the return of Starbucks' famous pumpkin spice latte, you can expect the return of your favorite flavor sooner than you might think.
According to Delish, Nestlé will be releasing a pumpkin spice cookie dough at the beginning of August; this cookie dough flavor first came out in 2014, but it was seasonal and limited-edition. If you tried these cookies then and have been craving them since, you are in luck.
Although this might seem early for pumpkin spice, we have seen Starbucks put the PSL back on the menu during the summer months and early fall. This is good news for pumpkin spice fans, and if you are tired of hot weather, you can start to dream of cooler breezes and the leaves changing color with every single bite.
What to except when you buy Nestlé's pumpkin spice cookie dough
Nestlé's package describes this treat as a "pumpkin spice cookie dough with premier white morsels," adding a fancier touch to the cookie. We expect that the morsels will bring more sweetness in addition to the comforting spice. According to Best Products, each package includes 20 cookies and the price should be around $3. This sounds like a steal for so many cookies! Simply break apart the pre-portioned dough and pop them in the oven!
As usual, you can expect a great product that's convenient to bake, even when you are short on time. Nestlé's cookies are always easy to make, and the hardest step is waiting for them to bake instead of just nibbling on the uncooked dough. There are some risks to eating uncooked dough, so we still recommend waiting for the warm cookie goodness.
Have any questions about Nestlé cookies? It turns out, there's an expert for that — specifically, an AI cookie expert who can assist with your baking needs.