Grilled Romaine Caesar Salad Recipe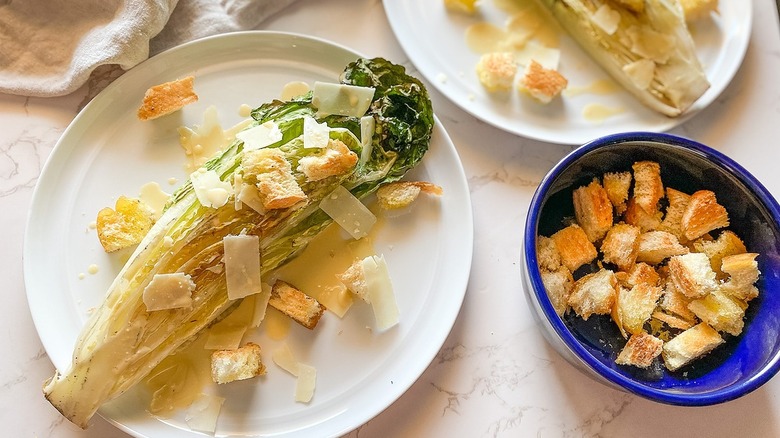 Kristen Carli/Mashed
When it comes to salads, it's pretty hard to go wrong with an all-time classic Caesar. The crispy romaine along with creamy Caesar dressing, croutons, and Parmesan cheese is a combination that truly can't be beat. That being said, there are plenty of ways to enhance a Caesar salad and get crafty with the preparation when you feel like switching things up a bit.
Recipe developer and private practice registered dietician Kristen Carli has crafted a simple but satisfying take on a Caesar salad, and the result is truly out-of-this-world delicious. Of course, you may be wondering what exactly enhances this recipe. Well, thanks to the addition of grilling the romaine heart in this recipe, your salad will be that much more tasty, due to the warmth and grill flavor on the lettuce. "The grilling adds some nice char flavor and makes a perfect accompaniment to your backyard grill bash," Carli says. 
Are you tired of the same old salad and want to get a little creative? If so, this grilled romaine Caesar salad recipe is exactly what you're looking for. Keep reading to learn how to prepare it, because this recipe is sure to be a new family favorite.
Gather the ingredients to prepare a grilled romaine Caesar salad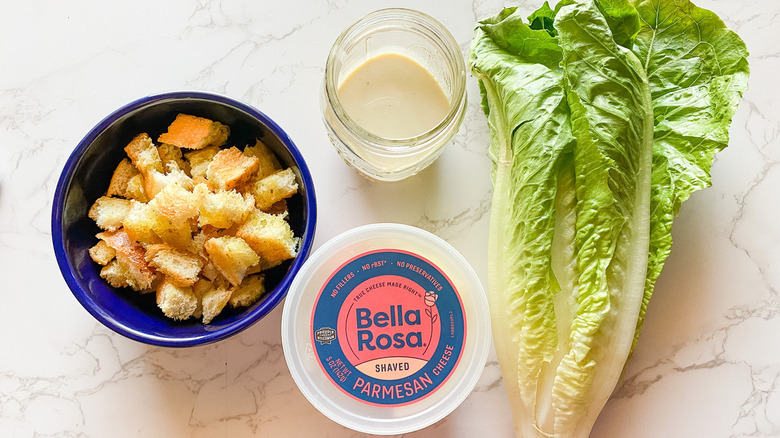 Kristen Carli/Mashed
To make a grilled romaine Caesar salad, you'll need a few simple ingredients to get started. Of course, you'll need romaine lettuce, but for this recipe, you'll want to go for a romaine heart instead of bagged or pre-packaged lettuce. You'll also need croutons and shaved Parmesan cheese, as well as Caesar dressing. It wouldn't be a true caesar without these elements! You could easily buy Caesar dressing at the store, though it's also pretty easy to make right at home, and the freshness of homemade dressing will definitely complement the freshness of the salad itself. Whatever route you decide to take for your dressing, the end result will be really yummy. 
Start by preparing your romaine heart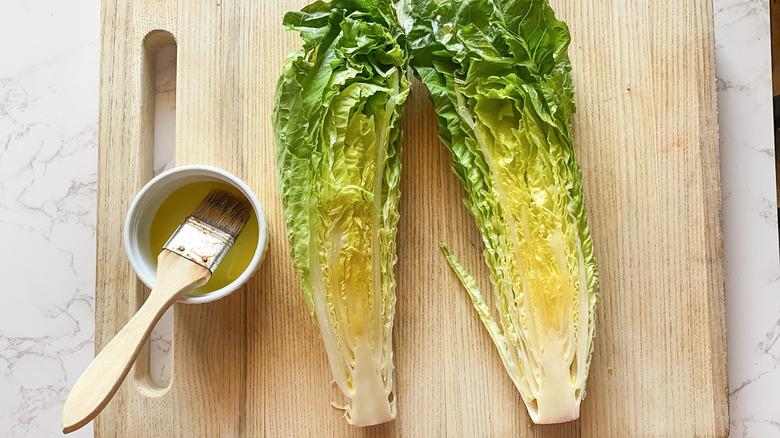 Kristen Carli/Mashed
Once you have your ingredients sorted, you can begin prepping your romaine heart. Start by slicing it right down the middle, lengthwise, so you have two even slices of lettuce. Be sure to not cut the base of the heart off, otherwise the lettuce will start falling apart, which is the last thing you want since it will soon be cooking on a grill. After you've sliced the romaine heart, grab some olive oil, and using a kitchen brush, simply brush the oil across the lettuce. Not only will this enhance the flavor, but it will help you get a nice, crispy char on the lettuce once you grill it.
Grill your sliced romaine heart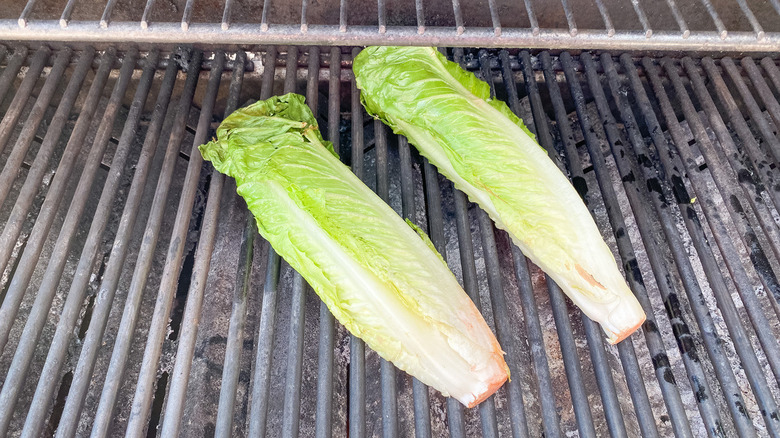 Kristen Carli/Mashed
After you've prepped your romaine heart with olive oil, you can go ahead and put them face down onto the grill. Not only will grilling add some nice char to your romaine, but it will also add a nice warmth to your entire salad without making it soggy or losing the natural crispiness of the romaine lettuce. After about two minutes, you can go ahead and flip both slices of lettuce, and allow that side to cook for another two minutes. You may want to allow the lettuce to cook for a slightly longer or shorter period of time, depending on how much char you like.
Start building your salad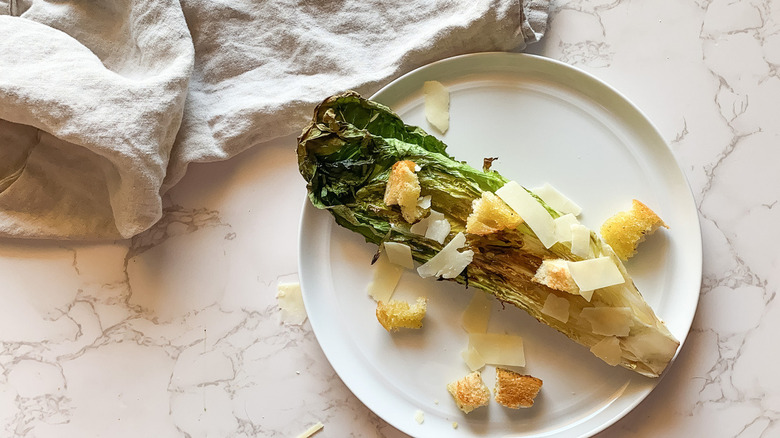 Kristen Carli/Mashed
Now that you have a warm, crispy char on your slices of romaine, you can begin constructing your salad. Grab a salad plate, and start by placing one slice of the romaine heart face up. Then, you can begin sprinkling your croutons and shaved Parmesan cheese onto your grilled romaine. Carli calls for using about ¼ cup of each of these toppings per salad, though it's completely up to you — if you like extra croutons or Parmesan on your salad, you can easily add more. You can always add a few shavings of Parmesan onto the sides of your plate just for an extra appetizing presentation.
Top your salad off with Caesar dressing, and enjoy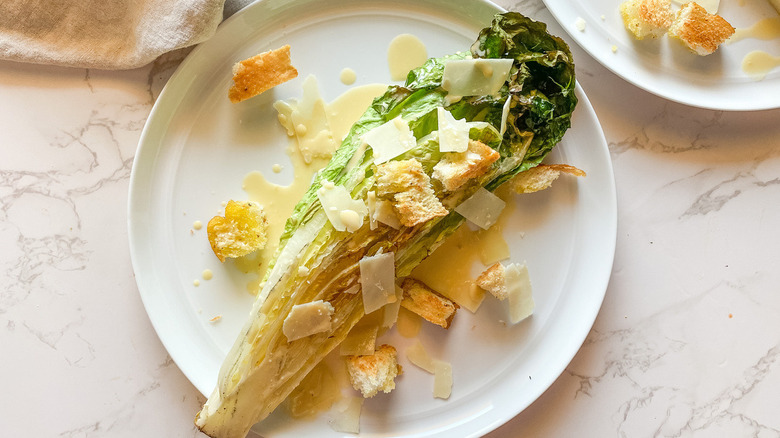 Kristen Carli/Mashed
Finally, you can make your salad a true Caesar by drizzling on your Caesar dressing. Carli made her own Caesar dressing, though store-bought dressing will also taste great on this salad. 
Alone, this salad makes a great appetizer or lunch, and you could easily add grilled chicken to make the dish a little more filling. Carli also notes that you can add some fresh vegetables like tomatoes, corn, or cucumbers, but if you want to ensure that it's a true Caesar salad, you'll want to stick with the basics of croutons, Parmesan, and dressing. You can't go wrong with a Caesar salad, and you especially can't go wrong with a grilled romaine Caesar salad. Give this recipe a try at your next cookout, and you may find that it becomes a lunchtime staple in your household.
Grilled Romaine Caesar Salad Recipe
If you're looking to give your salad a major upgrade, this recipe for grilled romaine Caesar salad is out-of-this-world delicious.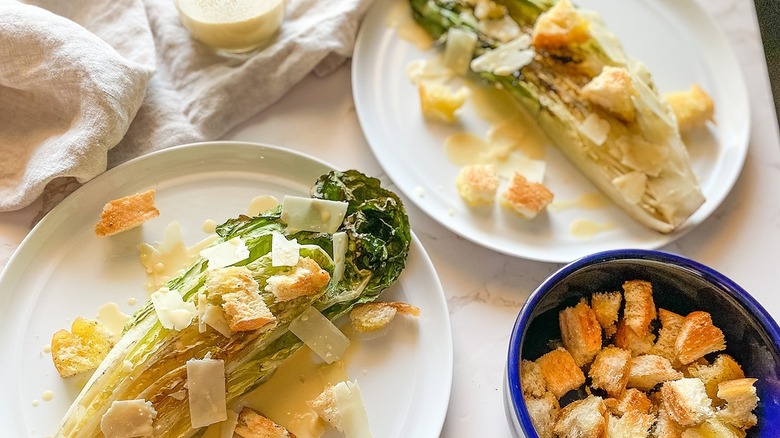 Ingredients
1 romaine heart
2 tablespoons olive oil
½ cup croutons (homemade or store-bought)
½ cup Caesar salad dressing
¼ cup shaved Parmesan cheese
Directions
Slice the romaine in half lengthwise. Brush olive oil on the romaine.
Heat up the grill. Grill the romaine for 2 minutes on each side, until slightly charred.
Plate the romaine wedge on a large plate. Top with ¼ cup of croutons, ¼ cup of Caesar dressing, and 2 tablespoons of shaved Parmesan cheese. Repeat with second serving.
Nutrition
| | |
| --- | --- |
| Calories per Serving | 525 |
| Total Fat | 50.5 g |
| Saturated Fat | 10.8 g |
| Trans Fat | 0.0 |
| Cholesterol | 12.6 mg |
| | |
| --- | --- |
| Total Carbohydrates | 11.8 g |
| Dietary Fiber | 3.0 g |
| Total Sugars | 3.2 g |
| Sodium | 319.0 mg |
| Protein | 9.1 g |