Homemade Caesar Dressing Recipe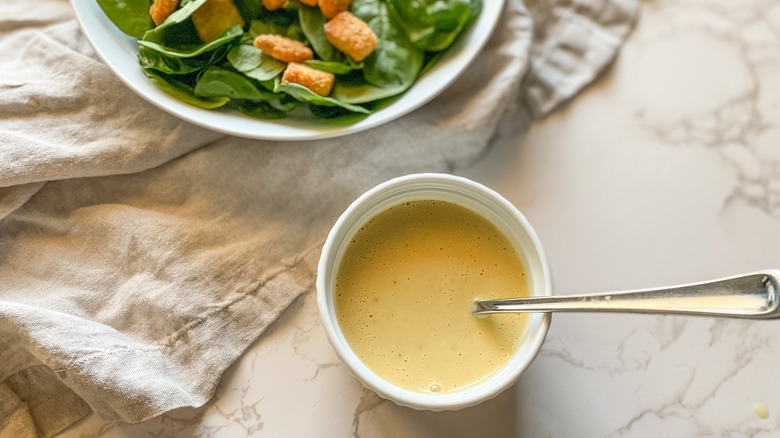 Kristen Carli/Mashed
It's hard to beat a great salad when it comes to delicious taste and lots of nutrition. But let's be honest, while the nutrition probably comes more from the veggies (and chicken, beans, and whatever other solid ingredients are added), the taste is all about the dressing. 
And it's hard to beat the taste of a dressing you make yourself. Good news, though: Making a great dressing is easy, as you'll see firsthand when you whip up this one courtesy of chef, recipe developer, and registered dietician Kristen Carli of Camelback Nutrition & Wellness.
In fact, there's really only one potential mistake to watch for with this homemade Caesar dressing recipe, according to Carli: "I would recommend that it is blended very well before serving," she says. "No one wants chunks of anchovies in a bite." So make sure you have a good food processor or high-speed blender at hand when you get to work on this dressing. As for ingredients, you will probably have most of what you need on hand already, except for those anchovies, most likely.
Also, don't think of this tasty stuff as for salads only. In addition to salads, Carli loves this as a dip with veggies. It's also great in wraps, on sandwiches, over grilled chicken, fish, or tofu. And on the list goes.
Gather your ingredients for homemade Caesar dressing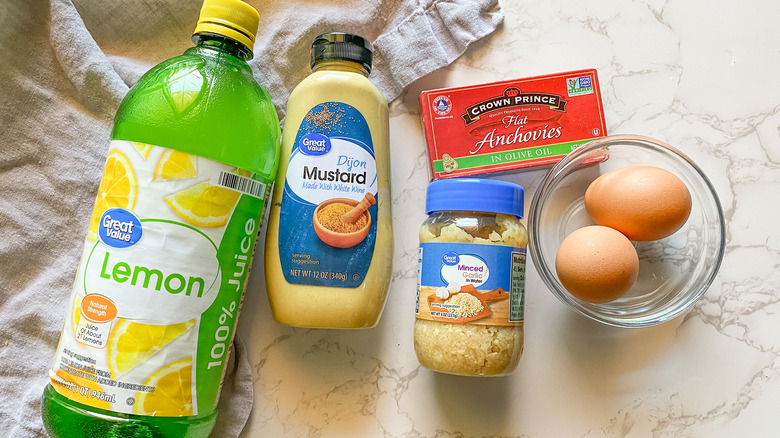 Kristen Carli/Mashed
To make a batch of this dressing large enough for two generous servings, or big enough to dress one large serving bowl of salad, you'll need a half dozen anchovies, a teaspoon of minced garlic, a couple of egg yolks, two tablespoons of lemon juice and one tablespoon of Dijon mustard, plus a little salt and pepper and half a cup of olive oil.
Love garlic? Go ahead and add a bit more. Want things extra spicy? Add more black pepper or even some ground red pepper flakes. But it's best to follow the recipe as is for the first go around, and to customize it later.
Blend the ingredients in a food processor or blender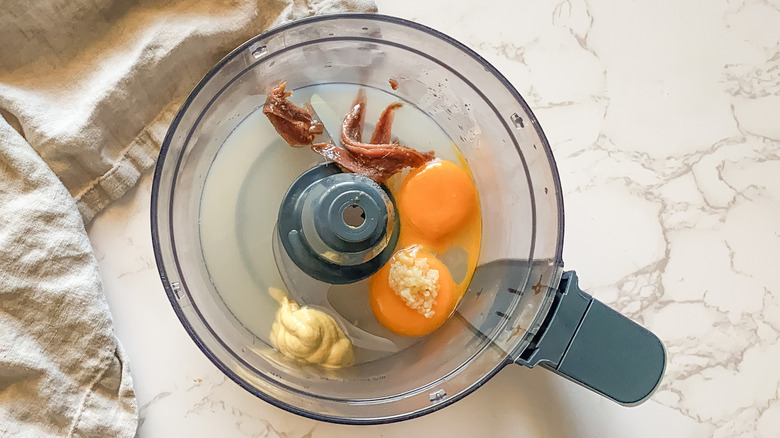 Kristen Carli/Mashed
Once you have your ingredients measured out and your egg yolks separated, there's really only the blending or processing left to do to make this dressing. In your food processor or high-speed blender, add the anchovies, garlic, both egg yolks, the lemon juice, the Dijon mustard, and the salt and pepper.
Now process these ingredients until they are smoothly combined, then slowly start to pour in the olive oil while the processor (or blender) is running. Process everything for about one minute, and you're done.
Planning ahead or got some leftovers? "It keeps in an airtight jar in the fridge for up to seven days," Carli says.
Why is it called Caesar dressing, anyway?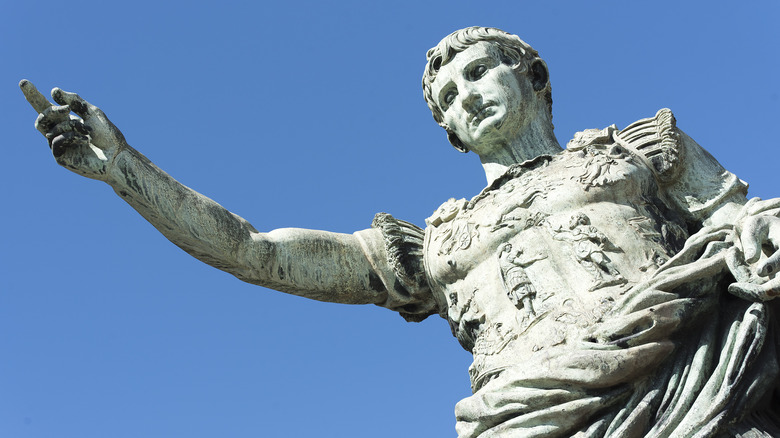 Shutterstock
Contrary to commonly held belief, the Caesar salad is not named for Roman emperor and dictator Julius Caesar — not directly, at any rate, though the name probably wouldn't have made its way into general usage if that ancient ruler had never seized power. According to Eat This, Not That, Caesar salads originated in Tijuana, Mexico, in the 1920s and were invented by Italian immigrant and chef Caesar Cardini.
Cardini is said to have invented the salad that bears his first name on July 4, 1924, at his hotel, Caesar's Palace, as his stores of ingredients ran low because of all the Americans in the area to celebrate Independence Day in a place not restricted by Prohibition. Cardini started assembling salads with what he had on hand, which included lettuce, eggs, oil, croutons, and Worcestershire sauce. The salad was a hit, soon a staple, and not long after a sensation.
Homemade Caesar Dressing Recipe
Grab your food processor or high-speed blender and enjoy this homemade Caesar dressing recipe with salads, as a dip, in wraps, or over grilled chicken or tofu.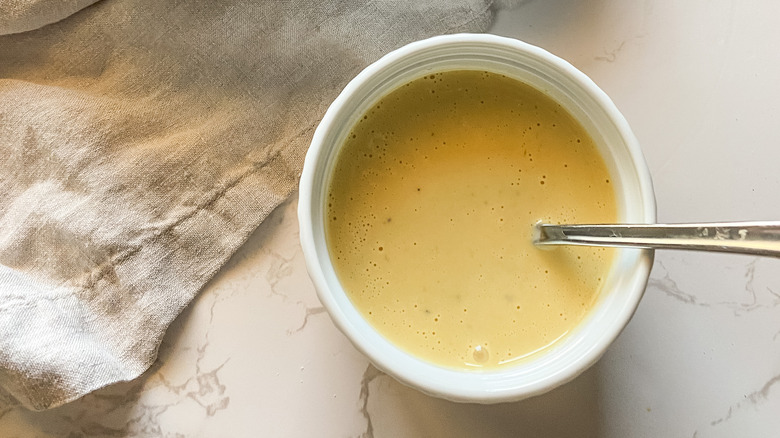 Ingredients
6 anchovies
1 teaspoon minced garlic
2 egg yolks
2 tablespoons lemon juice
1 tablespoon Dijon mustard
¼ teaspoon salt
¼ teaspoon pepper
½ cup olive oil
Directions
In a food processor, add the anchovies, garlic, egg yolks, lemon juice, Dijon mustard, salt, and pepper.
Process until smooth, then slowly pour in the olive oil while the processor is still running. Once all the oil is added, process the dressing for 1 minute more.
Drizzle on a bed of romaine hearts with some croutons for an authentic Caesar.
Nutrition
| | |
| --- | --- |
| Calories per Serving | 557 |
| Total Fat | 59.1 g |
| Saturated Fat | 9.0 g |
| Trans Fat | 0.0 g |
| Cholesterol | 156.3 mg |
| | |
| --- | --- |
| Total Carbohydrates | 2.7 g |
| Dietary Fiber | 0.5 g |
| Total Sugars | 0.5 g |
| Sodium | 534.1 mg |
| Protein | 6.1 g |