Sunny Anderson Reveals The Surprising Way She Fixed A Big Makeup Fail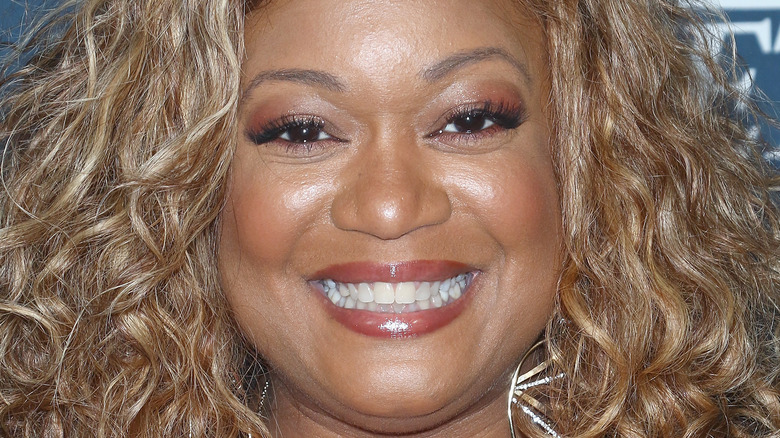 Jim Spellman/Getty Images
Food Network star Sunny Anderson has found success in the TV industry as a host who actually knows what she's doing. In fact, as TV Over Mind points out, Anderson is someone who understands food pretty well and is passionate about cooking. In 2013, she went ahead and participated in "Chopped," demonstrating her cooking skills in front of the camera. Interestingly, she's taught herself everything she knows about cooking and never received formal training. Hard to guess that one, no?
Back in 2009, Anderson told Delish that she absolutely loves being in the kitchen because she feels at home when she's making something delicious. She said, "The kitchen is my favorite room because it's where I feel most in control. I love to create recipes: It's like an artist's studio or a chemist's lab."
As a TV show host, Sunny Anderson is also rather familiar with the challenges that are omnipresent in her work. Getting makeup right, for example. She recently shared a handy tip with her fans on Instagram.
It's a simple trick
Sunny Anderson is one of those hosts who finds it troublesome to do her own makeup and hair. However, she does rise up to the challenge when required and can show up on set looking fresh and dewy without any help. There are roadblocks to conquer, though. She shared a photo on Instagram and lamented over how frustrating it can be to accidentally get mascara under your eyes.
Fortunately, Anderson learned a sweet technique from supermodel Tyra Banks while watching one of her shows. The trick is simple. As Anderson explained, "Basically, you let it dry, then just chip it off! Works every time. I used the pointy end of one of those disposable plastic flossers to extricate it once it was dry and ran across the street to the set." Yes, you got that one right. Don't touch your face for a bit and simply get rid of the excess when it's dry. 
Sunny Anderson's fans are loving this idea and can relate to her more than ever. A fan suggested extensions and wrote, "Eyelash extensions, sis! I cannot apply mascara without getting it all over my face."