Old El Paso's New Kits Make At-Home Burrito Bowls Easier Than Ever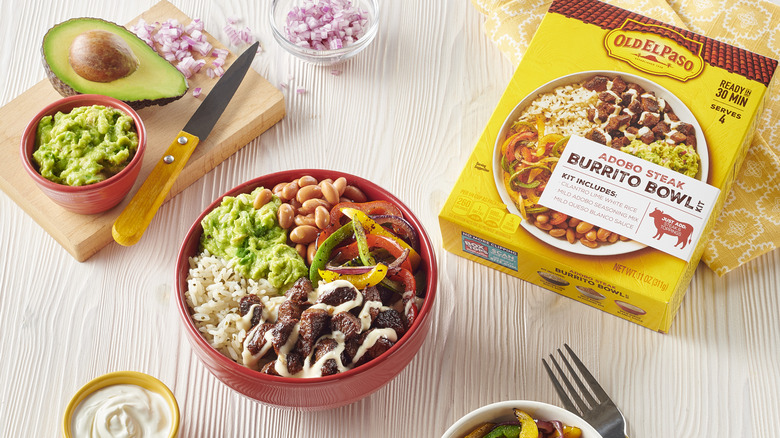 General Mills
Old El Paso is upping its meal kit game with the addition of a few new products. According to a statement sent to Mashed, these new kits consist of three burrito bowl options and three street taco options. The kits can serve up to four people in about 30 minutes. The burrito bowl flavors are Chipotle Chicken, Adobo Steak, and Seasoned Beef. Though named after specific proteins, Chew Boom reports the kits do not come with meat. Instead the burrito kits include cilantro lime white rice, a seasoning mix, and queso blanco sauce, allowing customers to add a protein (or two) and any vegetables they like.
The burrito bowls debut alongside Old El Paso's new street taco kits, available in Carne Asada Steak (with medium creamy chipotle sauce), Asado Chicken (with medium creamy jalapeño sauce), and Barbacoa Beef (which comes with mild salsa verde). The taco kits include 12 flour tortillas, a seasoning mix, and salsa. Like the burrito bowls, customers are invited to include any meat or vegetables they prefer.
Joining the meal kits on grocery store shelves, Old El Paso is adding two new squeeze sauces: Spicy Queso Blanco and Cilantro Lime Fire Roasted Verde, plus a stand-alone version of the cilantro lime rice. The burrito and taco kits sell for a suggested price of $3.99, the new squeeze sauces for $3.88, and the rice kit for $1.89.
Get creative with Old El Paso's new meal kits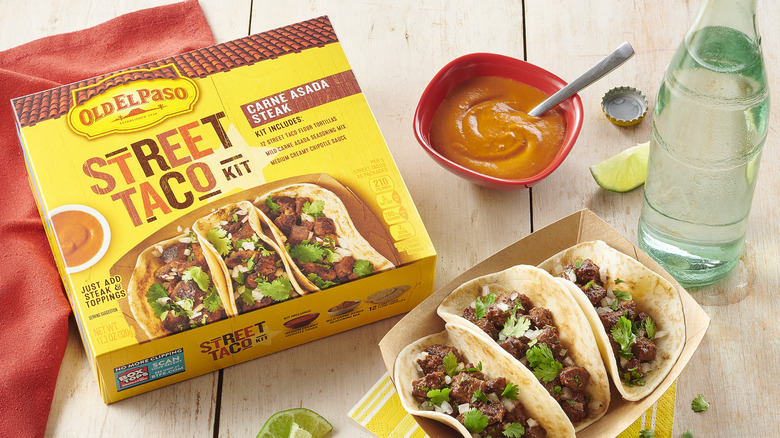 General Mills
Old El Paso's new street taco and burrito bowl kits may have just about everything you need to create a quick and easy meal at home, giving you ample opportunity to put your own spin on the basics. Why not try seasoned tofu or including even more veggies (like roasted chickpeas, sliced avocado, sautéed onions and peppers, or beans). When it comes to condiments, Food Network says if you want to make your meal a little lighter pile on the salsa, but go easy on the cheese and swap in nonfat Greek yogurt for sour cream. Same goes for the burrito bowls: Don't be afraid to pile on the veggies, and go ahead and whip up some homemade guacamole to add to the mix with that saved time.
The biggest con (other than con-venience) of many make-at-home meal kits is their sodium content, so just be aware when you're choosing and salting your toppings. One serving of Old El Paso's new Adobo Steak Burrito Bowl kit contains 990 milligrams of sodium (via Old El Paso) — almost half the recommended daily limit for adults, as shared by the FDA.