Carne Asada Recipe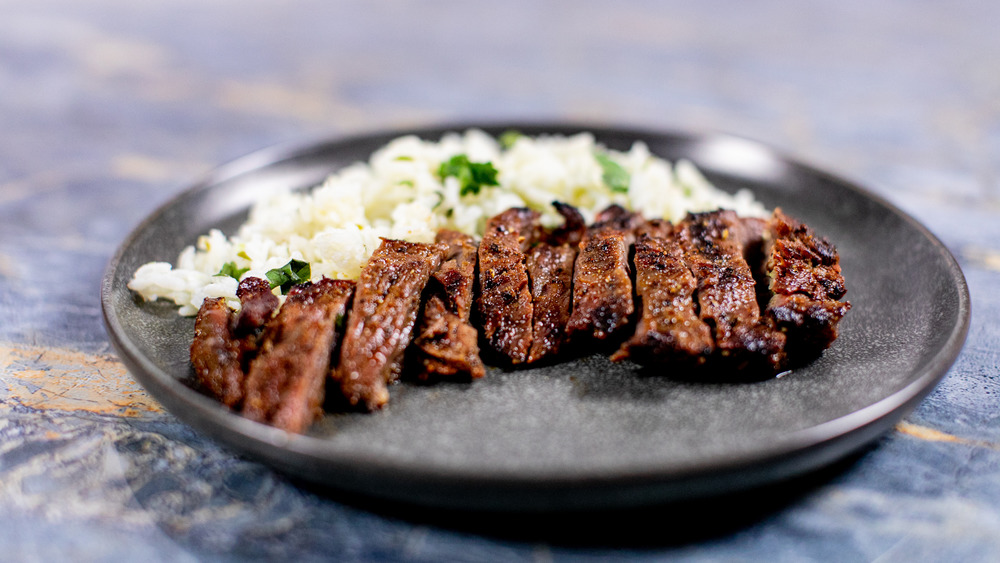 Nathaniel Lee/Mashed
Why is this the best carne asada recipe you've ever tasted? Two reasons. First, it produces an absolutely delectable cooked beef you can use "served in a taco with pico and guac, as carne asada fries, in fajitas," or however you'd like, really, says Nathaniel Lee, chef and writer of Beginner Food. Second, this is about the easiest carne asada recipe out there. Aside from the ("optional, but highly recommended!") two- to five-hour marinating period, the prep here takes all of five minutes and the cooking time less than 20, including resting for ten minutes before the last lime drizzle and serving.
Two keys to making this carne asada a success: Go heavy with the liquid smoke and salt, and go hot with the grill. "The biggest mistake to avoid here is not preheating your cooking device," says Lee. "Due to the extremely short cook time and the thinness of the meat, you want to cook as hot and fast as possible, and with absolutely no time being spent heating the elements and the meat at the same time."
In other words, get that grill fired up, that cast iron pan on the burner, or your broiler blazing well before you toss on (or in) the steak. You can cook carne asada using various cooking devices, but it's got to be hot no matter what.
Gather your ingredients for this carne asada recipe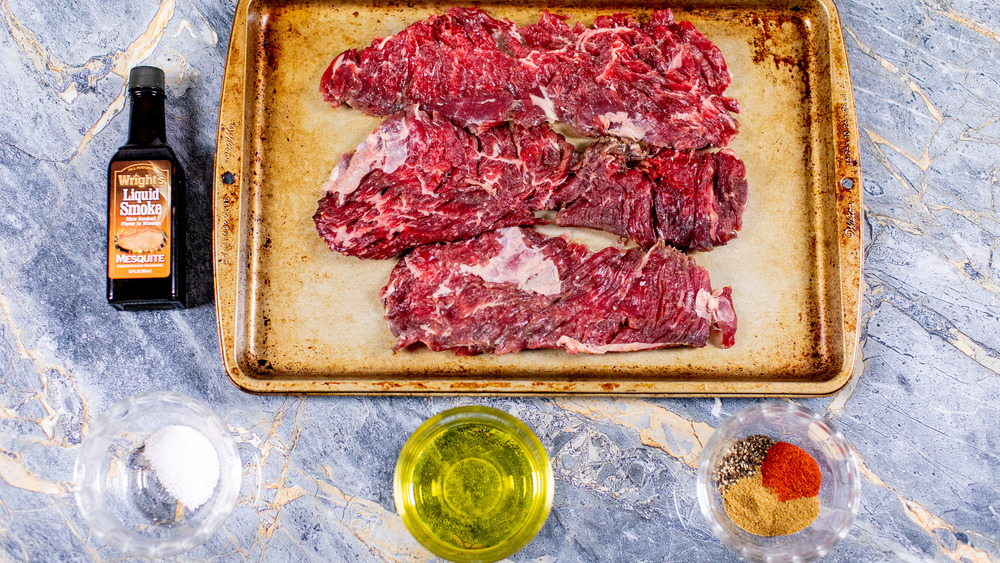 Nathaniel Lee/Mashed
The liquid smoke is the secret sauce here. Except it's not a secret, because we're talking about it, but it is key to a meat that cooks up in just a matter of minutes yet tastes like you slow-smoked it for hours. So go ahead and get any brand you love — if it's a mesquite flavor, it will do you fine. 
All told, for this easy carne asada recipe, you'll need a pound of skirt steak, sliced thin, a generous tablespoon of mesquite liquid smoke, a heavy pinch of salt, three tablespoons of vegetable oil, a teaspoon of black pepper, two teaspoons of cumin, a teaspoon of cayenne, and a lime to juice over your finished masterpiece.
Don't like things spicy? No problem. "The spice is controlled via the cayenne, so it is directly proportional," says Lee. "Half the cayenne will be half the spiciness. If that's still too spicy, you could move down to paprika, which is red pepper skins with no veins or seeds. It will be a tad sweeter given the pepper varietal differences but will still provide chili flavor with basically no heat."
Prepare your marinade and marinate the meat for this carne asada recipe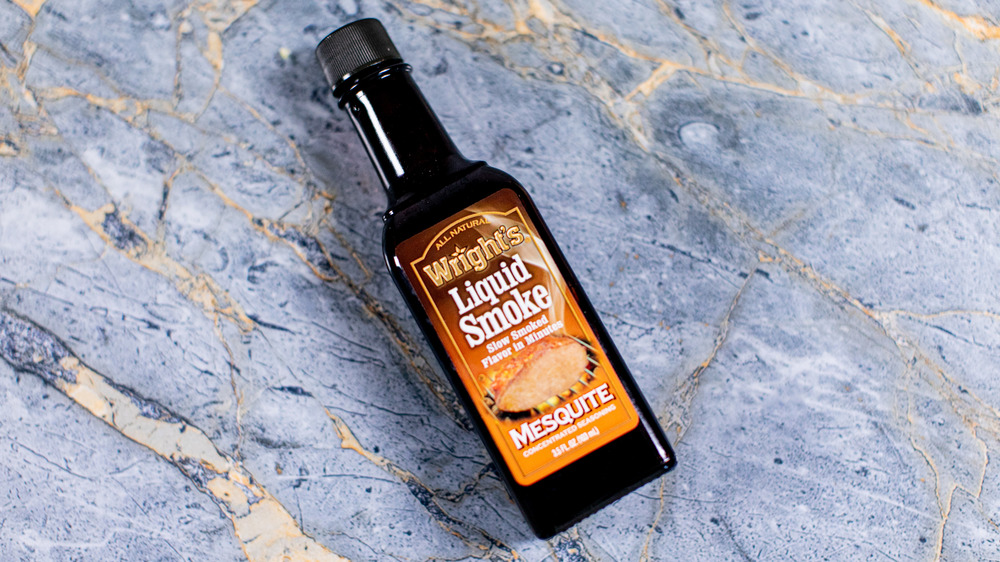 Nathaniel Lee/Mashed
Mix together the salt and your preferred liquid smoke in small bowl, and then apply salt and smoke mix to the meat, ideally with a silicone brush. Make sure every square inch of the steak is coated, and then place the meat in fridge, lightly covered, for anywhere from two to five hours.
This long marinating period allows the flavors to seep into the meat for this carne asada recipe, which is critical as you will pat the steak dry before cooking. That's because you don't want any liquid on the surface of the meat. "The steak must be dry when going onto the heat," Lee explains, as "any liquid on the surface will need to be converted to steam first, capping cook temp at 212 degrees until the water has evaporated." And that extra time is time your carne asada just doesn't have.
Prepare the rub and season the steak for this carne asada recipe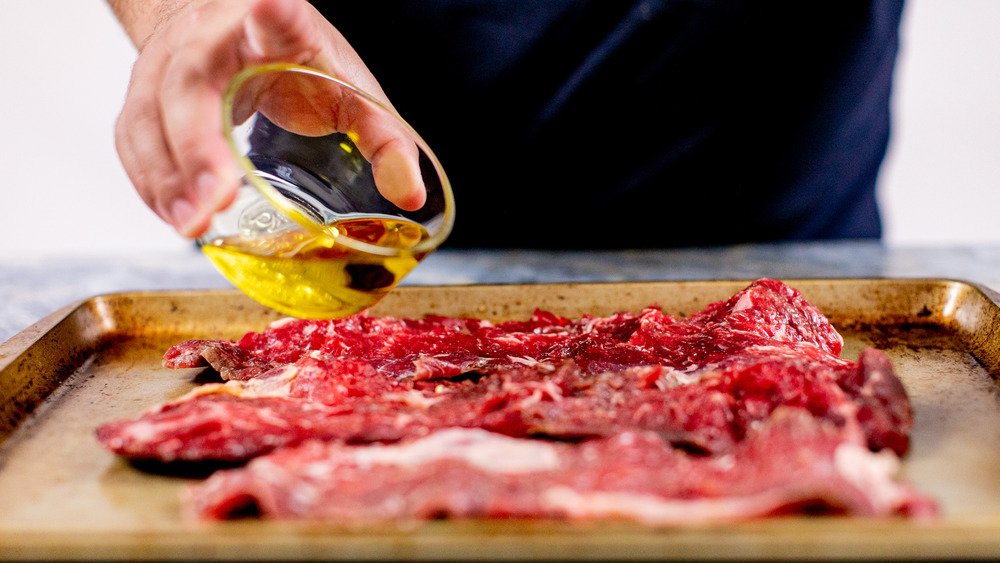 Nathaniel Lee/Mashed
Before starting these next steps for this carne asada recipe, go ahead and pre-heat your grill on high, or if you're using a cast iron pan, get that heating, and ditto on the broiler. Now, mix together the pepper, cumin, and cayenne (or paprika). Remove the meat from the fridge and pat it dry with paper towels.
Now, coat the meat evenly in vegetable oil and then rub on the spice mix, making sure it covers the entire surface of the steak.
Get to cooking your carne asada recipe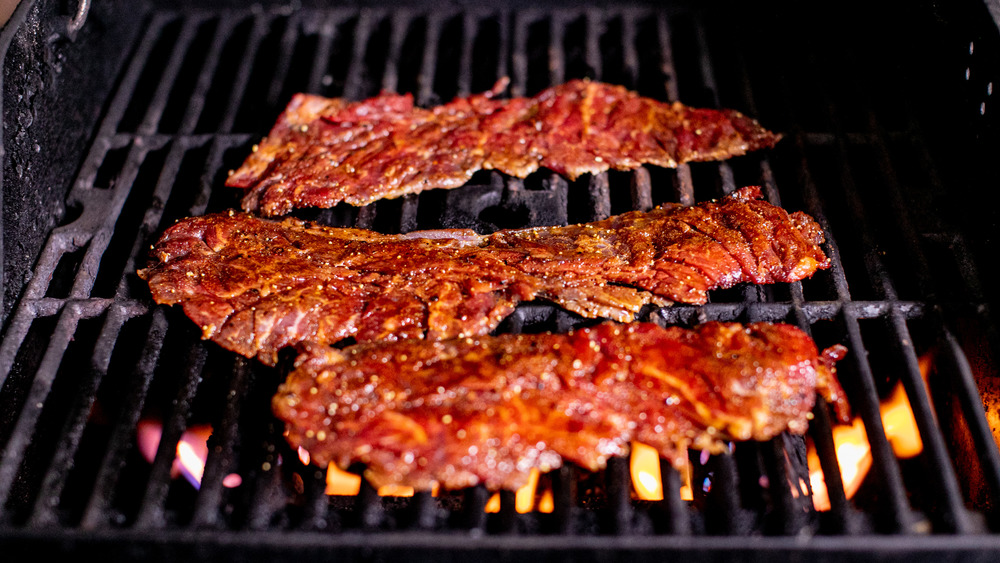 Nathaniel Lee/Mashed
Grill the marinated and seasoned steak on that hot grill (or pan or in the broiler for) just two or three minutes per side, keeping a close eye on the steak. It will cook fast, and you really don't want it to overcook, as skirt steak gets tough fast, and you worked too hard prepping it for that.
Once cooked, let the meat for this carne asada recipe rest for ten minutes, then slice it and drizzle over lime juice. Now enjoy in tacos, burritos, in salads, or however you want. It's going to be delicious!
Carne Asada Recipe
This carne asada comes together easily, and it's sure to blow you away with just how delicious it is. Try making it for yourself this weekend!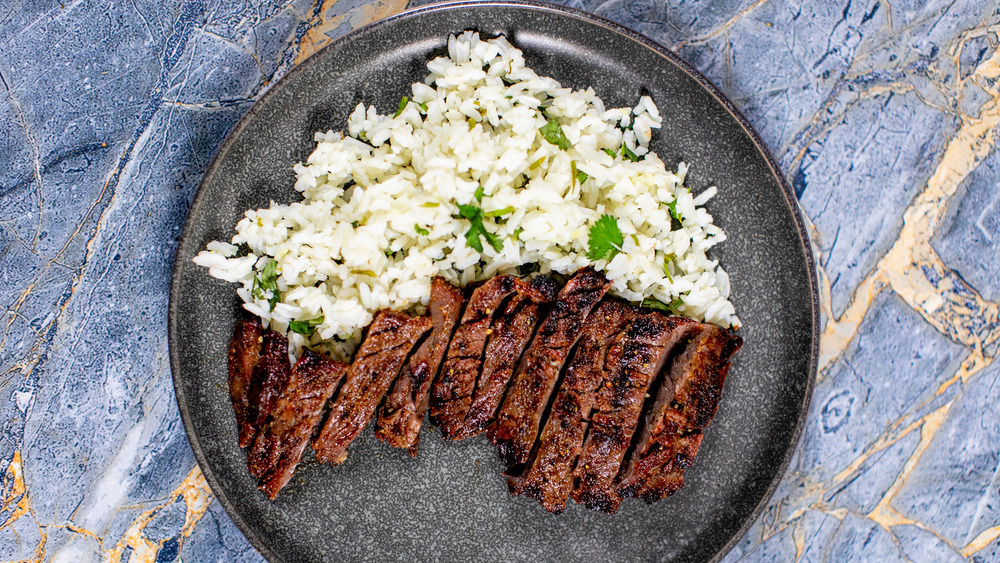 Ingredients
1 pound skirt steak
1 tablespoon mesquite liquid smoke
1 heavy pinch of salt
3 tablespoons vegetable oil
1 teaspoon pepper
2 teaspoons cumin
1 teaspoon cayenne
1 lime
Directions
Mix together salt and liquid smoke, and apply salt smoke mix to the meat.
Place in fridge lightly covered for 2 to 5 hours (optional but highly recommended).
Pre-heat grill on high, then mix together pepper, cumin, and cayenne.
Pat meat dry with paper towels, then coat steak in vegetable oil and rub on with spice mix.
Grill for 2 to 3 minutes per side, then let rest for 10 minutes.
Slice, drizzle with lime, and serve.
Nutrition
| | |
| --- | --- |
| Calories per Serving | 326 |
| Total Fat | 25.4 g |
| Saturated Fat | 6.4 g |
| Trans Fat | 0.9 g |
| Cholesterol | 73.7 mg |
| | |
| --- | --- |
| Total Carbohydrates | 2.9 g |
| Dietary Fiber | 0.9 g |
| Total Sugars | 0.4 g |
| Sodium | 113.1 mg |
| Protein | 23.2 g |