Easy Sheet Pan Pancake Recipe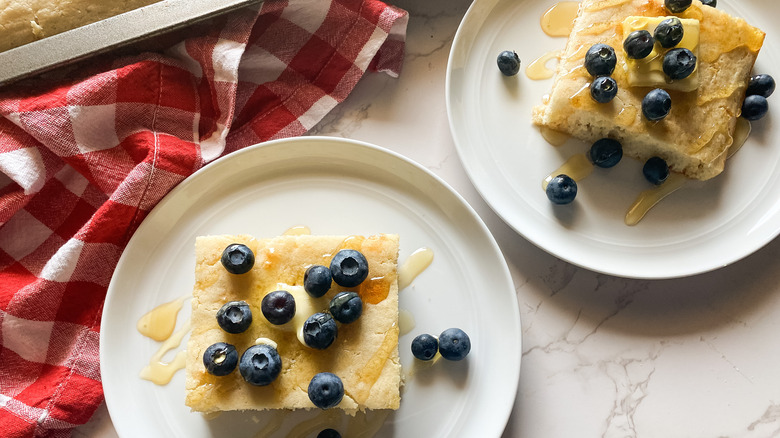 Kristen Carli/Mashed
Americans love their breakfast. In fact, they love their breakfast so much that in 2019, one survey reported by the New York Post showed that 34% of us are head over heels in love with breakfast foods — lunch came in at a distant 24%, and dinner at 19% (we're guessing the other respondents didn't have a preference). And while pancakes didn't take the top spot for this survey, this popular breakfast item ranked fourth, just behind eggs, sausage, and toast.
Pancakes are awesome, particularly when someone else makes them, because they can take quite a bit of effort to cook up. After all, cooking one batch at a time on a hot griddle can present quite a challenge, especially when you're cooking for a crowd. Kristen Carli has a creative workaround for this. She bakes her pancakes instead of cooking them on a griddle. Because Carli's sheet pancake recipe is so forgiving, she says they can be served both warm or cold; and if there are any leftovers, they can be stored in an airtight container and popped into the fridge for up to seven days. 
This recipe also gets bonus points because the finished pancake squares can be stored in the freezer to be reheated when you get the urge to enjoy breakfast at lunch, dinner, or anytime in between. 
Gather your ingredients to make a sheet pancake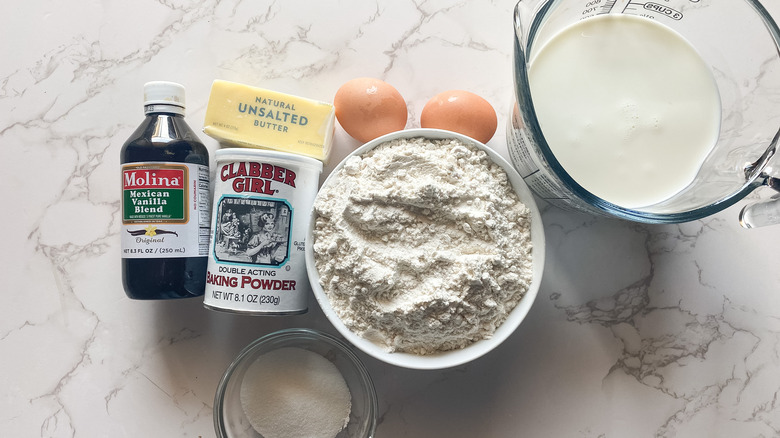 Kristen Carli/Mashed
All the ingredients you'll need to make sheet pan pancakes can probably be found in your pantry. To make this delightful treat, you'll need flour, baking powder, sugar, salt, eggs, whole milk, vanilla extract, and ½ cup (1 stick) of unsalted butter. To enjoy this breakfast as Carli suggests, you'll also want your favourite berries or berry mix, as well as maple syrup or honey to serve. 
If you want to bake flavors into your pancake, Carli says you can also add extra oomph to your batter with extra berries, bananas, or chocolate chips.
Make your sheet pan pancake batter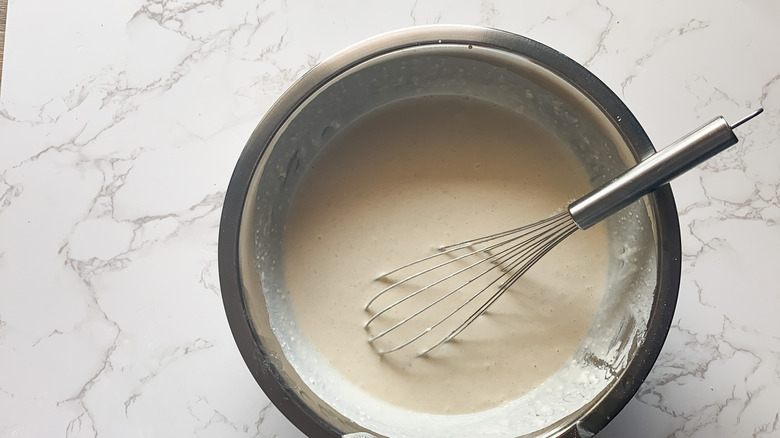 Kristen Carli/Mashed
The first step to these pancakes is to preheat your oven to 425 F. While the oven is warming up, combine the flour, baking power, sugar, salt, eggs, whole milk, vanilla extract, and melted butter in a mixing bowl and whisk until smooth. 
Carli says you should be left with batter that's neither too runny nor too thick. While overmixing your batter is one of 14 mistakes everyone makes when cooking pancakes, Carli says this particular batter is quite forgiving, and can come out great every time.
Bake your sheet pan pancake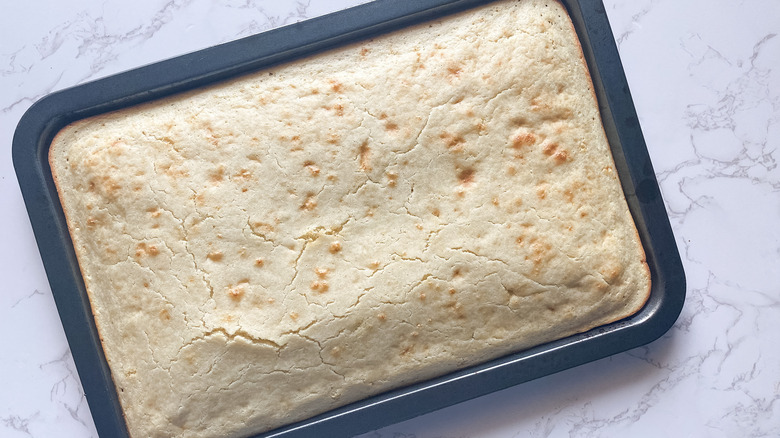 Kristen Carli/Mashed
Once ready, pour the batter into a prepared 17x11.5-inch baking sheet that's been greased with non-stick cooking spray. If you don't have cooking spray handy, a bit of oil or butter works well, too. 
Use a spatula to make sure the batter is spread evenly across the pan. If you want to add berries or chocolate chips into the actual pancake and not just on top once it's baked, now's the time. They should be introduced right before the sheet pan pancake goes into the oven. Carli says all you need to do is sprinkle your desired add-in on top, and it will settle into the batter as it bakes. 
Bake your pancake for 15 minutes, or until the batter has set and cooked through, and the top of the pancake is a light golden color. 
Serving your sheet pan pancakes and how to make them gluten-free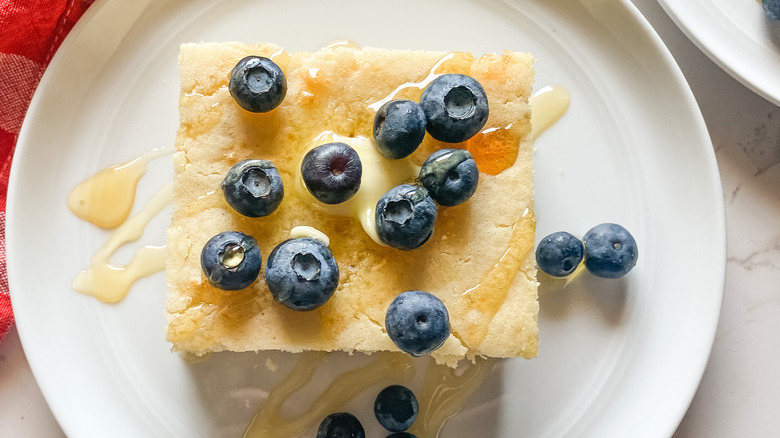 Kristen Carli/Mashed
To serve, slice your pancake into squares and top it with fresh berries and honey or maple syrup. 
If you're on a special diet or want to go gluten-free, Carli recommends using Pamela's Products' All-Purpose Flour Artisans Blend (a blend of different gluten-free flours including rice flour, tapioca, and potato starch), which she says works well with this recipe. The batter also stands up well to add-ins like berries, bananas, or chocolate chips.
Easy Sheet Pan Pancake Recipe
Pancakes usually take effort, but this easy sheet pan pancake recipe is simple and forgiving. Cut it into pancake squares and enjoy it at breakfast or anytime!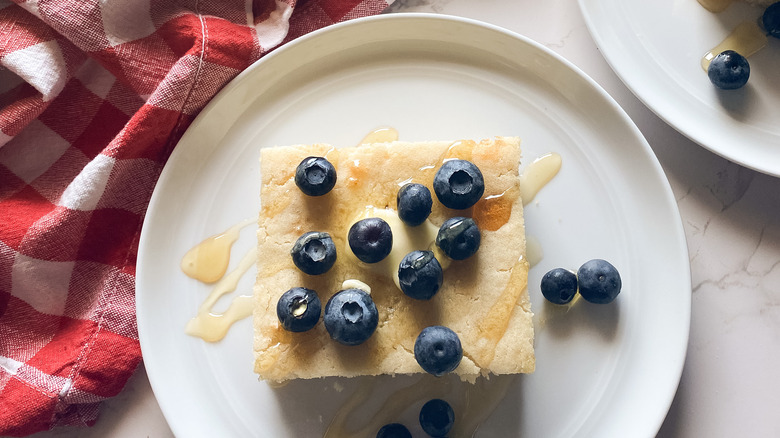 Ingredients
3 cups flour
2 tablespoons baking powder
2 tablespoons sugar
1 teaspoon salt
2 eggs
2 ½ cups whole milk
1 teaspoon vanilla extract
½ cup unsalted butter, melted
Berries, for serving
Maple syrup or honey, for serving
Optional Ingredients
Chocolate chips
Berries
Bananas
Directions
Preheat the oven to 425 F.
In a large bowl, whisk together all the ingredients until smooth.
Spray a 17x11.5-inch rimmed baking sheet with non-stick cooking spray.
Pour the batter evenly into the baking sheet.
Bake for 15 minutes.
Serve with berries, butter, and maple syrup.
Nutrition
| | |
| --- | --- |
| Calories per Serving | 255 |
| Total Fat | 10.3 g |
| Saturated Fat | 6.1 g |
| Trans Fat | 0.3 g |
| Cholesterol | 52.1 mg |
| | |
| --- | --- |
| Total Carbohydrates | 34.6 g |
| Dietary Fiber | 1.0 g |
| Total Sugars | 9.6 g |
| Sodium | 271.0 mg |
| Protein | 5.9 g |