Hidden Valley's Newest Dip Is Inspired By This Classic Ranch Combo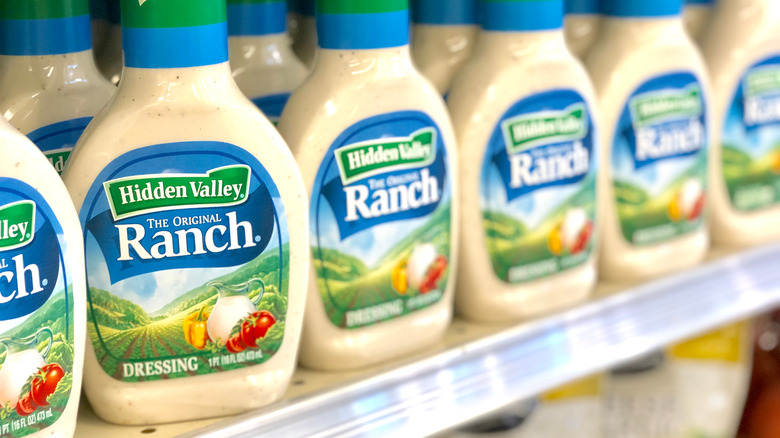 Shutterstock
For many sauce lovers, a slice of pizza is incomplete without a dip for topping-less crust. Maybe you love dunking your last bites of pie in electric yellow Papa John's garlic sauce. Perhaps your delivery order always includes a side of hot sauce or marinara. Surely, most late-night pizza eaters have tried the beloved, hot-meets-cool combination of pizza and ranch dressing. Those who have will be happy to learn that Hidden Valley Ranch has packaged that nostalgic flavor into a brand-new dip.
Hidden Valley Ranch Pepperoni Pizza Dip is a mixture of pepperoni, four cheeses, and ranch seasoning. Best eaten hot, the concoction is creamy, chunky, and meant for dipping with chips and crackers or spreading onto bread, the product description advises. Heat up the mixture in the microwave-safe container, or scoop it into a cast-iron skillet for guest-ready presentation. Each $8.48 tub — or shall we say vat, as it weighs 1.5 pounds — is available exclusively at Sam's Club.
Pepperoni Pizza Dip isn't Hidden Valley's first pizza-flavored dressing
Hidden Valley Ranch has already tapped into the public's affinity for pizza and ranch with its Blasted Dipping Sauces, a quad of dressings available in flavors that include Ranch-Dipped Pizza. The smooth, squeezable sauce is meant to accompany anything from fries to fried chicken and has more than 1,000 (mostly) positive reviews.
The brand's Pepperoni Pizza Dip, on the other hand, is more of an appetizer than a condiment, as its large pieces of cured meat can turn a platter of chips or pita bread into a filling snack. According to the ingredients list, cream cheese and cottage cheese form the dip's base, while mozzarella and parmesan add to the pizza flavor, and ranch seasoning gives it that Hidden Valley touch. Though the product is in its early days, all the reviews on the Sam's Club website give the dip five stars. Customers say it's popular with everyone — from kids to keto dieters — and complements bagels, tortilla chips, Fritos, and more quite nicely.