The Unexpected Twist On An Old Fashioned Cocktail Fans Need To Know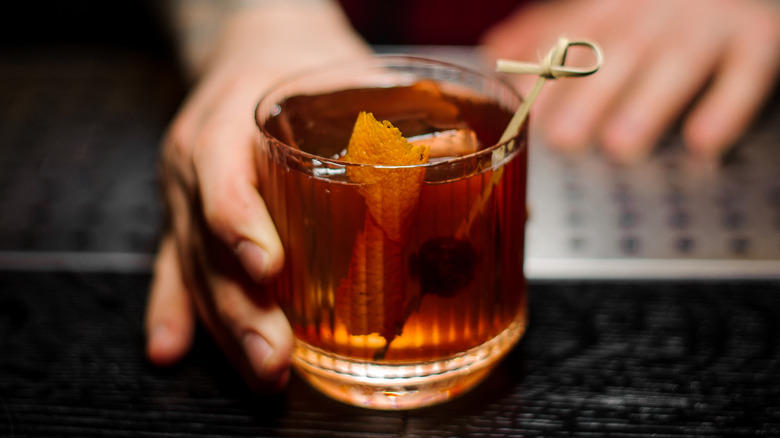 Shutterstock
We may receive a commission on purchases made from links.
Ah, yes! The old fashioned cocktail — a classic Midwestern sipper that has made its way onto bar and restaurant menus around the world. The first-recorded old fashioned recipe was published in Jerry Thomas's "The Bartenders Guide" just over a century and a half ago in 1862. Yet, despite its name, there's nothing out of fashion about this lovely libation. The old fashioned is a classic cocktail with a standard base of whiskey, a sugar cube, and a dash of bitters. To spice (or sweeten) things up a bit, bartenders often muddle plump cherries at the bottom of the glass for a natural sweet character, add a splash of soda water for merry effervescence, and top everything off with an orange peel for an acidic, not-too-fancy garnish.
Most cocktails retain recipes that experts and consumers swear by, but as for the old fashioned, a tasty myriad of customized recipes has been concocted over the years. One of these noteworthy formulas involves a mellow, molasses-based liquor that often appears in iconic boozy beverages like fruity piña coladas, minty mojitos, and succulent daiquiris. You guessed it, thirsty friends — we're talking about rum.
Why does rum work so well in an old fashioned cocktail?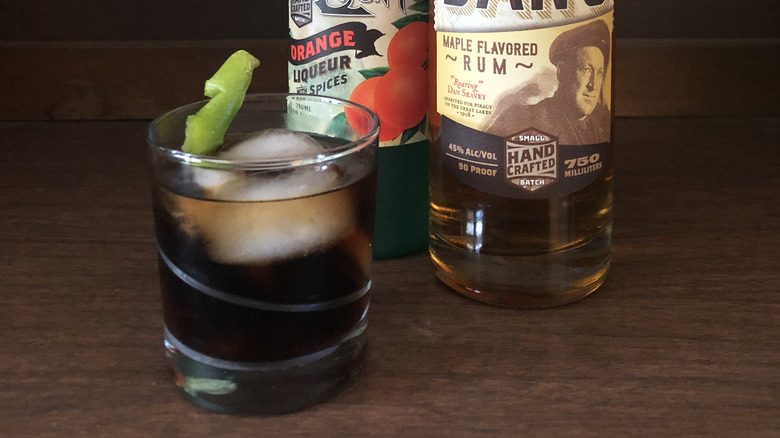 Great Lakes Distillery
Though some purist mixologists humbly disagree, incorporating rum into an old fashioned provides an entirely new indulgent drinking experience. Open-minded bartenders and cocktail enthusiasts believe the old fashioned recipe should be viewed as a template rather than a precise formula. And again, contrary to its name, the drink has evolved over time and is often customized with a wide range of unorthodox elements — like rum.
So, why swap in rum? For one, rum emits oaky notes that appeal to avid whiskey drinkers. A rum old fashioned offers a richer, almost buttery-esque palate when compared to the traditional recipe that calls for whiskey or brandy. Rum adds a unique, tropical taste to any cocktail in which it appears — plus, it has some possible health benefits. To whip up this cocktail at home, all you'll need is two ounces of high-quality rum, 1/4 ounce of cola syrup, 1/4 ounce of orange liqueur, and a few dashes of lime bitters. Stir together all of the ingredients, strain the mixture over a handful of fresh ice cubes, and garnish the masterpiece with a lime twist for an extra hint of flair and zest.
Next time you pay a visit to your favorite local cocktail lounge, share this newfound recipe with the bartender to get a taste of some fresh, handcrafted magic. Never fear trying something new, and let your taste buds do the talking. Cheers!