Best Instant Pot Chickpeas Recipe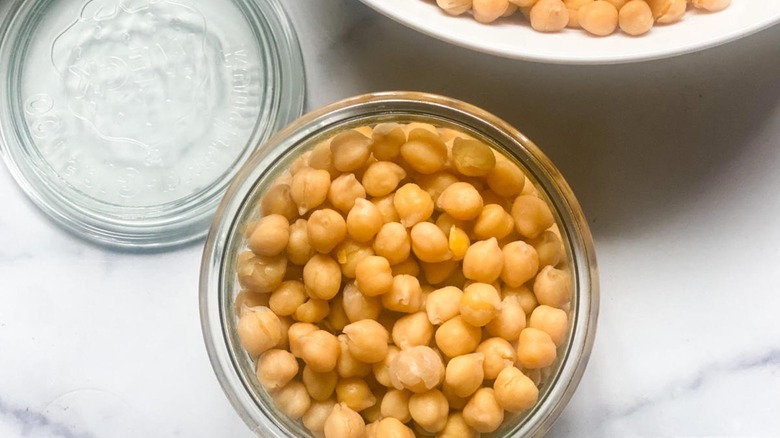 Miriam Hahn/Mashed
If there was ever a food that was vastly underestimated when it came to keeping us happy and healthy, it's beans. We might think, "I need to eat more lean meat," or "I need to eat more vegetables." But do we ever think, "I need to eat more beans"?
If not, why not? Let's change that with help from wellness coach and recipe developer Miriam Hahn. Hahn is a self-professed "bean fan" and says there's no end to the benefits you'll get by adding more to your diet. She says, "They are full of fiber, vitamins, and minerals. They also have resistant starch, which acts as a prebiotic, and that makes them great for gut health."
There's plenty of science to back that up, too, including the study of regions called Blue Zones. Blue Zones, says NPR, are five regions that have been identified as having the most people living to ages over 100. They've also got low instances of issues like obesity, diabetes, cancer, and heart disease, so it's no surprise that they've been studied — a lot — to see just what makes these areas so special. The answer? "Beans were a common daily ingredient in their diets," Hahn says.
Adding more beans to your meal plan isn't hard at all, and that's why we're so excited about Hahn's super easy Instant Pot chickpea recipe. And yes, it really isn't just easy, it's super easy!
Gather your ingredients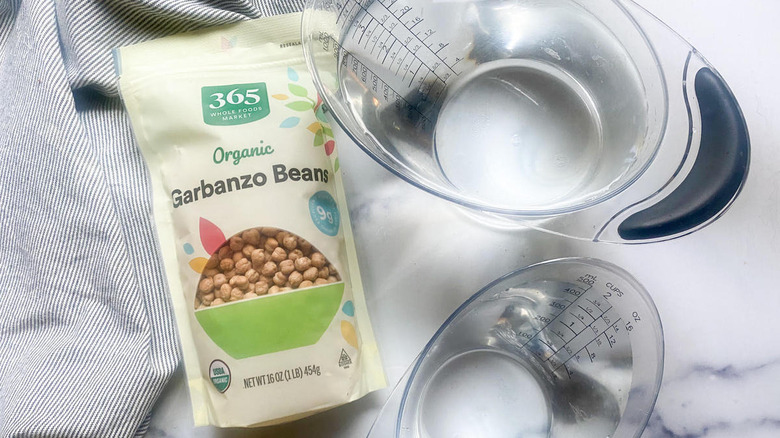 Miriam Hahn/Mashed
All you're going to need for this recipe is water — that's easy — and one pound of dried chickpeas, also known as garbanzo beans.
Dried beans are a brilliant thing to consider buying in bulk and adding to your pantry. Not only do they last for a long time, but Hahn says, "They are so much more economical, and with the Instant Pot, they are so easy. You can start a batch and leave them unattended."
Honestly, we can all do with some more recipes that cook themselves!
Add everything to your Instant Pot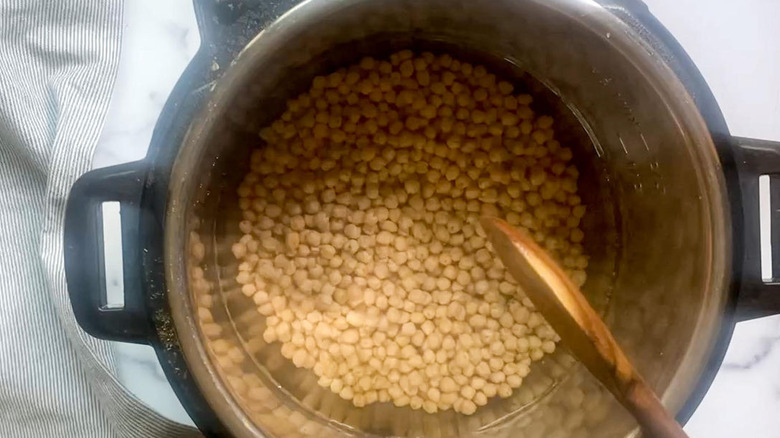 Miriam Hahn/Mashed
This is, perhaps, the most labor-intensive part of the entire recipe, and that's adding the pound of beans (which is equivalent to about two and a half cups) to the Instant Pot, along with six cups of water. Giving it a quick stir will help make sure everything is distributed, and that's it!
It seems deceptively straightforward, and Hahn says that making plain beans at this stage is one of the benefits of buying and using dried beans. She says, "I can make a batch of beans and have them throughout the week for different meals. They stay fresh much longer, and while leftover canned beans in the fridge will go bad after about three days, beans made in the Instant Pot will last over a full week."
Set and seal your cooker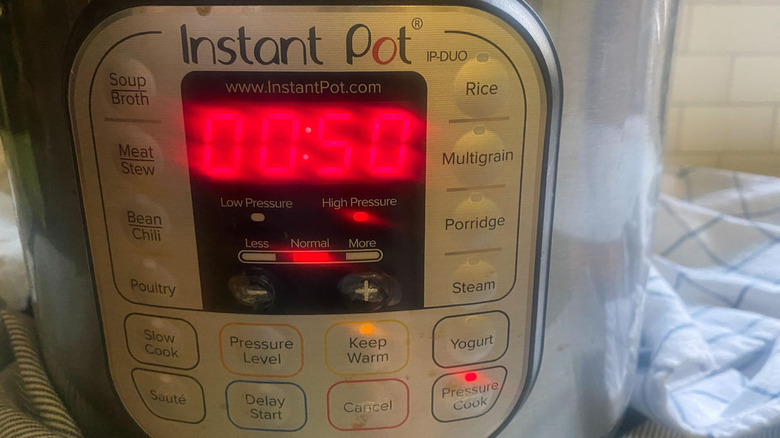 Miriam Hahn/Mashed
Secure the lid of the Instant Pot, and set the valve to "sealing." Select "pressure cook," and set the time to 50 minutes.
That's not to say that it's going to take 50 minutes — the Instant Pot's timer won't start counting down until it's reached the right internal pressure. That's going to take about 15 minutes, but here's the great thing: With the amount of time these beans will last once they're cooked, this is definitely a process you can plan ahead for.
There's one footnote here, and this will only come into play if you pre-soak your beans. Letting them soak overnight will reduce your cooking time to 12 minutes, for a natural release time of 10 minutes.
Wait some more!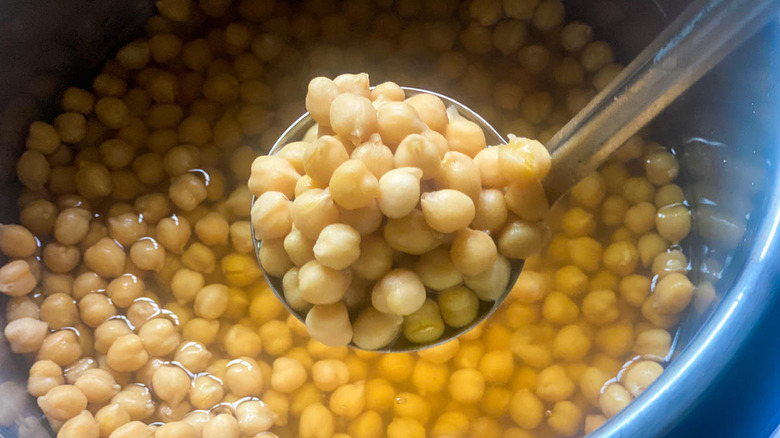 Miriam Hahn/Mashed
Once the cooking time is finished, the Instant Pot will beep ... but don't do anything just yet. Let the Instant Pot go through a 20-minute natural release, so you shouldn't open the lid just yet. Once that's finished, then you can move the valve to "venting," and that will empty any remaining steam — so stand back away from the Instant Pot, just in case.
When that's finished, then you can open the lid.
Drain the beans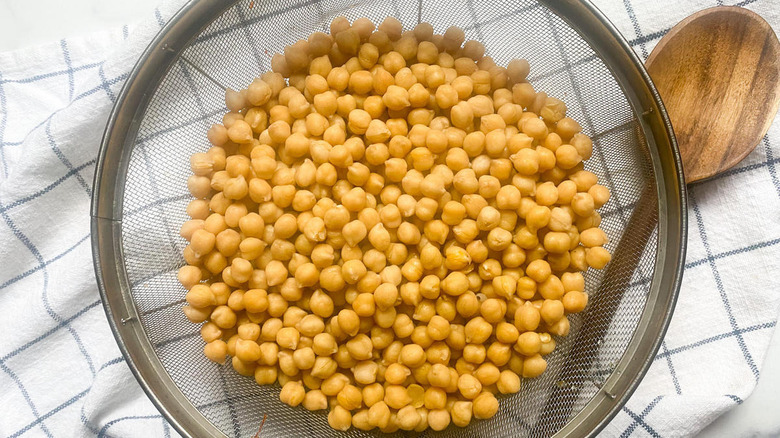 Miriam Hahn/Mashed
Now, you can drain your beans and decide what you're going to do with them. Hahn says that if you'd like to plan ahead, you can also cook the beans and then freeze them to make future meal prep easier.
She says, "I will often split them up into gallon-sized Ziplocs, making them flat so they stack in the freezer. Then, you can easily just pull out a bag, and they defrost quickly in the fridge."
The only thing better than an easy recipe is one that makes life easier for your future self. Your future self will thank you, for sure.
Here's a simple way to make these beans even healthier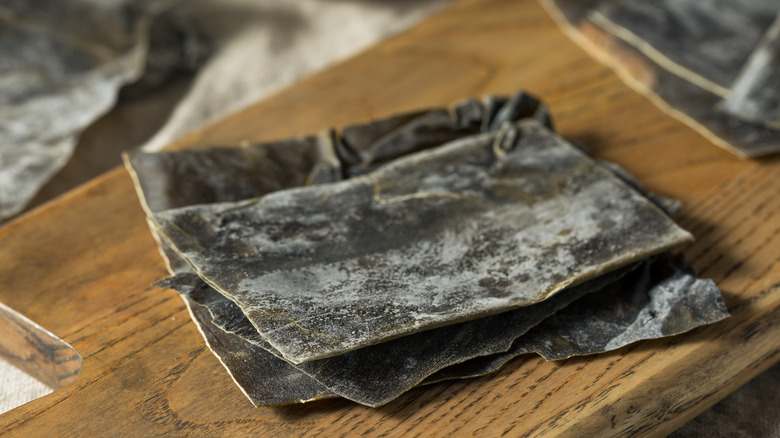 Shutterstock
Hahn says there's one easy addition you can make that will boost your chickpea's nutritional punch even more, and that's kombu. What's kombu? If you're familiar with the traditional Japanese ingredient dashi, you've had it: It's a seaweed that's commonly used as an ingredient in dashi, particularly in vegetarian versions.
Hahn says, "I often add a strip of kombu, an Atlantic sea vegetable. This adds many more minerals to the beans — iodine being one — and also helps with digestion." Bonus, right? To opt in on this added nutrition, buy kombu by the strip. Simply add a strip to the beans when you put everything in the Instant Pot, and remove it while draining.
What else can you do with this chickpeas?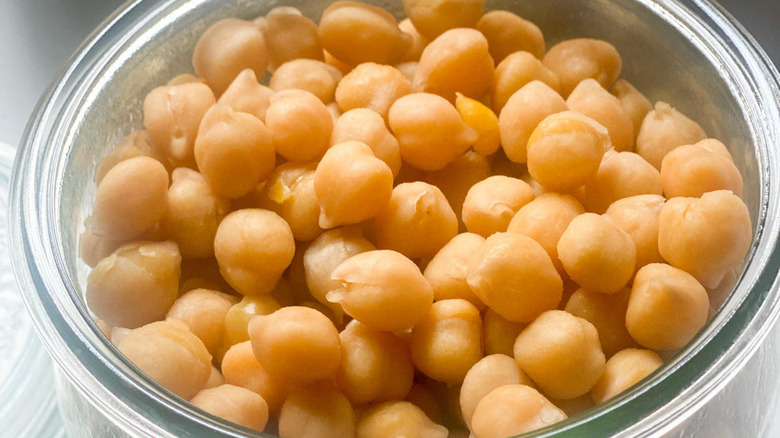 Miriam Hahn/Mashed
The possibilities involving chickpeas are almost endless, and while hummus is undoubtedly delicious, there's no need to stop there. What are Hahn's recommendations? She says, "My favorite thing to make with garbanzo beans is a mock tuna mash with pickles, onions, mayonnaise — or Vegenaise — and spices. It's great in a lettuce cup or on toast!"
She also has a recipe for a delicious Greek farro salad, and that all comes together in just a few minutes. It adds all kinds of other goodness — like artichoke hearts, farro, cucumbers, and tomatoes — to the beans, making it the perfect meal for those days when you just want something quick, easy, and nutritious.
Best Instant Pot Chickpeas Recipe
Adding more beans to your meal plan isn't hard at all, and that's why we're so excited about Hahn's super easy Instant Pot chickpea recipe.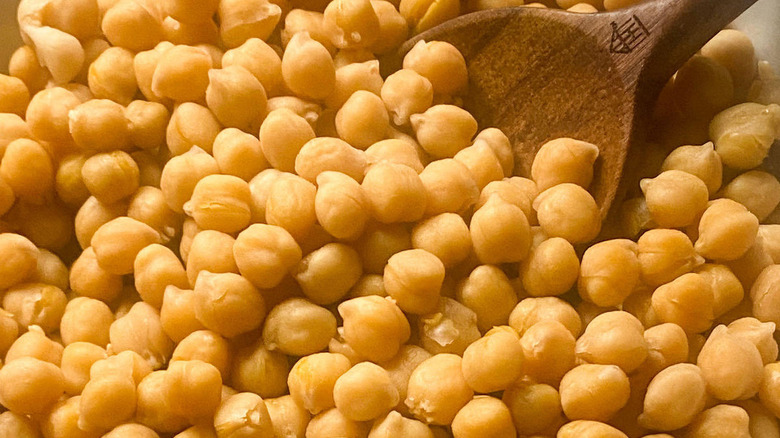 Ingredients
1 pound dried chickpeas (2 ½ cups)
6 cups water
Optional Ingredients
Directions
Add the dried beans to the Instant Pot with the water. Give them a quick stir to make sure they are evenly distributed. Add the kombu if desired.
Secure the lid on the Instant Pot and set the valve to "sealing." Select "pressure cook" and set the time to 50 minutes. It will take the Instant Pot about 15 minutes to reach pressure before the cook-time begins. Once this happens, the time will count down and show the time remaining on the front panel.
When the cook time is done, the Instant Pot will beep. Let the Instant Pot natural release for 20 minutes.
Switch the valve to "venting," and any steam that is left will release out of the top of the lid. Stand back just in case there is any steam left.
Now drain the beans, serve, or store.
Nutrition
| | |
| --- | --- |
| Calories per Serving | 315 |
| Total Fat | 5.0 g |
| Saturated Fat | 0.5 g |
| Trans Fat | 0.0 |
| Cholesterol | 0.0 mg |
| | |
| --- | --- |
| Total Carbohydrates | 52.5 g |
| Dietary Fiber | 10.2 g |
| Total Sugars | 8.9 g |
| Sodium | 29.5 mg |
| Protein | 17.1 g |