15 Minute Greek Farro Salad Recipe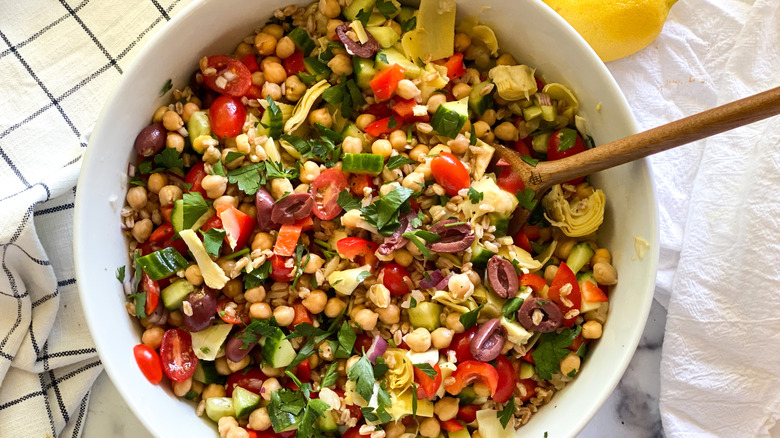 Miriam Hahn/ Mashed
There's nothing quite as good as a Greek Farro Salad! Whether you're eating it as a main dish or a side to the main dish, the flavors and beautiful colors in this salad are definitely worth bragging about. This is the type of salad is also very aesthetically pleasing.
Miriam Hahn of YouCare-SelfCare is the brains behind this simple salad that's sure to impress anyone lucky enough to try it. "My favorite thing about this dish is how it comes together so quickly and it so delicious. I have probably made this 25-30 times. The flavors are great, and it can be a main dish because it is a balanced mix of protein, fat, and fiber," she shares. "Or it makes a great side. Everyone loves this dish. If you want to make it gluten-free, you can sub quinoa or rice for the farro." 
What makes Farro different than regular pasta? "The main thing to know for the farro is there are two types, long cooking and quick cooking. This recipe calls for the quick cooking because it is a 15 minute meal," Hahn shares. "Other than that you just follow the directions on the package and cook it like pasta, meaning you will drain extra water. (unlike quinoa where the amount of water is fully absorbed) It tastes a lot like barley and is a delicious hearty grain with lots of nutrients!"
Here's how to make this quick and easy Greek Farro salad!
Gather the Greek salad ingredients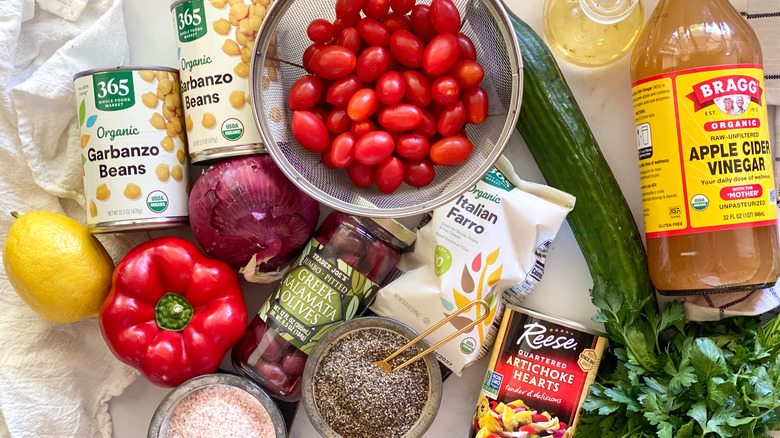 Miriam Hahn/ Mashed
The first step to every recipe is to gather all the ingredients. You will only need a few items, and many may be in your home already. Simply get quick-cooking farro, a few cans of garbanzo beans, diced red onion, chopped artichoke hearts, and kalamata olives, halved. You will also need a diced English cucumber, grape, or cherry tomatoes that have been diced and some Italian parsley. To complete the list, add olive oil, apple cider vinegar, juice from one lemon, salt, and pepper.
Cook the farro
Miriam Hahn/ Mashed
First, start with the star of the recipe, which is farro. You can get the kind that cooks quickly at Trader Joe's or Whole Foods. Cook time will only be 10 minutes and the farro will be ready in no time.  
The recipe calls for the vegetables to be chopped ahead of time. However, if you don't get veggies that have already been chopped, you can do so while the farro is cooking. It will only take a few minutes, and it's nice to have something to do to pass the time, right?
Throw the Greek farro salad together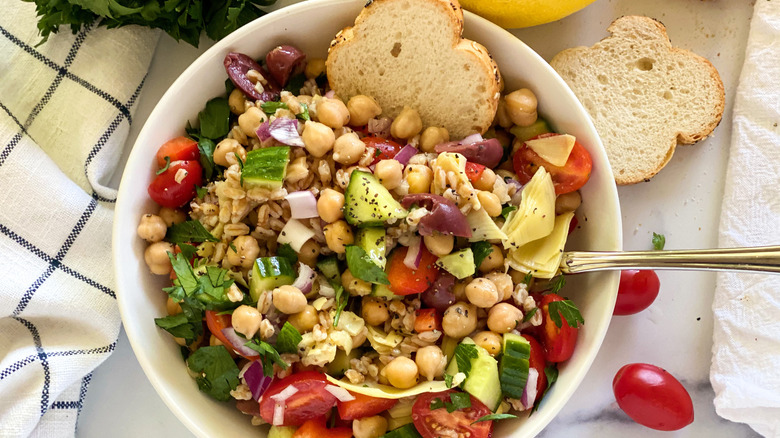 Miriam Hahn/ Mashed
As soon as the farro is cooked, take it off the heat. Now, it's time to combine everything together. Get out a large bowl and put in the chopped veggies with the farro. Mix everything well to combine. After you toss the salad, add olive oil, vinegar, lemon, juice, salt, and pepper. "Italian parsley is also known as flat-leaf parsley and it is available everywhere," Hahn shares. "It has a more delicate taste than curly parsley and is perfect in this dish. If you wanted to substitute I would add about a cup of arugula for color or fresh oregano would work great too (just about 1 tablespoon of freshly diced)." Hahn says she loves the salad for a "summer barbeque" or with a "light blended soup." 
"It is great for a summer barbeque," Hahn shares. "I also pair it with a light blended soup often too." 
Add the tomatoes later if you're making this salad in advance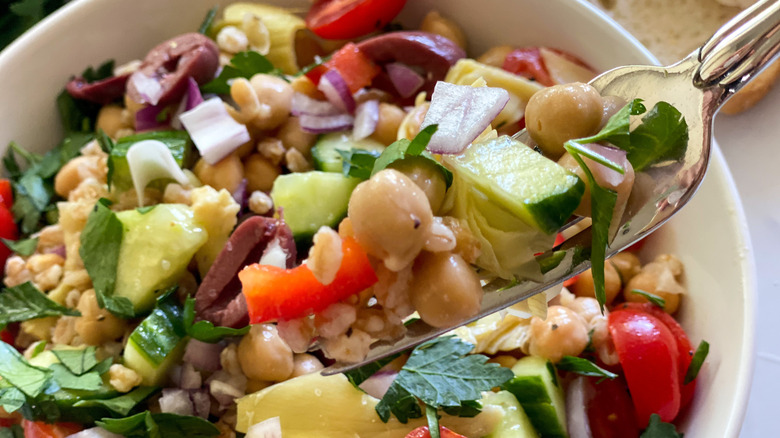 Miriam Hahn/ Mashed
We're confident that this salad is so delicious, you won't have any leftovers. However, if you do have extra, they will only be good for a short time. "Leftovers are not great because of the tomato. It will be fine the next day but definitely best same day," Hahn shares. "If you want to make it ahead, you can leave the tomatoes out and add right before serving. If you are making it for meal prepping you can always leave the tomatoes out and add those on before eating."
"This dish can be a side or a main," Hahn notes. "It pairs nicely with anything off the grill, a fresh sandwich or panini, a bowl of soup or just some good sourdough bread!" 
15 Minute Greek Farro Salad Recipe
This Greek salad has a unique twist with the addition of farro and delivers fresh, garden flavors with a quick assembly of just 15 minutes.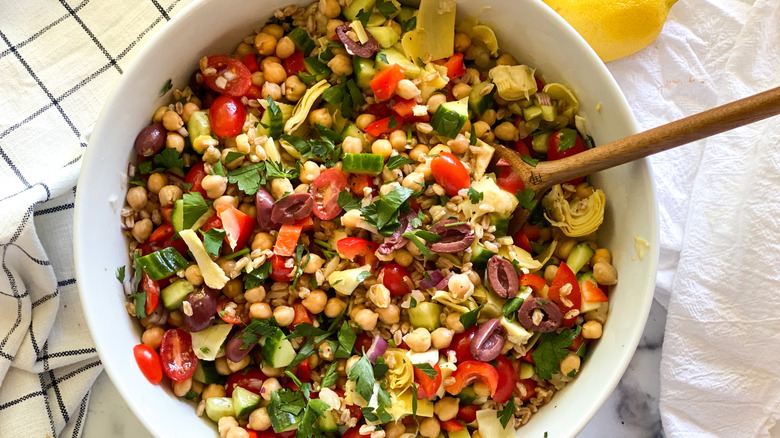 Ingredients
1 cup uncooked quick-cooking farro
2 cans garbanzo beans, rinsed and drained
¼ cup red onion, diced
1 can artichoke hearts, rinsed and drained, chopped
¼ cup kalamata olives, halved
1 English cucumber, diced
1 cup grape or cherry tomatoes, halved
1 red pepper, diced
½ cup Italian parsley, chopped
2 tablespoons olive oil
1 tablespoon apple cider vinegar
juice from one lemon
½ teaspoon salt
¼ teaspoon pepper
Directions
Cook the farro according to package instructions. The quick-cooking farro takes 10 minutes. (Whole Foods and Trader Joe's sell the quick cooking type)
Combine the farro with the chopped vegetables in a large bowl. Add the olive oil, vinegar, lemon juice, salt, and pepper.
Nutrition
| | |
| --- | --- |
| Calories per Serving | 306 |
| Total Fat | 8.4 g |
| Saturated Fat | 1.1 g |
| Trans Fat | 0.0 g |
| Cholesterol | 0.0 mg |
| | |
| --- | --- |
| Total Carbohydrates | 49.3 g |
| Dietary Fiber | 11.3 g |
| Total Sugars | 8.9 g |
| Sodium | 452.2 mg |
| Protein | 12.3 g |