Only 8% Of People Consider This Their Favorite Chicken Nugget Dipping Sauce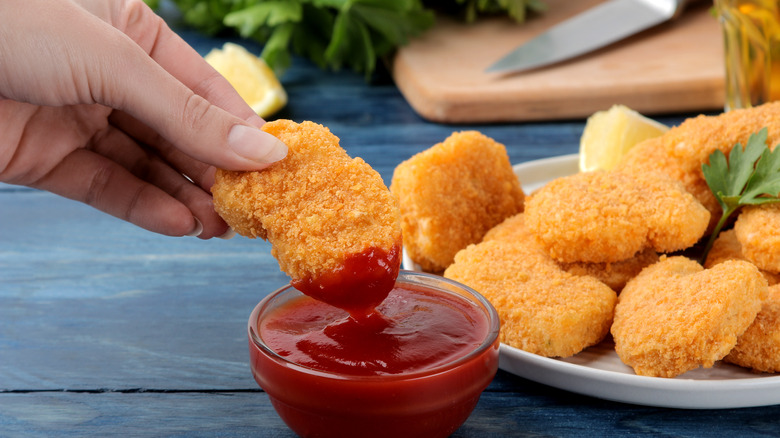 Shutterstock
Chicken nuggets are always a good idea — whether you eat them for lunch or dinner or just as a snack, and whether you decide to nosh on them all by themselves or paired with a tasty dipping sauce. But with so many options to choose from — BBQ, ranch, honey mustard, or plain old ketchup — we wondered what most people say is their favorite saucy sidekick. 
A recent Mashed survey gave us some answers. An incredible turnout of 35,000 people worldwide answered, and the results were quite surprising. While the top two choices were neck-in-neck, the sauce that came in last was a definite shocker. Even though it routinely gets nods as one of the top condiments in general, especially on burgers and fries, ketchup is clearly no match for chicken nuggets as it received only 8% of the votes. 
Ranch had a respectable 14% of the share of votes and the fill-in "other" category took third with 16% (and various responses). The top two choices were a close finish with honey mustard coming in at 32% of the vote to take the lead, followed closely by BBQ sauce in second place with 30%. 
A number of enthusiastic respondents took issue with the results, though. As one person noted, "Surprised not many people said ranch." Another observed, "Honey mustard is a mistake sauce."
Some respondents like to put their own spin on sauces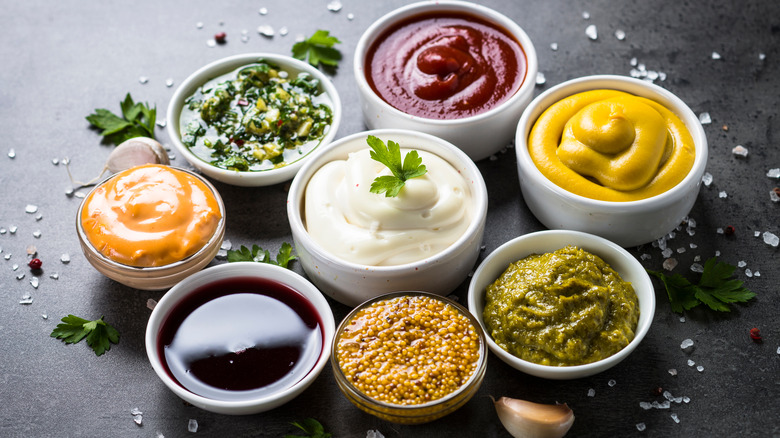 Shutterstock
The fill-in category was maybe the most interesting to take in with many unique ideas. One survey respondent offered a custom take on classic ranch dipping sauces, suggesting a combination of ranch dressing, Thousand Island dressing, and cayenne pepper. Another person shared a personal favorite blend of mayonnaise, Sriracha, and horseradish. Other participants cited buffalo sauce, white-peppered country, curry sauce, hot mustard, tartar sauce, mayonnaise, and plain-old-no-sauce nuggets as their top picks.
One respondent that demonstrated a sophisticated palate when it comes to understanding the nuances of chicken nuggets specified you should only pair honey mustard with spicy nuggets and BBQ sauce with regular nuggets.
And both the winning sauce (honey mustard) and the last-place finisher (ketchup) had their share of supporters and detractors. One person noted, "I don't know how anybody could like honey mustard dressing ... it's too sweet," while another kept it simple, saying, "Ketchup always!" Even second-to-last-place ranch garnered its fair share of comments from loyal fans with one noting, "Ranch is the only way to go for your nuggets. The rest of you guys are pretty much dipping your chicken into sugar."