The Worst Dessert At Cracker Barrel According To 36% Of People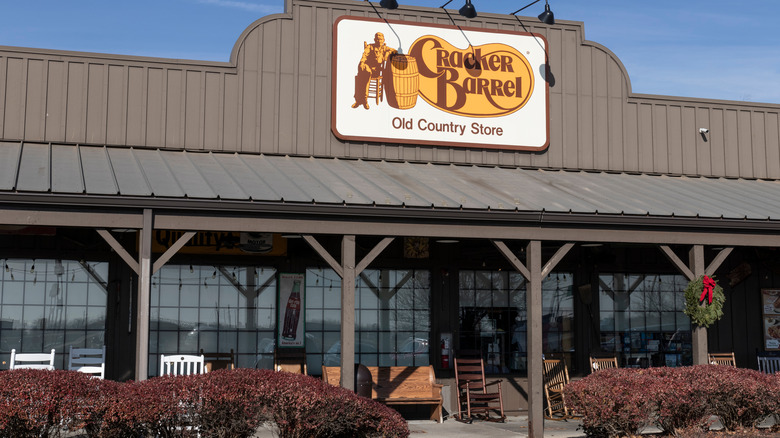 Shutterstock
Cracker Barrel isn't as much of a destination sort of restaurant as it is a road trip stop — it's the kind of dining establishment that's on your way from here to there, and after a long day's worth of driving, sometimes you just want a place to sit down and enjoy a meal before moving on down the road. In fact, "sit and stay awhile" might as well be the chain's motto, since it's certainly the message conveyed by the line of wooden rocking chairs on their porch, begging you to take a seat.
And as long as you're siting down to enjoy a leisurely meal, you might as well stretch it out a bit longer by ordering dessert, right? Assuming you're still hungry after that heaping plate of chicken n' dumplings. But, what's the best sweet dish to order? Or rather, which one isn't worth making room for? Mashed polled 585 people in the US, with the choice of four items on the Cracker Barrel dessert menu, as participants were asked to vote for the one they think is the least worthy — the chocolate chip cookies, double chocolate fudge Coca-Cola cake, fruit cobbler, or beignets. With all these very different desserts, one was the clear winner (or, maybe the loser), disliked by more than 1/3 of poll respondents.
These fancy donuts are not everyone's favorite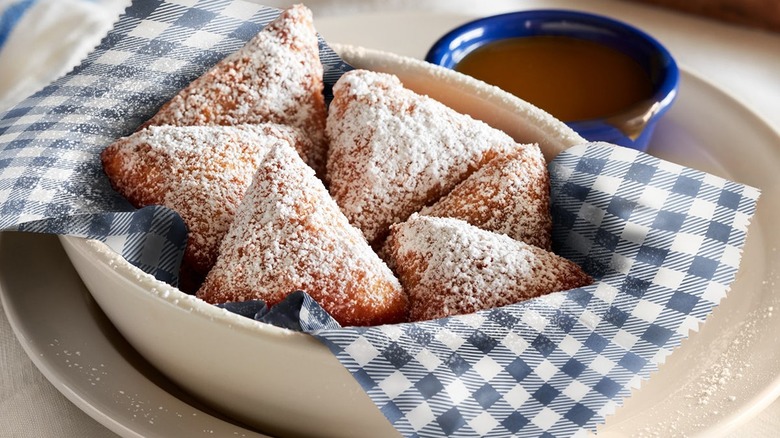 Cracker Barrel
According to Southern Living, Cracker Barrel introduced its Buttermilk Biscuit Beignets back in 2018 — but not everyone loves them. In fact, more than 36% of people answering our poll count them as the worst item on the Cracker Barrel dessert menu. While it's true everyone loves Cracker Barrel's biscuits in their original form, they really don't work quite so well when repurposed as the pastry pillows made famous by New Orleans' Cafe du Monde.
Faring a bit better was Cracker Barrel's fruit cobbler, disliked by only 25.47% of our respondents. The somewhat over-the-top sounding double chocolate fudge Coca-Cola cake was disliked by just 22.05% of the pollees, but the most popular — meaning the least disliked — dessert on the menu was that old favorite, chocolate chip cookies. 
Just 15.90% of those we polled would say no to what may well be one of America's best dessert staples. If you're planning on ordering chocolate chip cookies next time you're at Cracker Barrel, there's one thing to be aware of: at 1440 calories, they are in fact the highest-calorie item on the dessert menu. Cracker Barrel does say, though, that the 6-cookie serving is meant to be shared.