43% Agree These 2 Chain Restaurants Have The Worst Quality Seafood
From McDonald's Filet-o-Fish to Denny's wild-caught salmon, seafood from chain restaurants isn't too many people's favorite. (To be fair, the food critic at the Lake Charles, Louisiana American Press rated Denny's salmon "superb.") The idea of ordering Cracker Barrel's Country Fried Shrimp in a landlocked state simply doesn't make a lot of sense. That said, Middle America deserves seafood too, which is why Red Lobster's website reports 15 locations in Missouri.
If you're planning to get a seafood dinner at a suburban commercial center near an interstate exit, then you should know that some options are better than others. Mashed polled 594 Americans and asked, "Which chain restaurant has the worst-quality seafood?" We didn't include Denny's or Red Lobster in our list of options, and fast-food places such as McDonald's weren't considered, either. The seven chains in our poll were Applebee's, The Cheesecake Factory, Chili's, Cracker Barrel, O'Charley's, Outback Steakhouse, and TGI Fridays.
Which chain has the worst seafood? It's a tie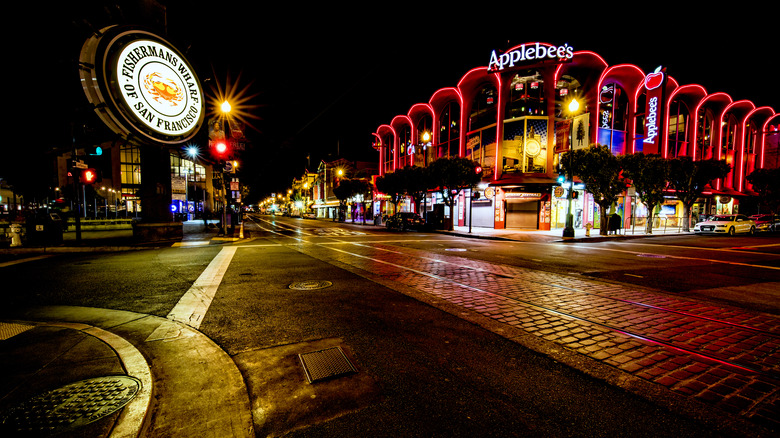 Shutterstock
The Cheesecake Factory sounds like a dessert place, but it actually puts some thought into its main courses, too. It even has four different salmon dishes on its menu. The 594 U.S. residents we polled gave The Cheesecake Factory some credit, with only 8.25% of respondents calling it out as the worst seafood place among the seven chains we listed. O'Charley's dodged a lot of the hate shown in our poll, too, getting only 10.94% of the vote. O'Charley's may have benefited, for a change, from a lack of name recognition. The chain has locations in only 17 states, according to its website.
When it comes to the chain restaurant in our poll with the worst-quality seafood, we actually had a tie. Applebee's and Cracker Barrel both garnered 21.55% of the vote, or 128 votes, to take dubious top honors in our poll. Sounds like Cracker Barrel's efforts toward its Friday Fish Fry or Farm-Raised Catfish aren't getting a lot of love. And Applebee's big conversion to wood-fired grills in 2016 (Via Nation's Restaurant News) apparently did its seafood menu no favors. Brand Eating gave the wood-fired cedar salmon a thumbs-down when it first came out — and Applebee's even gave it to them for free.
Rounding out our poll were Chili's (15.66%), TGI Friday's (12.79%), and Outback Steakhouse (9.26%).