Duff Goldman Warms Hearts With Instagram Post Of Mommy-Daughter Moment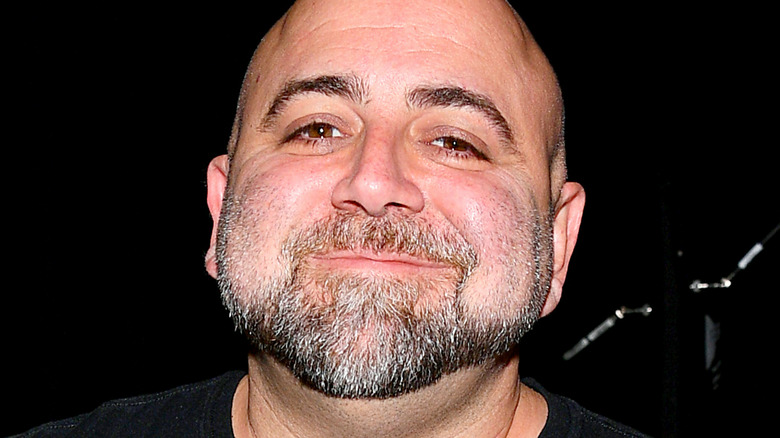 Dave Kotinsky/Getty Images
Food Network is keeping Duff Goldman busy in 2021. He's hosted "Duff's Happy Fun Bake Time" and co-hosted "Kids Baking Championship." Season 3 of "Buddy vs. Duff" premiered on July 18, according to Discovery.
Goldman might be a huge part of Food Network's lineup these days, but he's not too busy to spend quality time with his wife and new baby Josephine, born on January 31 (via Today). The celebrity baker blew up Instagram earlier this month with a photo of him and Josephine visiting his Baltimore bakery, Charm City Cakes. That post got more than 74,000 likes. Then a short Instagram video showing baby Josephine gumming an apple (she's probably teething at this point) prompted countless "cute" and "adorable" comments.
The latest Instagram video, posted on July 23, shows baby in one of those exercise jumpers parents attach to a door jamb. Josephine was definitely getting a workout. As her mother Johnna Goldman playfully ran around the jumper, and baby swung around to keep mom in sight. "She follows her mommy @johnnapgoldman around!" Duff Goldman wrote on Instagram. "This is so cute I wanna diiiiiiieeeeeee!"
Duff Goldman's Instagram followers declare his baby 'adorable'
Nancy Fuller, who serves along with Duff Goldman as a judge on "Spring Baking Championship," chimed in on Goldman's latest Instagram post of his baby, commenting, "Hi Sweet Pea." Some of Goldman's more well-known peers in the baking world commented, too. Natalie Sideserf, who makes hyper-realistic cakes and has a combined 639,000 followers on two Instagram accounts, said simply, "Hahahaha ohhhh my goodnessssss." (There's something about babies that makes people want to keep tapping letters on their keyboards.) Jason Licker, who according to his Instagram bio is a past winner of Iron Chef Thailand and author of a top-selling Asian cookbook, weighed in too. "Omg... adorable," he said, adding one of those face emojis with hearts for eyes.
Goldman's non-celebrity fans showed some love in the Instagram comments, too. "Easily the cutest thing I've seen all day," @jackielyn82 said. For some fans, the video evoked memories of when their babies were in exercise jumpers, some of them 30 or 40 years ago. One Instagram user had to break the spell, however — even if they maybe had a point. "Be careful!" @tamoc23 warned. "It's common for babies to obtain leg fractures from jumpers."