The Reason Waffle House Stopped Selling Chick-Fil-A Sandwiches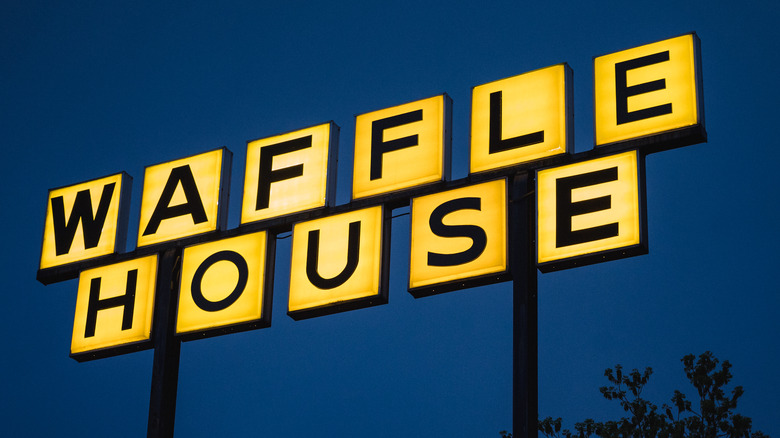 Bloomberg/Getty Images
Ahh, Waffle House. Making its debut on the restaurant scene in 1955, the 24-hour, Georgia-based diner has become a staple of our society with over 1,900 restaurants in 25 states (via the Waffle House website). Its doors are always unlocked, and the familiar glow of its iconic yellow sign lights up highways even in the toughest of times, inviting people to feast on one of its legendary hash brown plates, eggs, and, of course, an order of deliciously crispy waffles that even the late Anthony Bourdain fawned over. The Waffle House menu doesn't stop there either, going beyond the traditional breakfast fare to offer a few lunch and dinner classics as well such as steaks, burgers, and BLTs.
As you can see, there is something for everyone that walks into a Waffle House, and unless you're a die-hard pancake fanatic, it's hard to imagine that the menu could get any better. But what if we told you that there was a time that the celebrated eatery served up the signature menu item from another one of Georgia's beloved restaurant chains? Believe it or not, Chick-fil-A's signature sandwich once had a spot on the Waffle House menu – something you'll know is no longer true if you've recently visited the beloved chain. So what, exactly, went wrong with this menu collaboration?
Chick-fil-A sandwiches outsold Waffle House menu items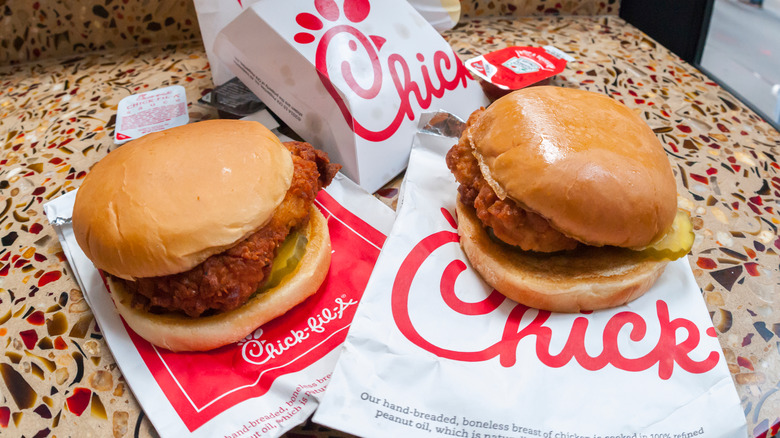 Shutterstock
These days, one can only dream of being able to order a Chick-fil-A sandwich with one of Waffle House's smothered hash browns on the side, but years ago, this was actually a reality. According to Country Living, the waffle-slinging chain was once licensed to sell S. Truett Cathy's pride and joy (though it's unclear if they could be sold on Sundays).
As you can imagine, the epic Atlanta-based restaurant crossover was a major hit – too much of a hit, it turns out. Country Living reports that the Chick-fil-A sandwich apparently became such a popular order amongst Waffle House patrons that they started seeing a decline in sales of their own foods, ultimately leading Waffle House to back out of the deal and crushing our dreams of a chicken and waffle platter featuring Chick-fil-A chicken and Waffle House waffles forever. Waffle House never replaced the famous crispy chicken patty with its own version either, instead opting to go the healthier route by putting a grilled chicken sandwich on their menu. The reasoning for never venturing to the fried side? "We don't have any fryers in our restaurants!" the eatery tweeted back in 2018.