1-In-3 Agree This Grocery Store Has The Worst Quality Produce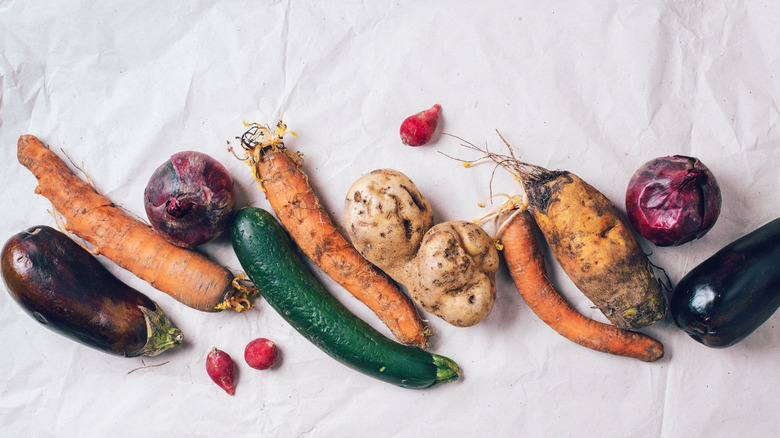 Shutterstock
Some people prefer to grow their own garden or pick up their produce at the farmers market, straight from the person who grew it. On the other hand, a lot of us like to get our apples and lettuce at the same store where we buy our toilet paper and home furnishings. Mashed had these big-box shoppers in mind when we conducted a recent survey of 593 U.S. residents. We asked, "Which grocery store has the worst-quality produce?" We gave our survey participants eight options: Aldi, Costco, H.E.B., Kroger, Meijer, Publix, Target, and Walmart.
Before we reveal which of these retail chains our respondents considered the worst, let's take a look at who didn't get a lot of votes. Like golf, low scores are good in this survey, and three grocers each got less than 7% of the total vote. Faring best was Publix, with 6.41% of the votes. Publix might have been off the radar for most respondents, as the chain only has locations in seven Southeast states, according to the Publix website. Publix doesn't necessarily have a sterling reputation for produce. If it's known for anything, it's the fried chicken and sub sandwiches, per The Kitchn.
Costco and Kroger tied for second-lowest vote total, at 6.91%. This is more impressive, as both are truly national chains. The only real knock on Costco's produce is that a lot of it is sold in bulk, and normal-sized families might not use it all before it spoils, per CNBC.
Our suvey says Walmart has the worst produce, despite a recent upgrade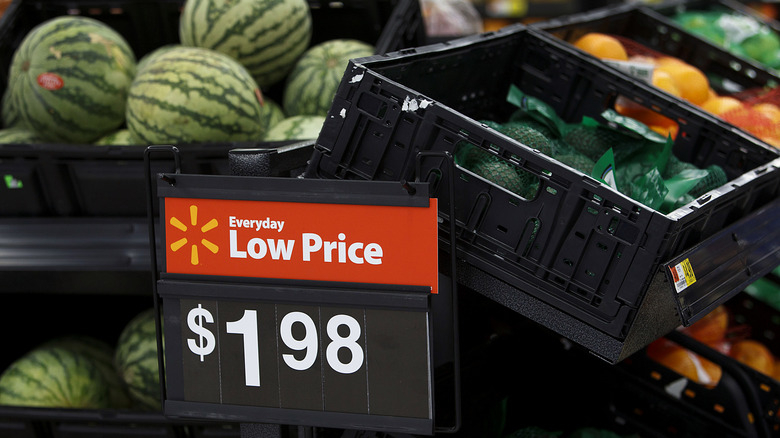 Bloomberg/Getty Images
Now for the bad news in the Mashed survey that asked people which grocery store has the worst produce. The runner-up for worst produce was Target, which drew 16.53% of the vote. But Target was no competition for Walmart in the produce-quality race to the bottom. Walmart was our clear, er ... winner, with 33.39% of the total vote. Our survey respondents seem to know low-quality produce when they see it. Their answers matched a 2019 survey by Consumer Reports, which also ranked Target and Walmart's produce among the worst.
Target had planned to install vertical farms inside its stores beginning in 2017 (via Business Insider), but it's not clear whether this plan for getting the freshest possible produce in their stores ever got off the ground. Whatever the case, it has done little to improve Target's poor reputation for produce.
Meanwhile, Walmart made major improvements to its produce departments in 2020, according to Supermarket News. But the changes were more about the department's layout than the quality of the food. Wider aisles and lower displays were intended to reduce crowding and make it easier for shoppers to see the produce. But if you don't like what you see, then a redesign may not be much of a game-changer. Walmart may need to do more to lose its image as the worst grocery store for produce.
Rounding out our survey were Aldi (13.15%), H.E.B. (8.94%), and Meijer (7.76%).