Air Fryer Grilled Cheese Recipe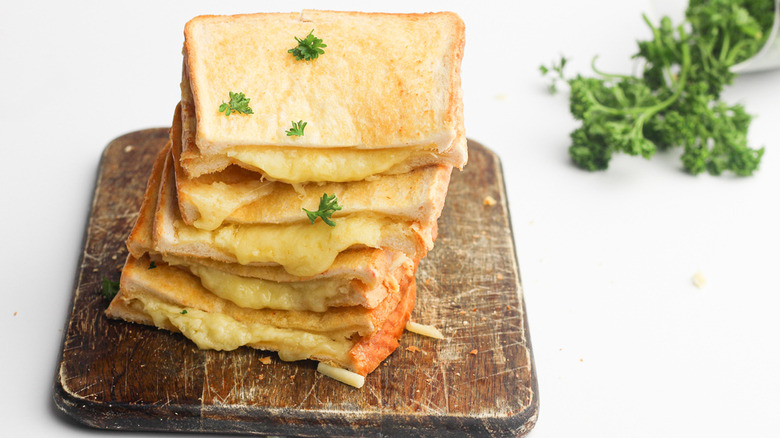 Susan Olayinka/Mashed
There's just something about an ooey gooey grilled cheese sandwich with rich cheddar cheese or maybe even pepper jack layered in there to spice things up. The best grilled cheese sandwich has a crispy golden exterior, thanks to slathering the slices of bread with butter. This sandwich is perfect to prepare for lunch or dinner with tomato soup, tastes great as a snack, makes little kids happy, and brings adults pure joy. Seriously — grilled cheese sandwiches are the epitome of comfort food. But did you know that you don't have to bust out the frying pan and cooking spray, and toil over the stove, babysitting your grilled cheese sandwich to ensure that it doesn't burn?
Recipe developer Susan Olayinka of The Flexible Fridge has developed the most amazing strategy for making a magical melt-in-your mouth grilled cheese sandwich, and her recipe uses none other than an air fryer. We all knew that air fryers can make cooking easier, but who knew that it could produce an incredible grilled cheese sandwich? Now there's no need to scrub a skillet after you're done — simply rinse out the air fryer basket or tray, and call it a day. "I'm finding out there's nothing that the air fryer cannot fry. It's amazing," she says. So the next time you have a hankering for a grilled cheese sandwich, you absolutely must get out your air fryer and try Olaykina's recipe.
Why use an air fryer for grilled cheese?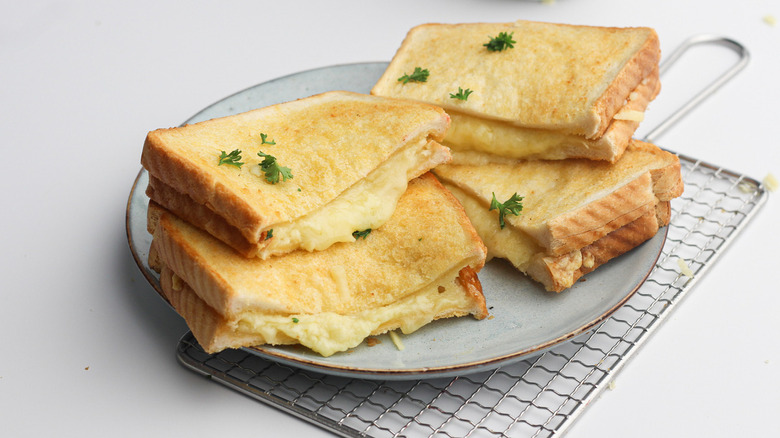 Susan Olayinka/Mashed
Olayinka explains that she's "literally on the hunt" to uncover what she can and cannot air fry. Her mission to tackle as many recipes as possible with an air fryer led her to the epitome of the classic grilled cheese sandwich. "I had to do the air fryer grilled cheese," she exclaims. The beauty of the air fryer with this dish is that is crisps up the outside of the bread slices without torching them and melts the cheese perfectly. It seriously is a fantastic recipe to try in the air fryer and will soon become a new go-to in your home.
Gather up the ingredients to prepare air fryer grilled cheese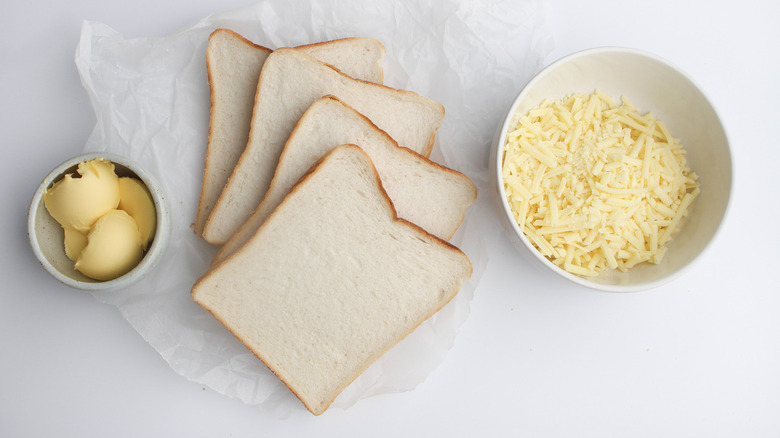 Susan Olayinka/Mashed
This recipe keeps it sweet and simple, or rather salty, cheesy, and simple. As a matter of fact, it only takes two minutes to prepare and 10 minutes in the air fryer. How perfect is that? You'll have lunch on the table in just about no time at all. To make two sandwiches, grab four slices of white bread, a couple tablespoons of butter, and 1 cup of shredded mild cheddar cheese. That's it!
If you're not a fan of white bread, you can honestly use whatever thinner, flatter bread you'd like, such a whole wheat, sourdough, or even gluten-free. As far as the butter's concerned, there are so many options available, but Olayinka prefers organic and lightly salted. "[It's] the best," she notes.
Let's talk cheese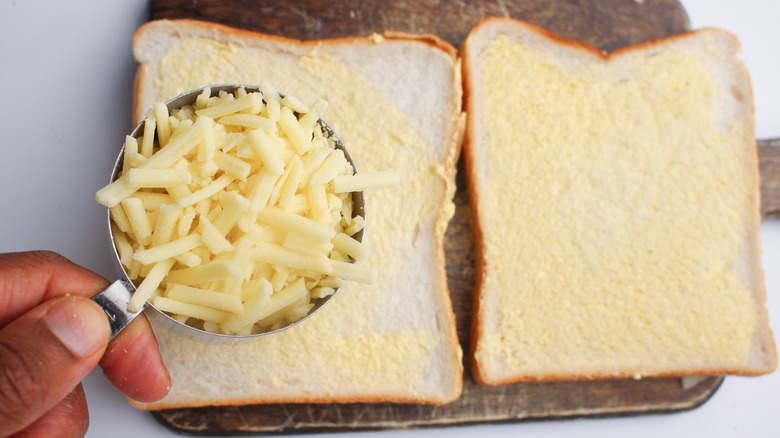 Susan Olayinka/Mashed
If you're a cheese aficionado, you could swap out the cheddar cheese for a sharp version, or switch and spice things up with pepper jack. You won't want to use a cheese that crumbles rather than melts no matter how much you love the flavor, because it just won't hold up — so no Parmesan or feta in the grilled cheese! And no using processed American cheese. You want wholesome, hearty, real cheese. 
Gouda is good and melts well, but will give your sandwich a tad sweeter taste, according to Good Housekeeping. Monterey or Sonoma Jack will give you a bold flavor and allow you to mix in blue cheese or Parmesan easily. Havarti would be perfect for picky eaters with its mild taste, while an aged cheddar-gruyere will give your grilled cheese some oomph to it (via HuffPost).
There's no need to preheat the air fryer
Susan Olayinka/Mashed
While some recipes call for preheating the air fryer, Olayinka says you don't need to for her air fryer grilled cheese sandwiches. According to Air Fryer Bro, you don't need to preheat an air fryer most of the time, anyway, because the hot air it lets out to cook food with gets the job done efficiently. The only time you may need to heat up an air fryer in advance is if you're using its accessories, such as a grill pan, or added a coating of oil to the basket and it needs to warm up a bit before adding the food.
It's super simple to get started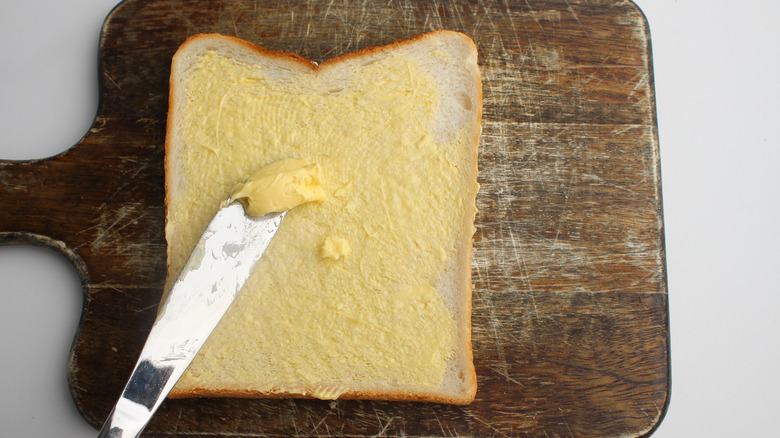 Susan Olayinka/Mashed
Now, it's time to get started. Take a butter knife, slice off a chunk of the butter, and begin slathering both sides of the bread slices. Then, set them down on a chopping board. They'll be a bit gooey to handle because of the butter, but trust us — it'll be worth it in the end.
Grab one slice of buttered bread, and sprinkle your shredded cheese all across it. Make sure the cheese is spread out evenly across the slice of bread. The butter will help it stick, but use caution and beware of dumping any cheese off of the slice of bread while handling it.
Cook your grilled cheese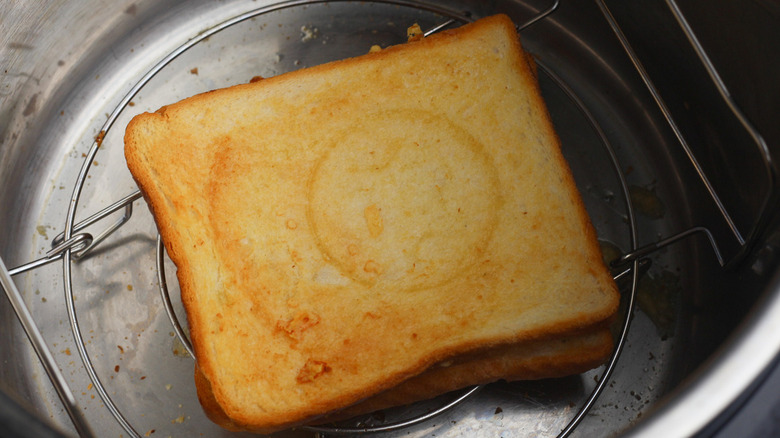 Susan Olayinka/Mashed
Once the cheese has been situated across the top of the slice of bread, cover it with a second slice of bread to make the sandwich. Gingerly set the sandwich on the air fryer's trivet and cook it for 10 minutes at 400 F. Set a timer on your phone or stove, though, because halfway through at the five-minute mark, you'll need to flip it over to ensure both sides turn a beautiful golden color and become crispy.
Just grab it with a pair of tongs, and carefully turn it over inside the air fryer, using caution not to touch the sides with your hand. When your air fryer dings after 10 minutes, remove the grilled cheese sandwich with the same pair of tongs so you don't burn yourself on the piping hot sandwich, and place it on a serving plate. Let it cool for just a bit so you don't burn your mouth, either. To make the second sandwich, simply repeat these steps.
"The cheese is soft and gooey, and the outside is crispy," Olayinka says. If you're feeding a crowd of hungry kids, or two grilled cheese sandwiches won't fill you up, simply increase the ingredients by however many sandwiches you want or need to make. It's really that easy!
Air Fryer Grilled Cheese Recipe
There's just something about an ooey gooey grilled cheese sandwich that hits the spot. This air fryer grilled cheese recipe will be your new favorite.
Ingredients
4 slices white bread
2 tablespoons butter
1 cup shredded mild cheddar cheese
Directions
Butter the slices of bread on both sides, and place on a chopping board.
Get one slice of buttered bread, and pour the shredded cheese evenly on it. Then, cover it with another slice of bread to make a sandwich.
Place the trivet inside the air fryer, followed by the grilled cheese sandwich.
Cook for 10 minutes at 400 F, turning halfway at 5 minutes.
After 10 minutes, the grilled cheese is ready to be served. Take it out with tongs, and place it on a serving plate.
Nutrition
| | |
| --- | --- |
| Calories per Serving | 525 |
| Total Fat | 35.7 g |
| Saturated Fat | 20.5 g |
| Trans Fat | 1.3 g |
| Cholesterol | 97.9 mg |
| | |
| --- | --- |
| Total Carbohydrates | 29.1 g |
| Dietary Fiber | 2.3 g |
| Total Sugars | 3.6 g |
| Sodium | 721.2 mg |
| Protein | 22.2 g |