Easy Brunch Casserole Recipe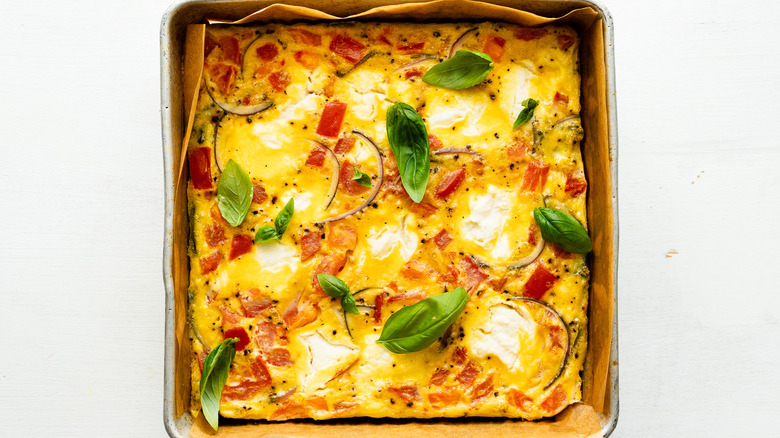 Sher Castellano/Mashed
Brunch is one of the best meals to bring people together on the weekend. Because it's in between breakfast and lunch, a filling dish is best for the occasion. This recipe for an easy brunch casserole is delicious, beautiful, and packed with just the right amount of veggies to make it feel healthy. If you are looking for something outside of the box instead of dull cereal or a bagel (but still easy to make), then we have you covered. 
The dish has six eggs, and it's topped with fresh ricotta cheese, which is enough to make your mouth water, are we right? Another great thing about this recipe is that it's easy to serve a crowd and it will make you feel like a world-class chef. 
Recipe developer Sher Castellano is the brains behind this easy casserole. She shares that her favorite part of the recipe is "its ease and flavor." If this description is already making you hungry then just wait until you try the real thing. Keep scrolling to find out how to make this scrumptious breakfast casserole that is sure to be a hit. 
Gather the ingredients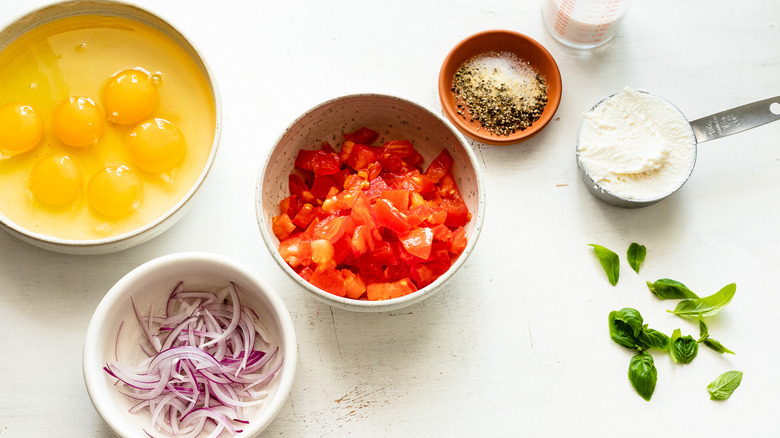 Sher Castellano/Mashed
For the first step in the process, it's best to make a grocery list to see what you have at home and what you need to get at the store. For starters, you'll need some eggs and milk (or you can substitute cream). In addition, there are a few spices that include garlic powder, fine sea salt, and pepper. The recipe calls for just two veggies, including red onion and a cup of tomatoes. You can also use canned tomatoes if you prefer.
The last two things you will need are ricotta cheese and a few tablespoons of fresh basil leaves.
Preheat the oven and crack the eggs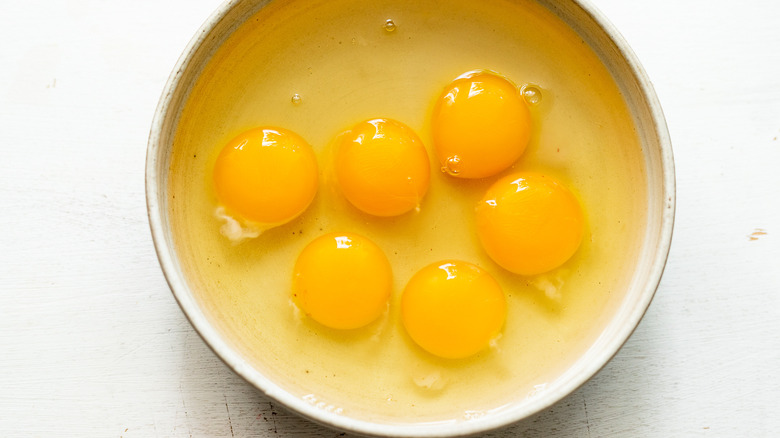 Sher Castellano/Mashed
Before you do anything else, preheat your oven to 350 F, so it's nice and hot by the time the casserole is ready to go in. Then, take out an 8x8-inch baking dish (or something comparable) and lather it up well with cooking spray. As another layer of added protection, add parchment paper on top of the spray. Trust us, you don't want any of this casserole sticking to the side. You'll want to savor every bite. 
Then, crack in the eggs into a bowl. 
Whisk the eggs with the other ingredients
Sher Castellano/Mashed
After you have cracked the eggs into the bowl, add in the milk, garlic powder, salt, and pepper (you might need a bigger bowl!). This is the base of your casserole and it's packed with flavor thanks to the garlic, salt, and pepper. Whisk everything together well before folding in the tomato and onion. Once the tomato and the onion are in, give it a few more good stirs. The mix should start to look more like uncooked scrambled eggs or an omelet. 
Luckily, that's the most labor-intensive part of the process, and it's all easy peasy from there. See? We told you that the recipe would be pretty simple. 
Pour the egg mixture into the dish and add the ricotta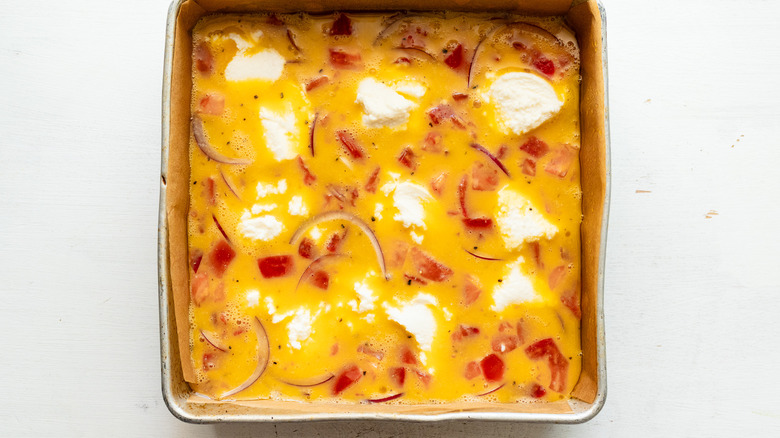 Sher Castellano/Mashed
Pour the eggs into the dish that is lined with oil and parchment paper. Then, add a few dollops of ricotta cheese, one tablespoon at a time. You can add as much or as little as you want; it's all based on your taste preferences. We personally love a lot of ricotta because it adds another great dimension to the casserole. 
Once you have added the ricotta to the top, set your timer to 35 minutes and let the casserole bake. 
Take out the casserole and enjoy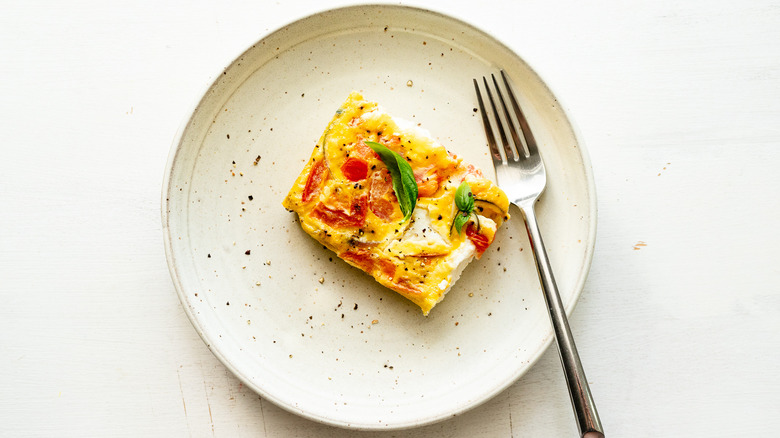 Sher Castellano/Mashed
When you can insert a toothpick into the middle of the casserole and it comes out clean, you know that it's finished. Take it out of the oven and garnish with fresh basil. If basil isn't your thing, you can leave it out. 
Feel free to cut the casserole into squares or small pieces to serve. Castellano says that the casserole pairs "great with a green salad on the side." We don't think you will have any leftovers, but if you do, they are "good stored in an airtight container in the refrigerator for up to two days." 
Enjoy! 
Easy Brunch Casserole Recipe
This easy brunch casserole recipe with six eggs and fresh ricotta cheese will serve a crowd and make you feel like a world-class chef.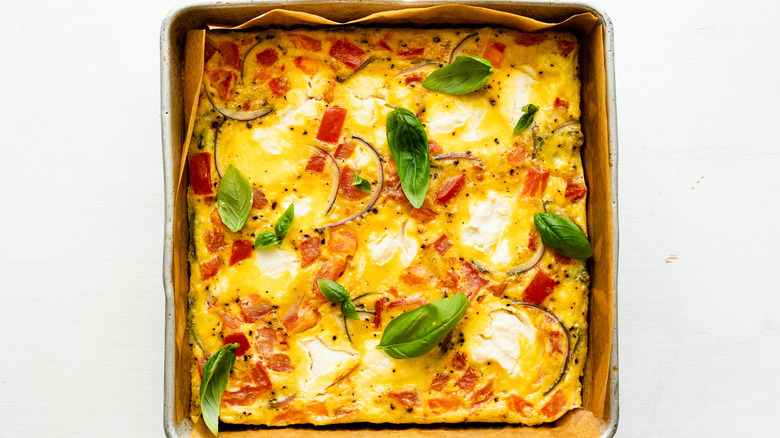 Ingredients
6 large eggs
¼ cup milk or cream
¼ teaspoon garlic powder
½ teaspoon fine sea salt
¼ teaspoon black pepper
¼ cup red onion, thinly sliced
1 cup diced tomatoes
½ cup part skim ricotta cheese
2 tablespoons fresh basil, small leaves or torn
Directions
Preheat the oven to 350 F. Grease and/or line an 8x8-inch baking dish with cooking spray and parchment paper.
Whisk the eggs, milk, garlic powder, salt, and pepper together in a medium-sized mixing bowl.
Fold in the onion and tomato.
Pour the egg mixture into the prepared dish.
Dollop on the ricotta tablespoon by tablespoon.
Bake for 35 minutes, or until a toothpick inserted in the middle of the casserole comes out clean.
Garnish with fresh basil and serve.
Nutrition
| | |
| --- | --- |
| Calories per Serving | 147 |
| Total Fat | 9.5 g |
| Saturated Fat | 4.2 g |
| Trans Fat | 0.0 g |
| Cholesterol | 237.1 mg |
| | |
| --- | --- |
| Total Carbohydrates | 4.2 g |
| Dietary Fiber | 1.1 g |
| Total Sugars | 2.4 g |
| Sodium | 353.7 mg |
| Protein | 11.2 g |