15-Minute Cashew Chicken Recipe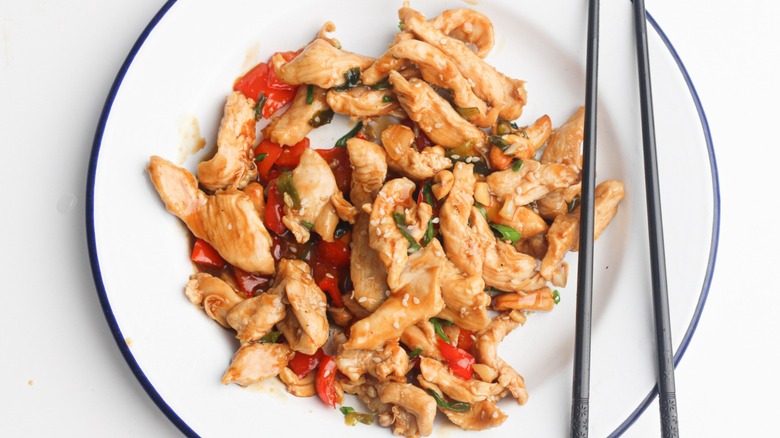 Susan Olayinka/Mashed
You can never have enough dinner-in-a-hurry recipes in your repertoire. After a long day at work, we're all looking forward to a tasty meal, but who's got time to spend hours futzing around preparing one, not to mention the patience to wait for several hours until dinner's done?
Susan Olayinka blogs about simple, quick family meals on her website, The Flexible Fridge, and she shares with us a delicious new recipe she's created for a cashew chicken dish that can be prepared in next to no time. As Olayinka tells us, "I truly love how simple it is, especially the fact that only takes 15 minutes and there is such a different variety of textures from the soft chicken to the hard cashews." Olayinka suggests that this dish would be perfect for a midweek dinner, saying "I'm a working mum, so this dinner would be golden."
Gather the ingredients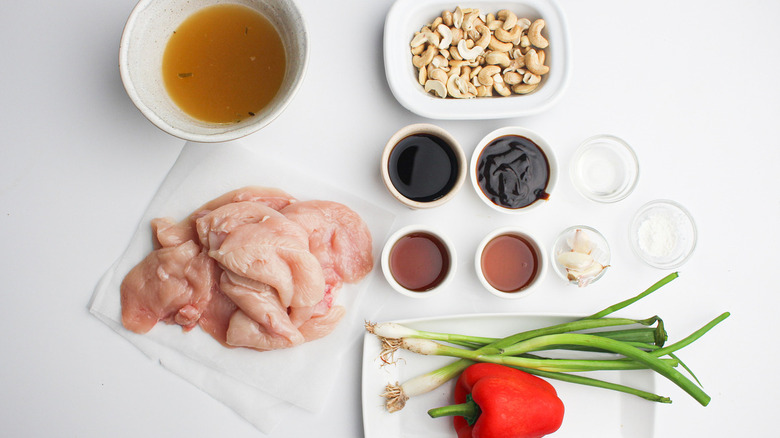 Susan Olayinka/Mashed
At first glance, the ingredient list for this dish may seem long, or at least long-ish, but it breaks down into just fresh veggies, meat, seasonings, and kitchen staples. You'll need to pick up some green onions, a red bell pepper, and some fresh garlic the next time you go grocery shopping, along with cashews and chicken tenders.
Check your pantry before you go, just to make sure you don't also need to grab some sesame oil, white wine (or rice) vinegar, soy sauce, hoisin sauce, chicken stock or bouillon cubes (unless you're the kind of always-prepared cook who has frozen stock on hand at all times), honey, and cornstarch. Got everything? Great, with those and the meat, nuts, and veggies, you should be good to go!
Prep the veggies, chicken, and nuts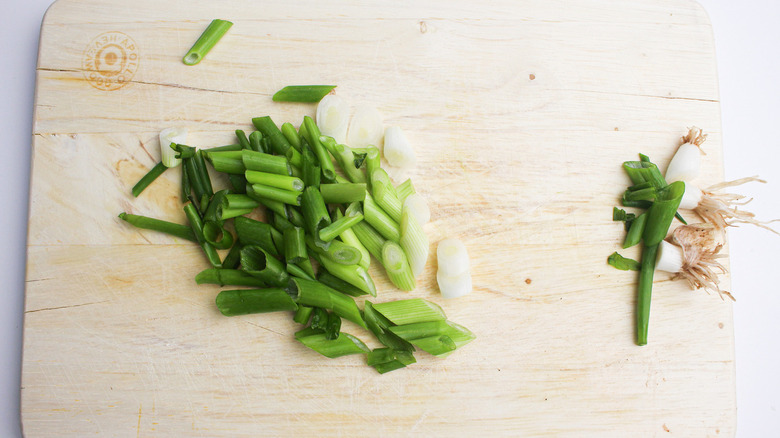 Susan Olayinka/Mashed
Start off by preheating the oven to 400 degrees, then slice the green onions, both the white bottoms and the green tops, into pieces about 1-inch long. Next you'll stem, core, and seed the red bell pepper and chop it into squares approximately 1/2-inch on each side. Take this time to slice up your chicken into thin strips. If you prefer, you can also use boneless, skinless chicken breasts — just slice these into thinner layers before cutting them into strips. You'll also want to mince up your garlic. Finally, pour the cashews into an ovenproof pan or baking sheet. Once the oven has hit the 400-degree Fahrenheit mark, bake the nuts for 7 minutes until they're toasted and brown.
Slice and cook the chicken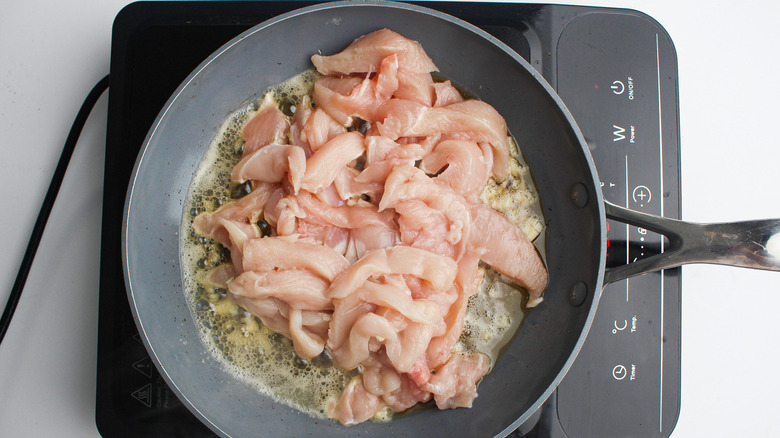 Susan Olayinka/Mashed
While the nuts are in the oven, heat the sesame oil in a frying pan over medium heat, then add the minced garlic and chicken strips. Sauté the chicken for about 7 minutes, by which time it should be just beginning to brown. Don't worry if the chicken isn't quite done yet, since it will be cooking for a few more minutes after you add the rest of the ingredients.
Add the veggies and sauces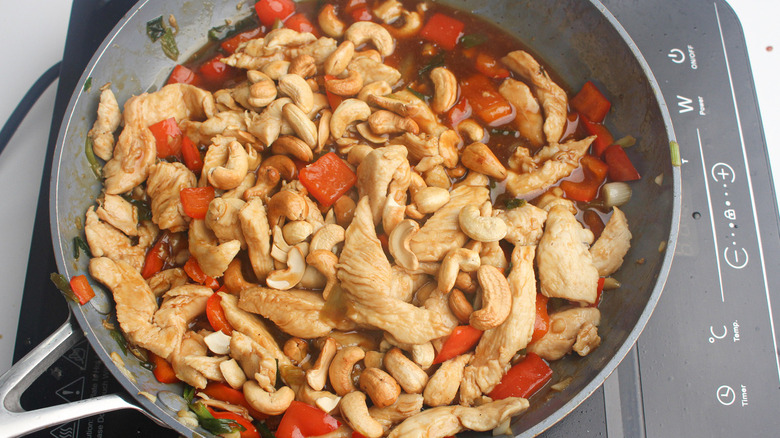 Susan Olayinka/Mashed
Add the onions and peppers to the pan and cook, stirring, for 1 minute. Add the rest of the ingredients — the vinegar, soy sauce, hoisin, chicken stock, honey, and cornstarch — and mix them all together. Continue to cook, and to stir, for 2 more minutes. Check to make sure the chicken is done. Once it's cooked through, turn off the heat, then mix in the cashews. Serve this cashew chicken up on a bed of rice, quinoa, or noodles and you've got a quick, easy dinner that's just as satisfying as if you'd spent hours in the kitchen.
You can vary this dish if you wish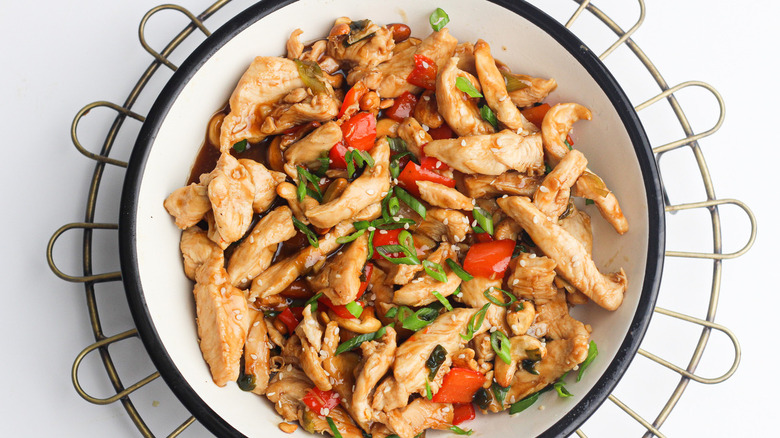 Susan Olayinka/Mashed
Olayinka says if you want to switch up this cashew chicken dish, you can swap out the chicken for a different protein like beef, fish, or beans. You could also use teriyaki sauce instead of the hoisin sauce or trade in the cashews for a different type of nuts, such as peanuts. This dish makes just 3 servings (maybe 2 if you're hungry) so there may not be leftovers if you're not dining solo. If you are, though, Olayinka tells us the dish will keep for up to 4 days in the fridge. You can also freeze it, of course, and she says that even after 2 months in the freezer, it will "still taste somewhat fresh."
15-Minute Cashew Chicken Recipe
This 15-minute meal is perfect for a weeknight when you don't feel like cooking. Filled with protein and veggies, it's pretty healthy, too!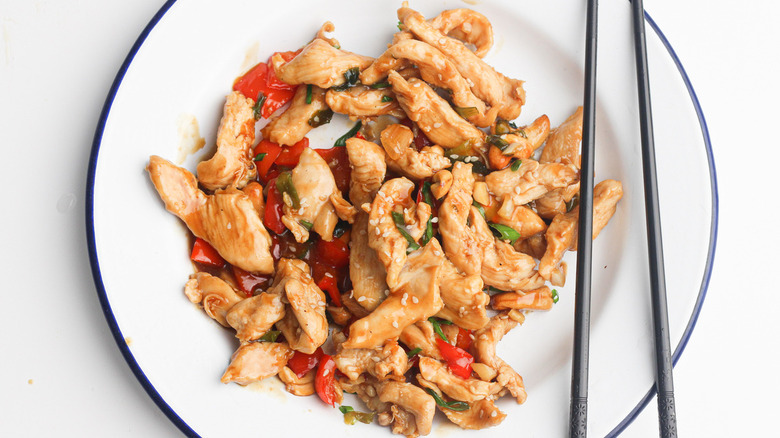 Ingredients
2 green onions
1 red bell pepper
2 cloves garlic
8 ounces chicken tenders (or thin-sliced chicken breast)
½ cup cashews
3 tablespoons sesame oil
1 tablespoon white wine vinegar
2 tablespoons soy sauce
2 tablespoons hoisin sauce
1 cup chicken stock
3 tablespoons honey
1 tablespoon cornstarch
Directions
Preheat the oven to 400 degrees Fahrenheit.
Slice the green onions into 1-inch pieces and set them aside.
Chop the bell pepper into ½-inch squares and set them aside.
Mince the garlic cloves.
Slice the chicken tenders into strips.
Place the cashews on a baking sheet and brown them in the oven for 7 minutes.
While the cashews are in the oven, heat the sesame oil in a frying pan over medium-high heat.
Add the chicken to the pan and cook for 7 minutes until it's starting to brown.
Add the onions and peppers to the pan and cook for 1 minute, stirring constantly.
Add the vinegar, soy sauce, hoisin sauce, chicken stock, honey, and cornstarch. Cook for 2 minutes, stirring.
Turn off the heat, add the cashews, and mix thoroughly.
Serve immediately.
Nutrition
| | |
| --- | --- |
| Calories per Serving | 599 |
| Total Fat | 37.3 g |
| Saturated Fat | 6.6 g |
| Trans Fat | 0.0 g |
| Cholesterol | 33.7 mg |
| | |
| --- | --- |
| Total Carbohydrates | 50.0 g |
| Dietary Fiber | 3.2 g |
| Total Sugars | 25.0 g |
| Sodium | 1,221.0 mg |
| Protein | 19.4 g |